2020 Contender Tim Ryan Rips John Bolton, Donald Trump for 'Very Dangerous' Standoff with Iran
Democratic congressman and 2020 presidential hopeful Tim Ryan said Saturday that President Donald Trump's foreign policy decisions — particularly his scuttling of existing international agreements — precipitated the current standoff with Iran.
"Everybody needs to remember that this president took us out of a long, tedious, negotiated peace deal with Iran to make sure that they did not have nuclear weapons, and then he recklessly got us out of it," Ryan told MSNBC's Alex Witt. "Then he put [National Security Advisor] John Bolton in a very high position. And John Bolton has been talking about regime change in Iran for a long time, and the president doesn't pay too close of attention on some of these issues."
"What the hell did he think was going to happen," the Ohio congressman added.
Ryan's criticisms came amid increased tensions between U.S. officials and the Islamic Republic, which has been accused of several incidents of maritime sabotage in recent weeks — accusations that Tehran has denied.
Secretary of State Mike Pompeo launched provocative allegations against Iran on Thursday, arguing that there was a link between the country and a series of explosions on oil tankers in the Gulf of Oman.
On Friday, the U.S. military released grainy footage of what it purports is an Iranian patrol boat removing an undetonated mine off one of the vessels that was attacked. These incidents follow a separate series of attacks on ships in the Persian Gulf in May that American officials suspected were carried out by Iran.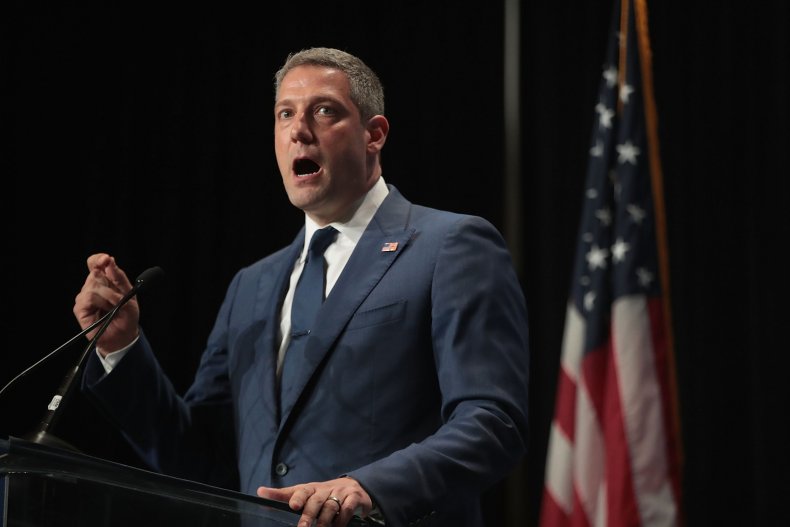 The evidence presented in both cases has not been definitive, and Ryan, like many of his congressional colleagues, has emphasized the importance of acting to "de-escalate" the current situation.
"Of course you've got John Bolton there, so any escalated tensions, we're already running trillion-dollar deficits, so now [he's going to] get us engaged in something that's going to hurt the global economy, destabilize the region and further get Americans involved in something that we don't necessarily want to be involved in," Ryan said. "This is completely reckless, but most importantly, it was preventable."
The congressman vowed to Witt that, if elected president, he would "most certainly" try to have America rejoin the Joint Comprehensive Plan of Action, more commonly known as the Iran nuclear deal. That 2015 arrangement, in which several countries agreed to ease sanctions on Iran in exchange for Tehran dramatically scaling back its nuclear program, has continued to be supported by China, the European Union, France, Germany, Russia and the United Kingdom.
"This is a very dangerous situation that we're in right now," Ryan observed.
Iranian Foreign Minister Javad Zarif wrote on Twitter that Pompeo's stunning allegations were an attempt to cover up what Zarif called 'Economic Terrorism' against his country, a reference to redoubled U.S. sanctions that are putting critical Iranian oil sales in jeopardy.
"That the US immediately jumped to make allegations against Iran—w/o a shred of factual or circumstantial evidence—only makes it abundantly clear," Zarif wrote. "The #B_Team is moving to a #PlanB: Sabotage diplomacy."