U.S.-Iran Crisis: What and Who's Behind Trump's 'Maximum Pressure' Amid Gulf Attacks
President Donald Trump's decision to blame Iran for recent attacks on tankers in the Gulf of Oman came amid a concerted effort by his administration to portray the Islamic Republic as a rogue state—a campaign bolstered by hawkish hard-liners with influential positions in both countries.
While declassified footage released by the U.S. military on Friday purporting to show Iran's elite Revolutionary Guards removing a limpet mine from the side of one of two foreign commercial vessels less than 100 miles from the Strait of Hormuz was difficult to discern, Trump told Fox News that it was irrefutable evidence of Tehran's involvement. "And you know they did it because you saw the boat," he claimed.
His top diplomat, Secretary of State Mike Pompeo, had already blamed Iran the day before, just hours after the attack, calling it the result of Tehran wanting the U.S.' "successful maximum pressure campaign lifted."
The term has been applied to the Trump administration's efforts to isolate Iran diplomatically and economically, and especially so since the U.S. pulled out last year of a 2015 nuclear deal still supported by China, the European Union, France, Germany, Russia and the United Kingdom.
With the U.S. and Iran doubling down on their rhetoric against one another, an EU foreign affairs spokesperson took an opposite route from the Trump administration, calling for "maximum restraint" on Friday, according to Reuters. While this phrase more closely echoed reactions out of Russia, China, Japan and others, it may fall on deaf ears in the Trump administration, where two men—Secretary of State Mike Pompeo and White House national security adviser John Bolton—have shaped the White House's approach to foreign policy, especially in regards to stated U.S. adversaries.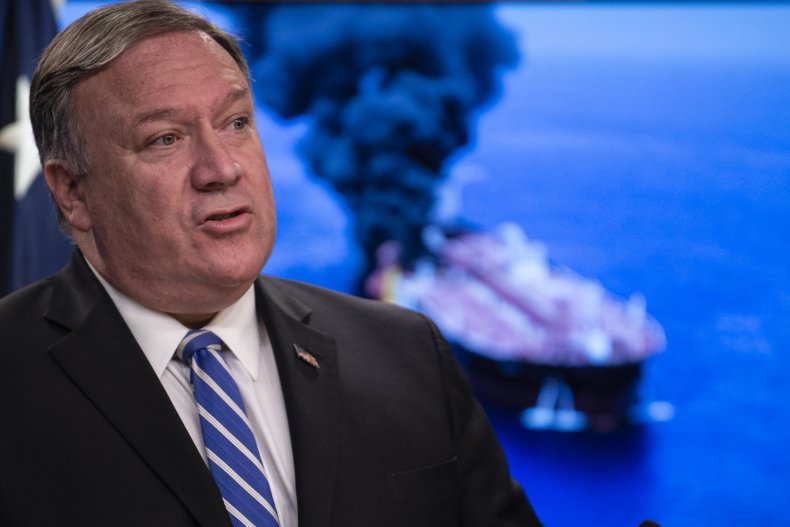 Trump's decision to leave the landmark nuclear agreement with Iran came just weeks after Pompeo and Bolton's respective appointments in a government shake-up. Both men had a history of aggressive statements toward the Islamic Republic, whose supreme leader Ayatollah Ali Khamenei explained earlier this year that his country's infamous "Death to America" chant actually "means 'Death to Trump, Bolton and Pompeo.'"
Trump, too, was a longtime opponent of the Iran deal, but he has also advocated against costly, "endless wars" in the Middle East and beyond. Pompeo's and Bolton's appointments came shortly after Trump first suggested he may begin winding down the U.S. military presence in Syria, which ultimately never came to fruition as Washington's policy in the war-torn country became increasingly focused on Iran's presence there.
"I think we need to take into account what these individuals have said in the past in regard to Iran," Ned Price, a fellow at the New America Foundation and former CIA official who served on former President Barack Obama's National Security Council, told Newsweek. He pointed out that both Bolton and Pompeo "have called for regime change in Iran" and was skeptical as to whether they had truly renounced this position.
But whether "maximum pressure" was actually weakening the Iranian government was up for debate. Perhaps one of the biggest miscalculations of the campaign, as explained by political analyst Alireza Sarfarazi, a Ph.D. candidate at the University of Antwerp, is its tendency to target all sectors of Iranian society, which has suffered under U.S. sanctions restricting access to critical fields such as education and healthcare. He explained that "Iran, like other political environments, is not a simple, monolithic and flat field" and "there are different forces battling for power inside the country."
Iran has its own hardliners who Sarfarazi said, prior to January 2017, "saw Trump as a guy like themselves" and, "frequently quoted his campaign messages in both positive and negative ways, especially highlighting the dark image he was portraying about the situation in the United States in 2016." Now, the non-democratically elected forces within the government such as the Revolutionary Guards "and other institutions related to the Supreme Leader are the happiest as they were the main opposing forces against the deal."
It appeared that, at the same time, the proponents of the most aggressive policies were running the show. As for Pompeo and Bolton, Sarfarazi said, "It's hard to find experts who do not blame these two for the situation we are in now."
When Trump publicly announced his decision to withdraw U.S. troops from Syria in December, Bolton and Pompeo immediately set out on Middle East tours set to reassure allies of Washington's continued regional commitments, which had already largely shifted from simply defeating the Islamic State militant group (ISIS) to also ensuring Iran's containment. The timeline for U.S. military involvement in Syria was—once again—drawn out indefinitely and experts told Newsweek at the time that Pompeo and Bolton had largely been behind his decision to stay.
One major development that did result from the announcement, however, was Defense Secretary James Mattis' resignation. Mattis, once himself seen as a top anti-Iran figure, had come to be viewed as something of a moderate by the end of his tenure in the Trump administration. His slated replacement, Acting Defense Secretary Patrick Shanahan, has yet to be officiated, casting doubts on his authority in closed-door meetings with the likes of Pompeo and Bolton.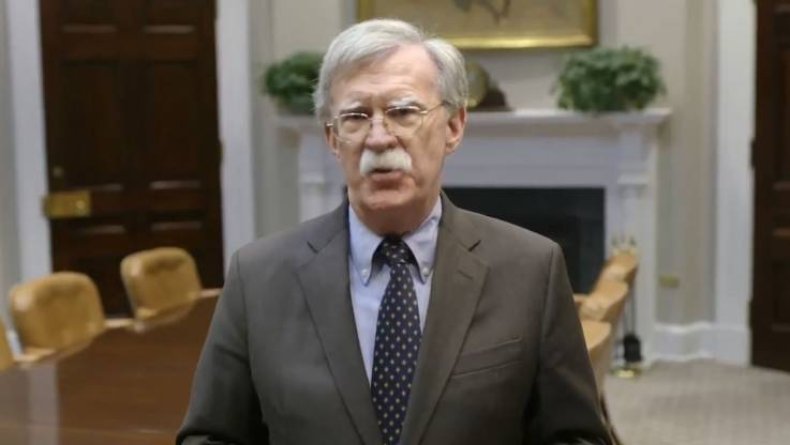 When Shanahan laid out both offensive and retaliatory military options against Iran at a National Security Council meeting last month, he did so at the behest of Bolton. Pentagon officials described the prospective defense chief to Newsweek at the time as a "yes-man" for Trump, though sources also indicated the classified meeting was not unusual in and of itself.
Just days before Bolton announced the early deployment of a carrier strike group and a bomber task force to the Middle East "in response to a number of troubling and escalatory indications and warnings," both Bolton and Pompeo had dealt with the fallout of an abortive uprising against Venezuelan President Nicolás Maduro by U.S.-recognized, self-declared acting head of state Juan Guaidó. Bolton and his aides reportedly pushed for military options at a time when defense officials themselves may be struggling to assert themselves.
"The other big implication of this is that the Pentagon, which tends to be prudent in matters of use of force, doesn't really seem to have a voice at the table," Price told Newsweek, expressing concern at the potential absence of the "words of caution that the administration should be hearing" at such gatherings.
"I do think Trump's instincts, to use a broken clock analogy, may be right twice a day in not wanting another disastrous war in the Middle East," Price said. But as seen when Bolton and Pompeo took the helm in talking him out of withdrawing from Syria, he added, "those around him could have every intention of doing otherwise."