Donald Trump Is Keeping Promise to Withdraw From Syria So He Can Win the 2020 Election, Experts Say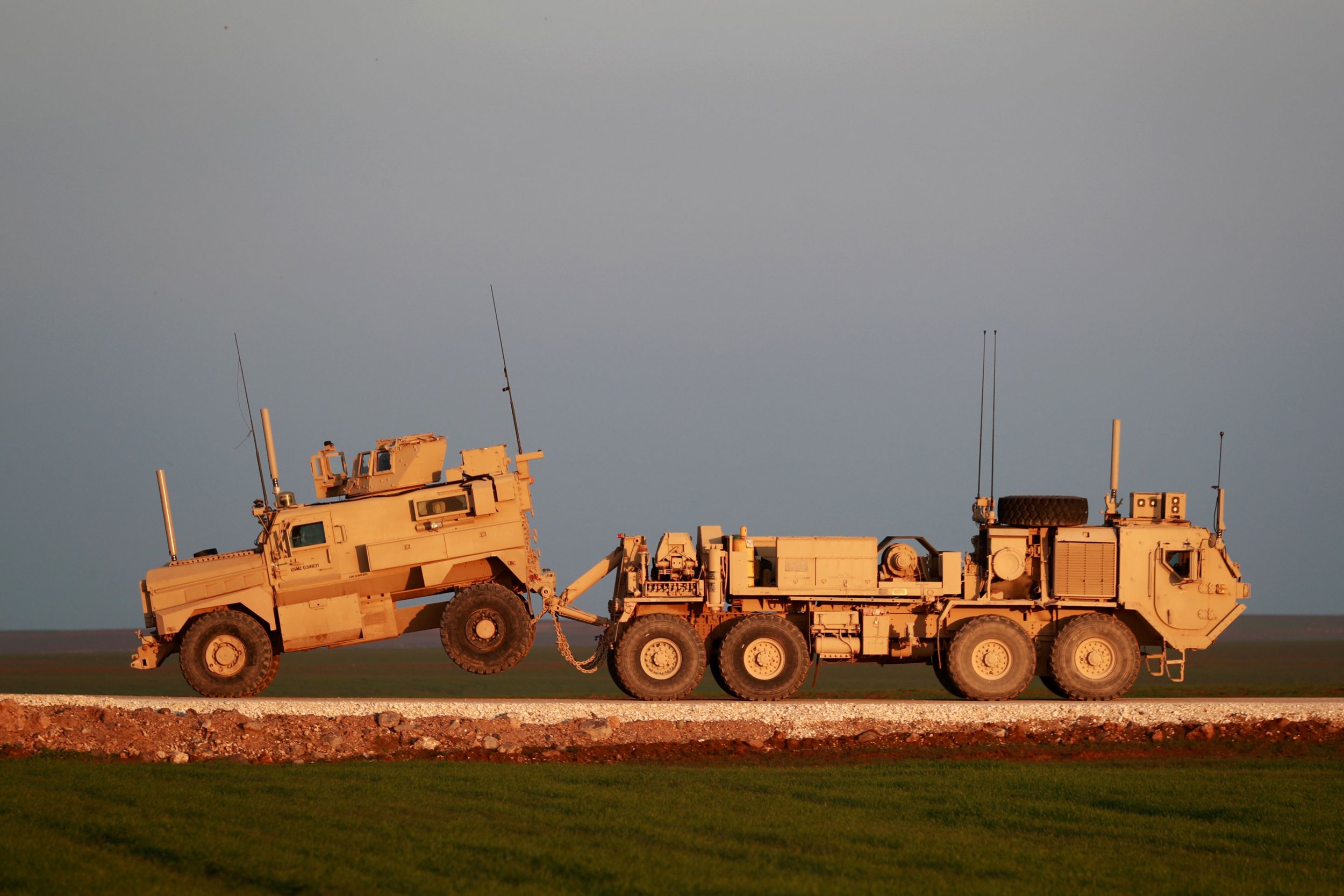 President Donald Trump's promise to end the costly, "endless wars" waged by the United States abroad was one of the mainstays of his Republican candidacy. With his domestic border security policy faltering and his eyes on the 2020 election, he's doubling down on his base.
Trump inherited his predecessor's fight against the Islamic State militant group (ISIS) at the peak of its intensity and vowed to defeat the jihadis, rather than pursue any more regional adventurism. In the two years since he took office, however, his administration had set its sights on boosting efforts to remove Syrian President Bashar al-Assad and take on Iran as ISIS was reduced to a collapsing pocket in the country's remote east.
Following a major victory by the U.S.-backed, Kurdish-led Syrian Democratic Forces, Trump suddenly announced that "We have defeated ISIS in Syria, my only reason for being there during the Trump Presidency." The news was followed by a White House statement confirming that the Pentagon was ordered to immediately begin pulling its roughly 2,000 ground troops from the conflict.
The news immediately set off a storm of tweets and statements from various officials, politicians and foreign policy experts, many of whom were skeptical of what appeared to be an abrupt reversal of U.S. foreign policy. As Newsweek reported, Trump's decision was actually made a week after a phone conversation with Turkish President Recep Tayyip Erdogan that would prove to be a wake-up call for a commander in chief who had largely deferred to his advisers on what was happening in Syria, where the Turkish leader had been threatening a new offensive on Kurdish forces.
"Turkey started threatening to start shelling northern Syria, which made Trump actually pay attention to the situation," Joshua Landis, head of the University of Oklahoma's Center for Middle East Studies and the blog Syria Comment, told Newsweek, arguing that the president had, until now, largely let figures such as Secretary of State Mike Pompeo and White House national security adviser John Bolton handle the issue. "This forced him to stick his nose in Syria policy."
"He has been fairly consistent in saying that he wanted the troops home. He promised Turkey that the policy of arming the YPG was only temporary until ISIS was destroyed," Landis added, referring to the People's Protection Units, a Kurdish militia considered to be a terrorist organization by Ankara. "It was Pompeo and Bolton who made the lie of this being a forever policy."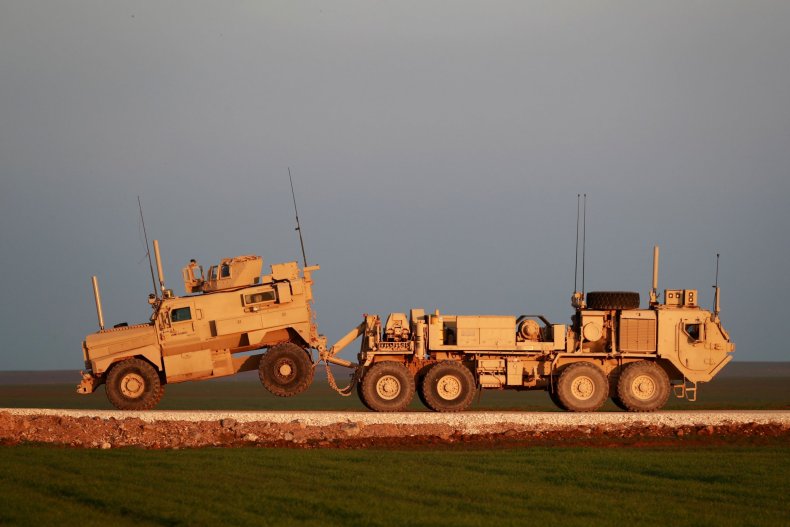 The two men had, in recent months especially, made statements suggesting that the U.S. was expanding its goal in Syria from simply defeating ISIS to ultimately ousting Assad from power to expelling the Shiite Muslim militias suspected of being under Iranian command throughout Syria. Another one of Trump's officials, special Syria envoy James Jeffrey, said earlier this month that the U.S. could go as far as to implement no-fly zones in a manner similar to those which were put into place in the leadup to the Iraq War.
While Trump has taken a hardline stance against Iran, talks of becoming entrenched in eastern Syria ran contrary to statements made during Trump's presidential campaign and early days in office. The president repeatedly criticized former President Barack Obama's policy of supporting the 2011 rebel and jihadi uprising against Assad and urged him not to bomb Syria—though he later admonished the Democratic leader for backing away from his "red line" of chemical weapons use. Trump later suggested teaming up with Russia, Assad's big power partner, to defeat ISIS.
Two months into Trump's presidency, now-outgoing U.S. Ambassador to the United Nations Nikki Haley and former Secretary of State Rex Tillerson appeared to officiate the end of Obama's policy of regime change in Syria. About a week later, however, Trump launched his first strikes against the Syrian government in response to an alleged chemical weapons attack and, when he suggested pulling out troops from Syria exactly one year later, he again responded to an alleged chemical attack days later with a set of missile strikes.
Nevertheless, these interventions were notably limited. To those listening closely to Trump's own rhetoric on Syria and his intentions there, Wednesday's announcement came as no surprise, nor did Defense Secretary James Mattis's sudden resignation only a day later.
"President Trump is simply fulfilling what he sees as a campaign promise—securing America's national interests by defeating ISIS and thing bring our brave young men and women home. There should be no controversy about that as that was the mission objective and it has been fulfilled," Harry Kazianis, defense studies director at the Washington, D.C.-based Center for the National Interest, told Newsweek.
"There are many neoconservative voices, Never-Trumpers and partisan Democrats claiming that this is a mistake, that the administration is 'giving' Syria away to Russia or Iran," he added. "That is an absolute lie. When this mission started—under President Obama in 2015, keep in mind—the goal was never to intervene in the Syrian Civil War or stop Russia or Iran from adding to their sizable influence in that country. If that was the goal, we would not have 2,000 troops in Syria but 20,000 or 200,000, waging a war that could spiral into the next great conflict of our time."
Landis, too, noted that Obama in September 2015, the month Russia intervened on Assad's behalf, chose to focus on ISIS rather than targeting Assad and risking a war with Moscow. Trump made a similar decision, except this time he was avoiding conflict with Turkey.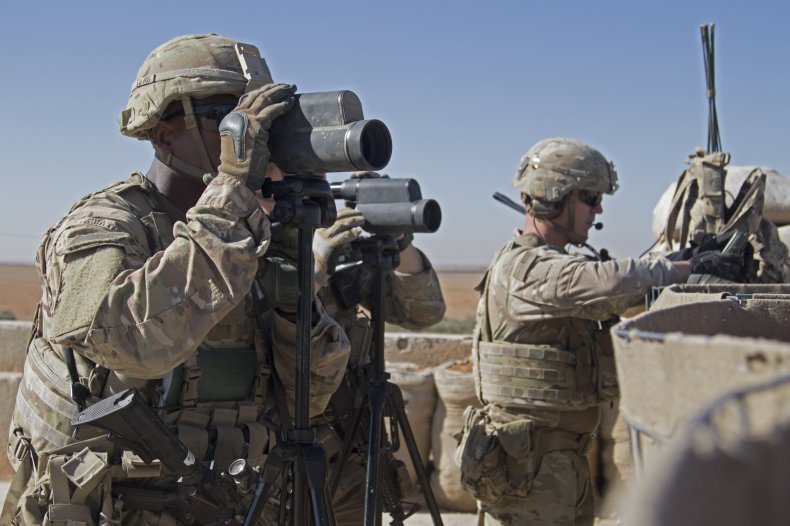 Turkey joined the U.S.—along with Israel, Qatar and Saudi Arabia—in supporting efforts to overthrow Assad via an armed opposition. As this insurgency grew increasingly Islamist and pro-Syrian government forces managed to reclaim most of the country with help from Russia and Iran, these other foreign powers abandoned their support, leaving only Ankara in charge of a small strip of rebels in northern Syria.
Even with this limited stake in Syria, Erdogan has managed to leverage his ties to Trump and Russian President Vladimir Putin to establish himself as a major power broker in the conflict. When Trump appeared to too closely side with the other major Sunni Muslim power in the region, Saudi Arabia, the Turkish leader managed to expose the grisly details of the kingdom's plot to slay Jamal Khashoggi, a journalist who fled Riyadh only to be killed in his home country's consulate in Istanbul.
The Trump administration has gone through extraordinary lengths to defend Saudi Crown Prince Mohammed bin Salman from charges that the royal himself ordered the hit, but the White House has since been hit with bipartisan bills demanding an end to the U.S.-Saudi military alliance, a core element of Trump's Middle East policy. Saudi Arabia, a leading rival of Iran, has also become increasingly resigned to empowering instead of undermining Assad, fearing the loss of an Arab-led Middle East to growing powers like Iran and Turkey.
By calling Trump, Erdogan was able to convince the president that their interests aligned at a time when the Republican leader desperately needed to score a victory, not with the Washington establishment that has condemned his decision to leave Syria but with average voters more concerned with domestic policy than foreign.
"The midterm elections are over and Trump is reverting back to his campaign promise, which is we're going to end stupid wars and withdraw troops from the Middle East. I think a lot of Americans were disappointed that he didn't come through with this, " Landis told Newsweek, adding that the way the foreign policy was handled has "turned America into a laughing stock" among the international community.
"Everybody wanted America to destroy ISIS and leave," he said. "He's gonna continue his anti-Iran policy, not in the Middle East, but in domestic politics. He doesn't care very much about the Middle East, he is very much concerned about winning elections, and he's been very smart about that."
This means it's unlikely that the U.S. will invest much more in the Syrian Democratic Forces, who have reportedly already scrambled to restart negotiations with Assad in hopes of seeking protection against a potential Turkish offensive. Trump's sudden initiative also comes as a larger debate swells at home, one which has managed to shut down the government.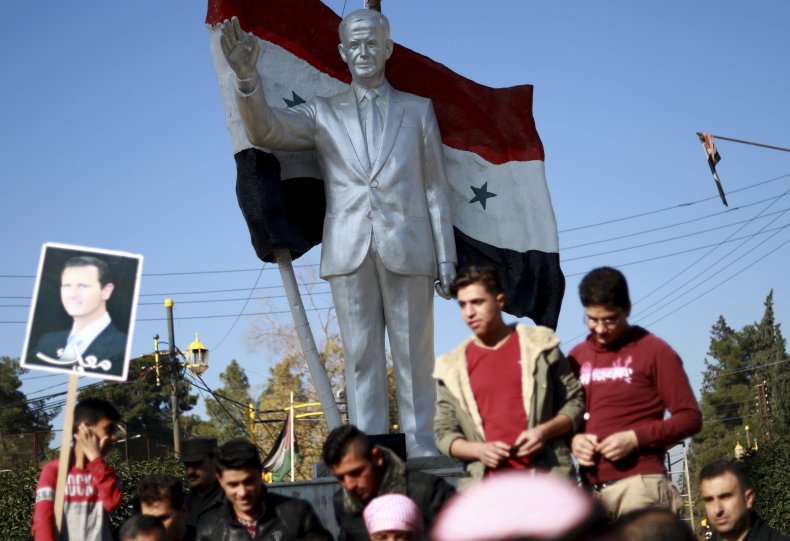 Lawmakers missed a Friday night deadline to pass several federal spending bills. The primary contention arose from the inclusion of at least $5 billion in funds to be allocated to the construction of a massive border wall that Trump argued would stem the flow of undocumented immigrants entering the U.S. from Mexico. The controversial project, however, has been almost universally panned by Democrats as well as several Republicans. As a result, Trump has been hard-pressed to build his wall, but his promise to reduce U.S. military commitments overseas appears to be becoming a reality, and that could score him some much-needed political points with his base.
While Trump's decision to leave Syria may have irked a number of his colleagues on the Republican side of the aisle, it's intrigued some of those often opposed to him. Reports in The Wall Street Journal, The New York Times, CNN and Reuters suggested that Trump was looking to follow up with this decision with an even more ambitious decision to scale down the longest war in U.S. history—Afghanistan.
"I support a responsible withdrawal of American military forces in Afghanistan. If we hope to end the security challenge posed by terrorism, the answer is not an indefinite deployment of U.S. troops in the region. Instead, we must have a robust, multilateral, and inclusive diplomatic initiative to encourage national reconciliation, local peacebuilding efforts, and the engagement of regional actors such as Pakistan, Iran, Russia, China, and India," Democratic Representative Ro Khanna of California said in a statement sent to Newsweek.
"Trump's instincts to withdraw are correct. But the tactical implementation matters," he added.
Rising Democratic star Ilhan Omar of Minnesota, a vocal critic of Trump's wall policy and threats to shut down the government, did not directly endorse Trump's decision but was unsympathetic to Mattis's resignation. "That time when you got mad because your boss didn't want to kill people anymore," she tweeted.
"Look, Mattis could have quit over the Muslim ban, family separation or the caravan bizarre deployment of troops. Seriously, quitting over an end to unauthorized war, isn't principled its SAD!" she continued.
"My criticism here is of Mattis's reasons for resignation, not of Trump decision to stay or withdraw of Syria. Trump has had many disastrous policies, Mattis wasn't principled enough to stand up to him. Why now? Yemen is still waiting and so is Kashogshi," Omar tweeted.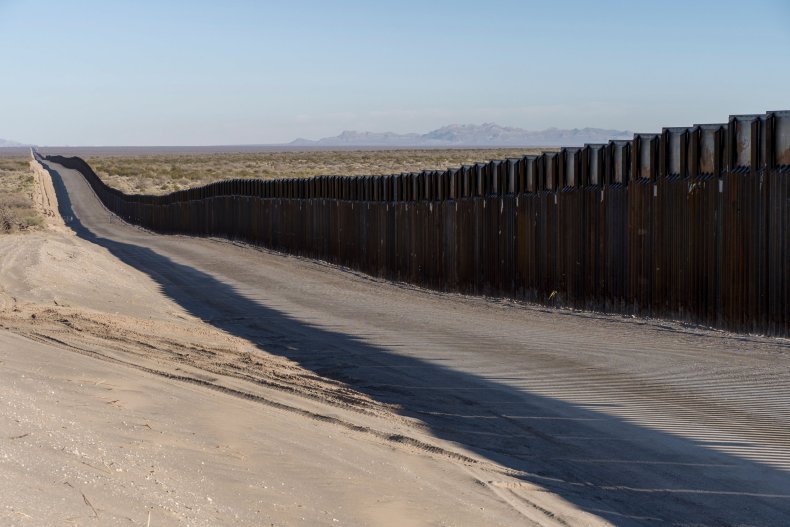 So, while former Trump supporters such as Republican Senator Lindsey Graham of South Carolina turn on the president over his Syria and Afghanistan policies, the U.S. leader may have more to gain from taking the reins of his foreign policy and not ceding to traditional conservatives pushing for a more hawkish approach. In the first year that people born after 9/11 became eligible to enlist to fight in Afghanistan, many experienced warfighters—including Mattis himself—have abandoned the pursuit of a military solution there.
"As important as it is for the U.S. military to withdraw from Syria, it is even more critical that President Trump end the 17-year war in Afghanistan to focus on higher priorities, like deterring great power conflict," Daniel Davis, a senior fellow at the Washington-based Defense Priorities think tank and a retired lieutenant colonel, said in a statement sent to Newsweek, in reference to heightened tensions between the U.S. and its top military rivals Russia and China.
"The United States achieved all it could in Afghanistan when it displaced al-Qaeda and replaced the Taliban government that hosted them by 2002. Since then, Washington has been fighting, and losing, a second war that has neither clear aims or a specified, achievable end state," he added. "The result is a permanent state of war."