Why Is U.S. in Syria and How Many Troops Are There? Donald Trump Is Withdrawing From War
President Donald Trump is reportedly planning a complete withdrawal of U.S. troops from Syria in what would be the latest turn in a series of policy reversals taken by Washington throughout the conflict.
White House press secretary Sarah Huckabee Sanders said Wednesday that the Pentagon was given an order to begin preparing to pull the roughly 2,000 troops deployed alongside a mostly Kurdish militia known as the Syrian Democratic Forces, and an insurgent group called Maghawir al-Thawra. The U.S. first entered the conflict by providing support to a rebel and jihadi uprising against the government in 2011, but switched its target to the Islamic State militant group (ISIS) in 2014.
The group has since lost most of its territory thanks to rival campaigns waged by the U.S.-led coalition and the Syrian government, which has received Russian and Iranian support and has declared Washington's presence illegal. Just before the news of a potential U.S. withdrawal broke, Trump said ISIS had been defeated, suggesting that his only goal had been accomplished; he was apparently breaking with other Washington officials who sought to target Iran and the Syrian government.
"We have defeated ISIS in Syria, my only reason for being there during the Trump Presidency," Trump tweeted.
A Pentagon source told Newsweek that the military was surprised by the move and that, while it was too early to determine the exact timeline of the withdrawal, it would be phased and immediate.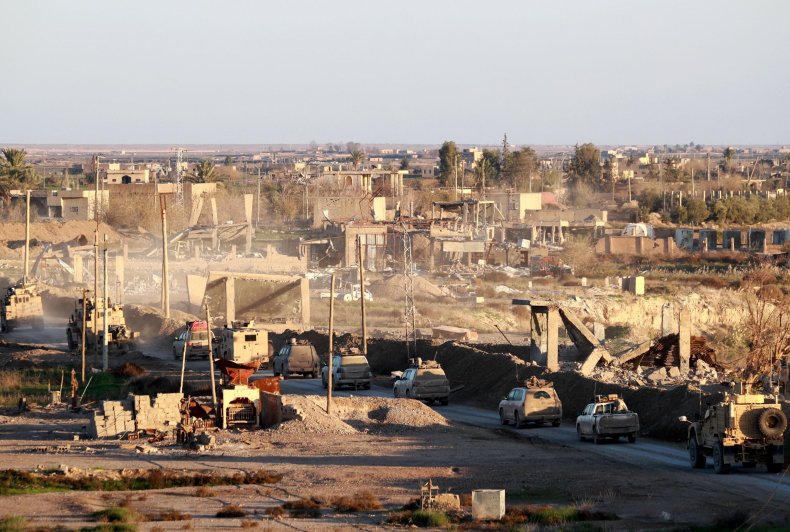 Trump criticized former President Barack Obama's decision to offer tacit support to various armed opposition groups seeking to topple the Baathist administration of Syrian President Bashar al-Assad, who has been accused of war crimes. The real estate magnate-turned-politician then blamed his predecessor for the rise of ISIS as the jihadi group came to dominate Syria's already Islamist-led insurgency, which received backing from regional U.S. allies Israel, Qatar, Saudi Arabia and Turkey.
Trump inherited the U.S.-led war on ISIS in 2017 as it was reaching its peak intensity, with massive fights to retake the group's largest city of Mosul in Iraq and de facto capital of Raqqa in Syria well underway. He appeared to officially reverse the "Assad must go" policy of the Obama administration in April of 2017, but days later ordered cruise missile strikes against the Syrian leader's military in response to an alleged chemical weapons attack.
In March of this year, Trump suggested that the fight against ISIS was nearing its end and reportedly ordered the Pentagon to come up with a timely plan to pull out. His advisers were said to have resisted in meetings behind closed doors and, days later, Trump again ordered limited military action—alongside France and the United Kingdom—in response to reports of chemical weapons use by the Syrian government.
Still, the Syrian armed forces continued to make gains nationwide and have managed to reduce the remnants of the 2011 uprising to the northwestern province of Idlib, where up to 3 million people and a pocket of hardcore jihadi resistance remains. The U.S. threatened further military action against Syria over the summer in response to allegations that Assad was preparing another chemical attack, prompting warnings and a military build-up from Russia.
Assad's victories have not only restored his control over most of the country but have brought with it a heightened presence of Iran-backed, mostly Shiite Muslim militias deeply opposed by the U.S., Saudi Arabia and Israel. Defense Secretary James Mattis said in August that U.S. involvement in Syria included supporting efforts so that "the Syrian people can establish a new government that is not led by Assad." Secretary of State Mike Pompeo further expanded the defeat-ISIS policy in October to include "a peaceful and political resolution to the Syrian conflict and the removal of all Iranian and Iranian-backed forces from Syria."
State Department special envoy to Syria James Jeffrey said earlier this month that "the withdrawal of Iranian-commanded forces from the entirety of Syria and an irreversible political process" were U.S. goals, but not military goals. On Monday, Jeffrey told the Atlantic Council that "we want to see a regime that is fundamentally different," but "it's not regime change—we're not trying to get rid of Assad" and even suggested Iran could play a diplomatic role in what appeared to be a reversal of previous policy.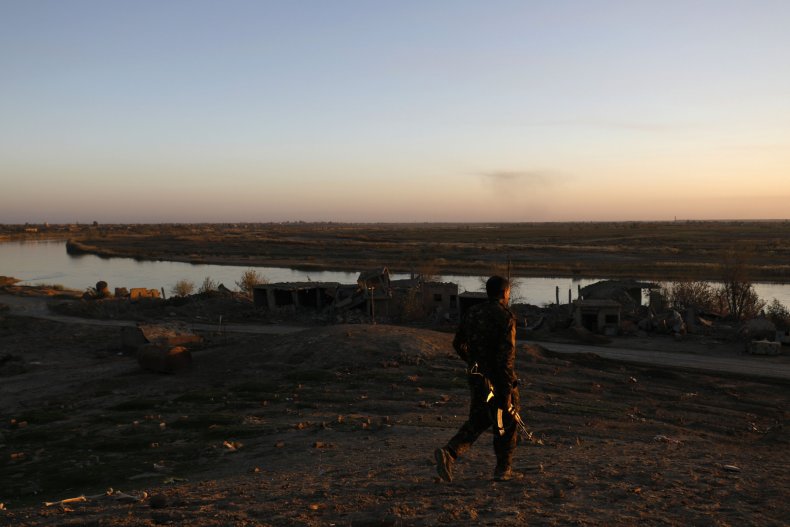 Trump's latest change of heart comes at a complex time for the conflict, which has shifted from a full-on civil war to overlapping campaigns backed by competing international forces. The U.S.-backed Syrian Democratic Forces have recently broken through ISIS lines of control in a pocket east of the Euphrates in eastern Syria, while pro-government fighters engaged another, final pocket of jihadi control in the desert west of the river.
Even ISIS's defeat, however, would not preclude the possibility of a new conflict emerging. Though a fragile truce holds in Idlib because of a cease-fire deal brokered by Russia and Turkey in September, Turkish President Recep Tayyip Erdogan has threatened to imminently launch a new offensive against the very same Kurdish groups backed by the U.S. in northeastern Syria.
Turkey considers some of the Syrian Democratic Forces' Kurdish militias, such as the People's Protection Units, to be linked to the banned Kurdistan Workers' Party battling the Turkish state for three decades. The U.S. has warned Turkey not to intervene against a fellow ally, but a U.S. withdrawal would leave Kurdish fighters vulnerable and likely seeking to once again ally with the Syrian government, which has called on them to abandon their alliance with the U.S.