U.S. Finally Reveals What It Really Wants Now in Syria
The United States' top diplomat has officially announced the expansion of the country's mission in Syria, where Washington has long been accused of pursuing interests outside of its stated goal of defeating the Islamic State militant group.
Addressing the Jewish Institute for National Security of America's 36th annual awards dinner in Washington, Secretary of State Mike Pompeo said that "defeating ISIS, which was once our primary focus, continues to be a top priority, but it will now be joined by two other mutually reinforcing objectives. These include a peaceful and political resolution to the Syrian conflict and the removal of all Iranian and Iranian-backed forces from Syria."
The U.S. and Israel have accused Tehran of expanding its influence in the country by supporting Shiite Muslim militias also battling ISIS, as well as an Islamist-led insurgency battling to overthrow Syrian President Bashar al-Assad, an ally of Iran and Russia. Pompeo further warned that the U.S. would withhold reconstruction funds to Syria until Iran's presence was withdrawn.
"We've been clear: if Syria doesn't ensure the total withdrawal of Iranian-backed troops, it will not seek—not receive one single dollar from the United States for reconstruction," Pompeo said.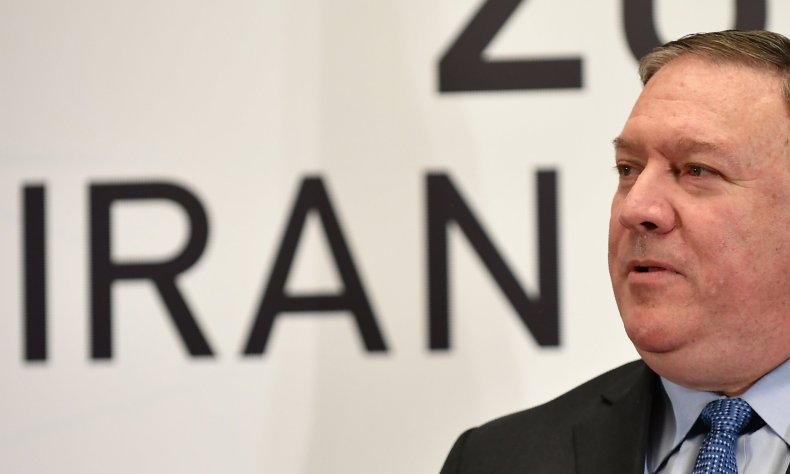 The U.S. first became involved in Syria before the rise of ISIS, which evolved out of the ultraconservative Sunni Muslim insurgency that gripped neighboring Iraq in the wake of the 2003 U.S. invasion. By March 2011, mass demonstrations and government crackdowns in Syria devolved into civil war and President Barack Obama launched a CIA program to train and equip opposition forces. As hardcore Islamist factions grew increasingly influential and ISIS spread from across the border, this support wavered and the U.S. formed a coalition to battle ISIS in 2014.
With U.S. troops on the ground in yet another expansion of the post-9/11 "war on terror," the Pentagon maintained that the defeat-ISIS mission was the full extent of its aim in Syria. President Donald Trump's election appeared to reinforce this narrative as he even contemplated teaming up with Russian President Vladimir Putin to wipe out the jihadis that once occupied about half of Iraq and Syria and had a history of comparing the U.S.-backed Syrian rebels to Al-Qaeda.
This changed in April 2017. About a week after the Trump administration suggested it would officially abandon prioritizing Assad's removal, allegations emerged that the Syrian military had used chemical weapons in a deadly attack in the rebel-held province of Idlib. In less than 72 hours, Trump responded with the first officially deliberate U.S. strike against the Syrian government. Almost exactly one year later and shortly after Trump expressed a desire to withdraw from the conflict amid major gains against ISIS, the Republican leader again responded to reports of toxic gas use with military action.
The strikes and other limited U.S. engagements with pro-Syrian government fighters did little to change the situation on the ground, however, as Russian and Iranian support had allowed the Syrian armed forces to regain most of the country. Many countries began to abandon their policy of demanding Assad's resignation as a precondition for peace talks.
As recently as late August, though, Defense Secretary James Mattis told reporters that the U.S. goal was to "move the Syria civil war into the Geneva process so the Syrian people can establish a new government that is not led by Assad and give them a chance for a future that Assad has denied them, with overt Russian and Iranian support."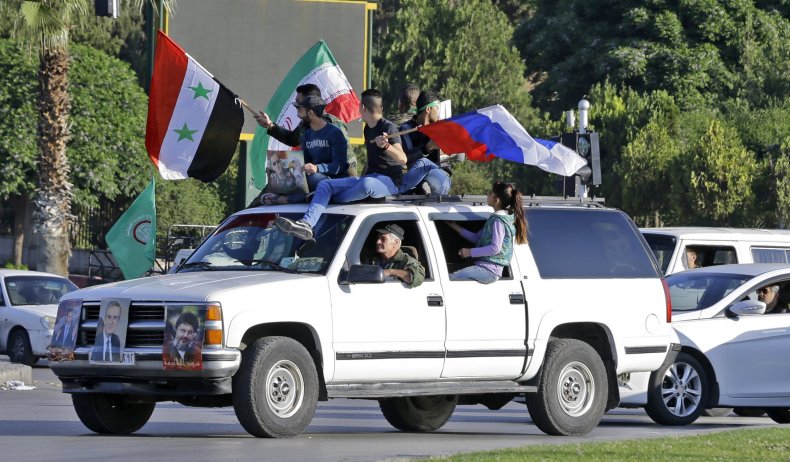 While the Trump administration has been ambiguous about forcing regime change in Syria, it has been consistent about its opposition to Iranian influence there. Back in January, former Secretary of State Rex Tillerson appeared to include curbing Iranian influence as part of the self-proclaimed U.S. mandate in Syria and Pompeo's recent remarks were just the latest affirmation of this mission creep. In May, Trump scrapped a 2015 nuclear deal with Iran despite pleas from European allies as well as China and Russia.
Trump has very much aligned U.S. policy with that of Israel, which has exchanged existential threats with Iran for decades. For years, Israel has bombed sites with suspected links to Iran in Syria and has vowed to continue doing so despite Russia's recent delivery of S-300 surface-to-air missile systems to the Syrian armed forces after they accidentally shot down a friendly Russian Il-20 surveillance plane during an Israeli raid last month.
Last week, U.S. Central Command chief Joseph Votel told a media briefing that his "mission is strictly focused on defeat[ing] ISIS" in Syria, but said that "I think we do place an indirect role in supporting our broader pressure campaign against Iran." The statement came after national security adviser John Bolton, a particularly long-time hawkish voice on Iran, asserted last month that "we're not going to leave as long as Iranian troops are outside Iranian borders and that includes Iranian proxies and militias."
In the meantime, Iran—which recently targeted ISIS militants in Syria with a missile strike that reportedly landed just three miles from U.S. troops—has joined Syria and Russia in calling for a complete withdrawal of U.S. forces in Syria. Damascus considers Moscow and Tehran to be legitimate international partners but has accused the U.S.-led coalition and Turkish troops of illegally occupying stretches of Syrian territory.
In backing the Syrian Democratic Forces, a mostly Kurdish faction looking to gain autonomy across northern and eastern stretches of the country under its control, the U.S. has been accused by the government of trying to divide Syria. The Syrian Democratic Forces themselves have displayed a willingness to negotiate with Damascus, but talks have reportedly stalled recently as Syrian Foreign Minister Walid al-Muallem accused the U.S. of pressuring the Kurds to push for separatism.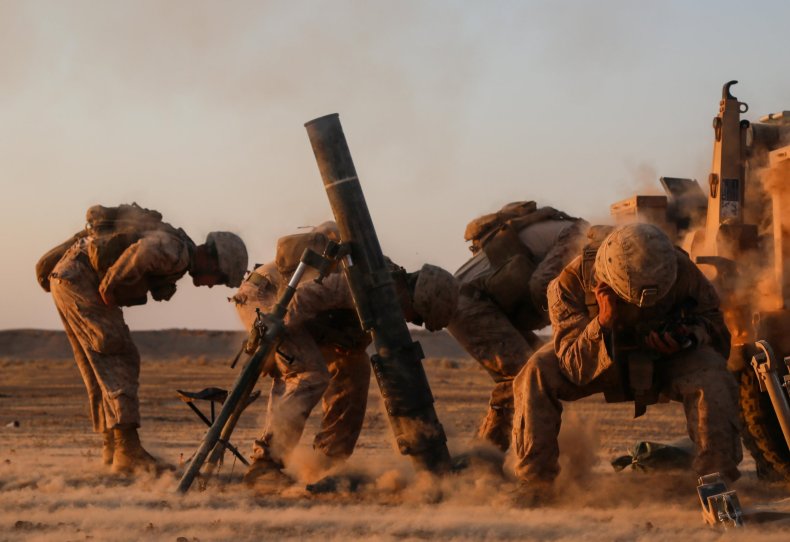 About two weeks after Trump and Israeli Prime Minister Benjamin Netanyahu blasted Iran at the United Nations General Assembly and Iranian President Hassan Rouhani defended his country, Syrian ambassador to the U.N. Bashar al-Jaafari criticized the body on Monday for not scrutinizing the presence of foreign forces whose presence was considered illegal by his government.
"Authors of the report did not mention the aggression and foreign presence on the territories of some U.N. member states without their approval and under unconcealed and fake pretexts like possession of weapons of mass destruction or protecting their civilians from non-existent fictitious danger or spreading fake democracy," Jaafari told the U.N. General Assembly session, according to the official Syrian Arab News Agency.
"It would have been helpful if those who prepared the report had considered that foreign presence as illegitimate and a blatant breach of the international law and the U.N.'s Charter as well as an aggression against states' sovereignty and a threat to the international peace and security," he added.