Iran Fires Back at Trump in U.N. Speech: 'Xenophobic Tendencies Resembling a Nazi Disposition'
President Donald Trump and President Hassan Rouhani spent Tuesday trading barbs at the United Nations General Assembly, each accusing the other of authoritarianism and unilateralism.
Trump's long-awaited address to the General Assembly was notable both for its focus on the Tehran regime as well as the unexpected reaction from listening diplomats, who at one point laughed at Trump's bombastic rhetoric lauding the achievements of his own administration.
The meat of his 35-minute speech took aim at what the president called the "corrupt dictatorship" in Tehran, which Trump accused of sowing "chaos death and destruction" across the Middle East, Reuters reported. "They do not respect their neighbors or borders or the sovereign rights of nations," he said.
But Iran's leaders have remained defiant in the face of the latest attacks. Rouhani used his time in front of the General Assembly to retaliate, criticizing Trump's decision to withdraw from the 2015 nuclear deal that now looks in danger of collapse.
Though he did not mention Trump by name, Rouhani's speech was clearly aimed at his American counterpart. "It is unfortunate that we are witnessing rulers in the world ride public sentiments and gain popular support through the fomenting of extremist nationalism and racism and through xenophobic tendencies resembling a Nazi disposition, as well as through the trampling of global rules and undermining international institutions," Rouhani told the Assembly.
Rouhani suggested that to turn away from international cooperation is ultimately a mistake, regardless of how it may play with Trump's domestic supporter base. "Confronting multilateralism is not a sign of strength. Rather, it is a symptom of a weakness of intellect," the Iranian president argued.
On the campaign trail, Trump said he would rip up the Obama-era Joint Comprehensive Plan of Action and replace it with a new deal more beneficial to the U.S. However, since his May withdrawal, dialogue between Tehran and Washington has collapsed as the remaining signatories scramble to save the agreement.
The theocratic regime in Tehran is facing significant unrest at home, driven by a sluggish economy, collapsing currency and political repression. Iran's leaders have claimed the U.S. is fomenting this unrest and pushing for regime change, though the White House has officially denied this. Trump's attorney Rudy Giuliani has suggested reimposed U.S. sanctions could lead to a "successful revolution" against the regime.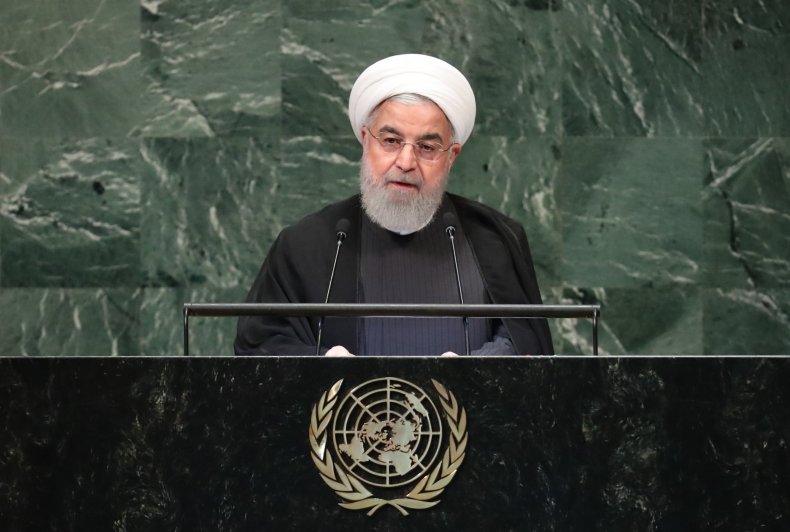 Trump has raised the possibility of meeting Iranian officials in New York this week, and Secretary of State Mike Pompeo has said, "He's happy to talk with folks at any time."
But Rouhani cited this as evidence of the administration's duplicity. "It is ironic that the U.S. government does not even conceal its plan for overthrowing the same government it invites to talks," he said. The president added that any talks must be substantive and held within the official nuclear deal framework, dismissing anything else as a mere "photo opportunity."
The Trump administration is building a coalition opposed to Iran's reach across the Middle East. Israel and Saudi Arabia in particular share Trump's goal of rolling back Iranian influence which has been buoyed by conflicts in Iraq, Syria and Yemen.
But Rouhani remained defiant on Tuesday, telling the Assembly, "The multi-millennial history of our country demonstrates that Iran and Iranians have never broken in the face of a storm of events."