Crisis in Iran? Rial Crashes as Regime Battles Protests and Foreign Threats
As Iran's rial currency hits record lows, the regime is contending both with the country's increasingly disenchanted residents turning on the theocratic government in Tehran, and with pressures from abroad. The nuclear deal that promised economic relief also appears to be collapsing, even as the country continues its costly military support of the Syrian government and rebel Houthi fighters in Yemen.
Protests have been breaking out in dozens of cities and towns over the past six months, some rounds of disorder lasting several days. This week alone, large demonstrations have been reported in Tehran, Shiraz, Ahavz, Mashhad and Isfahan.
Some protests have taken place sporadically and some have been well-organized, some have been isolated and others spread to several cities near-simultaneously. December and January saw some of the largest protests occurring in around 80 cities all on the same day. During another spike in activity in June, demonstrations even reached Tehran's Grand Bazaar, a national symbol of Iran and one of the focal points for the 1979 Islamic Revolution.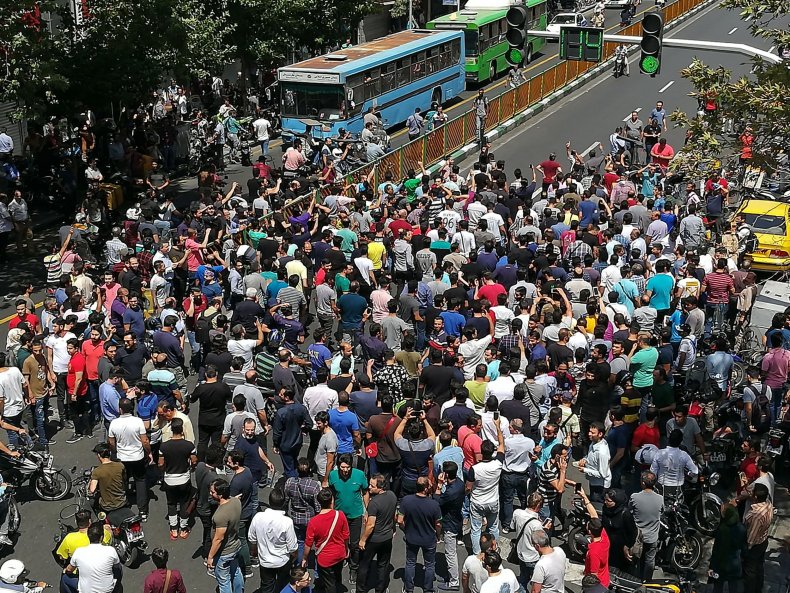 The crashing rial has sent the cost of living in Iran through the roof. On Sunday, the currency fell to a new low—112,000 per U.S. dollar on the unofficial market, down from about 97,500 rials on Saturday, Reuters reported. The currency has lost around half its value since April.
President Donald Trump's decision to withdraw from the 2015 Joint Comprehensive Plan of Action (JCPOA) nuclear deal is a key factor in recent economic woes. Iran was slapped with crippling economic sanctions from 2006 onward in an effort to convince its leaders to end their nuclear ambitions.
By lifting these punishments, the JCPOA was supposed to herald a new era of investment and profitability for Iran. But this has not come to pass, and now Iranians are waiting for the first round of new sanctions on August 7. More protests will be expected immediately after, and the security forces will no doubt be preparing additional deployments to get ahead of any mass disturbances.
And if that wasn't enough, some areas of the country are suffering from an extended drought. Residents of the central city of Isfahan and Khuzestan province in the west have been particularly affected, and say unusually dry weather is being exacerbated by government mismanagement. Farmers have alleged that local officials allow the water to be diverted in exchange for bribes. Drought can badly destabilize a country, as Syrian President Bashar al-Assad found in the lead-up to his country's ongoing civil war.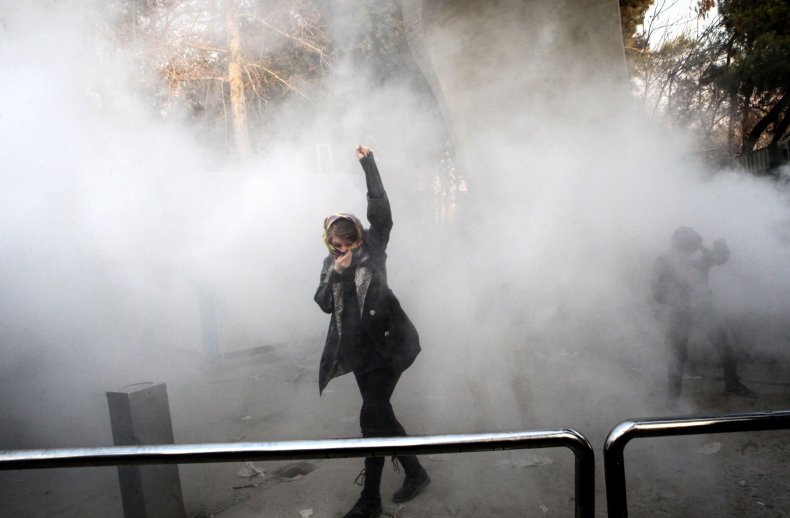 "Complete fatigue"
Ellie Geranmayeh, a senior policy fellow at the European Council on Foreign Relations, believes the protests are being driven by a mixture of severe economic troubles, disappointment with what President Hassan Rouhani has been able to deliver and frustration at ingrained political corruption. The 2017 Corruption Perception Index placed Iran 130th out of 180 countries based on analysis by experts and businesspeople. The country scored an individual score of 30, wherein 0 means highly corrupt and 100 very clean.
Tehran's growing regional influence—buoyed by its involvement in conflicts in Syria, Iraq and Yemen—has upset its foreign rivals and frustrated its citizens, increasingly struggling to afford day-to-day expenses. This has given extra ammunition to those who want change at the top levels of government.
Alireza Nader, until recently internaional policy analyst for the Rand corporation and today CEO of the NRG consulting firm, believes the dissatisfaction has already morphed into an anti-regime uprising. "It has many different reasons, but I think the root of it is just complete fatigue for the Islamic Republic because it is so dysfunctional and corrupt," he told Newsweek. "It's much more than just having to do with economics or the collapse of the currency," he suggested.
The demonstrations differ from previous actions such as the mass protests that followed the disputed 2009 presidential election results and came to be known as the Green Movement. Then, non-violence was a key part of the movement. Organizers would even teach demonstrators how to avoid confrontation and remove those who were trying to create trouble. But now, protesters are setting fire to banks, taking over police stations and regularly clashing with police in the streets.
The 2009 movement was student-led, upper-middle-class and Tehran-centric, said Trita Parsi, founder and president emeritus of the National Iranian American Council (NIAC). The organization represents American-Iranians and works towards improved dialogue between the two countries. NIAC lobbied hard for the JCPOA, rallying support for the deal in Congress and working to block groups demanding deeper sanctions on Iran.
This time around, Parsi said, dissenters are being drawn from a wider pool, including "a poorer segment of the population that is politically involved, usually seen as the core base of the support for the regime itself—which in some ways is more worrisome for the regime."
Geranmayeh agreed, noting protesters are drawn from across the regime's support base, whether that means the working classes or more rural communities. This broader support demonstrates that these protests are "more endemic than the ones we saw in 2009," she explained.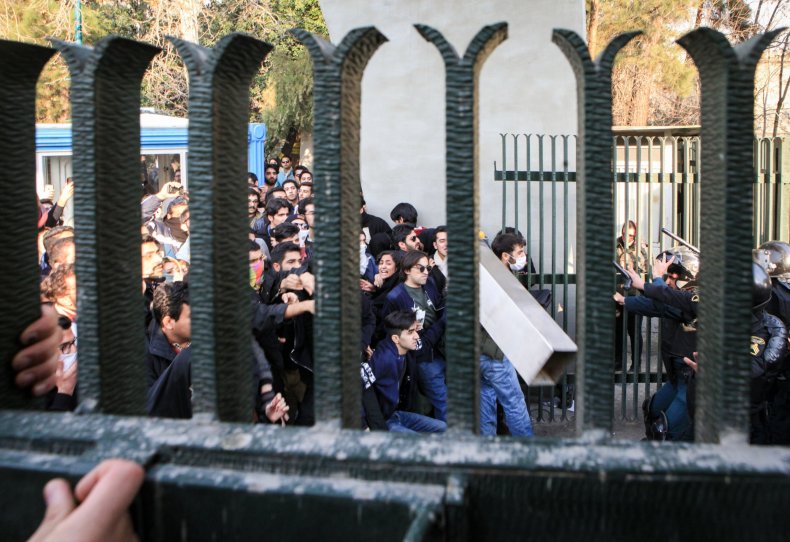 Iran has one of the youngest populations in the world, and around 60 percent of the country is under the age of 30. Iran's youth were not alive when the corrupt Shah was overthrown, and Islamic theocracy is all they have known. Many appear ready for a change, and Geranmayeh said a significant portion of the demonstrators are under the age of 25. "A new generation of people in Iran is becoming politically aware," Nader said.
A movement without leaders
Parsi believes the regime is closing ranks. Qasem Soleimani, a Major General in the country's Revolutionary Guards and commander of its covert Quds Force, has been pushed to the fore. Soleimani, who commands respect from across the political spectrum, last week warned Trump that military action against this nation would be costly. "Seeing them putting him forward gives the impression that they're closing ranks and unifying rather than panicking," Parsi suggested.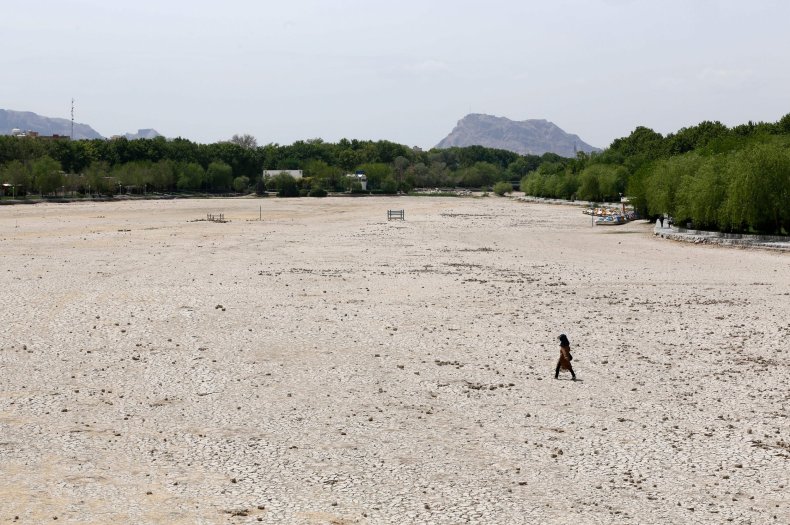 The disturbances will likely continue for "quite some time," Parsi said. He warned that the bad situation will only get worse as the economic forecast worsens. And Geranmayeh noted that if November's oil sanctions are as harsh as those imposed on the country in 2011, they could hit 40 percent of the Iranian government's revenue. She believes the protests will "keep happening in bursts across the country," especially as economic conditions get steadily worse.
Nevertheless, Parsi added, the elements needed for a "pre-revolutionary scenario" have not emerged. This would require improved connectivity between different sections of society, political coalitions and a unified anti-regime political agenda. "They may emerge, but for them to emerge it requires some degree of leadership, and we don't see a degree of leadership at all," Parsi said.
The only real alternatives to Iran's establishment political figures "are outside of the country and they have quite minimal support inside the country," Geranmayeh said. "That makes it more difficult for these protests to turn into the tsunami wave that the government can't control."
Iran's powerful security forces stand in the way of the protesters. Dozens of people have been reported killed in demonstrations across the country, the real number likely higher than the regime admits. "If they were to decide to really clamp down hard, I think we would see a very, very nasty situation," Parsi said.
So far, it would appear neither Rouhani nor the security forces wish to crack down hard. Rouhani's reformist base would be outraged by state-ordered violence, while continued public embarrassment for the relatively liberal president might play into the hands of the more traditionalist security establishment. If a unified movement coalesces and begins gaining dangerous momentum, "I don't think people have may big doubts that the security establishment will come in very forcefully at that stage," Geranmayeh said.
Trouble with Trump
From an international perspective, the Trump White House "was already positioned to take a tougher approach to Iran well before the protests broke out," Dalia Dassa Kaye, a senior political scientist at the RAND Corporation, told Newsweek. "But the protests no doubt provided more fodder for Trump's escalation against Iran with the U.S. withdrawal from the nuclear agreement and now a mounting pressure campaign to isolate Iran," she said.
Senior administration officials such as national security adviser John Bolton, presidential attorney Rudy Giuliani and Secretary of State Mike Pompeo have all been bullish in recent comments on the Iranian regime. For Kaye, this shows the White House thinks Iran is vulnerable.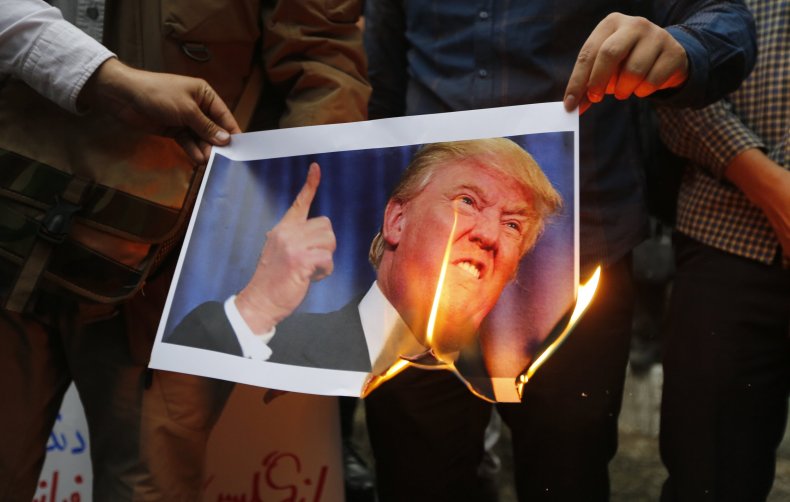 Of course, such pressure carries its own risks. A more isolated Iran with no nuclear restrictions could be more dangerous than the current scenario. "The risks of the current U.S. approach are high, but the Trump administration appears to be doubling down on it," Kaye said.
But rather than forcing Iran to the negotiating table, initiating regime change or even going to war, Parsi argued that the Trump administration might be considering another option—regime collapse with no replacement government. This could fit the goals of Saudi Arabian and Israeli leaders, with whom Trump is forging a new Middle East alliance.
"Nothing would shift the balance of power in Saudi Arabia's favor more than Iran essentially disintegrating into chaos," Parsi suggested. "An Iran with a proper democratic government, frankly would become a much more potent rival of Saudi Arabia."
Given the chaos observed in disintegrating states like Somalia, Libya and Syria, Parsi went on, "everyone else would be terrified of it." But for the Trump administration and some of its Middle Eastern allies, Iran's collapse might offer a more beneficial scenario than either containment or regime change.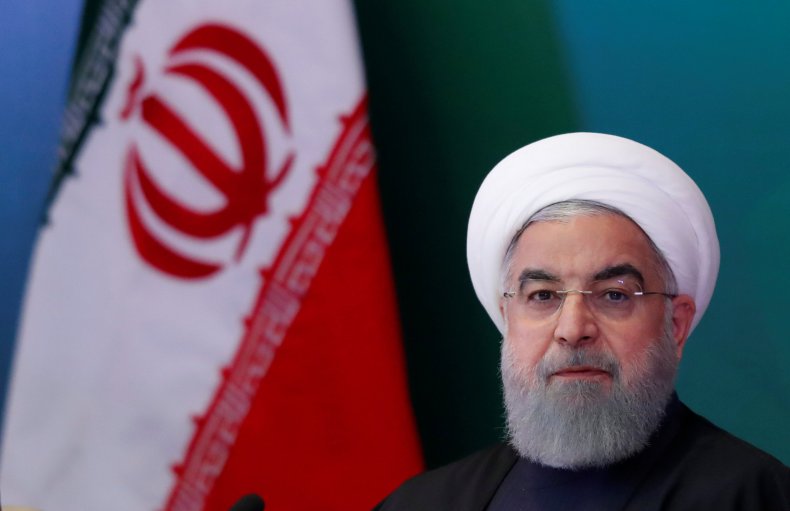 Iran is no stranger to upheaval, war or protest. The Islamic Republic has weathered four decades of challenges, and so far, muddled its way through them all. That said, Geranmayeh believes the country's sense of national unity and cohesion is under threat. "People are so disgruntled and so disillusioned that the external threat of Trump may not be enough to hold the country together," she explained.
"It is no longer enough—as these protests have shown—to keep blaming all the problems of the country on America, and sanctions, and foreign powers," Geranmayeh continued. Iranians are no longer buying it. They are demanding more transparency, accountability and better management of the country's finances.
If Iran's leaders can salvage something from the JCPOA, it may be enough to get the country through to 2020, when the Trump threat will either be removed or reinforced. For Geranmayeh, the country is in trouble, but not in peril. "I really don't fall into the camp that thinks the collapse is around the corner—this is the line that in Washington D.C. we've been getting told for about 40 years now," she concluded.