Trump's Alliance Against Iran: Saudi Arabia and Partners Join Israel in Supporting U.S. as Others Turn Away
While President Donald Trump condemned Iran in his address Tuesday to the United Nations General Assembly, a small but influential group of countries gathered elsewhere in New York City in an attempt to rally support for an increasingly controversial cause among the international community.
The foreign ministers of Saudi Arabia and Yemen, the ambassadors of Bahrain and the United Arab Emirates to Washington and the director of Israel's Mossad spy agency were among those who spoke alongside two of President Donald Trump's most senior officials at the 2018 United Against Nuclear Iran summit. These five U.S.-backed countries have accused Iran of interfering in their respective internal affairs and were among the few world powers to welcome Trump's decision to unilaterally abandon a 2015 multinational deal by which Iran agreed to denuclearize in exchange for a lifting of sanctions.
At a time when traditional U.S. allies France, Germany and the U.K.–all of which also signed the nuclear deal–were working alongside China and Russia to counter U.S. sanctions against Iran, this Middle Eastern quintet has formed the core of foreign support for Trump's hardline stance against the revolutionary Shiite Muslim power. UAE ambassador to the U.S. Yousef al-Otaiba said Tuesday that the Iranian threat was existential.
"We have paid the price more than anyone else in our part of the world," Otaiba said, sitting on a panel beside State Department director of policy planning Brian Hook and Saudi Foreign Minister Adel bin Ahmed al-Jubeir. "The Gulf countries, Israel and the countries in the immediate vicinity are the ones at immediate risk."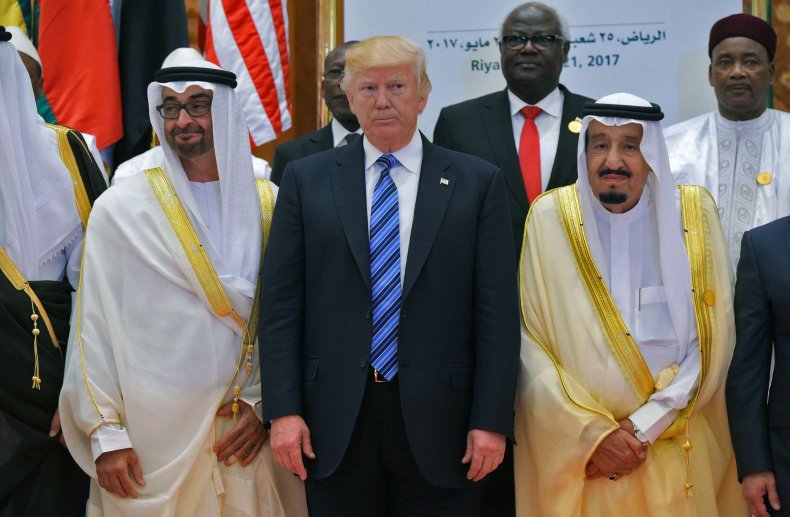 While the four Arabian Peninsula states do not recognize or maintain relations with Israel, their mutual enmity for the leadership in Tehran has forged an informal coalition. Otaiba himself reportedly met Israeli Prime Minister Benjamin Netanyahu during a chance encounter in Washington in May, during which both men discussed their country's positions on Iran, according to the Associated Press.
Bahrain, a majority-Shiite Muslim island state ruled by a Sunni Muslim monarchy with close ties to neighboring Saudi Arabia, went so far as to publicly back Israel's right to defend itself via a social media statement by its top diplomat in March. Having accused Iran of funding a Shiite Muslim insurgency in his country, Bahraini envoy to the U.S. Sheikh Abdullah bin Rashed bin Abdullah Al Khalifa reaffirmed this statement on Tuesday.
"Some of you might recall our foreign minister tweeted a few months ago and said that every country has the right to defend itself, including Israel," Sheikh Abdullah said.
Since the 1979 Islamic Revolution that ousted a CIA-reinstalled absolute monarchy, Iran's growing presence in the region has created major concerns for Saudi Arabia and Israel. The staunch U.S. allies have been at odds since Israel's 1948 creation, which prompted the mass displacement of Palestinians and a series of Arab-Israeli wars, but reports have suggested that two have become increasingly close in the face of a common foe, especially as Riyadh's regional clout has fallen in Iran's favor in countries such as Lebanon, Iraq, Syria and Yemen.
"This is a regime the only way one can deal with them is by pressuring them and by forcing them to change," Jubeir told the conference Tuesday, accusing Tehran of sponsoring terrorism, cyber attacks, ethnic cleansing projects and of supporting a group of Zaidi Shiite Muslim rebels, known as Ansar Allah or the Houthi movement, which he said have fired up to 197 ballistic missiles at Saudi Arabia.
Jubeir left the event without taking questions and Israeli Mossad Director Yossi Cohen's comments at the following panel were off the record.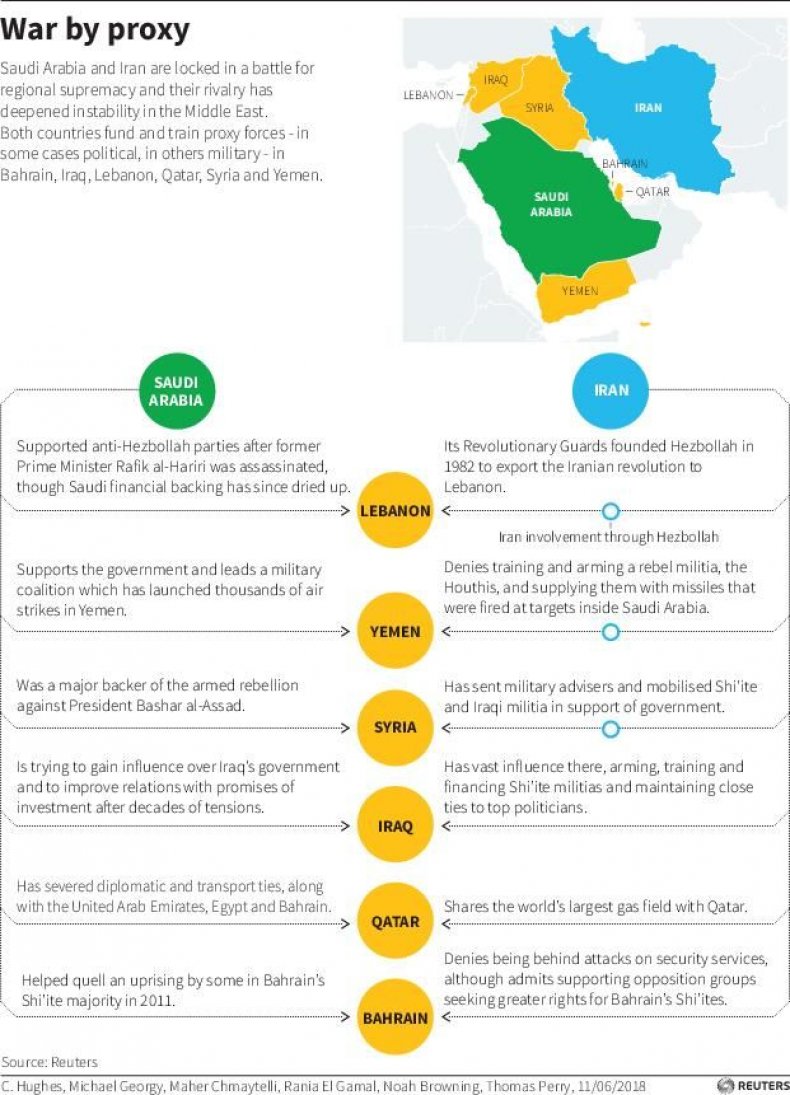 As a Saudi-led coalition—which includes Bahrain and the UAE—bombs the Houthis in Yemen, Israeli warplanes blast alleged Iranian and pro-Iran positions fighting on behalf of resurgent government forces in Syria. Both Saudi Arabia and Israel have backed Syrian rebels attempting to topple Syrian President Bashar al-Assad, an ally of Iran and Russia. Israeli officials have called for Saudi Arabia and its regional allies to openly work together with their country against Iran. Last month, a report surfaced suggesting Saudi Arabia acquired the Iron Dome missile defense system, which Israel uses to block rocket attacks from Palestinian and Lebanese groups sponsored by Iran. The Israeli Defense Ministry reportedly denied the report.
While the true extent of their alignment remains the source of reports and speculation, Israel and Saudi Arabia's anti-Iran postures have been emboldened by the Trump administration. The U.S. leader followed up his fiery debut at the U.N. General Assembly last year with another verbal assault on Tehran, calling it a "corrupt dictatorship" whose leaders "sow chaos, death, and disruption."
"They do not respect their neighbors or borders, or the sovereign rights of nations. Instead, Iran's leaders plunder the nation's resources to enrich themselves and to spread mayhem across the Middle East and far beyond," he said. "The Iranian people are rightly outraged that their leaders have embezzled billions of dollars from Iran's treasury, seized valuable portions of the economy, and looted the religious endowments, all to line their own pockets and send their proxies to wage war."
Iran has been keen to point out the perceived growing ties between the U.S., Israel and Saudi Arabia and dismissed their accusations, accusing them of conspiring to destabilize the country and the region. The Iranian position has been reinforced by its success in tackling the Islamic State militant group (ISIS) alongside Iraqi government forces backed by the U.S. and Syrian government forces opposed by Washington. In Syria, Iran-backed militias have deployed alongside Syria's armed forces around Idlib, the final province under the control of an Islamist-led insurgency.
France, Germany and the U.K. have joined the U.S. in cautioning Syria and its Iranian and Russian allies from pursuing an all-out offensive in Idlib, but have split with the Trump administration on punishing Iran economically for its involvement in the Middle East and development of ballistic missiles.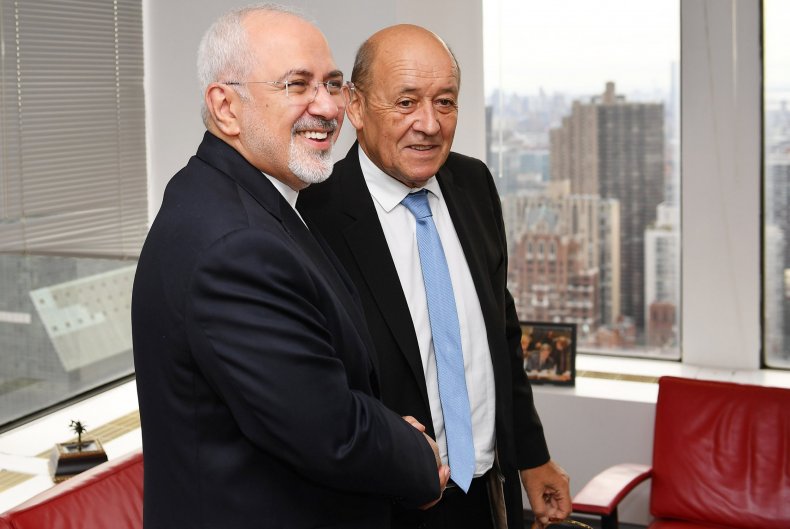 France, the EU, Germany and the U.K. have been deeply critical of the U.S. decision to leave the Iran deal, which came after the International Atomic Energy Agency affirmed Tehran's adherence on multiple occasions and followed U.S. exits from other international agreements. A day before Trump's U.N. address and the United Against Nuclear Iran conference, the foreign ministers of these transatlantic powers met with their Russian, Chinese and Iranian counterparts to discuss saving a nuclear deal that no longer protects the beleaguered Iranian economy from heavy U.S. sanctions.
EU foreign policy chief Federica Mogherini announced Monday alongside Iranian Foreign Minister Mohammad Javad Zarif that China, the EU, France, Germany, Russia and the U.K. would establish an alternative payment to dodge U.S. sanctions against companies doing business with Iran.
German Foreign Minister Heiko Maas previously made a similar suggestion last month, arguing that Europe had to step up and "counterbalance" the U.S. when it "crosses red lines." Experts have suggested that such a move could have a major impact on U.S. global influence, as China and Russia were vying with the West for international authority and European powers were growing frustrated with the direction of Trump's foreign policy.
"The United States makes its decisions based on its national security interests, other parties to the plan of action need to make their decisions based on the capacities of their nations," Hook told the summit Tuesday when asked about the positions of China, the EU, France, Germany, Russia and the U.K.