What's Going On in Syria? Everything You Need to Know About U.S., Russia, Turkey and Iran's Role in Idlib
Update (03/16/19): Syria's war entered its ninth year on Friday, with the United States, Russia, Iran and Turkey the main international players in a conflict that has cost the lives of hundreds of thousands of people and displaced millions more.
Nine years of battles have shifted the dimensions of the multi-sided conflict tremendously, leaving the Syrian government—an ally of Russia and Iran—once again in control of most of the country. The next most powerful faction was the Syrian Democratic Forces, a largely Kurdish faction backed by the U.S., and, with only minor stretches of territory under its control, the fractured Syrian opposition, some of which received Turkish control, and the Islamic State militant group (ISIS) faced existential crises.
As the Syrian Democratic Forces advanced into the final pockets of jihadi territory in the eastern province of Deir Ezzor, the original belligerents of the 2011 conflict—the government and an Islamist-led insurgency—remain bound to deal struck in September by Russia and Turkey. Under the terms, both countries plan on jointly patrolling the northwestern province of Idlib, the last vestige of an eight-year effort to overthrow the Syrian government.
In looking back, Newsweek is expanding its Idlib explainer published last September to cover the reasons behind the conflict.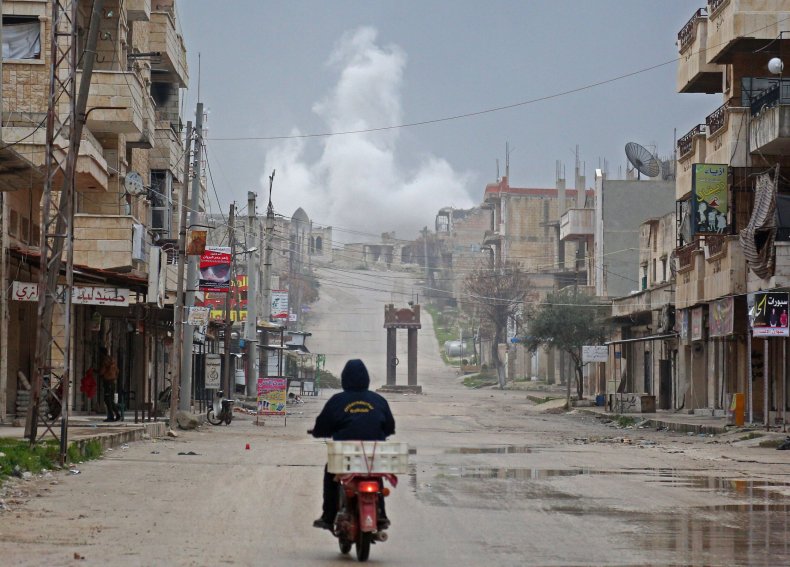 What happened in Syria?
The war in Syria has its roots in anti-government protests that largely escalated with a so-called "Day of Rage" on March 15, 2011. Security forces cracked down and, days later, both sides were counting their dead. Detractors of Syrian President Bashar al-Assad have accused him of being an authoritarian ruler guilty of human rights abuses, while supporters have championed him as a bulwark against both Salafi jihadi forces, and U.S.-led Western imperialism.
With Assad having restored most of the country under his rule, questions have been raised about his future regional relations. Bahrain and the United Arab Emirates have already begun to reopen their embassies in Damascus and several more Arab states have called for Syria to be restored to the Arab League after its 2011 expulsion, but the U.S. has pressured its local allies to adopt a hardline stance against Syria until forces suspected of being under Iranian command were expelled.
What is the cause of the civil war in Syria?
The Syrian civil war has its roots in sectarian and class conflicts at home, and was influenced by a wave of regional protests accusing various Arab governments of corruption and incompetence. Conservative rural communities already suffering from drought and urbanization felt neglected by the central government's elite, dominated by Assad's Alawite community, but also including representatives of the country's Sunni Muslim majority and various minorities.
Eight years since demonstrations turned to civil war, many of the core socio-economic issues that sparked the conflict have remained unresolved, but Syria's weary survivors have already begun to rebuild. In addition to these domestic factors, the war was strongly linked to the competing geopolitical interests of international powers with a stake in the Middle East, as is detailed in the original Newsweek story below.
Is it safe in Syria?
Joined most recently by Venezuela—another country where the U.S. has threatened military intervention—Syria is one of only a dozen countries that the State Department tells citizens "do not travel." The most recent advisory, issued in September, warns of "terrorism, civil unrest, and armed conflict." Washington's embassy in Damascus suspended its operations in February 2012, with only "extremely limited" consular services available at the Czech Republic's embassy.
U.S. citizens have been killed and kidnapped in Syria, mostly by insurgents and ISIS, thought Washington has claimed that missing journalist Austin Tice was in the captivity of the Syrian government or its allies. Still, a cessation of hostilities across most of the country has brought a number of refugees back and the Syrian government has attempted to draw in tourists to sites such as nightlife in Damascus, the Mediterranean beach resorts of Latakia and Tartus, the ancient ruins of Palmyra and the country's many castles, including the Citadel of Aleppo.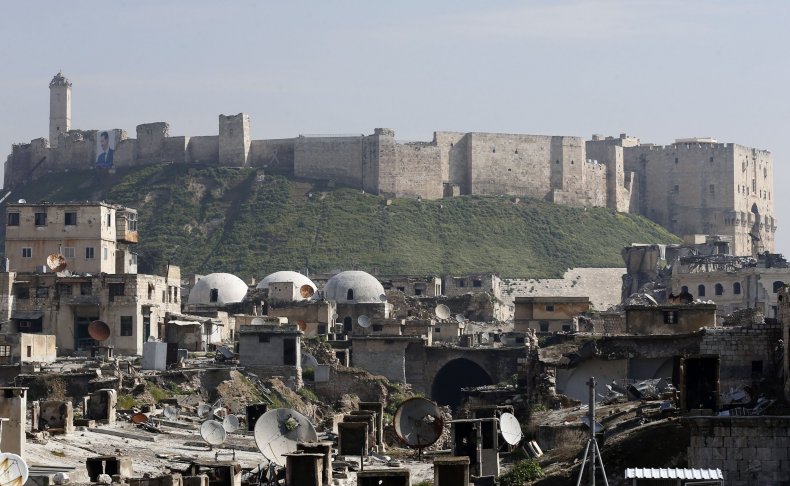 Original Story (published 9/22/2018): A seven-year civil war between the Syrian government and an Islamist-led insurgency has come down to a single province under rebels and jihadi control in the country's northwest, but the stakes may be higher than ever for world powers invested in the conflict.
Russia and Iran have helped Syrian President Bashar al-Assad regain most of the country, but Turkey and a number of Western powers have urged the Syrian leader and his allies not to move in on the northwestern province of Idlib, which is dominated by the Al-Qaeda-linked coalition of Hayat Tahrir al-Sham and hosts an inflated population of up to 3 million people. The United States has gone so far as to threaten military action, especially in the event it suspects the Syrian government of using chemical weapons, while Russia has claimed Western governments were conspiring with militants to stage such an attack.
A deal struck Monday by Russia and Turkey appears to have stalled any sort of imminent Syrian military attack on Idlib, but tensions remain high in the region, especially after an Israeli air raid on a suspected weapons depot in nearby Latakia province resulted in the accidental downing of one of Russia's surveillance planes by allied Syrian anti-aircraft fire.
With Moscow and Ankara attempting to begin implementing Saturday their agreement on Idlib and a new score of casualties threatening to upset Russia's careful balance of ties between arch-foes Iran and Israel, here's where the top international players in Syria stand.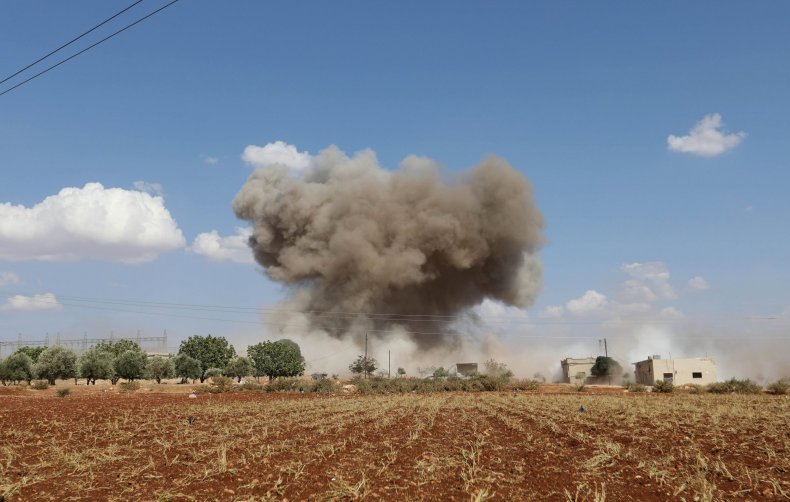 The United States
The U.S. joined Turkey, Saudi Arabia and Qatar in sponsoring efforts to overthrow Assad after a 2011 uprising by rebels and jihadis. The CIA trained and equipped the opposition, which succeeded in forcing the government out of key towns and cities, but which grew increasingly fractured as its ultraconservative forces rose within its ranks and jihadi groups like Al-Qaeda's Nusra Front and the Islamic State militant group (ISIS) spread throughout the country. In 2014, the U.S. formed an international coalition to begin bombing ISIS and, the following year, it formally entered into a partnership with a mostly Kurdish group known as the Syrian Democratic Forces.
The Pentagon-backed Syrian Democratic Forces have seized large parts of northern and eastern Syria from the militants and are currently engaged in their final offensive against a jihadi pocket in the east. Unlike the Syrian opposition, this group has not explicitly called for Assad's downfall and has even fought alongside his forces at times. The Syrian Democratic Forces' political wing suggested they may even participate in a future Syrian military campaign against Idlib, but no agreements have been announced as the group remains in talks with Damascus.
Under President Donald Trump, the U.S. has largely focused on defeating ISIS and curbing Iranian influence, but the U.S. has twice struck sites under Syrian government control in response to alleged chemical weapons attacks and has engaged pro-Syrian government militias on several occasions. While White House national security adviser John Bolton said last month that the U.S. would "respond strongly" to any chemical attacks in Idlib, U.S. envoy Nikki Haley took things a step further last week when she warned the United Nations Security Council that she would "consider any assault on Idlib to be a reckless escalation of the conflict" due to humanitarian concerns.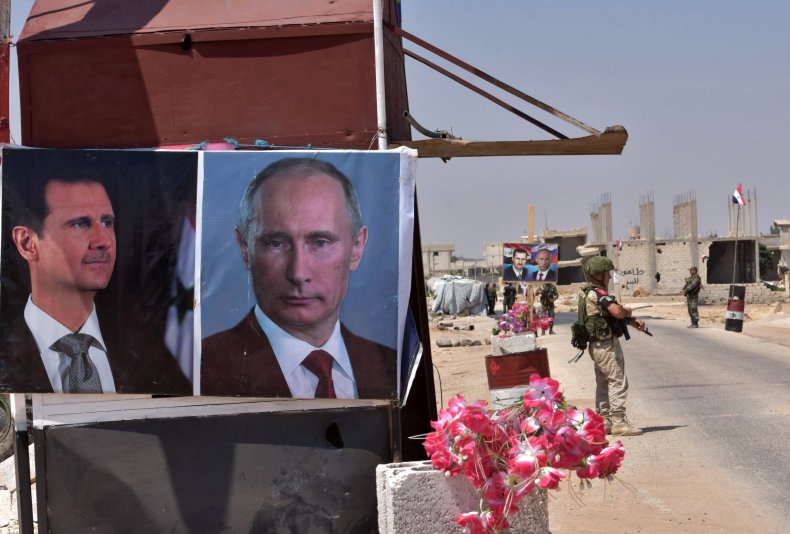 Russia
As Russian President Vladimir Putin bolstered his country's military and political might, he increasingly turned against the U.S.-led "War on Terror" he initially supported in 2001. Moscow saw NATO Western military alliance NATO's role in the overthrow of Libyan leader Muammar el-Qaddafi as a negative influence on the region and intervened politically in 2012 to save Assad, whose father was a Soviet ally. As rebels supported by the CIA and other nations began battling back the Syrian armed forces began to themselves become overwhelmed by ISIS—a group with roots in the Sunni Muslim insurgency unleashed after the 2003 U.S. invasion of Iraq—Russia stepped in militarily as well in 2015.
Russia's first major deployment abroad since the Soviet Union's doomed Afghanistan campaign—which also faced a largely Islamist, U.S.-backed insurgency—has seen greater success, allowing Assad to reclaim lands from both ISIS and rebels, whose Western has mostly dried up. President Donald Trump's election initially softened the U.S.-Russia rivalry over Syria as the Republican leader even floated an alliance with Moscow. While Trump has expressed an eagerness to withdraw from the conflict as ISIS is defeated and has considered coordinating with Putin on resettling refugees, no formal agreements have been made and the two powers remain at odds.
Since 2015, Russia has sent some 63,012 servicemen, many of whom have been based at an airbase in Hmeymim and a naval facility in Tartous. Both facilities have been targeted by waves of armed drones unleashed by militants in Idlib, giving Russia an added incentive to end the presence of groups such as Hayat Tahrir al-Sham, which includes the former Nusra Front, and Ahrar al-Sham in the northwestern province either by force or diplomacy.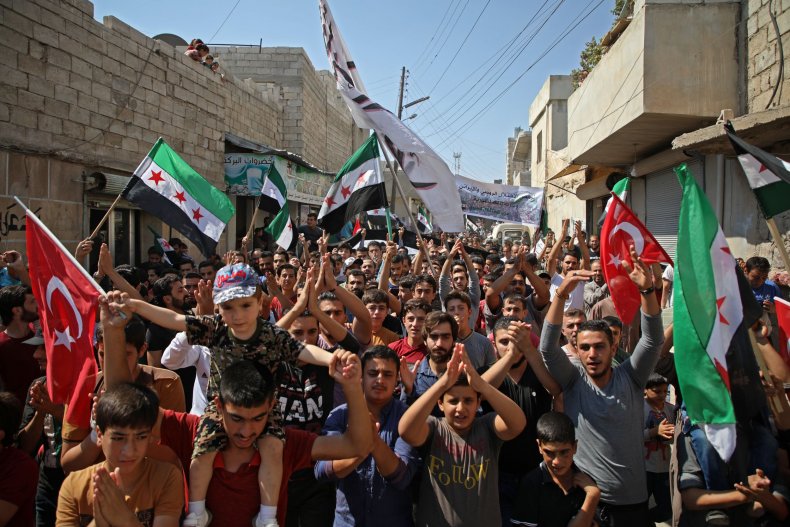 Turkey
Turkey has in recent years become a primary sponsor of the remnants of the once-powerful, CIA-backed Free Syrian Army, which controls a border pocket of northwestern Syria, above Idlib. While initially a close ally of the U.S. in Syria, Ankara became frustrated with the Pentagon's backing of Kurdish groups such as the People's Protection Units (YPG), considered terrorist organizations by the Turkish government. As the West abandoned the Syrian opposition, Turkey has attempted to negotiate with Russia and Iran on its behalf, officially joining the trilateral Astana peace process last year.
These talks produced four de-escalation zones in the eastern Ghouta suburbs outside of Damascus, the southwestern provinces of Daraa and Quneitra, north of Homs city and in Idlib. As the Syrian military retook all but one of these rebel strongholds this year, however, those unwilling to reconcile with the government have been left with nowhere to go except Idlib. Fearing widespread civilian casualties and a massive refugee crisis, Turkey successfully appealed for talks and reached an agreement with Russia to establish a 9 to 12-mile demilitarized zone to be manned by Russian and Turkish personnel in Idlib.
Jihadi groups would also need to evacuate and heavy weapons would be removed within the limits of this zone. After three days of consultations with Russian officials, the Turkish Defense Ministry announced Friday that, "taking the geographical structure and characteristics of settled areas into consideration, the borders of the disarmament zone in Idlib have been set."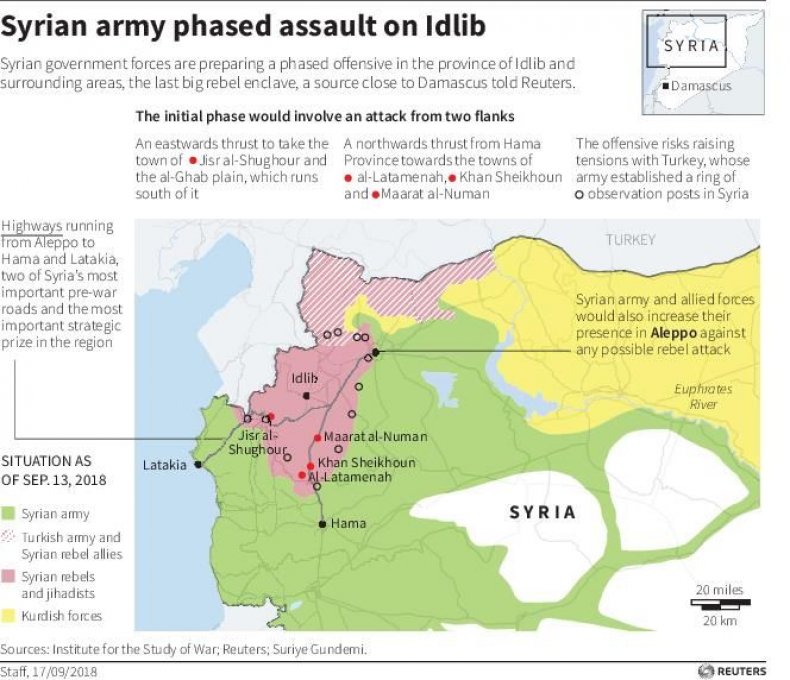 Iran
Iran's ties to the Assad family date back to the 1979 Islamic Revolution that installed the current Shiite Muslim revolutionary leadership in Tehran. Syria backed Iran over their mutual Iraqi foe, paving the way for decades of close ties that would play out within the complex politics of Lebanon's civil war and into the 21st century. As Syria undergoes its own internal strife, Iran-backed militias such as the Lebanese Hezbollah have fought alongside Assad's troops and Iran has deployed advisers from its elite Revolutionary Guards to further support the war effort.
While Iran's mobilization of regional groups has reinforced the Syrian armed forces, it has also drawn Israeli intervention. Since at least 2013, Israel has conducted bombings against positions suspected of hosting Iranian or Iran-sponsored forces and Israel revealed earlier this month that its conducted more than 200 strikes in the past two years alone, a rare admission surrounding a campaign often cloaked in secrecy. While Iran and Russia have maintained a strategic alliance throughout the conflict, Iran has publicly refused Russian suggestions that all foreign forces should withdraw, maintaining that it would stay in Syria as long as the government welcomed its presence.
Like Russia and Turkey, Iran has its own observation posts set up along the borders of Idlib, but its direct military role in Syria does not compare to its two Astana counterparts. Instead, Iran operates mostly through regional allies that, in addition to Hezbollah and local Syria groups, include groups of Afghan, Iraqi and Pakistani origin. Tehran's leadership has friendly forces in Baghdad, Beirut, Damascus and Sanaa, giving it an expansive regional influence that has left its enemies the U.S., Israel and Saudi Arabia anxious.