The political wing of a U.S.-backed alliance of Syrian Kurds, Arabs and other communities has accelerated its diplomatic engagement with the Syrian government—an ally of Russia and Iran—in hopes of ending the country's seven-year civil war.
The Syrian Democratic Council held an expanded session Sunday in its headquarters in the northern Kurd-controlled city of Al-Darbasiyah to discuss the results of a recent session of talks with the Syrian government in Damascus. In a statement published Monday, the group said it "stressed the importance of this meeting as an initiative toward a political solution and the necessity of its continuity on well-established and solid principles pertaining to all aspects of the political process and that what will be accomplished on the service and technical side is a focal point for building trust and good faith between the parties."
Citing remarks presented by co-chair Ilham Ahmed, the statement said that everything accomplished in these opening negotiations would serve as "a focal point for building trust and good faith between the two parties, and would open the prospects for a comprehensive and complete political settlement for all of Syria."
"Therefore, we call on all Syrian democratic political forces to engage in and join this Syrian-Syrian political track, so that it may be stronger and more effective in ending the violence and war, saving the country and the Syrian people from the current crisis and drawing a map for a comprehensive road that will transition the country to a decentralized, democratic Syria," it added.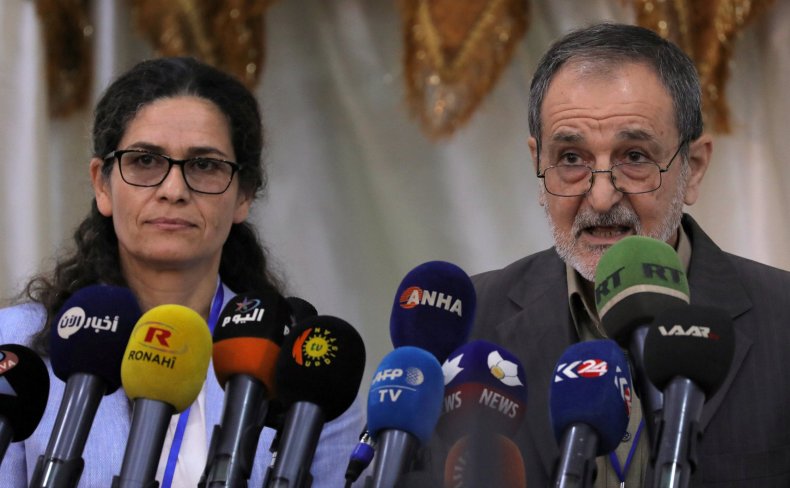 The Syrian Democratic Council is the political body of the Syrian Democratic Forces, a U.S.-backed and mostly Kurdish force that has taken control of over a quarter of the country in battles with the Islamic State militant group (ISIS). One of its most powerful factions, the Kurdish People's Protection Units, has had a complicated relationship with the government of Syrian President Bashar al-Assad. The group is technically considered a terrorist organization, but has at times worked alongside pro-Syrian government forces against a 2011 uprising backed by the West, Gulf Arab states and Turkey, a leading opponent of Kurdish separatist interests in the region.
The U.S. has accused Assad and his allies of war crimes, but shifted its priorities as jihadis took over about half the country. Washington has mostly cut its CIA backing of Syrian insurgents in favor of providing Pentagon assistance to the Syrian Democratic Forces, which the U.S. formally endorsed in 2015. Ankara has criticized U.S. backing of the Syrian Democratic Forces and has doubled down on its support for Syrian rebels, staging a limited military intervention to oust them from the northwestern Syrian district of Afrin at the beginning of the year.
U.S. direct support for the Syrian Democratic Forces came shortly after Russia staged its own direct military intervention on behalf of the Syrian government. Since these moves shook the dynamic of the war, the Syrian military and Syrian Democratic Forces have expanded their control to become the two most powerful sides in the nation.
Their international partners, Russia and the U.S., respectively, have no formal alliance in the conflict, but maintain a deconfliction line intended to avoid clashes between their armed forces and local allies. Since meeting with Russian President Vladimir Putin in Helsinki earlier this month, however, President Donald Trump has expressed a willingness to coordinate with Moscow on the return of refugees.
Tensions remain between the two sides, however, and the U.S. remains staunchly opposed to the presence of Assad's other ally, Iran, in Syria. Last year, Russia gathered Iran and Turkey to establish a new peace process based in the Kazakh capital of Astana. In a statement sent Sunday to Syria's pro-government Al-Watan newspaper, Syrian Democratic Council co-chair Riad Darar said that starting up direct negotiations with the Syrian government at home meant "we have no need" to also meet in Astana.
While much of what's been discussed so far was reportedly limited to the transfer of control over services—such as the formerly ISIS-held Tabqa dam—to the government, Darar emphasized that the Syrian Democratic Council was prepared for full-on "unconditional negotiations" between the two sides. The Syrian Democratic Forces are in control of much of Syria's oil and gas fields in the east and have reportedly sought to negotiate the return of these areas in exchange for greater autonomy from Damascus.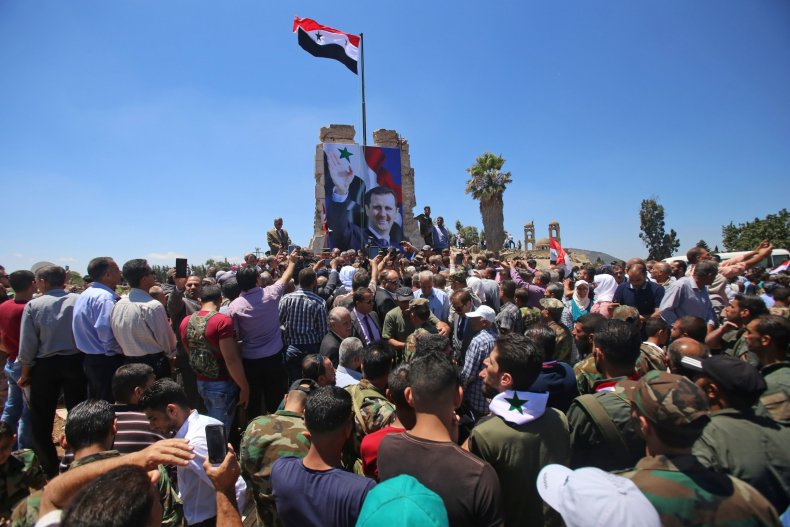 Darar also said that the Syrian Democratic Forces may potentially participate in an upcoming Syrian military offensive to retake the final rebel-held bastion of Idlib, where Turkish military observation points surround a large pock of Islamist-led rebel control. He said, "we are always ready to fight terrorism, and to fight extremism and the fighters of ISIS from Sweida to Idlib to every area, and in this, we have no objection to working together to fight terrorism, to fight extremism, especially in Afrin because we complain about the humiliation in Afrin and we must liberate it. We accept whoever helps us and supports us in its liberation."
The Syrian Democratic Forces have previously called on the Syrian government to take action in driving Turkish and allied rebel forces from Afrin, but the move has been complicated by Turkey's participation in the Astana process. Aldar Khalil, joint chairman of the Movement for a Democratic Society (TEV-DEM) coalition that governs areas under Syrian Democratic Forces control in northern Syria, told Kurdish media last week that "we do not see that we are far from being a more influential party in Idlib through our support in the eradication of terrorism there, and to contribute to reducing Turkey's role and thwarting the plans of [Turkish President Recep Tayyip] Erdogan," as quoted by U.K.-based, pan-Arab newspaper Al-Hayat.
As news broke out Monday of the latest Syrian Democratic Council session, the Syrian government sent delegations to the 10th round of Astana talks and reportedly to the Syrian Democratic Council-run town of Ein Issa, north of Raqqa. Local Raqqa journalist Saad al-Sabr reported on social media that Syrian government officials were sent to retrieve the bodies of soldiers killed by ISIS in 2014.
In September 2017, Syrian Foreign Minister Walid al-Muallem told Russia's state-run RT news channel that the government was willing to negotiate with Syrian Kurds for "some form of self-management within the borders" of the country once ISIS was defeated. Assad told the Russian outlet in May that Damascus had "started now opening doors for negotiations," but warned that the military was "going to resort to liberating by force" if talks collapsed and the Syrian Democratic Forces did not ultimately abandon U.S. support.