Syria Wants Russia Military to Stay Until Global Power Shifts
Syrian President Bashar al-Assad has expressed his desire for the Russian military to maintain a long-term presence in his country as a counterweight to rival powers in the region.
Assad told Russian media Thursday that Moscow's 2015 intervention in Syria had helped his military and its allies stamp out the threat posed by insurgents and jihadis that rose up after the 2011 rebellion. With the Syrian government rapidly retaking the country's final rebel holdouts, Assad said the Russian military was still needed to fend off opposing forces.
"The Russian Armed Forces are important for balance in our region, at least in the Middle East, until the political equilibrium in the world changes," Assad told journalists, according to the state-run Tass Russian News Agency. "Maybe it will not happen, we do not know this, so it is important and necessary."
"Russia is a big country, it's a great power, therefore it has a duty to the whole world," he added, saying that part of this responsibility entailed "a political and military presence in various regions, if necessary."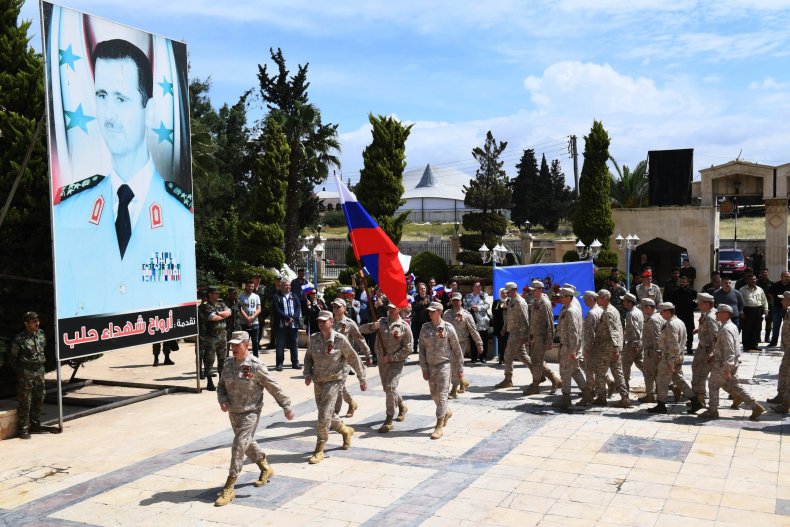 The U.S. and Western allies also maintain a limited military presence in Syria as part of a mission to defeat the Islamic State militant group (ISIS), which spread to the country as part of a Sunni Muslim insurgency stirred up in the wake of the 2003 U.S. invasion of neighboring Iraq. While the U.S.-led coalition against ISIS is allied with the current Iraqi government, it does not work with the Syrian government, which only recognizes Iran and Russia as international partners.
Russia and Iran's support has been vital in allowing the Syrian military and various pro-government militias retake massive stretches of territory and, with the former opposition bastion of Daraa and Quneitra back in Assad's hands, only the northwest province of Idlib remains under the control of an Islamist-led insurgency. Speaking to the press Thursday, Assad said that "Idlib is our goal."
He also said, however, that the government would reclaim the roughly quarter of the country held by the U.S.-backed Syrian Democratic Forces, a largely Kurdish faction that includes Arabs and ethnic minorities. Assad told Russia's state-run RT channel in May that the government had "started now opening doors for negotiations" to reconcile the two factions, but if this did not work, he said the military was "going to resort to liberating by force." Earlier this month, the political wing of the U.S.-backed group said last week it was preparing to enter into talks with the government.
Russia has rallied fellow Assad ally Iran and pro-opposition Turkey to spearhead international efforts to find a political solution to the conflict, and has offered to coordinate with the U.S. in order to facilitate the return of refugees. President Donald Trump reportedly said he was willing to do so during his meeting with Russian President Vladimir Putin earlier this month in Helsinki, but the Pentagon appears to have resisted this notion, garnering outrage from Moscow.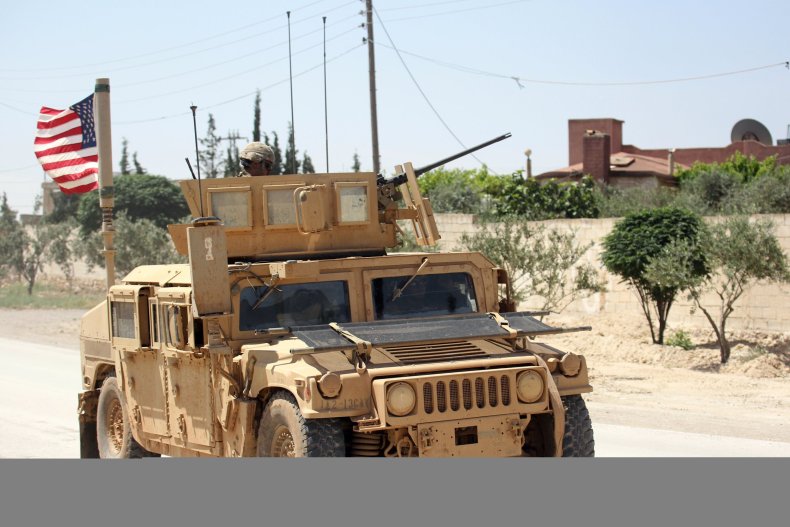 While Iraq and Lebanon consider themselves allies of both the Syria-Russia-Iran axis and the U.S.-led coalition, Washington has invested heavily in ties with the region's Sunni Muslim monarchies in the Gulf and Jordan, as well as fellow NATO Western military alliance member Turkey. Qatar, Saudi Arabia and Turkey, nevertheless, have all maintained close relations with Russia as well and considered buying Russian advanced S-400 anti-aircraft defense system.
U.S.-Turkey ties in particular have waned due to recent events. Turkey has condemned U.S. support for Kurdish factions such as the People's Protection Units (YPG), which are considered terrorist organizations by Ankara over alleged links to a separatist insurgency at home. The U.S. has also lashed out at Turkey over its detainment of a U.S. Christian pastor and has even threatened sanctions if he was not released.
Ahead of their meeting at Thursday's BRICS summit in Johannesburg, South Africa, Turkish President Recep Tayyip Erdogan told Russian President Vladimir Putin that "Any kind of solidarity between us makes someone jealous," according to Turkey's Daily Sabah.