Andrew Brunson Case: Donald Trump Threatens Turkey With Sanctions If Pastor Is Not Released
President Donald Trump threatened to slap NATO ally Turkey with sanctions on Thursday over an ongoing court case against an American pastor named Andrew Brunson.
"The United States will impose large sanctions on Turkey for their long time detainment of Pastor Andrew Brunson, a great Christian, family man and wonderful human being. He is suffering greatly. This innocent man of faith should be released immediately!" Trump tweeted.
Brunson had been jailed in Turkey for almost two years. On Wednesday, he was released into house arrest. Trump has tweeted about Brunson's case in the past, but it is unclear why the President decided to raise the issue of his detention immediately after Turkey released him from jail.
Secretary of State Mike Pompeo applauded the news of Brunson's release during a hearing in the Senate Foreign Relations Committee on Wednesday, although he conceded that there is more work to be done to get the pastor safely back to the U.S. Pompeo also tweeted about the issue on Wednesday.
"We welcome long overdue news that Pastor Brunson has been moved from prison to house arrest in #Turkey, but it is not enough. We have seen no credible evidence against Mr. Brunson, and call on Turkish authorities to resolve his case immediately in a transparent and fair manner," Pompeo tweeted.
Brunson is a 50-year-old Evangelical pastor who has been living in Turkey for decades. He was arrested in 2016 following a failed military coup that aimed to topple Turkey's leader Recep Tayyip Erdogan, and was accused of working with the outlawed Kurdistan Workers' Party (PKK) to establish a Kurdish state in Turkey. He could be jailed for up to 35 years if he is found guilty. Brunson has maintained his innocence throughout the years of his imprisonment. The case has threatened the relationship of traditional allies the U.S. and Turkey.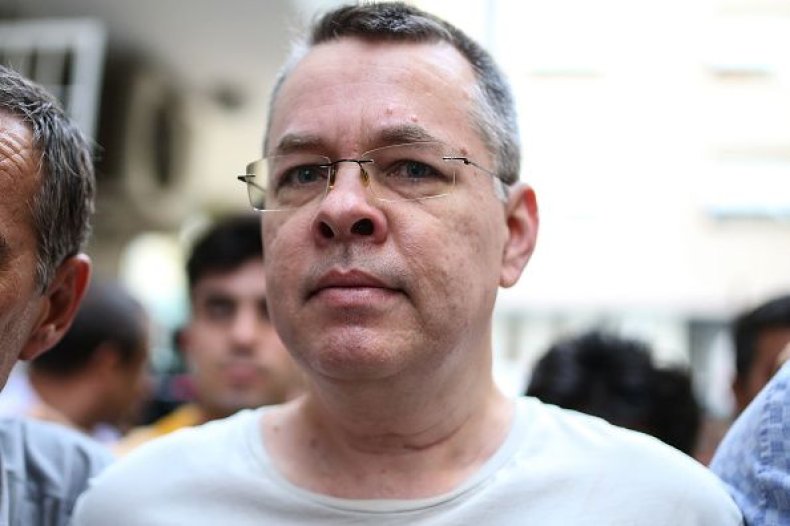 Vice President Mike Pence also welcomed the pastor's release from prison, but he said the decision to put Brunson under house arrest was "not good enough." Pence spoke directly with Brunson on Wednesday.
Some analysts claim that Erdogan is attempting to use Brunson as a bargaining chip to pressure the U.S. for the extradition of Fetullah Gulen, an Islamic cleric based in Pennsylvania who Erdogan regards as his mortal enemy. Ever since the failed military coup, Erdogan has launched a crackdown against people he claims are connected to Gulen, including Brunson.