What's Next for Syria After U.S.-Russia Summit? Trump and Putin Find Common Ground
President Donald Trump and Russian President Vladimir Putin discussed a number of the world's leading issues at their first bilateral summit in Helsinki, Finland. On the topic of the seven-year civil war in Syria, the two men appeared to be aligned—the latest sign that Trump was in support of a policy that would amount to a reversal of the U.S. position at the onset of the conflict.
Trump's continued dismissal of the ongoing investigation into Russia's alleged interference in the 2016 presidential election that brought him to office may have dominated the media fallout of Monday's U.S.-Russia summit, but his meeting with Putin may have far wider implications for war-torn Syria. At the press conference that followed, Trump fell short of declaring any sort of military alliance with Russia, but affirmed that the two forces "get along very well" and "coordinate in Syria and other places."
Kamal Alam, a visiting fellow at the U.K.-based Royal United Services Institute, told Newsweek that "at initial glance Syria was definitely the most significant talking point as far as convergence goes," highlighting Trump's reluctance to get involved in Syria to begin with and sweeping victories by Russia ally Syrian President Bashar al-Assad, the initial target for Washington's Syria campaign.
"Regime change is truly dead and buried now—no chance," he added.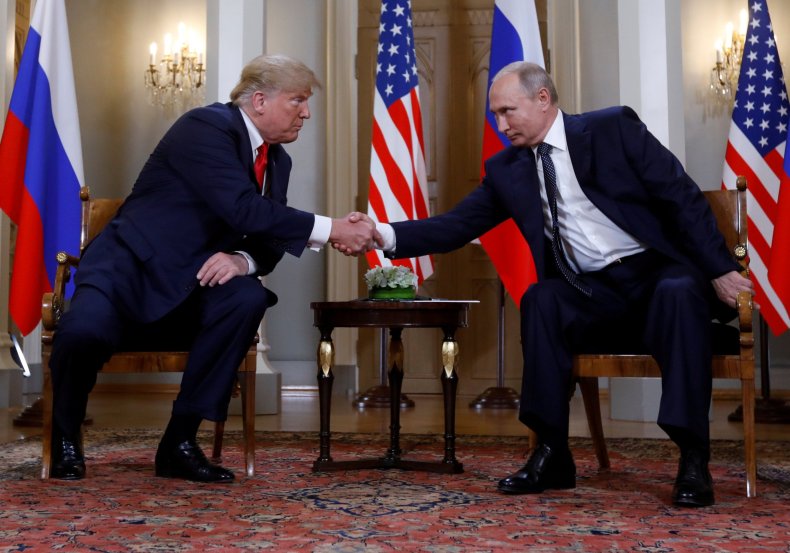 The U.S.-Russia summit came nearly seven years after Trump's predecessor, former President Barack Obama, told the world that "the time has come for President Assad to step aside" in an August 2011 statement. Months earlier, Syrian anti-government demonstrations devolved into deadly clashes between insurgents and security forces, leading to mounting casualties. The U.S. accused the Syrian government of killing innocent civilians and soon began actively arming, training and funding rebels, who also received backing from Turkey, Saudi Arabia and Qatar.
As the bloodshed intensified with an increasingly Islamist rebel takeover of major cities and violent bombardments of urban centers by Syrian warplanes, Obama publicly considered a military intervention amid allegations that the Syrian government used chemical weapons in a rebel-held enclave outside the capital Damascus. Trump openly criticized the Obama administration's Syria policies in a series of tweets that has taken on a new meaning since his own presidency began.
Related: Syria Raises Flag as Israel Fires Missile in Latest Violence Where War Began
"AGAIN, TO OUR VERY FOOLISH LEADER, DO NOT ATTACK SYRIA - IF YOU DO MANY VERY BAD THINGS WILL HAPPEN & FROM THAT FIGHT THE U.S. GETS NOTHING!" the real estate magnate-turned-politician said in one of the tweets.
Hours later, he called the U.S.-backed Syrian opposition "terrorists" and, only days prior, Trump had likened the U.S.-backed Syrian opposition to the Al-Qaeda-affiliated 9/11 hijackers. The U.S. eventually did begin to shift its priorities in the country as the Islamic State militant group (ISIS), a former Al-Qaeda faction that formed in 2013 out of the chaos that followed the U.S. invasion of Iraq a decade earlier, spread into neighboring Syria. When a U.S.-led military alliance entered Syria in 2015, it was to target jihadis, not the Syrian government.
Russia staged its own military intervention in September 2015, just as Trump's political aspirations were growing closer to reality. As he secured the Republican primary spot, he began advocating for a friendly U.S. approach toward Russia, which was supporting Assad and his Iranian allies against both jihadis and rebel groups nationwide. Obama's relationship with Putin had especially soured after Russia's 2014 annexation of the former Ukrainian territory of Crimea and these ties were only further strained by differences over Syria.
The outgoing Obama administration significantly escalated its position against Moscow in 2016 after accusing the Kremlin of being behind a series of hacks that targeted the Democratic Party in a perceived attempt to sway the election in Trump's favor. Trump's shock victory effectively spelled the end for U.S. support for the Syrian opposition, which had already lost momentum to ISIS and the pro-Syrian government campaign, but the U.S.-Russia alliance never formed.
Related: U.S. Coalition Says It 'May Have' Launched Syria Strike That Killed Scores of Civilians, According to Monitor
As Trump ascended to the highest office in the country, voices accusing him of colluding with Russia only grew louder. He was forced to distance himself from the Russian leader, while still affirming support for their shared goal of restoring order in Syria, where the U.S. now mainly supported a mostly Kurdish faction known as the Syrian Democratic Forces. Just about a week after Trump's top officials appeared to formally announce an end to Obama's "Assad must go" stance, the Republican leader did in April 2017 exactly what he told his predecessor not to do.
Less than three days after accusing Assad of a new chemical attack in the rebel-held province of Idlib, Trump ordered a cruise missile attack on a Syrian airbase in the central province of Homs. The damage was minimal, but the order came in direct defiance of Russia, which denied Assad's culpability in a suspected toxic gas attack. Under Trump, the U.S.-led coalition against ISIS attacked pro-Syrian government fighters on a number of occasions, always arguing self-defense and in April 2018, he again bombed Syrian government sites in response to a reported chemical attack conducted just days after Trump suggested he was ready to soon withdraw troops.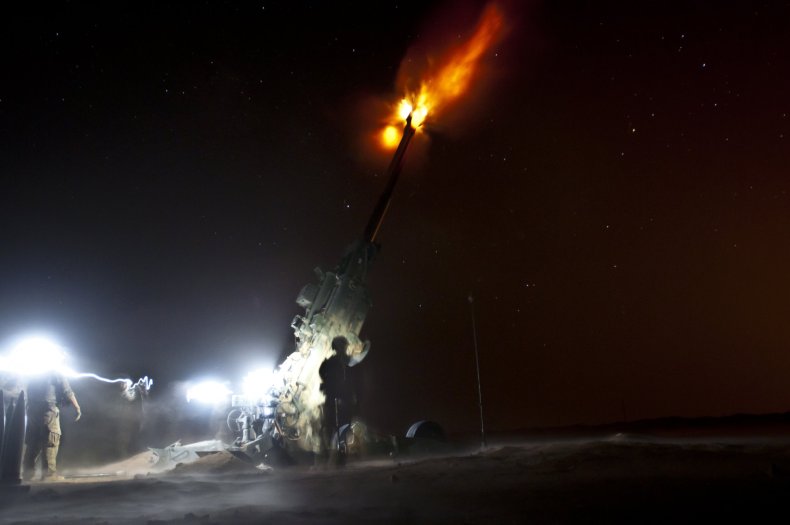 While the latest U.S. attack on Syria was much larger in scale and included coalition allies France and the U.K., it did not at all affect the overall momentum of a war in which Assad had managed to reclaim most of the country. After retaking large swathes of central and eastern Syria, the Syrian military went on to clear the once-insurgent held suburbs of Damascus and have since moved southwest toward Daraa. In a matter of weeks, Syrian troops have secured much of the province considered to have sparked the uprising against Assad.
The U.S. had long abandoned support for rebels fighting Assad, but the most recent Syrian military assault presented a new issue. Israel has stepped up deadly airstrikes against suspected Iranian and pro-Iran military positions in Syria and both the U.S. and Russia grew concerned that the presence of anti-Israel, Iran-backed militias such as the Lebanese Shiite Muslim Hezbollah movement could set off a wider, deadlier fight.
Related: Russia, Caught Between Iran and Israel's War in Syria, Looks for Allies on Both Sides
Russia, Iran, Israel, Jordan and the U.S. have all reportedly participated in various talks in an attempt to come up with a quiet arrangement to avoid unnecessary international conflict. As the Syrian military retook towns and villages, Iran-backed militias were reportedly held back despite opposition claims otherwise and the U.S. made clear that it was not going to intervene in support of the beleaguered Syrian opposition. Meanwhile, the Astana process brokered by Russia, Iran and Turkey and not fully endorsed by the U.S. has continued to be the closest thing to peace talks available.
"The deal is as stands or as expected, the Syrians and Assad can retake the whole of the south—the Israelis are fine with it—Iran has left the south. So in one swoop, the Syrian military is taking both the Jordanian and Israeli border as we speak," Alam told Newsweek. "The Astana process shall continue and eventually I think the Americans will pull out at some stage as Trump is not interested and in general the American military is tied down in Afghanistan and Iraq—still seen as more of a priority for the Pentagon."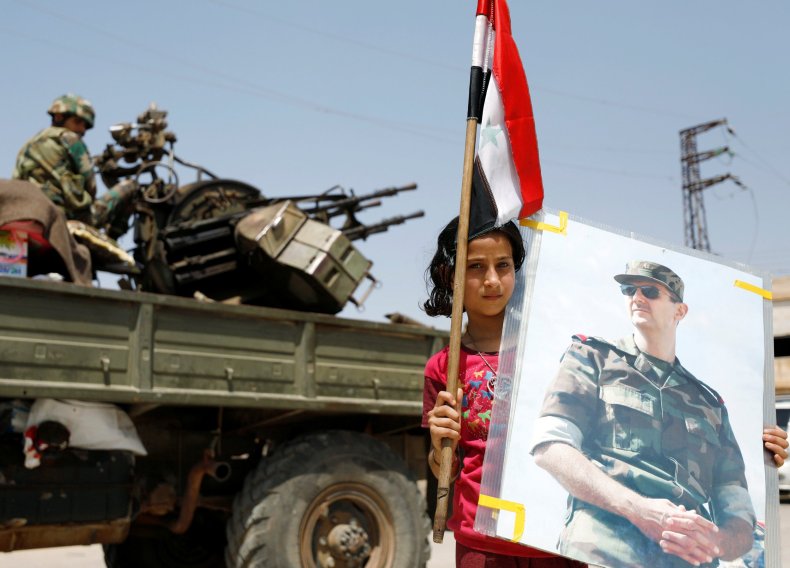 If Trump and Putin finalized any Syria deals Monday, as they were widely expected to do, they did not make them public. What they did commit to was cooperating on humanitarian relief in a war that has already taken hundreds of thousands of lives and working to return some of the millions that have been displaced. In potential anticipation of this, Turkey has already stopped registering asylum seekers from Syria, according to a Human Rights Watch report published Monday. Israel and Jordan have announced they will not admit Syrians trying to flee Syria's southern borders and thousands of Syrian refugees have already begun returning from Lebanon, as Reuters reported.
"The Americans and Russians will work together on refugees as it's in both their interests and less controversial and also they know Turkey, Lebanon and Jordan simply cannot cope anymore. This also coincides with Turkey no longer giving refugees status to Syrians, that is a first since the war began. So there is definitely a deal which involves placating not just Israel's fears but also Turkey. Jordan has its hands full and has already been in touch with Damascus and border crossings have been given," Alam told Newsweek.
"Trump and Putin confirmed what was known for the last year or so," he added. "Assad has convinced the Americans he has a lot more local support as well as Russian support to outlast potential Iranian scale-down."