Trump Bombed Syria One Year Ago, Where Do We Go Now and Why Can't the U.S. Win?
One year ago, President Donald Trump ordered a missile strike against an air base belonging to the forces of Syrian President Bashar al-Assad after accusing him of conducting a deadly chemical weapons attack. Today, the Republican leader has said he wants to withdraw the U.S. military from the conflict, where the defeat of a global jihadi network has given rise to new and even more complex battles.
Trump's cruise missile strike on the Al-Shayrat air base in the early hours of April 7, 2017, Damascus time, was met with international fanfare over what was seen then as the newly sworn-in president's first major foreign policy move. However, the multimillion-dollar maneuver reportedly failed to deter the airfield from operating for more than a day or two and marked the first intentional U.S. attack in Syria that fell outside the Pentagon's stated mission of defeating the Islamic State militant group (ISIS) and other radical Sunni Muslim groups.
Related: Trump wants U.S. out of Syria. Is it finally time to leave or is this one big mistake?
Daniel DePetris, a fellow at security focused think tank Defense Priorities, said the strike did little more than set a dangerous precedent for unsanctioned and unilateral military action.
"I think it's pretty clear that the attack was quite ineffective," DePetris told Newsweek. "It was a one-off strike detached from a larger policy and a decision driven more by emotion than a clear-headed, cost-benefit analysis.
"The larger point here is that the administration took an action that wasn't authorized by Congress on the front end and which had nothing at all to do with the original counter-ISIS mission," he added.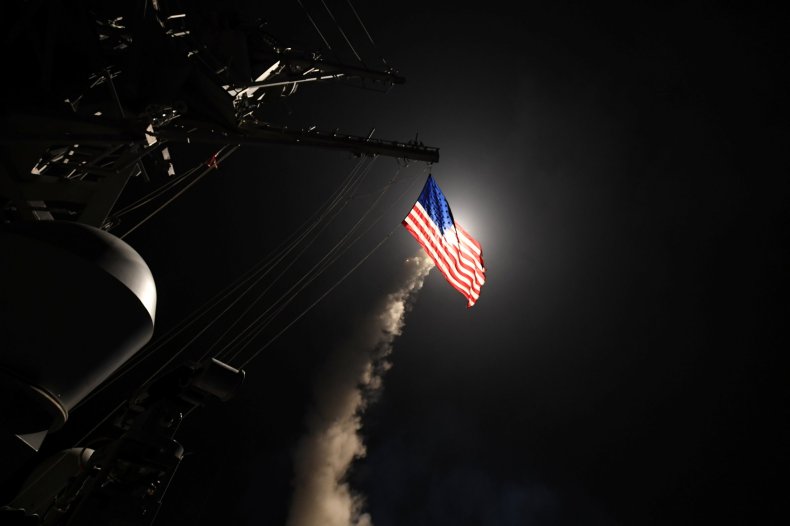 About a week before Trump's strike, U.S. Ambassador to the U.N. Nikki Haley and then-Secretary of State Rex Tillerson both suggested that the U.S. had ended its "Assad must go" stance in the conflict. The policy was adopted by former President Barack Obama in the early days of the 2011 uprising against the Syrian government, and the CIA began a covert program to train and equip various insurgent groups battling the state.
The Syrian opposition received support from the West, Turkey and Gulf Arab countries, but it grew more fragmented as radical forces became more influential. In 2013, ISIS spread from an ongoing post-2003 insurgency in Iraq to Syria, where the militants consumed most rebel territory. The U.S. and its coalition allies officially began their anti-ISIS mission in Syria in 2014, and established a mostly Kurdish militia called the Syrian Democratic Forces to serve as its partners against ISIS on the ground the following year.
Around this time, Russia intervened at Assad's request, reversing rebel gains and handing him back major cities. Trump officially succeeded Obama in early 2017 and promised a reset with Moscow, even offering to join forces with Russia in the fight against ISIS. Reports of a sarin gas attack appeared to change his mind, however, and he chose to act quickly in targeting the Syrian military.
Rather than be deterred, Assad and his Russian and Iranian allies continued to defeat rebels and jihadis in a violent campaign of airstrikes accompanied by regular Syrian troops and pro-government militias on the ground. Today, the Syrian government not only remains in power, it has also reclaimed the lion's share of the country.
The U.S.-led coalition, which managed to oust ISIS from its de facto capital of Raqqa last October, has begun to fracture on the other hand. U.S. ally Turkey staged its own counterterrorism offensive against U.S.-backed Kurdish groups considered by Ankara to be linked to the banned Kurdistan Workers' Party (PKK). In response, Kurdish fighters rushed to defend their comrades in the north, forcing the U.S.-led coalition to suspend operations in the east and raising questions as to whether it had come time to end the mission.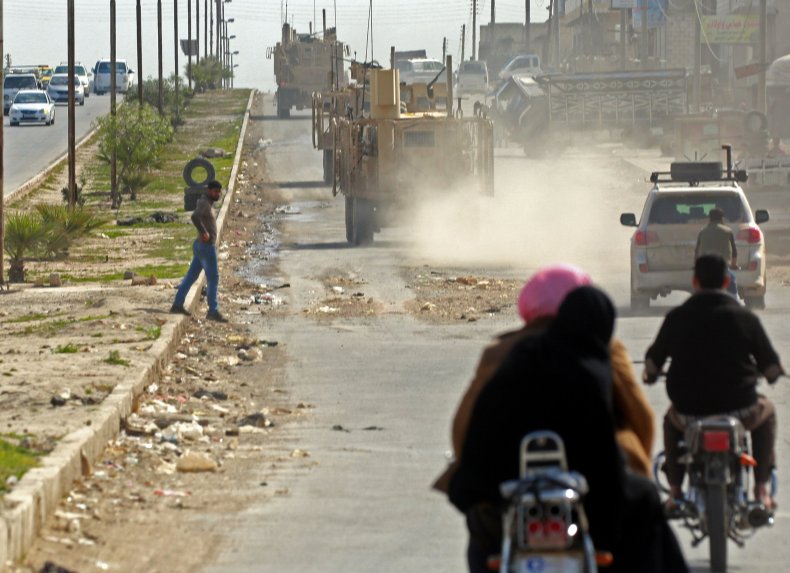 "Yes, bombing ISIS and partnering with the Syrian Democratic Forces has been effective in driving ISIS out of the areas they once controlled. But the bigger question is when is enough, enough? The U.S. military shouldn't be put in the position of being the region's Praetorian guard for eternity," DePetris said.
"Trump is fundamentally correct that the people who live there need to embrace far more responsibility for their own security," he added.
DePetris argued that instead of picking a new fight with Turkey on behalf of the Kurds, the only reason the U.S. had backed Kurdish forces in the first place was "to kill ISIS and kill the caliphate. That's it." In Trump's debut Afghanistan strategy speech last August, he told a military audience, "We are not nation building again. We are killing terrorists." His administration also declined to support Iraqi Kurds in their independence bid after ISIS was on its last legs there.
With ISIS, Syria's universal enemy, having mostly left the picture last year, the multinational forces fighting it have turned on one another. Some Kurdish fighters have already chosen to abandon the U.S.-led effort in Syria and ally with the Syrian government in a separate battle with Turkey. Russia and Iran back Assad's calls to expel U.S. forces, but the Baathist leader's feud with Turkish President Recep Tayyip Erdogan complicated things, as he was part of a tripartite effort with Moscow and Tehran to end the war.
DePetris said he seriously doubted Moscow's ability to handle the Syrian war in the long run but argued, "The U.S. has very little leverage in Syria, to begin with. Who rules in Damascus and what Syria's political order looks like matters a lot to the Iranians, the Russians, and the Turks—it doesn't matter a whole lot to the United States."
Sina Toossi, a researcher at Princeton University's Woodrow Wilson School, agreed U.S. options in Syria had become severely limited. He boiled the choice down to departing and claiming victory over ISIS or remaining to challenge Assad, Russia and Iran—the latter being the preferred option of U.S. allies Israel and Saudi Arabia, which share with the U.S. a distrust for Iran's growing influence in the region.
"Such a scenario would require increased dependence on Kurdish forces, which will further deteriorate U.S.-Turkish relations. Ankara has already directly militarily engaged the Syrian Democratic Forces in Afrin. If the U.S. doubles down on supporting the Syrian Democratic Forces at this stage it will likely push Turkey into an alliance with Russia and Iran—putting the U.S. on hostile terms with all the outside powers that carry influence in Syria," Toossi told Newsweek.
"This option is also further complicated by the fact that the Syrian Kurds have already indicated they seek some modus vivendi with the Syrian regime. The Syrian Democratic Forces' hold on Arab territory such as Raqqa is tenuous, and they have already solicited support from Syrian government forces in Afrin. Meanwhile, the Syrian regime's march to victory continues unabated and is seemingly irreversible unless there is a massive U.S. military intervention," Toossi said.
"Trump has not had a coherent Syria policy, and it remains to be seen what his administration will do," he added. "But the direction of developments on Syria give a weaker case to those arguing for the US to continue its military intervention in the country."