ISIS Tries to Take Back Iraq As U.S. Allies Switch Sides in Syria
Fighters loyal to the Islamic State militant group (ISIS) have attempted to relive their self-proclaimed caliphate by taking advantage of fleeing U.S.-backed Syrian Kurdish forces to storm the Iraqi border, according to local reports.
A group of ISIS fighters active in one of the group's last remaining bastions in eastern Syria reportedly attempted to cross over into nearby Iraq on Sunday, but were quickly defeated by fighters of the Popular Mobilization Forces, an Iran-backed collective of mostly Shiite Muslim Iraqi militias that was officially inducted into the Iraqi military on Friday.
Related: U.S. Is Losing a Top Syria War Ally Once Again, This Time to Assad
"The brigade's forces foiled a terrorist attack by ISIS gangs in armed vehicles driving toward the Al-Jaghifi border area," Popular Mobilization Forces First Brigade Commander Abu Jinan al-Basri told the group's official website.
The paramilitary commander said that his forces managed to destroy one of the incoming technicals, causing the remaining jihadis to flee into the northeastern Syrian desert region of Al-Hasakah. The area was mostly under the control of Syrian Kurds fighting ISIS on behalf of a U.S.-led coalition, but their numbers have dropped significantly in the wake of a Turkish invasion on another Kurd-controlled area in Syria's northwest.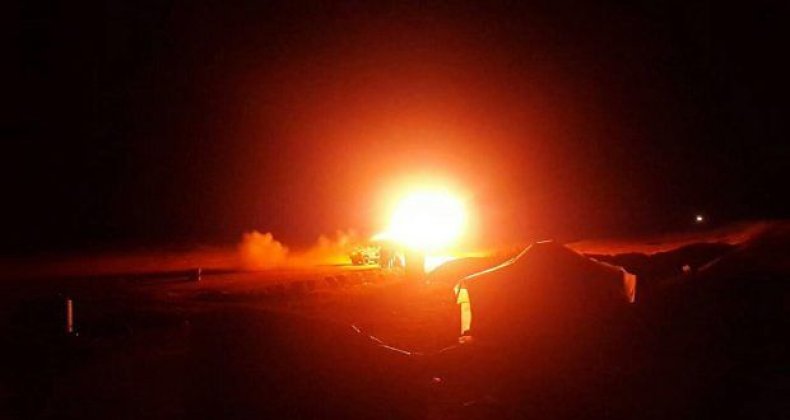 ISIS originated in an Al-Qaeda-affiliated coalition of jihadis that became active after the 2003 U.S. invasion of Iraq. The group took over major cities in both Iraq and Syria in 2013 and 2014, claiming half of both countries at its peak. A number of rebel groups backed by the West, Turkey and Gulf Arab states were either defeated or absorbed by the group as they attempted to oust Syrian President Bashar al-Assad, an ally of Russia and Iran.
As the U.S. cut back aid for the largely Syrian Sunni Muslim Arab opposition, it began to sponsor Kurdish fighters, establishing the mostly Kurdish Syrian Democratic Forces to battle ISIS in October 2015, just after Russia also began bombing ISIS in support of Assad a month prior. Separate pro-Syrian government and Syrian Democratic Forces campaigns relegated ISIS to shrinking pockets in Syria's far east, but recent events have prevented both forces from defeating the jihadis once and for all.
Turkey, another U.S. ally and fellow NATO Western military alliance member, staged a military operation in January to dislodge U.S.-backed Kurdish forces from the northwestern Syrian district of Afrin. Turkey considered Syrian Democratic Forces-affiliated Kurdish militias, such as the People's Protection Units (YPG), to be terrorist organizations linked to the militant Kurdistan Workers' Party active at home.
With the U.S.-led coalition declining to support either the Kurds or Turkey, there has been an exodus of Kurdish forces attempting to repel the Turkish operation, which was being supported by the once U.S.-backed Free Syrian Army rebel group. The U.S.-led coalition acknowledged in a statement sent to Newsweek earlier this month that it was "aware of the departure of some" Syrian Democratic Forces fighters, the potential costs of these losses and said the remaining—mostly Arab—fighters were being arranged "to meet the demands of a complex situation."
Days later, on Tuesday, Pentagon spokesman Colonel Rob Manning told reporters that, while airstrikes against ISIS would continue, ground operations would take an "operational pause," as the Associated Press reported. The Turkish attack has also frustrated Assad, who considered both U.S. and Turkish forces invaders, but has sought an alliance with Kurds against Turkey and its partnered insurgents in Afrin.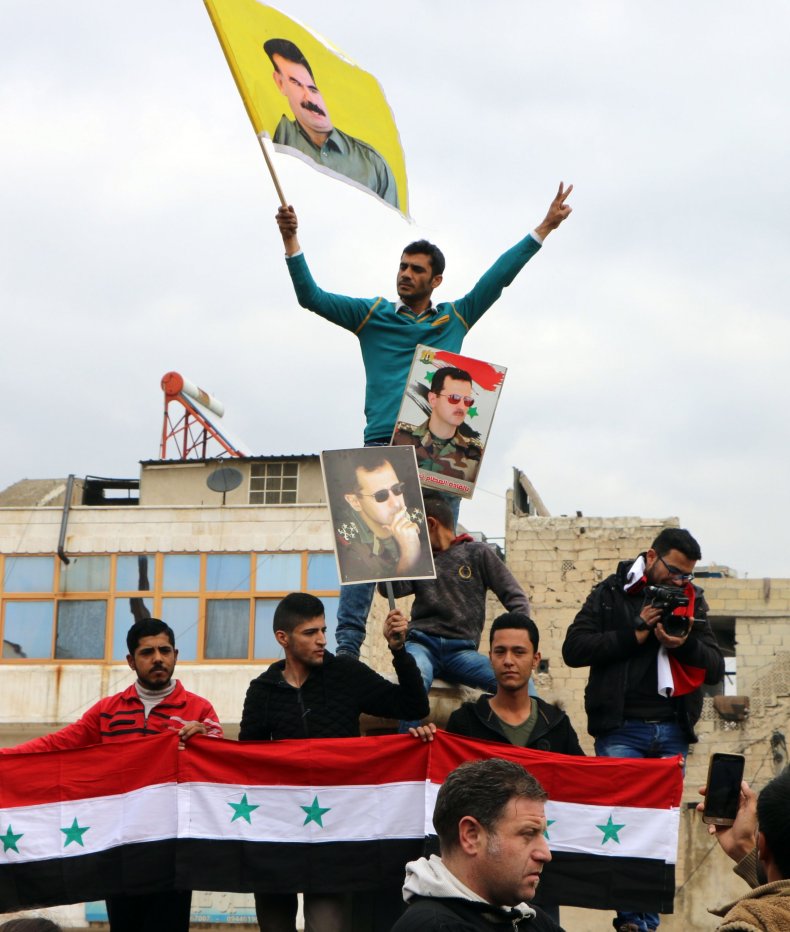 As Turkey and its allies grew closer to laying total siege on Afrin city on Monday, crowds of civilians have departed the city while Kurdish fighters have handed over control of nearby checkpoints to pro-Syrian government forces, potentially waiting to launch a counteroffensive. The concentration of fighters in Syria's northwest has distracted from the battle against ISIS in the east, where residual Syrian Democratic Forces recently faced clashes with pro-Syrian government forces, and the Iraqi Popular Mobilization Forces were playing a larger role in securing the border on both sides.
While the U.S.-led coalition helped the Syrian Democratic Forces defeat ISIS across parts of northern and eastern Syria, it also helped Iraqi troops and Kurdish fighters battle the jihadis across the border. In Iraq, however, the U.S. was forced to work alongside Iran's local ally, the Popular Mobilization Forces, called Al-Hashd Al-Shaabi in Arabic. The paramilitary collective was formed in 2014, placed under the command of Iraqi Prime Minister Haider al-Abadi in 2016 and decreed part of the country's armed forces on Friday.
The U.S. has tried to rout Tehran's influence in Baghdad, but fellow majority-Shiite Muslim Iran has established deep roots there since the U.S. overthrew Iraqi President Saddam Hussein, a Sunni Muslim, in 2003. The Popular Mobilization Forces have also capitalized on Iraq's fatigue of 15 years of U.S. military presence and have threatened to wage a new war against what they see as an occupying power.
"As invited guests in Iraq, we work closely with the Government of Iraq and its security forces. Due to operational security reasons, we cannot provide public information concerning any potential threats or intelligence relating to Coalition facilities or personnel. What we can tell you is that the Coalition is committed to the lasting defeat of Daesh [the Arabic-language acronym for ISIS] in Iraq and Syria," the U.S.-led coalition told Newsweek in a statement Saturday.
"To that end, we are utilizing all resources to locate, kill or capture all remaining Daesh terrorists. Furthermore, we are working with our partner forces in Iraq to ensure that the same measures are taken if any other violent extremist organizations attempt to disrupt the peace and destabilize the legitimate Government of Iraq," the statement added.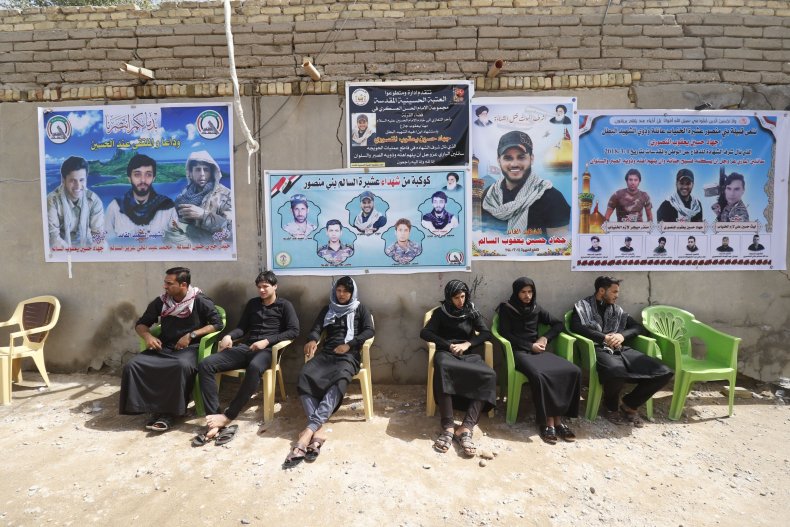 Nevertheless, Abadi's decree on Friday meant that Popular Mobilization Forces group Kataib Hezbollah, which got its name from Iran-backed Lebanese Shiite Muslim movement Hezbollah that was also fighting ISIS and considered a terrorist organization by the State Department, was now an official part of the U.S.-backed Iraqi military. While both Iraq and Syria declared victory over ISIS late last year, soldiers and their pro-government militia allies continued to suffer casualties as they attempted to defeat the last of the jihadis.
Russia, an ally of Iran in Syria and U.S. rival, has also stepped up its involvement in Iraq. Vladimir Kozhin, Russian President Vladimir Putin's aide for military and technical cooperation, told the state-run Russia-24 channel that Russia had equipped an entire armored brigade of the Iraqi military, according to Tass Russian News Agency. Iraq is also a potential buyer of the advanced S-400 anti-aircraft system also sought after by other U.S. regional allies such as Qatar, Turkey and Saudi Arabia.