U.S. Attack on Assad Allies in Syria Was 'Unprecedented Act of Aggression,' Russia Senator Says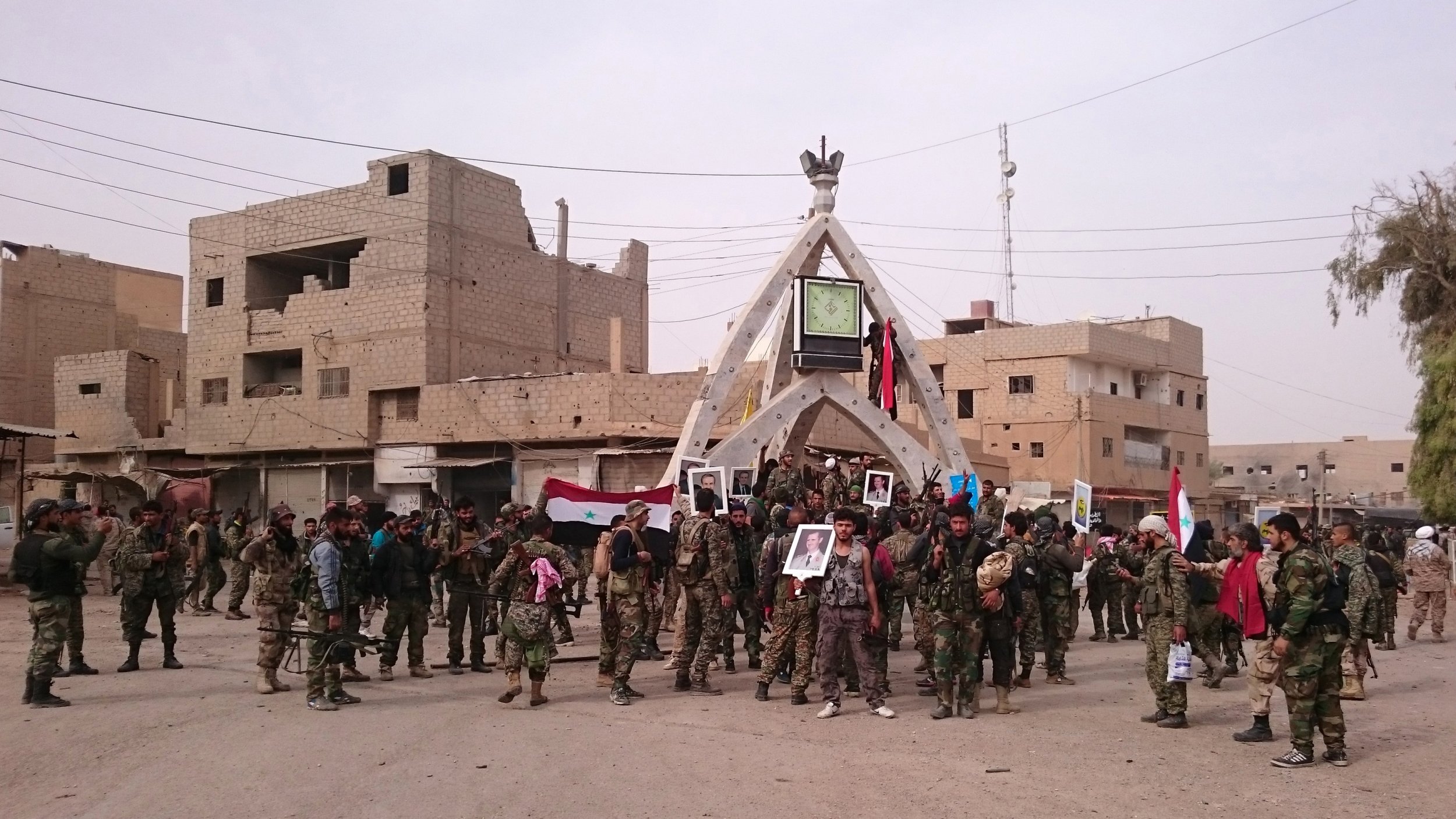 A leading Russian lawmaker condemned on Thursday the deadly U.S. coalition strikes against pro-Syrian government forces, which reportedly attacked a Pentagon-backed militia near the eastern province of Deir Ezzor.
The U.S.-led coalition claimed Wednesday that its allied Syrian Democratic Forces (SDF) were targeted the previous day in an "unprovoked attack" from hundreds of fighters supportive of Syrian President Bashar al-Assad. The fighters had gathered near the Euphrates River deconfliction line, which separates pro-Syrian government and U.S.-backed offensives against the Islamic State militant group (ISIS). The U.S.-led coalition reportedly struck back with air power, leading to reports of massive casualties in an attack that has outraged Russia and Syria.
Related: Turkey says U.S. ally Kurds use same chemical weapons Assad is accused of possessing in Syria
"The actions of the U.S. coalition do not comply with legal norms. Beyond all doubt, it is an unprecedented act of aggression," Frants Klintsevich, who served as first deputy chairman of the defense committee in Moscow's upper house of parliament, told Russian state media in comments translated by the official Syrian Arab News Agency (SANA).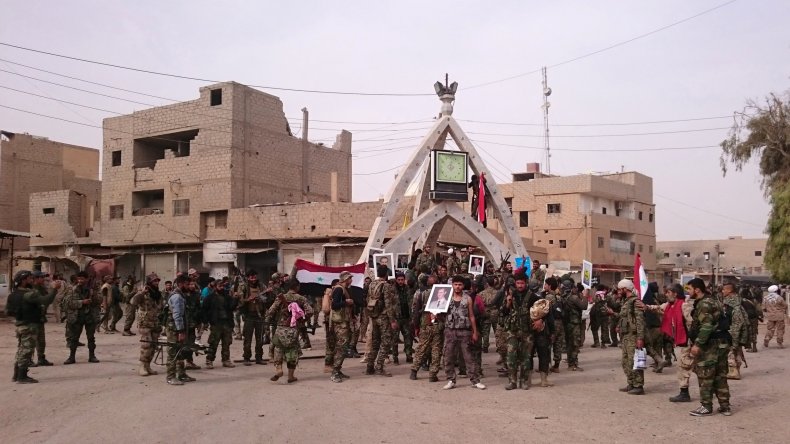 In a statement sent to Newsweek by the Kuwait-based Combined Joint Task Force - Operation Inherent Resolve, coalition spokesman Colonel Thomas F. Veale said pro-Syrian government forces attacked the headquarters of the SDF, a mostly Kurdish militia that includes Arabs and ethnic minorities, with artillery fire, mortar fire and tanks about five miles east of an agreed boundary near the town of Khusham. The pro-government forces then allegedly advanced in "an approximate battalion-sized dismounted formation" (300 to 800 fighters).
"After 20 to 30 artillery and tank rounds landed within 500 meters of the SDF headquarters location, Syrian Democratic Forces supported by the Coalition targeted the aggressors with a combination of air and artillery strikes," Veale said. "Coalition advisors were with the SDF in an advise, assist and accompany capacity, and this action was taken in self-defense."
"Pro-regime vehicles and personnel who turned around and headed back west were not targeted," he added. "Coalition officials were in regular communication with Russian counterparts before, during and after the thwarted PRF [pro-regime forces] attack. Russian officials assured Coalition officials they would not engage Coalition forces in the vicinity."
Veale speculated that pro-Assad forces may have been attempting to retake the nearby lucrative oil and gas fields that fell under ISIS control in 2014 before the SDF seized them last September. Veale said he would not provide any casualties other than a single wounded SDF fighter, but Reuters quoted one unnamed U.S. official as estimating that "the coalition and its local allies killed more than 100 of them."
Russia and Syria have disputed this figure as well as the series of events that led up to the fatal clash.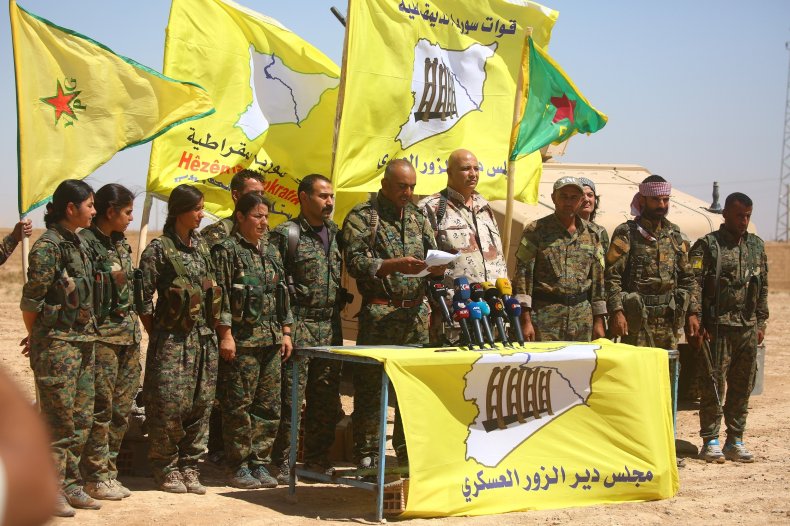 Russia and Iran have supported Assad's efforts to overcome a 2011 uprising by rebels backed by the West, Turkey and Gulf Arab states, and jihadi groups, including ISIS and Al-Qaeda. The CIA began to drop support for rebels as many were defeated or absorbed by more radical groups, and the U.S. invested in the majority-Kurd SDF. Both the pro-Syrian government and U.S.-backed SDF offensives have largely defeated ISIS in eastern Syria but have left tensions along their lines of control.
Russia has accused the U.S. of protecting ISIS and other jihadi groups in order to justify its military presence in Syria, which Assad's government has deemed "illegal." The Russian Defense Ministry claimed Wednesday that the pro-Syrian government forces were "conducting surveillance and research activities near the Al-Isba oil refinery" when the SDF initiated the attack, followed by U.S. air support.
"The recent incident once again shows that the United States' illegal military presence in Syria is actually aimed at taking control of the country's economic assets and not at fighting against ISIS," the ministry said in a statement carried by the state-run Tass Russian News Agency.
The Syrian Foreign Ministry also condemned what it called "a brutal massacre" and an "aggression" that "reveals again, beyond any doubt, the real function of this coalition and the role played by Washington in supporting ISIS" in a letter urging the United Nations to take action against the U.S.-led coalition.
The Russian ministry reported that 25 Syrian militiamen had been wounded in the attack, SANA reported scores killed and many others injured and the Syrian Observatory for Human Rights, a U.K.-based group supportive of the Syrian opposition, placed the latest death toll at 48.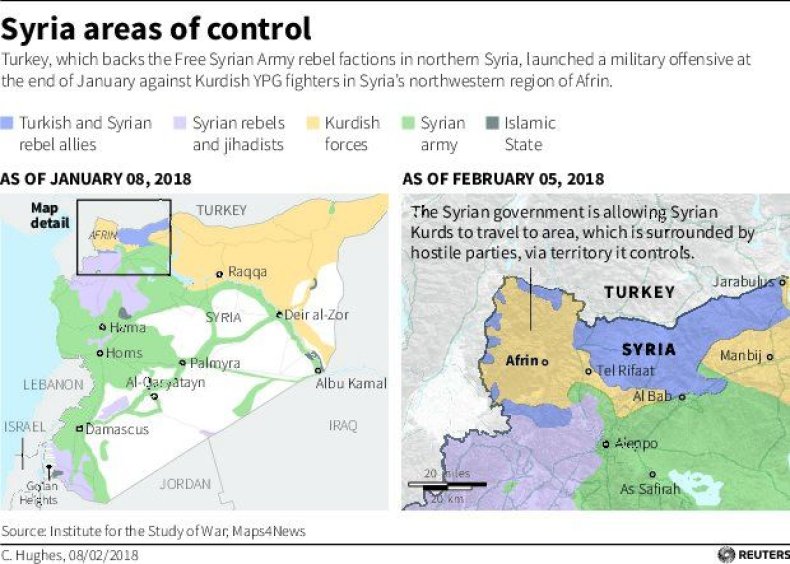 The incident, for which the U.S. garnered criticism at home as well, has further complicated the shifting alliances of Syria's nearly seven-year civil war in which pro-Syrian government forces and the SDF have emerged as the most powerful actors on the ground. While minor clashes have occurred in the past between pro-Syrian government forces and the SDF near Deir Ezzor, the two factions were united in their opposition to a recent joint Turkish and rebel Free Syrian Army offensive against SDF positions in the northwestern district of Afrin.
As the Syrian military and its allies advanced against the final rebel-held province of Idlib, they have reportedly allowed U.S.-backed SDF fighters to travel through government territory to reconcentrate their strength from remaining ISIS front lines in the east toward Kurd-controlled Afrin, which bordered jihadi-dominated Idlib. The U.S.-led coalition has warned Kurdish fighters it would not support those moving to Afrin, but has also criticized fellow NATO Western military alliance member Turkey for "impeding the task to eliminate ISIS."
Turkey has labeled Kurdish militias such as the People's Protection Units as terrorist organizations because of their alleged links to Kurdistan Workers' Party militants, who have waged a separatist insurgency against the Turkish state for decades. While Kurdish groups and pro-Syrian government forces both opposed Sunni Muslim rebels, ISIS and the Turkish invasion of Syria, fears of Kurdish autonomy in the mostly Arab country and differences among their international sponsors have continued to alienate the two factions, despite Russia's attempts to broker peace.