U.S. Says Turkey Is Helping ISIS by Bombing Kurds in Syria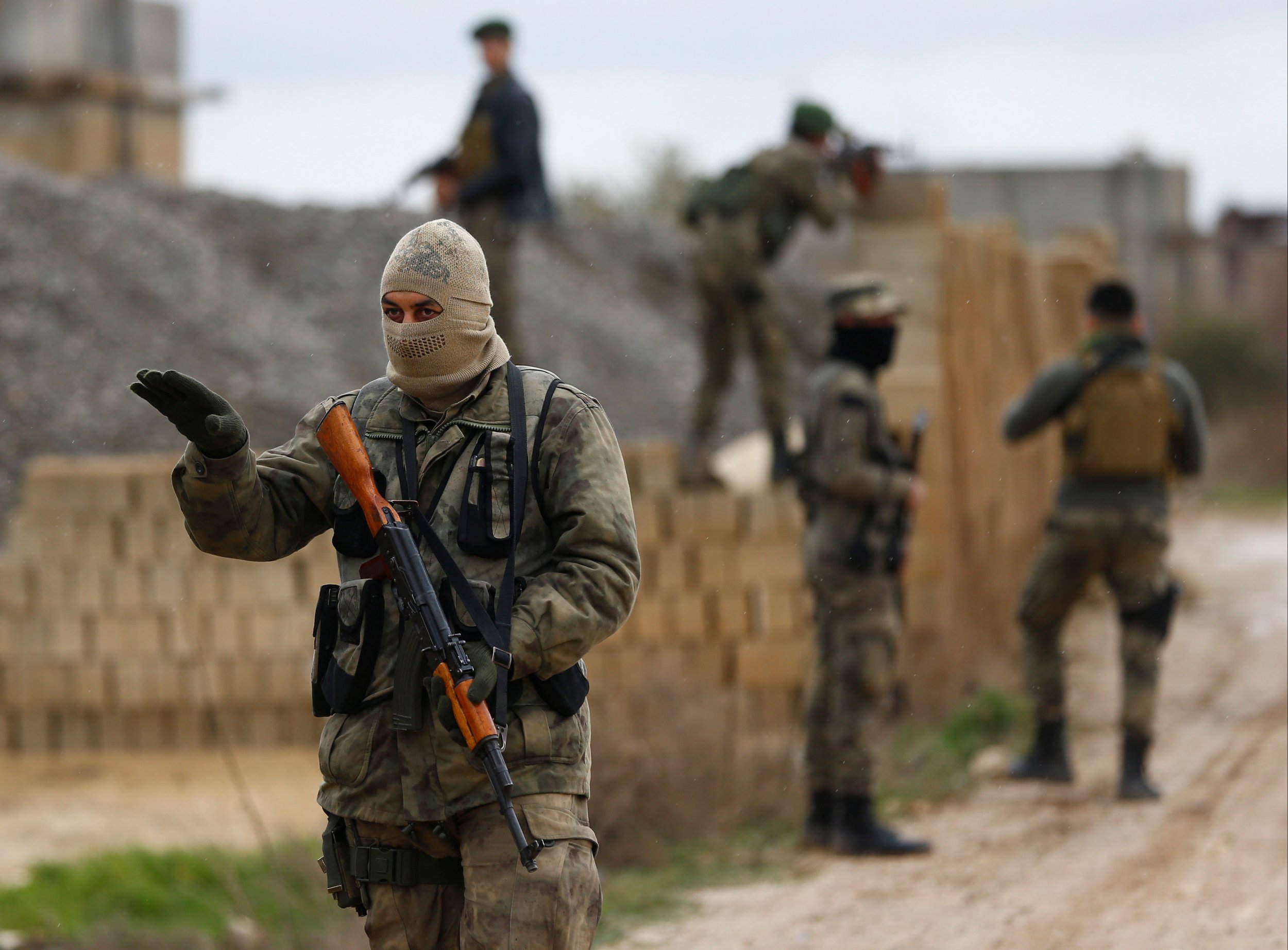 The U.S. has accused fellow Western military alliance NATO member Turkey of assisting the Islamic State militant group by bombing Kurdish fighters in northern Syria.
Washington has so far neglected to intervene in support of Kurds who have served as a vanguard to the Pentagon's efforts to battle ISIS, but now face a joint assault by Turkish forces and Syrian rebels once backed by the CIA. President Donald Trump, along with his top general and diplomat, has called on Turkey to exercise restraint as the Turkish invasion spread deeper into the Kurd-controlled enclave of Afrin, a suggestion that Turkish President Recep Tayyip Erdogan has dismissed.
Related: Syria, Russia and Iran Win Major Base, Split Rebels in Two as War Shifts West in 2018
In a statement carried by Al Jazeera Arabic, the Pentagon said Thursday that "Afrin operations are impeding the task to eliminate ISIS."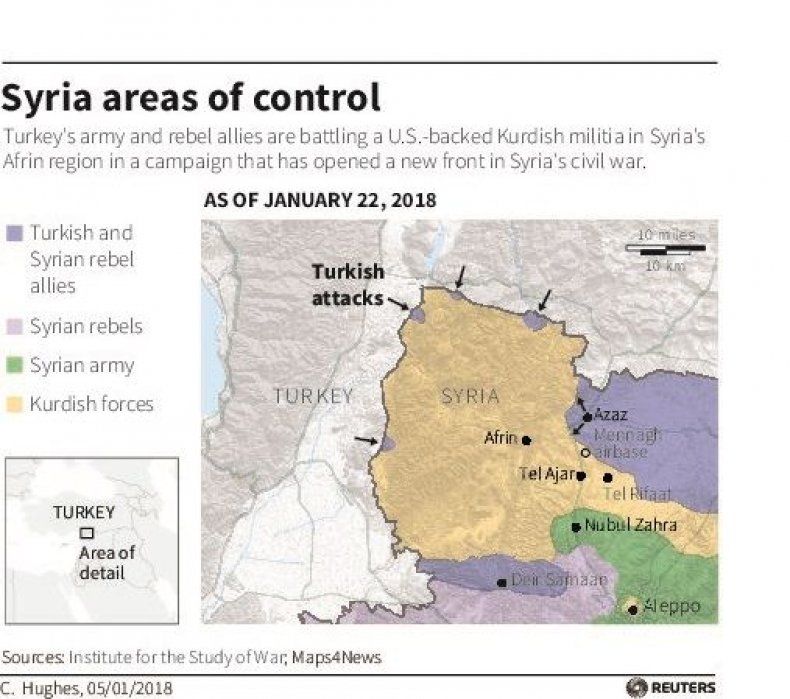 As the U.S. cut assistance to mostly Arab Sunni Muslim rebels fighting to unseat Syrian President Bashar al-Assad since 2011, it focused on what would become known in 2015 as the Syrian Democratic Forces, a mostly Kurdish alliance focused on battling ISIS, which claimed half of Iraq and Syria at its height in 2014. The Pentagon-backed group was dominated by the People's Protection Units (YPG), a Kurdish militia labeled a terrorist organization by Turkey because of its alleged links to the Kurdistan Workers' Party that has waged a decades-long insurgency in that country.
Clashes regularly broke out between U.S.-backed Kurds and Turkey-backed rebels as the former swept through ISIS territory. As the U.S.-led offensive ousted ISIS from its de facto capital of Raqqa in the north, and a separate Syrian military operation backed by Russia and Iran largely took out ISIS in its final eastern stronghold of Deir Ezzor, the focus of the conflict has now pivoted to the northwestern district of Afrin. The Kurd-held city is flanked by Turkey, its partnered Syrian forces and the Syrian military, which has threatened to shoot down Turkish warplanes, but has yet to enter the fight.
Without air support from Syria, Russia or the U.S., Kurds have reportedly relied on reinforcements from frontlines battling ISIS elsewhere in Syria to hold their ground in Afrin. The Pentagon warned Tuesday that if any Syrian Democratic Forces members "carry out military operations of any kind that are not specifically focused on ISIS they will not have coalition support," as quoted by Turkey's official Anadolu Agency.
However, in a Syrian Democratic Forces statement sent to Newsweek by the YPG Thursday, Kurdish fighters confirmed that the "Afrin resistance is ongoing" and claimed that their forces had repelled an attempted Turkish invasion of the town of Rajo, "destroying two Turkish tanks and killing those inside."
"The desperate attempts of the invading Turkish army and Nusra Front to occupy the villages of Afrin are being confronted by our forces and our forces are inflicting painful blows upon them in retribution," the statement continued.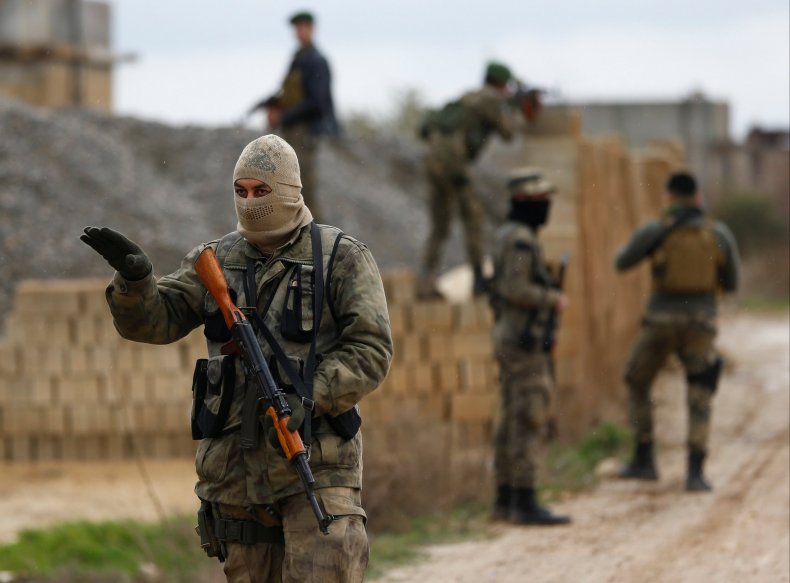 The Nusra Front, which has since changed its name to Hayat Tahrir al-Sham, was the former Syrian branch of Al-Qaeda, but many suspect the militants of maintaining ideological ties to the global jihadi group. Hayat Tahrir al-Sham has largely consolidated power over the last rebel-held province of Idlib, which bordered the northeastern stretch of Aleppo province that Kurds were attempting to defend from incoming Kurdish and Syrian rebel forces. The Syrian military recently launched a lightning offensive into Idlib to retake the Abu al-Duhur military airport
Both Turkey and the YPG have accused one another of secretly helping ISIS while publicly claiming to fight the jihadi group. Russia, Iran and Syria have also accused the U.S. and its sponsors of helping ISIS, something they have vehemently denied.
A significant amount of weapons, however, have reportedly ended up in ISIS hands due to CIA support for Syrian rebels. One former Turkmen commander of the Syrian Democratic Forces claimed in November that the U.S. and Kurdish forces allowed thousands of ISIS fighters to flee Raqqa toward the east, where the Syrian military was engaged in vicious battles with the jihadis. The U.S.-led coalition acknowledged some limited deals between its local partners and ISIS, but said the Pentagon had not been involved and that they had been humanitarian in nature.