U.S. Military Battles Syrian Rebels Once Supported by CIA, Now Backed by Turkey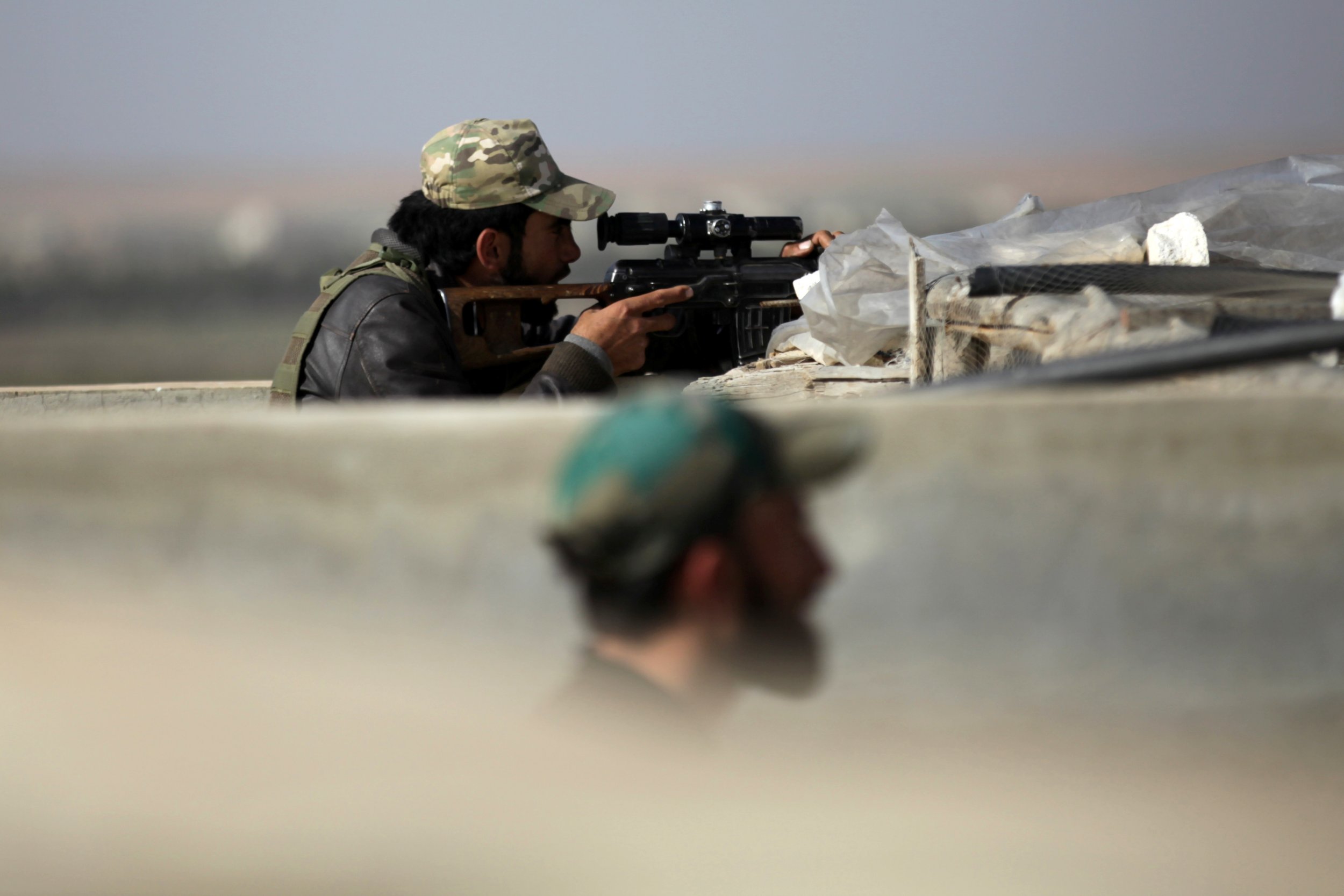 Soldiers from the U.S.-led coalition tasked with battling the Islamic State militant group (ISIS) engaged in a firefight in northern Syria Tuesday with Syrian rebels whose movement was once supported by the CIA.
Ryan Dillon, a spokesperson for the Kuwait-based Combined Joint Task Force Operation Inherent Resolve, said the insurgents opened fire first near the city of Manbij, prompting coalition forces to shoot back before taking cover elsewhere. The belligerent Syrian fighters were not identified, but they were believed to have been part of a Turkey-backed Free Syrian Army group opposed to ISIS, the Syrian military and the mostly Kurdish forces supported by the Pentagon, all of which are vying for control in northern Syria.
Related: Russian senator praises Trump for backing Kremlin in Syria by cutting ties to "moderate" rebels
"Our forces did receive fire and return fire and then moved to a secure location," Dillon told Reuters, adding that the coalition has admonished Turkey and told it to tell its allies that such an incident "is not acceptable."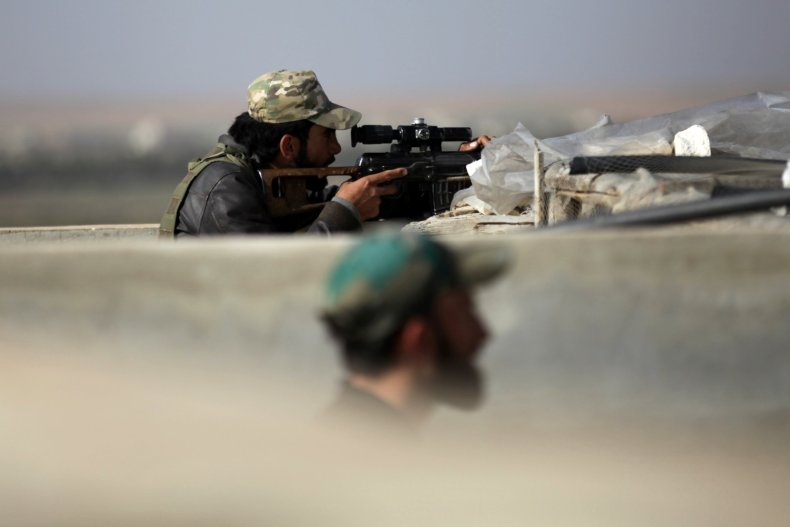 Dillon went on to say that coalition forces trying to defuse tensions between Syrian Arab rebels and the mostly Kurdish Syrian Democratic Forces "received fire multiple times over the course of the last two weeks," even though the U.S. and Turkey are NATO allies. Turkey has criticized U.S. support for Kurdish militias such as the People's Protection Units (YPG), because it considers them connected to an insurgent Kurdish nationalist movement at home.
While it's uncertain if there is any link between the two events, the Turkey-backed Free Syrian Army's Ninth Brigade special forces released images of its fighters conducting training drills in northern Syria around the time reports emerged of the clash. The Free Syrian Army, a loosely knit band of armed opposition groups, was once one of the most powerful revolutionary groups in Syria, but it has suffered years of defections and defeats to jihadist groups also trying to overthrow the government of Syrian President Bashar al-Assad since 2011.
The Free Syrian Army was also the primary recipient of CIA funding to overthrow Assad, but this support diminished as ISIS and Al-Qaeda became increasingly influential among rebels. Turkey attempted to unify the remains of the Free Syrian Army in northern Syria in May, and reports emerged in July that the Trump administration had cut all CIA funding to rebel groups that refused to stop fighting Assad and at times clashed with the Pentagon-backed Syrian Democratic Forces, which is now the U.S.'s primary partner in Syria.
The Kurd-dominated Syrian Democratic Forces have taken more than half of ISIS's de facto capital of Raqqa since storming the city in June. Syria's armed forces, backed by Russia and Iran, have also managed to return to Assad large swaths of the country lost to rebels and jihadists. Both sides have their eyes set on the eastern city of Deir ez-Zor, which has been under ISIS siege since at least 2014.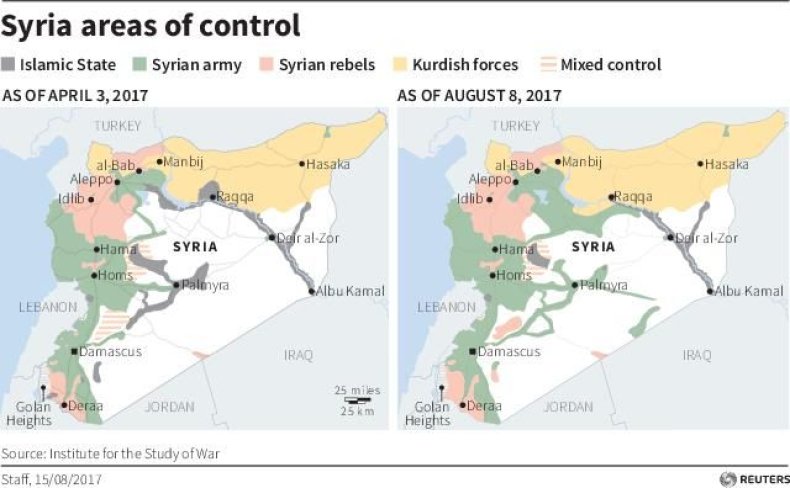 Despite tensions and even violence between the U.S.-led coalition and pro-government forces in past months, the Trump administration has expressed its willingness to work with Russia in order to find a political solution to the six-year war that's already killed hundreds of thousands and displaced millions more. The two powers have established a cooperation center in neighboring Jordan and have committed to a ceasefire between the Syrian military and a separate Free Syrian Army faction in the southwestern city of Daraa.
Manbij was also the site of early, informal cooperation between the U.S. and Russia when both sent personnel to support their respective partners on the ground from a Free Syrian Army advance in March. Both the U.S. and the Russian military have conducted patrols in the city, which is administrated by a council backed by the Syrian Democratic Forces.
A U.N.-led effort to end the Syrian conflict in Geneva has repeatedly stalled as opposition groups grow frustrated with Assad's refusal to step down, especially as the military regains control over much of the country. Russia, Iran and Turkey are involved in separate ongoing talks between the Syrian government and the opposition in the Kazakh capital of Astana. This dialogue has produced four "de-escalation zones" not formally recognized by the U.S.