How ISIS Got Weapons From the U.S. and Used Them to Take Iraq and Syria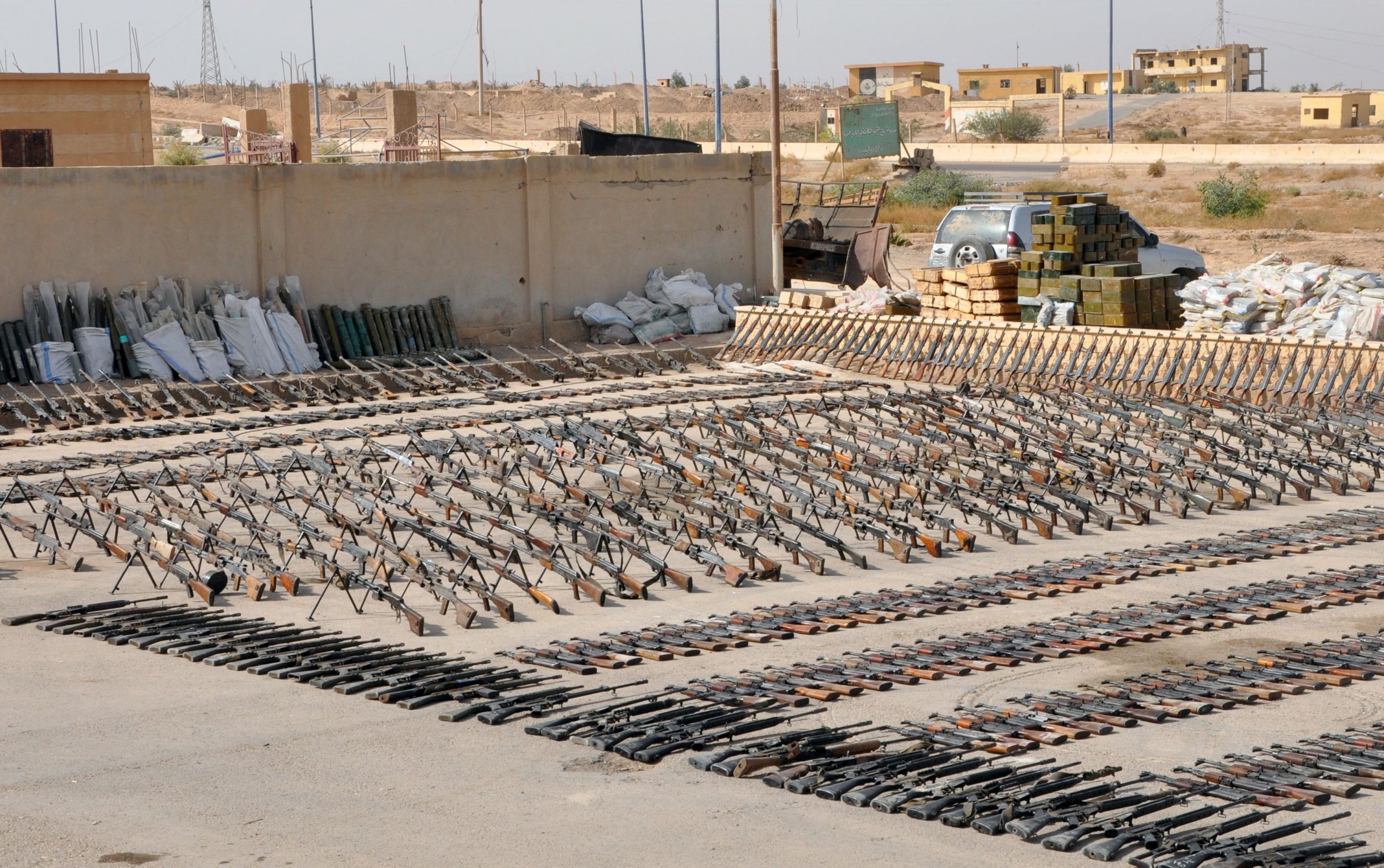 The Islamic State militant group (ISIS) got its hands on vast supplies of weapons by taking advantage of U.S. weapons transfers that may have violated international agreements between Washington and its allies, according to a new report.
As much as 90 percent of ISIS's arms and ammunition were found to have originated in Russia, China and Eastern European states. The jihadis were able to obtain much of this arsenal as a result of former President Barack Obama's support for rebels in Syria, U.K.-based Conflict Armament Research reported after analyzing 40,000 items recovered by its investigators along ISIS front lines between July 2014 and November 2017. By purchasing "large numbers" of European arms and ammunition and then diverting them to nonstate actors in Syria without notifying the sellers, the U.S. reportedly "violated the terms of sale and export agreed between weapon exporters...and recipients."
Related: U.S. made secret deal with ISIS to let thousands of fighters flee Raqqa to battle Assad in Syria, former ally says
"The United States and Saudi Arabia supplied most of this materiel without authorization, apparently to Syrian opposition forces. This diverted materiel, recovered from IS forces, comprises exclusively Warsaw Pact–caliber weapons and ammunition, purchased by the United States and Saudi Arabia from European Union (EU) member states in Eastern Europe," the report found, using an alternative acronym for ISIS.
"Supplies of materiel into the Syrian conflict from foreign parties—notably the United States and Saudi Arabia—have indirectly allowed IS to obtain substantial quantities of anti-armor ammunition," it later added.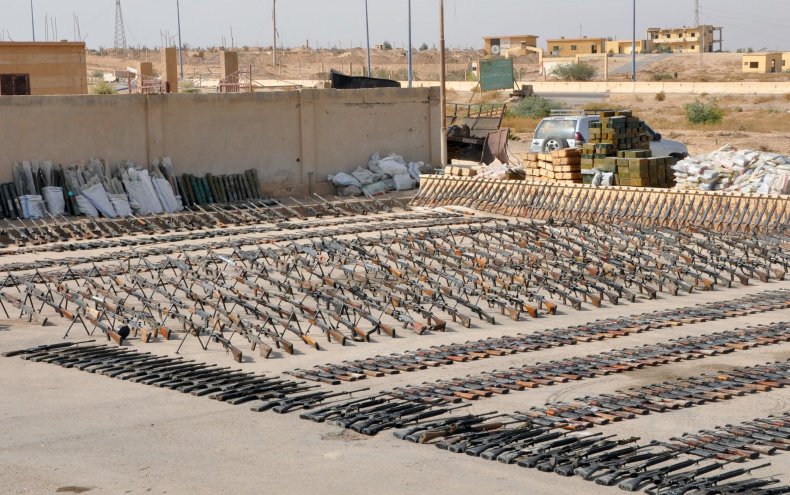 ISIS emerged out of Al-Qaeda in Iraq and other jihadi groups in the wake of the 2003 U.S. invasion of Iraq and overthrow of its leader, President Saddam Hussein. After announcing its establishment in 2013, ISIS spread into Syria to take advantage of the ongoing war between the Syrian military and the rebel and jihadi groups trying to overthrow it since 2011. In Syria's conflict, the U.S. had been supplying arms to insurgents opposed to Syrian President Bashar al-Assad since at least 2012 and, when ISIS began rapidly seizing territory in 2013 and 2014, many U.S.-armed rebel groups were either defeated by the incoming militants or joined them. ISIS reportedly received most of its initial supplies by overtaking Russia-backed Syrian and U.S.-backed Iraqi military positions, but later vastly received a massive boost from the U.S.'s effort to overthrow Assad.
As ISIS began to take nearly half the country, the U.S. continued to train and equip Syrian rebels, using local allies like Jordan and Turkey as intermediaries. In its report, Conflict Armaments Group included dozens of photographs of EU-manufactured weapons believed to have been procured by the U.S. and Saudi Arabia, shipped to Syrian rebels and later obtained by ISIS, which moved them between Iraq and Syria. These included a powerful anti-tank missile launcher bought from a Bulgarian manufacturer by the U.S. Army and wielded by ISIS only weeks later.
Over the years, growing jihadi influence and territorial losses among Syrian rebels compelled the U.S. to cut CIA support for such groups and left allies like Turkey and Saudi Arabia to carry the embattled, fractured opposition. The U.S. ultimately opted to focus instead on the Pentagon-led effort to back the Syrian Democratic Forces, a mostly Kurdish coalition of Arabs and ethnic minorities solely battling ISIS, not Assad.
A year after a U.S.-led coalition began bombing ISIS in Iraq and Syria in 2014, Russia joined the fray by staging a direct military intervention on behalf of Assad, allowing the Syrian military and its allies, including Iran-backed militias, to retake most of the country previously lost to jihadis and rebels. The two anti-ISIS campaigns have rushed to what's left of ISIS in the east, with the coalition of Syria, Russia and Iran claiming victory last month.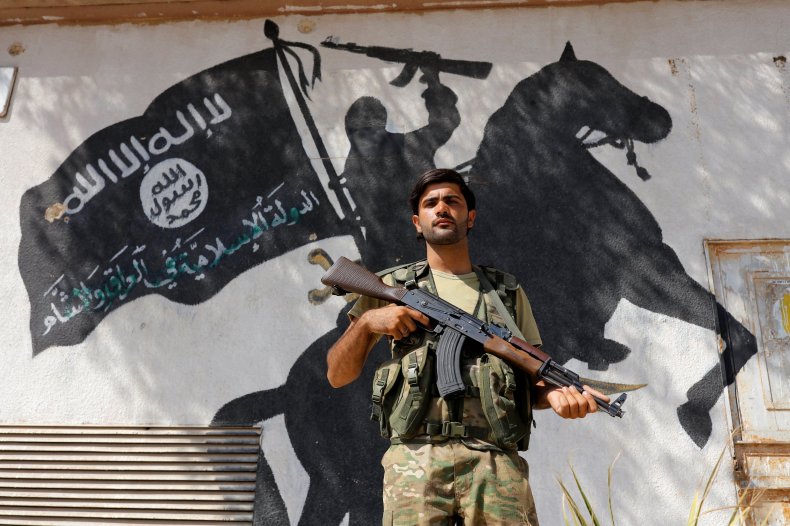 Russia and its allies have routinely accused the U.S.-led coalition of inadvertently or deliberately backing ISIS and other militant groups in order to undermine the Syrian government, which has labeled the U.S. and Turkish military presence illegal. The U.S. has repeatedly denied accusations of collusion with ISIS and has charged Moscow with sponsoring and committing human rights abuses via its air campaign and the ground forces it backed. Both countries have denied wrongdoing in Syria's six-year conflict that has killed hundreds of thousands and displaced millions.
In August, the U.S.-led coalition criticized a joint decision by Syria, Lebanon and Iran-backed Lebanese Shiite Muslim movement Hezbollah to allow defeated ISIS fighters and their families to exit the outskirts of Lebanon after a vicious battle and to relocate to the eastern Syrian province of Deir Ezzor, at that time under ISIS control. After a BBC News investigation last month, however, the U.S. admitted its Kurdish partners allowed hundreds of ISIS fighters to flee their de facto capital of Raqqa in October, a number later expanded to thousands, according to a senior U.S-backed Syrian Democratic Forces commander who later fled to Turkey.
These ISIS militants also were sent to Deir Ezzor, but this time the Syrian military and its allies were engaged in fighting for the ISIS-held city, which they eventually retook in early November. With the jihadis mostly defeated, the Syrian government has re-emerged as the premier power in the war-torn country, but it still faced areas of Kurdish control in the north and small pockets of rebel and jihadi control elsewhere.