U.S. Targets ISIS Fighters Given Safe Passage by Lebanon and Syria, Bombs Convoy Path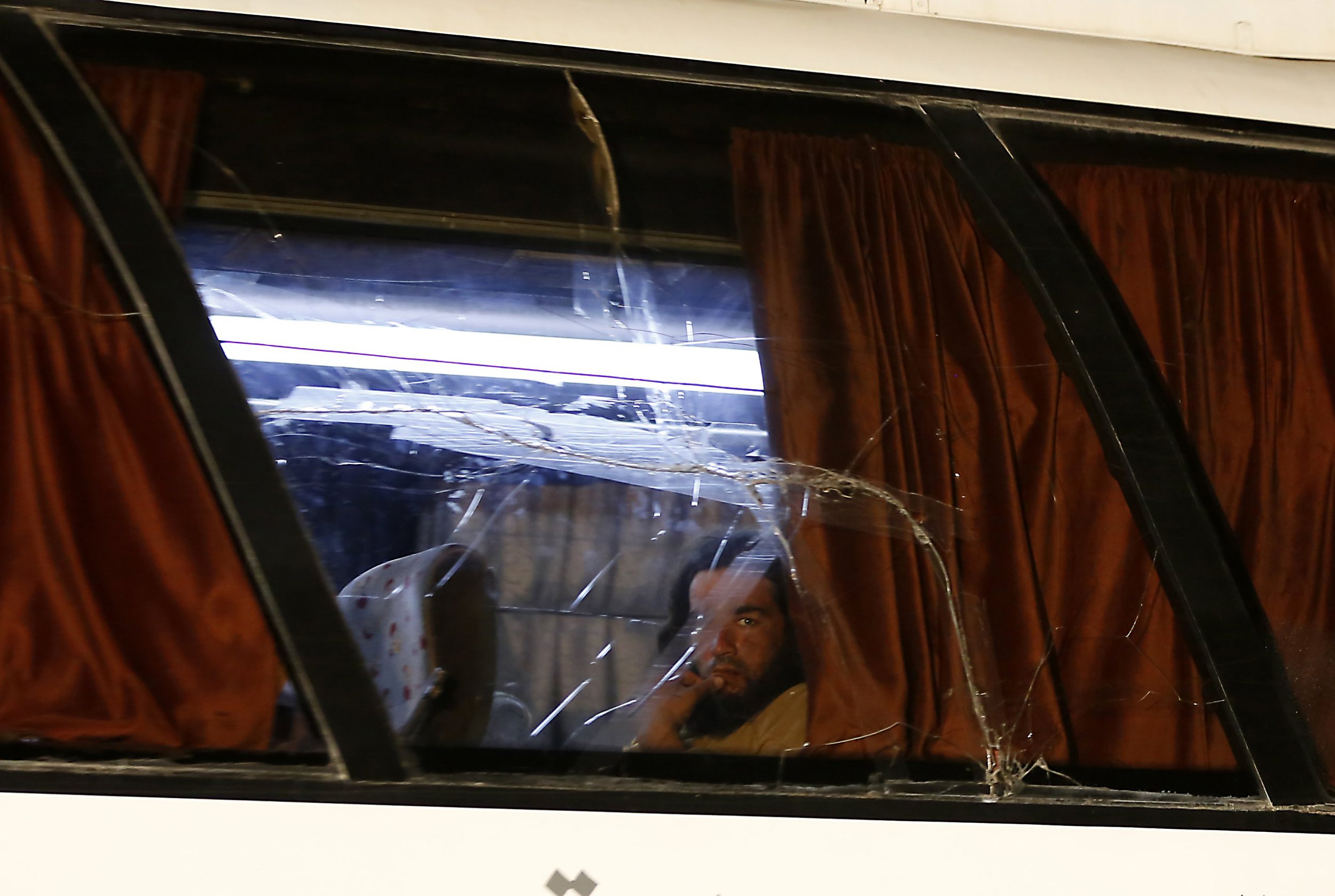 Updated | The U.S.-led coalition fighting against the Islamic State militant group (ISIS) has launched airstrikes targeting jihadis who struck a deal to flee to eastern Syria from an embattled pocket in Lebanon.
A coalition spokesman, Colonel Ryan Dillon, threatened Wednesday that a convoy of buses and ambulances carrying hundreds of ISIS fighters and their families was a legitimate target for U.S. forces. The convoy was organized after separate, simultaneous assaults against the group were launched last week by the Lebanese army in eastern Lebanon, and by the Lebanese Shiite Muslim movement Hezbollah and the Syrian army in western Syria. The ISIS militants ultimately relented Sunday and were forced into a deal with Lebanon, Syria and Hezbollah that allowed them passage out of Lebanon and across Syria to the eastern city of Abu Kamal.
Related: Hezbollah declares "Second Liberation Day" after Lebanon defeats ISIS with help from Syria
"To prevent the convoy from moving further east, we cratered the road and destroyed a small bridge," Dillon told Agence France-Presse.
"We will take action where necessary. Those would absolutely be lucrative targets," Dillon told The New York Times earlier Wednesday. "We are monitoring them in real time."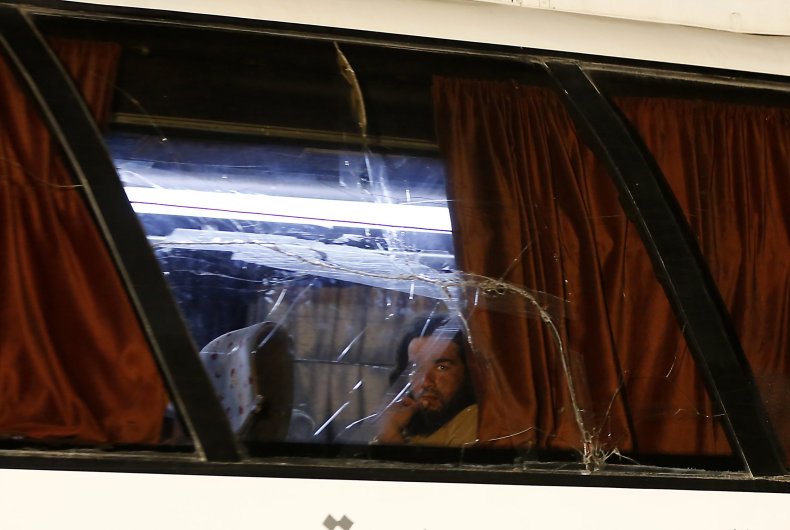 Initial reports of the ensuing airstrikes suggested they were designed to prevent the convoy from progressing further east toward the ISIS strongholds of Deir ez-Zor and Abu Kamal, situated near the Iraqi border, but Dillon reportedly suggested the convoy itself may soon come under fire pending reports on civilian passengers. Initial reports also suggested that the U.S.-backed Lebanese military may be driving the convoys.
The coalition later said it attacked ISIS vehicles joining the convoy to initiate a transfer of outlined in the agreement with Lebanon, Syria and Hezbollah, according to the Associated Press. Dillon said Wednesday that the Kuwait-based Combined Joint Task Force - Operation Inherent Resolve was "not a party to this agreement" and that Lebanon and Hezbollah's "claim of fighting terrorism rings hollow when they allow known terrorists to transit territory under their control."
In a televised address, Hezbollah Secretary General Hassan Nasrallah explained on Monday his group's unprecedented decision to negotiate with ISIS. He said a ceasefire was instituted only "at the last hour," when ISIS agreed to surrender totally and, most importantly, to disclose the fate and location of several Lebanese soldiers kidnapped in 2014, among other concessions. The U.S. supports the Lebanese army but not the Russia-backed Syrian army, led by Syrian President Bashar al-Assad. The U.S. also considers Iran-backed Hezbollah to be a terrorist organization.
Major General Abbas Ibrahim, Lebanon's chief negotiator and intelligence chief, said Monday that his government's decision to allow ISIS militants and their families to flee "is permissible because Lebanon adheres to the philosophy of a state that does not exact revenge," but the decision has been met with controversy. ISIS has conducted a number of deadly bombings in Lebanon, including one in 2015 that killed up to 43 people in the majority-Shiite Muslim southern suburb of Bourj al-Barajneh in Beirut.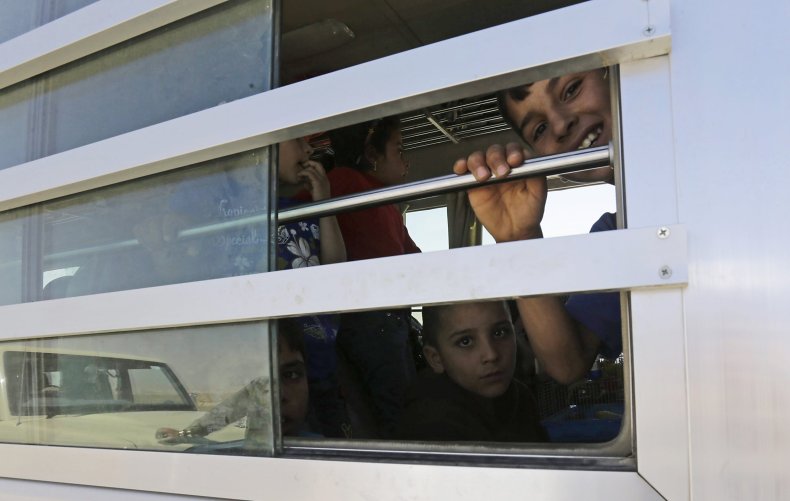 ISIS grew out of a merger of Al-Qaeda in Iraq and other jihadi groups in the wake of the 2003 U.S. invasion and toppling of Iraqi President Saddam Hussein. It ultimately splintered off and spread into neighboring Syria in 2013, capitalizing on the chaos of a 2011 opposition uprising against Assad. While forces backed by the U.S. and Iran have mostly dislodged the group from Iraq, ISIS retains swaths of territory in northern and eastern Syria, where the convoy is currently headed.
With help from Russia and Iran, the Syrian military and its allies have managed to take back much of the territory elsewhere that was lost to rebel and jihadi movements earlier in the war. The U.S. has focused primarily on backing its mostly Kurdish allies in the Syrian Democratic Forces as they fought to defeat ISIS in its de facto capital of Raqqa. The two factions are united in battling ISIS, but disagree over Syria's political future and are vying to advance on Deir ez-Zor.
This article has been updated with new reports that the U.S.-led coalition struck Islamic State militant group (ISIS) vehicles joining the convoy as part of a deal struck between the jihadis and the armed forces of Lebanon and Syria, along with Hezbollah.