U.S., Iran, Syria and Russia Finally Agree: Iraq's Victory Over ISIS Praised Around the World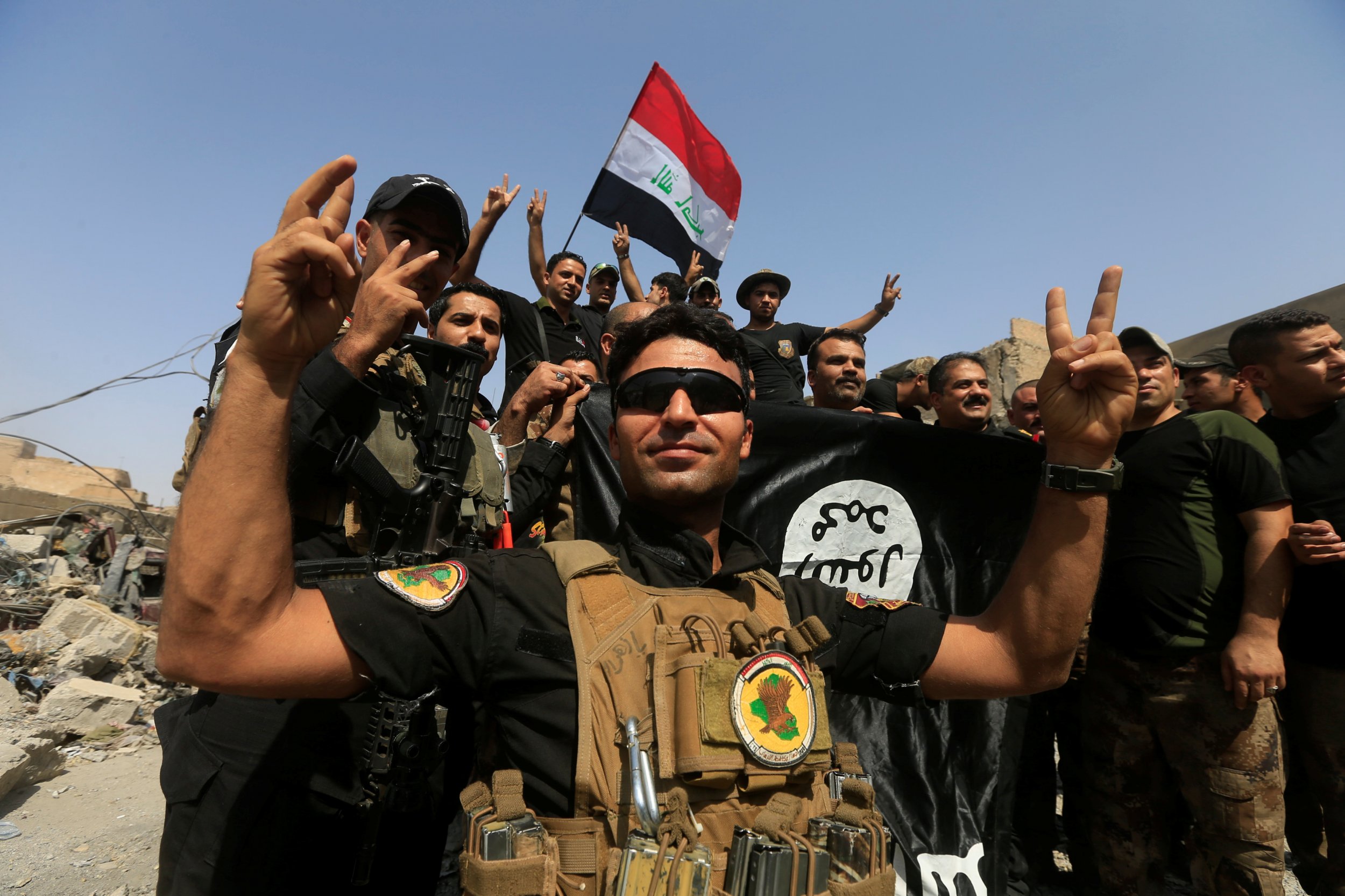 Countries around the world, including U.S. allies and rivals, have come together in congratulating Iraq for its recent victory over the Islamic State militant group (ISIS) in its former stronghold.
Amid sporadic fighting between security forces and remaining pockets of jihadist resistance, Iraqi Prime Minister Haider al-Abadi arrived Sunday in Iraq's second city of Mosul, the largest city by far once controlled by ISIS, to congratulate his armed forces and officially declare the defeat of ISIS, BBC News reported. The nearly nine-month-long campaign to dislodge the ultraconservative Sunni Muslim group from the city has been regarded as one of the largest battles of the 21st century, and its conclusion has been met with worldwide praise. The unlikely grouping of nations that have stepped forward to congratulate Abadi and Iraq's military highlights the multifaceted nature of the fight against the militants and the complex relationships of the countries involved.
Related: Is this the beginning of the end for ISIS?
"The global coalition fighting ISIS congratulates Prime Minister al-Abadi and the Iraqi Security Forces on their historic victory against a brutal and evil enemy," Lieutenant General Stephen J. Townshend, commanding general of the U.S.-Iraq Combined Joint Task Force for the Pentagon's Operation Inherent Resolve, said in a statement issued Monday by U.S. Central Command.
"Make no mistake; this victory alone does not eliminate ISIS, and there is still a tough fight ahead. But the loss of its twin capitals and a jewel of their so-called caliphate is a decisive blow." he added, referring to a parallel U.S.-led campaign on ISIS's de facto capital of Raqqa in northern Syria.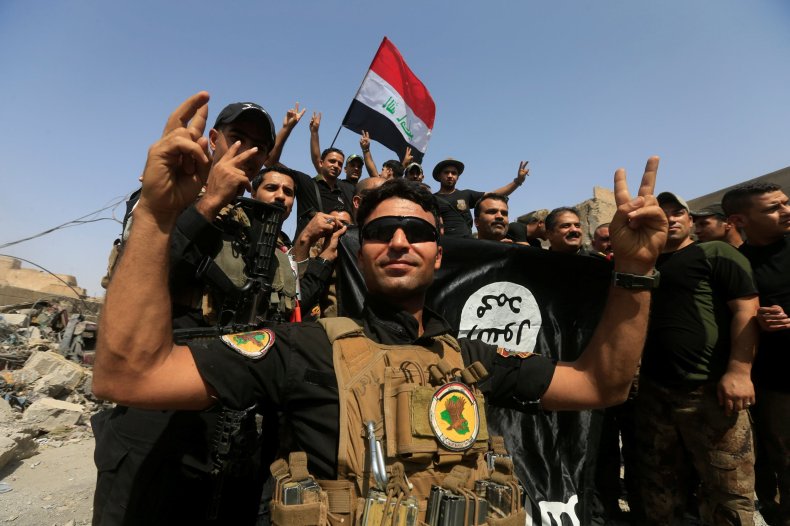 In addition to the statement by Central Command, President Donald Trump said he mourns "the thousands of Iraqis brutally killed by ISIS." His sentiments were in a statement read by Principal Deputy White House Press Secretary Sarah Huckabee Sanders. The secretary of state called the win "a critical milestone" in the multinational efforts to defeat the global jihadist network that once claimed nearly half of Iraq and Syria. While praise was forthcoming from the White House, good will was also shared by other nations actively battling ISIS in separate, sometimes clashing campaigns.
Iran has contributed troops, weapons and funds to counter ISIS since the jihadists' lightning advance in 2014, making it a reluctant, yet effective partner of the U.S. Neither country has significantly recognized the other's role in battling ISIS, but both have bolstered Iraq's armed forces through local partners and direct intervention. The U.S.-led international coalition against ISIS offered support for Iraq's military, federal police as well as Kurdish forces, while Iran has operated mainly through majority-Shiite Muslim militias known collectively as the Popular Mobilization Forces. The militias work alongside Iraqi troops and Kurdish militants, but the U.S. accuses them of being a proxy for growing Iranian influence in Iraq.
"Congratulations to brave people & Government of Iraq upon liberation of Mosul. When Iraqis join hands, no limits to what they can achieve," Iranian Foreign Minister Mohammad Javad Zarif tweeted Sunday.
Iran's partnered militias, which are also officially sponsored by Baghdad, have been particularly active in the outskirts of Mosul and along Iraq's western border with Syria, where other forces supported by Iran are battling ISIS. After forming out of other jihadist groups amid the U.S. occupation of Iraq, ISIS spread to Syria in 2013, taking advantage of a civil war between the government of Syrian President Bashar al-Assad and various insurgents. Faced with a nationwide rebellion, the Syrian military was forced to retreat from a number of major cities, but has since been able to secure a large part of the country thanks to a Russian intervention in 2015 and pro-government militias, many of which are directly supported by Iran.
Trump took a much more tolerant stance toward Assad than his predecessor, Barack Obama, but authorized the first intentional U.S. attack on the Syrian military in April after accusing the Syrian government of conducting an alleged chemical weapons attacks against civilians. Assad and his Russian ally, President Vladimir Putin, vehemently denied the role of the Syrian government in the attacks, and the incident led to a falling out between Washington and Moscow over Syria. After Trump and Putin pledged closer cooperation during their meeting at the G20 summit in Germany Friday, Secretary of State Rex Tillerson maintained that the U.S. would ultimately pursue a policy of regime change in Syria. Russia has also pledged to protect its Syrian ally, which offered Iraq congratulations Monday and pledged to work with its neighbor to completely eradicate ISIS influence from their countries, according to the state-run Syrian Arab News Agency.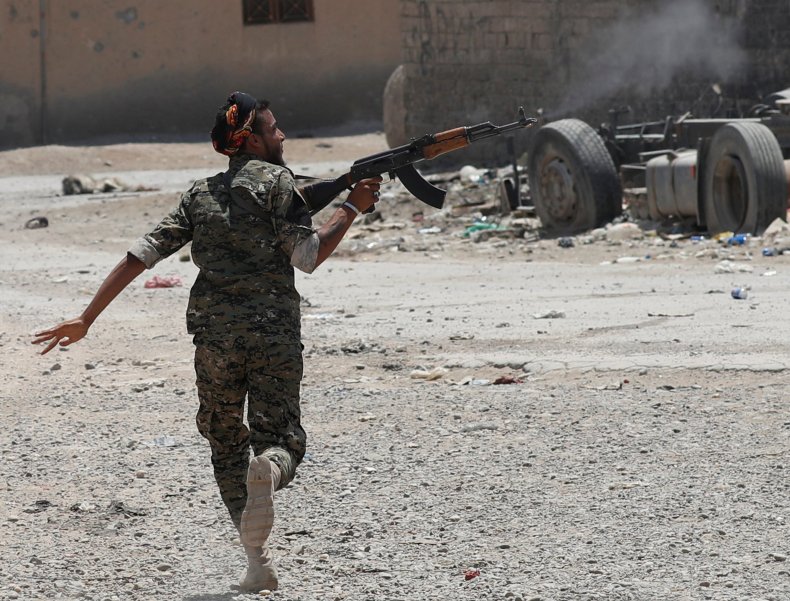 With ISIS's self-proclaimed caliphate having effectively crumbled in Iraq, most of the group's remaining fighters are now in Syria. There, the U.S. and Russia are engaged in two separate campaigns to defeat the militants. Having rejected the Syrian government, which considers U.S. military presence illegal on Syrian soil, and having distanced itself from much of the Syrian opposition, which has become increasingly dominated by hardline Sunni Muslim groups, Washington has turned to the Syrian Democratic Forces, a majority-Kurd coalition of fighters. Russia has continued to stick by the Syrian military. Echoing the U.S., Russia said Monday "a smashing blow" had been delivered to ISIS with Iraq's victory in Mosul, but credited the U.S. only with the extensive casualties caused by airstrikes.
"Liberation of Mosul has become possible thanks to the courage and persistence of the Iraqi military, people's militias and Kurdish Peshmerga units. It has proved that the government and the people of friendly Iraq can confront terrorist threats through pooled efforts," Russia's Foreign Ministry said in a statement, according to the state-run TASS Russian News Agency.
"At the same time, it cannot but be noted that a heavy price has been paid for Mosul's liberation. According to various sources, losses of the Iraqi military amounted to some 30,000 men. About 7,000 Mosul residents were killed during the liberation operation, both as a result of actions by Islamic State militants and in airstrikes of the U.S.-led anti-IS coalition. Nearly a million of Mosul resident (900,000) became refugees," the ministry added, using an alternative acronym for ISIS.