Russia Admits To Using Video Game Footage To Prove U.S. Helping ISIS in Syria, Posts New 'Evidence'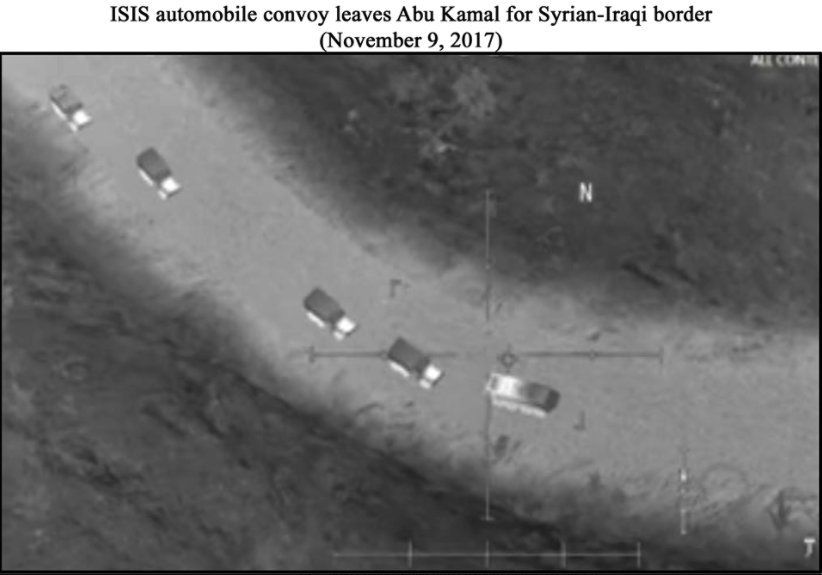 Russia's military admitted Tuesday that footage it initially claimed showed cooperation between the U.S. and the Islamic State militant group (ISIS) in Syria actually originated from a computer game, but defended its findings with alternative evidence.
The Russian Defense Ministry first posted the alleged proof on Tuesday morning, with one black-and-white image showing a top-down gunship view of a series of trucks supposedly leaving the eastern ISIS-held village of Al-Bukamal for the nearby Syria-Iraq border. After military research site Conflict Intelligence Team and investigative website Bellingcat showed the images actually came from a 2015 computer game titled AC-130 Gunship Simulator: Special Ops Squadron and 2016 U.S. war footage from Iraq, the ministry removed the post and explained its gaffe.
Related: Russia's 'evidence' that the U.S. is helping ISIS is footage from a 2015 computer game
"The Russian Defense Ministry is investigating its civil service employee who erroneously attached wrong photo illustrations to its statement on interaction between the U.S.-led international coalition and Islamic State militants near [Al-Bukamal], Syria," the ministry said, according to the state-run Tass news agency.
After staging a military intervention on behalf of Syrian President Bashar al-Assad and his embattled armed forces in 2015, Russia has helped the Syrian leader and his allies, including Iran-backed militias, regain large swaths of territory lost to insurgents and jihadis. As the Syrian military's campaign outpaced a parallel anti-ISIS offensive by the U.S. and the Syrian Democratic Forces, a mostly Kurdish coalition of Arabs and ethnic minorities, Russia accused the U.S. of helping ISIS escape as Syrian troops and their allies closed in on Al-Bukamal earlier this week.
The original game footage, which was cropped in the ministry's post, included a red "FIRE" button in the bottom-right corner, as well as a disclaimer in the top-right corner that read: "Development footage. This is a work in progress. All content subject to change." Part of the message can still be seen in the final cut.
Russia's Defense Ministry, however, remained adamant that the U.S. was indeed "covering ISIS combat units to recover their combat capabilities, redeploy, and use them to promote the American interests in the Middle East" and shared new images it claimed were intended to be attached to the original post.
"The United States' refusal to carry out strikes against ISIL terrorist convoys retreating from [Al-Bukamal] is a fact recorded in the transcripts of the talks and, therefore, well known to the American side, just as the active counteraction by U.S. aircraft to the Russian Aerospace Forces, which were ready to destroy ISIL terrorists who were regrouping for new attacks against government troops near [Al-Bukamal]," the ministry added, using an alternative acronym for ISIS.
The forces backed by Russia and the U.S. have cut deals with ISIS in the past. After a dual offensive by the Lebanese and Syrian militaries, backed by Lebanese Shiite Muslim movement Hezbollah, defeated ISIS and other jihadis holed up in the mountains between eastern Lebanon and western Syria in August, the three forces cut a deal to allow ISIS fighters to surrender and be transported along with their families to what was then ISIS's final stronghold in the eastern Syrian city of Deir Ezzor.
The U.S. attempted to disrupt this plan by targeting the convoy, but the fighters eventually arrived in Deir Ezzor, where the Syrian military, Hezbollah and their allies ultimately defeated them earlier this month. The city was ISIS's last major population center after the Syrian Democratic Forces took the militants' de facto capital of Raqqa last month. Despite local fighters denying reports of any deals made with ISIS, a BBC News investigation suggested otherwise, with reports that the U.S. allowed hundreds of jihadis to flee the devastated city, some of whom reportedly fled the country via Turkey.
U.S.-led coalition spokesperson Army Colonel Ryan Dillon rejected the Russian Defense Ministry's statements as being "about as accurate as their air campaign," according to ABC News. But he admitted he "can't say with certainty that every single fighter was identified coming out of Raqqa," Voice of America reported.