War in Syria: Troops Take Final ISIS Town Where Leader Baghdadi is Rumored to be Hiding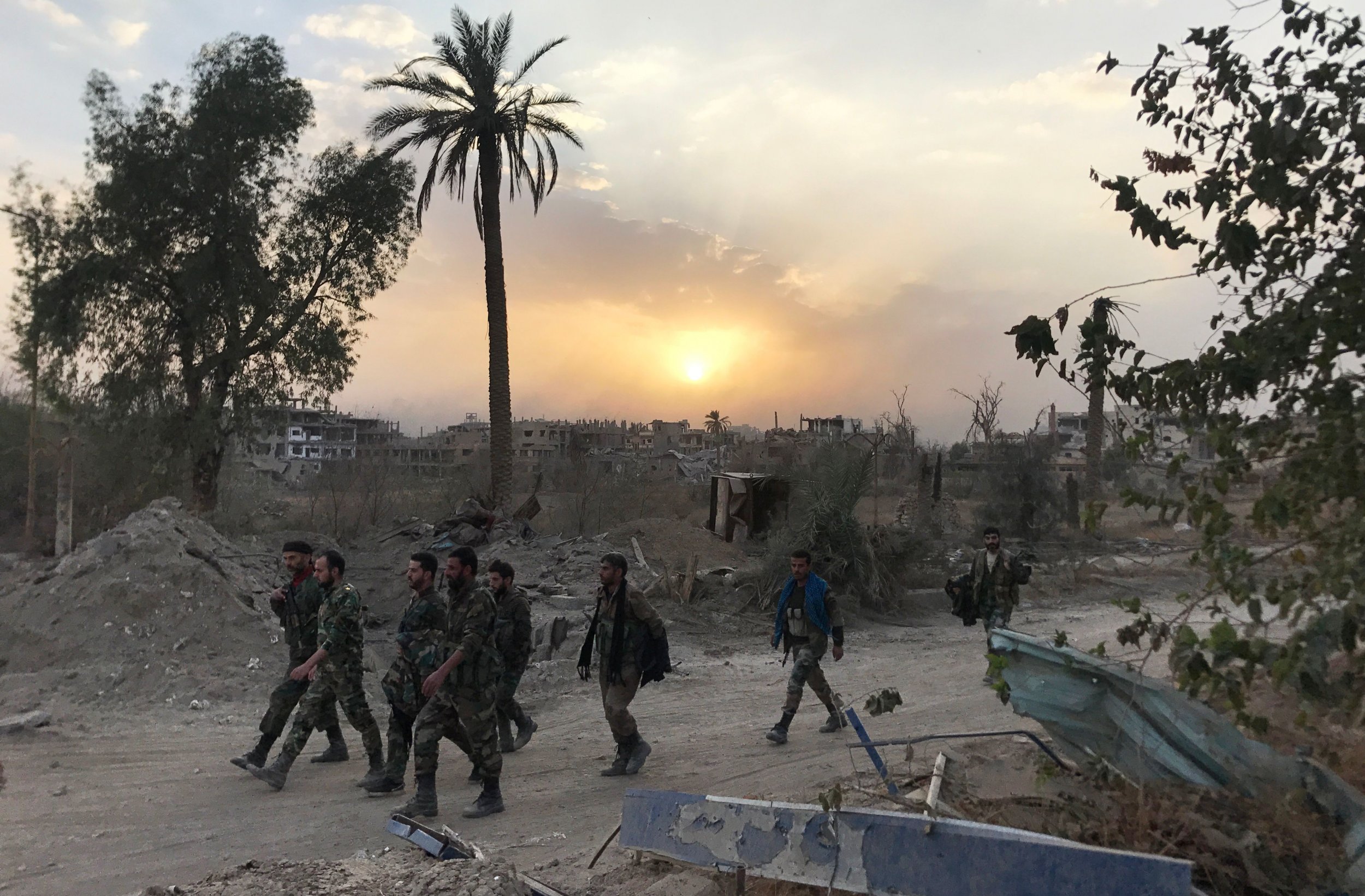 The Syrian military and its allies said they've retaken the final town held by the Islamic State militant group (ISIS) in Syria, where the jihadis' leader was rumored to have fled after being ousted by parallel gains against his group in neighboring Iraq.
Syrian troops, fighting alongside various pro-government and Iran-backed militias, have claimed a series of major victories in a rapidly closing pocket that comprises ISIS's final stretch of territory in the Middle East. Aided by Russian airstrikes, Syria's armed forces declared total victory over the last ISIS-held city of Deir Ezzor on Friday and continued to advance, meeting their Iraqi allies along their mutual border for the first time since the crossing was seized by insurgents opposed to Syrian President Bashar al-Assad in 2012, state-run Syrian Arab News Agency reported.
Related: Where is ISIS? Syria and Iraq leave no escape for Islamic State, as troops take final major cities
Footage aired by the Central Military Media Committee showed the encounter between the two fronts, which included the Lebanese Hezbollah and Iraqi Popular Mobilization Forces, two Iran-backed Shiite Muslim movements. Syrian troops then encircled the ISIS-held town of Al-Bukamal as the Popular Mobilization Forces crossed the border to join the fight to retake the jihadis final refuge in Syria, according to the pro-opposition, U.K.-based Syrian Observatory for Human Rights.
After a joint effort by the Syrian and Iraqi militaries and their respective allies, the coalition declared total victory, according to Lebanon-based Al Mayadeen TV. The Syrian Observatory for Human Rights, however, disputed this account, saying some fighting continued across the town.
The battle for Al-Bukamal took on a potentially new dimension amid widely spread, yet unconfirmed reports suggested that the elusive ISIS chief Abu Bakr al-Baghdadi had recently fled to the town. Citing an unnamed Iraqi intelligence source, the Iraqi News Media Agency claimed Monday the infamous Salafi Sunni Muslim cleric escaped the other collapsing half of his self-proclaimed caliphate in Iraq via yellow taxi as Iraqi troops and the Popular Mobilization Forces retook the Iraq-Syria border crossing of Al-Qa'im.
Baghdadi took control of what was then known as the Islamic State of Iraq in 2010 after the death of its former leader. The jihadi organization, which grew out of Al-Qaeda in Iraq and was known for its commitment to sectarian violence against the country's Shiite Muslim community, had grown powerful during the U.S. occupation of Iraq and took advantage of the uprising against Assad to spread to Syria in 2013.
Amid lightning gains that saw the group control nearly half of Iraq and Syria at its height in 2014, Baghdadi beckoned Muslims from around the world to join his militant cause during a speech from the Grand Al-Nuri Mosque in Mosul, his first and only known public appearance as ISIS chief. In the years since, however, local and international forces have reduced ISIS territory in both countries to a fraction of its former self. Baghdadi was long rumored dead but apparently appeared in a recent voice recording released in late September.
After retaking Al-Qa'im, Iraqi forces have reportedly begun operations to clear the deserts north of the crossing, leaving little room for ISIS to thrive. Pro-government forces were also mobilized last month to check a failed Kurdish bid for independence. Iraqi Prime Minister Haider al-Abadi said Tuesday that his country's "next war would be against the corrupt," according to the National Iraqi News Agency.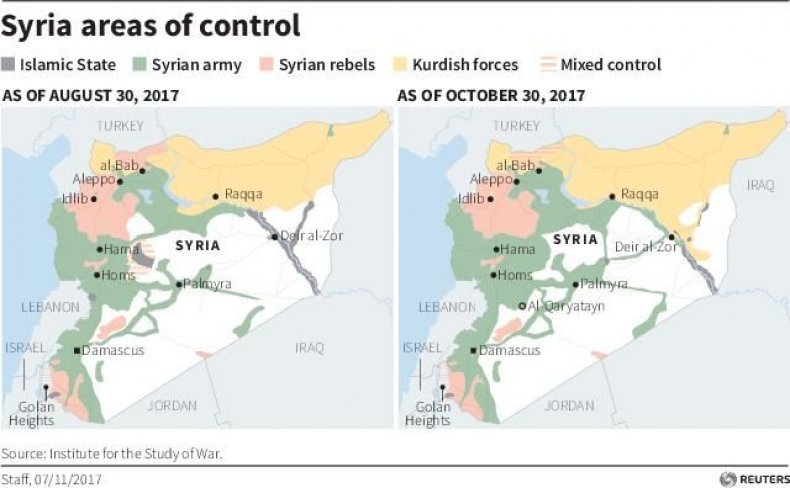 In Syria, Assad has regained control over most of the territory lost to rebels and jihadis attempting to overthrow him, and the military's success in reaching the Iraqi border has established a pro-Iran land bridge of influence through Beirut, Damascus, Baghdad and Tehran. The Syrian leader, however, still faced pockets of anti-government resistance sponsored by Turkey as well as the U.S.-backed Syrian Democratic Forces, a mostly Kurdish alliance of Arabs and ethnic minorities that has taken control of nearly a quarter of the country.
While Russia has overseen talks between the Syrian government, the opposition, Kurds, Iran and Turkey, Assad and his allies have vowed to re-establish control over the entire country, leaving the possibility open for limited "self-management" for Kurds in the north and pledging to take on the U.S. and Turkey as invaders if they did not exit.