U.S. Soldiers Under Threat as Iran Allies Join Iraq Military With Plans to Kick Americans Out
An Iran-backed collective of mostly Shiite Muslim militias was officially made part of the Iraqi military Thursday, a development that placed U.S. forces in a difficult position as Washington tried to pull Baghdad away from its close ties to Tehran.
The potentially 150,000-strong Popular Mobilization Forces, called Al-Hashd Al-Shaabi in Arabic, were formed with Iranian support in 2014 and played a significant role in assisting U.S.-backed Iraqi troops and Kurdish fighters defeat the Islamic State militant group (ISIS) after it consumed about half of the country. Capitalizing on its own growing influence in the region and popular uneasiness about a 15-year U.S. military presence in Iraq, Iran has long sought to oust U.S. forces from the neighboring, fellow majority-Shiite Muslim country.
Related: Russia and Iran winning war of influence against U.S. with new ties to Middle East allies Iraq, Syria and each other
One day after receiving Iranian Vice President Eshaq Jahangiri for an official visit, Iraqi Prime Minister Haider al-Abadi issued "regulations to adapt the situation of the Popular Mobilization fighters" on Thursday, giving them ranks and salaries equivalent to other branches of the Iraqi military.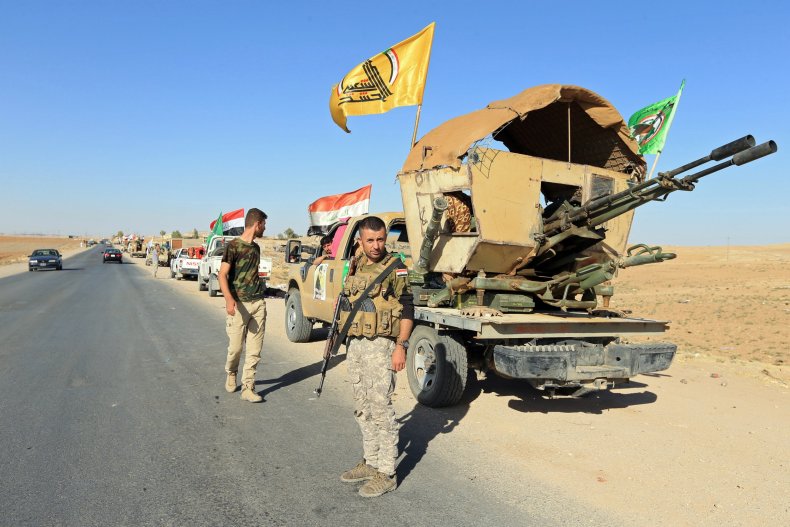 The Popular Mobilization Forces, which also included a large number of fighters from Iraq's minority Sunni Muslim, Christian and other communities, were first officially recognized and placed under Abadi's command in 2016, as momentum rapidly shifted against the ultraconservative Sunni Muslim ISIS. They have been accused of marginalizing and even targeting non-Shiite Muslims, especially Sunni Muslims, but have denied these charges.
Instead, they have focused on expelling the prolonged U.S. military mission in Iraq. The U.S. invaded the Middle Eastern power in 2003, accusing Iraqi President Saddam Hussein of developing weapons of mass destruction. However, the allegations turned out to be false, and Hussein was ousted and ultimately executed by the U.S.-installed government that succeeded him. It was during this period that jihadi Sunni Muslim groups such as Al-Qaeda in Iraq became active and ultimately formed into ISIS.
With Abadi having declared ISIS dead following the militants' defeat last summer in Iraq's second city of Mosul, the Popular Mobilization Forces have threatened to attack U.S. forces if they did not withdraw. Last October, a spokesman for Popular Mobilization Forces group Kataib Hezbollah, considered a terrorist organization by the State Department, warned the U.S. that his Iraqi paramilitary forces were "ready to fight more than ever before."
Military Strength: What Russia's Military Looks Like Compared to the U.S.
A spokesman for Harakat Hezbollah al-Nujaba, another Popular Mobilization Forces group that borrowed its name from Iran-backed Lebanese Shiite Muslim movement Hezbollah ("Party of God"), accused the U.S. on Thursday of "working to prevent any democratic system of government" in Iraq, as it did with other regional countries considered potential threats to U.S. foreign policy.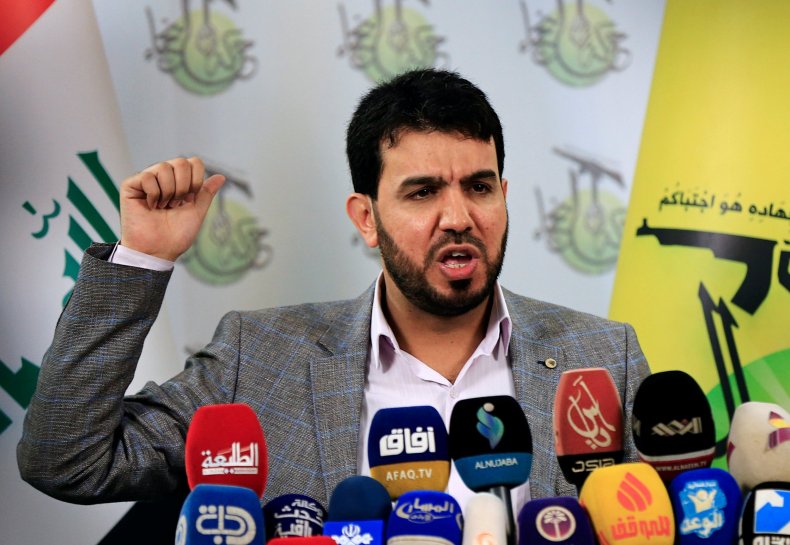 Abadi's move was not entirely unexpected, however, and was likely part of a larger plan to attempt to rein in the Popular Mobilization Forces, as Reuters reported in January. The U.S. has condemned a number of these groups, including Kataib Hezbollah and Asaib Ahl Al-Haq, linking them to Iran and Shiite Muslim groups that fought U.S. occupation of Iraq after the 2003 invasion.
In November, Secretary of State Rex Tillerson told the Iran-backed militias to disband and "go home" during a joint meeting with officials from Iraq and Saudi Arabia, a leading U.S. ally and an Iranian foe. Nevertheless, the U.S. tried to forge better ties between Iraq and Sunni Muslim kingdom Saudi Arabia, but Abadi's upcoming election in May meant he would likely need to need to appease his mostly Shiite Muslim constituency, who largely revered the Popular Mobilization Forces.