Turkey Mulls Talks to Avoid War As Russia and U.S. Allies Chant 'One Syria'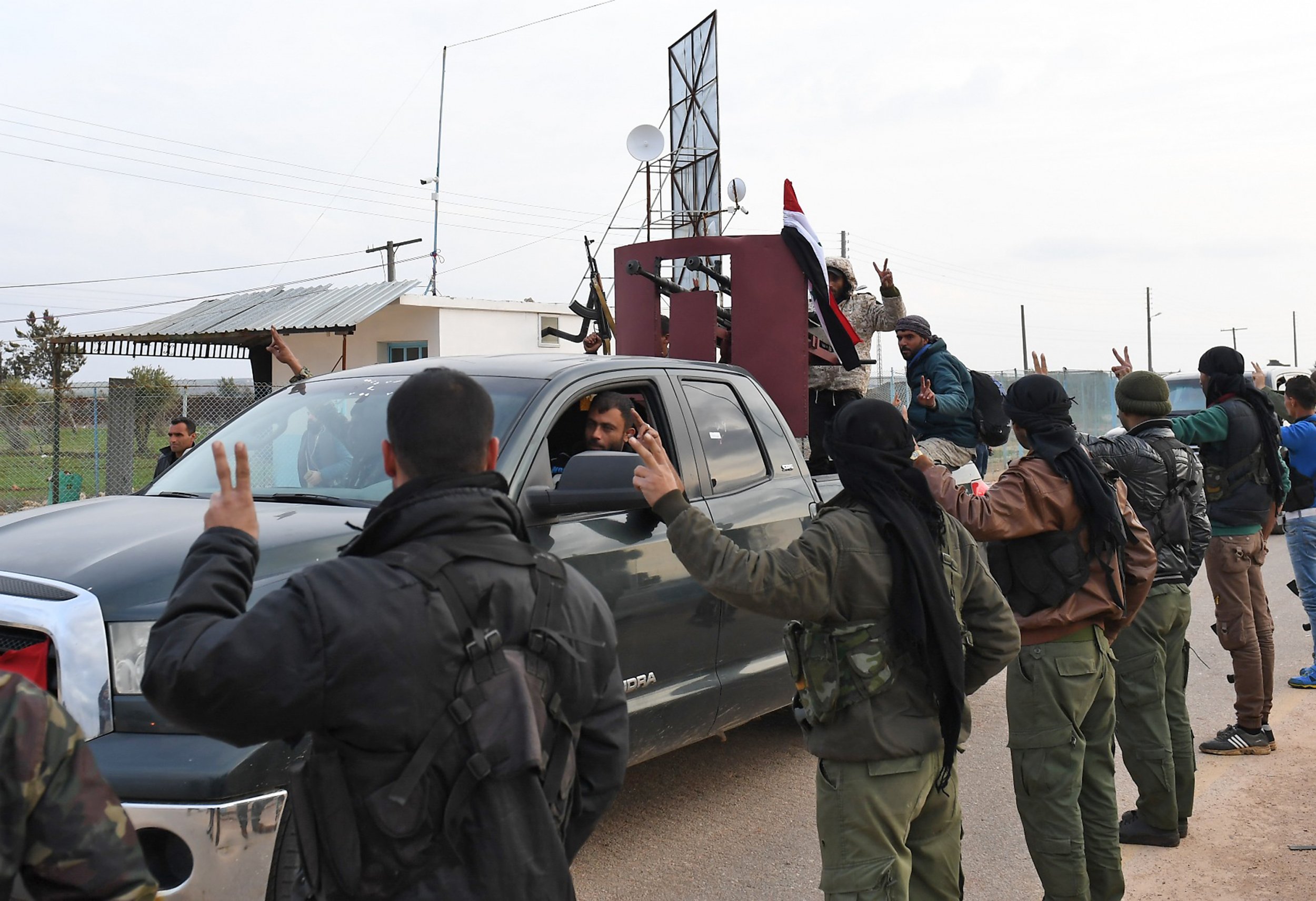 Turkey has raised the possibility of opening a new dialogue with Syria, as its supporters threatened to join Kurds in resisting a Turkish invasion in the northwestern district of Afrin.
Ankara initially denied Tuesday that a massive convoy of fighters supportive of Syrian President Bashar al-Assad— an ally of both Russia and Iran—entered the Kurd-held enclave and later claimed that Turkish airstrikes turned the incoming forces back. Videos surfaced of pro-Syrian government and Kurdish fighters chanting "one Syria," in celebration of an alliance that Ibrahim Kalin, spokesman for Turkish President Recep Tayyip Erdogan, said Wednesday would have "serious consequences" for Assad partisans.
Related: U.S. and Russia Allies Join Forces in Syria, But This Causes New Problems for Leading World Powers
Kalin also said in a televised address, however, that Turkish intelligence officials "may establish direct or indirect contact when it is required to solve certain problems under extraordinary conditions," Bloomberg News reported. His remarks hinted at the potential for renewed contact between the neighbors, who have been on poor terms since Turkey helped sponsor a 2011 uprising against Assad.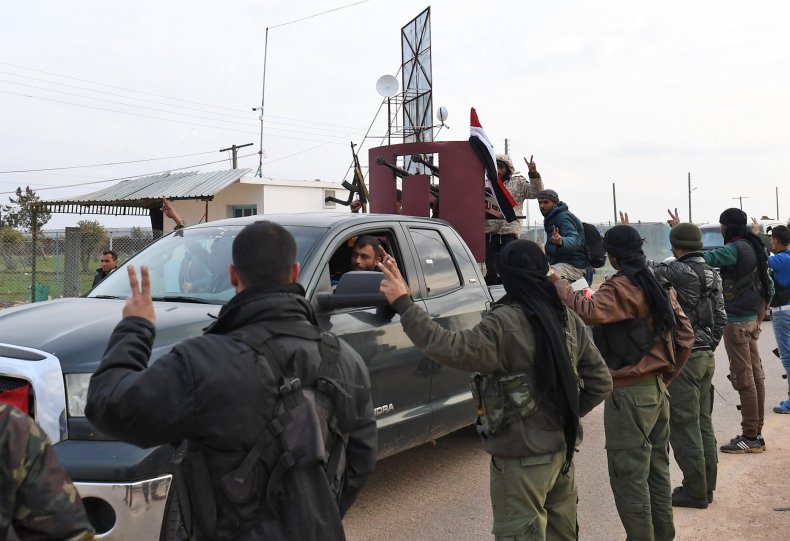 Assad has called Turkey and the U.S. "invaders" because their military presence backed non-state actors in Syria. Turkey, the U.S. and Gulf Arab states backed various insurgent groups opposed to Assad's rule, but this opposition has become severely splintered by ideological infighting and competition with jihadi groups such as the Islamic State militant group and others affiliated with Al-Qaeda.
Turkey remained a supporter of the rebel Free Syrian Army, but the U.S. switched its focus to Kurdish militias that later formed most of the Syrian Democratic Forces. Turkey has criticized the U.S. over its backing of Kurdish groups such as the People's Protection Units (YPG) because Ankara alleged they were linked to the Kurdistan Workers' Party, a militant group responsible for decades of violence across Turkey.
While the U.S. remained a staunch opponent of Assad's leadership in Syria, Pentagon-backed Kurds have been more concerned with greater autonomy in northern Syria than total regime change. Syrian Kurds have long protested Assad's policies seen as suppressing their cultural identity, but Turkish backing for the Syrian opposition has more seriously alienated them, resulting in frequent clashes between formerly CIA-backed Syrian rebel groups and the Pentagon-backed Kurdish force.
In at least two incidents both factions blamed on each other, unprecedented violence broke out between pro-Syrian government fighters and the U.S. coalition-backed, majority-Kurd Syrian Democratic Forces in the eastern province of Deir Ezzor. The Syrian military has still continued to allow Kurdish fighters to move freely throughout the wide swaths of the territory it has retaken with the help of Russian airpower—and an array of mostly Shiite Muslim local and international militias backed by Iran.
Despite warnings by the U.S.-led coalition that it would not support Kurds leaving the fight against ISIS in Deir Ezzor, Kurdish fighters have continued arriving in Afrin. Although Russia urged its own Syrian partners to seek dialogue with Turkey, Syrian pro-government militias have heeded Kurdish calls to join the fight against Ankara and its partnered Syrian rebels.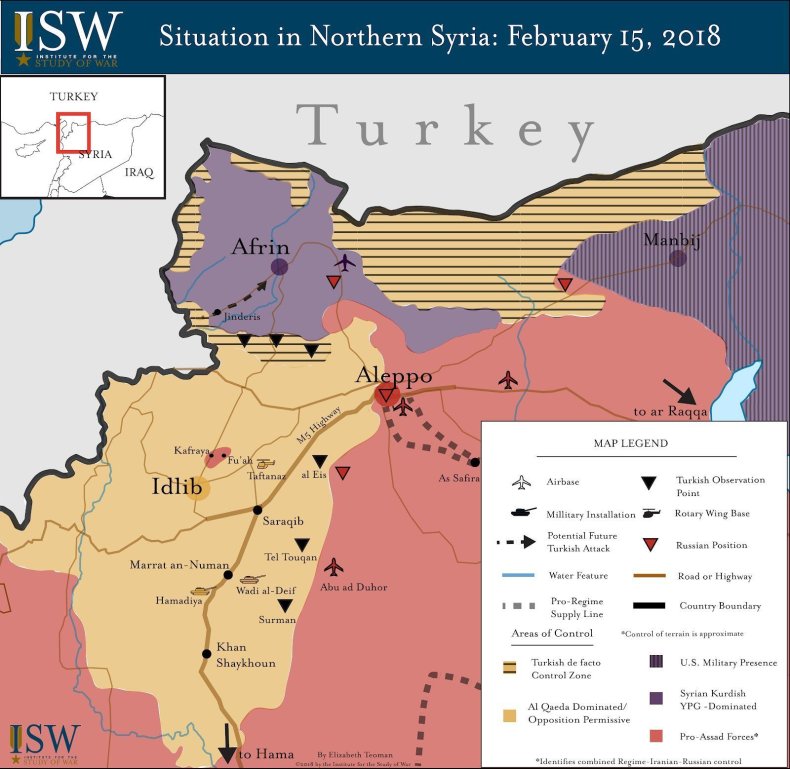 The U.S. has criticized the Turkish operation in Afrin as "impeding the task to eliminate ISIS" in eastern Syria, but it has stopped short of taking action against its NATO Western military alliance partner. Russia also appealed to Ankara, but it neglected to intervene against another third of the Russia-Iran-Turkey partnership that Moscow has championed as the most effective way to bring an end to the nearly seven-year civil war in Syria.
Erdogan previously suggested he may be open to talks with Assad in November, but only based on the understanding that the Syrian leader would turn against Kurdish groups his supporters now appeared to have joined forces with. The decision by Assad's father and presidential predecessor, Hafez al-Assad, to expel Kurdish militant leader Abdullah Öcalan in 1998 allowed the two states to grow relatively close. They fell out over the 2011 rebellion—which has been largely overcome—but it has left Kurds in control of much of northern Syria and lucrative oil fields in the east.