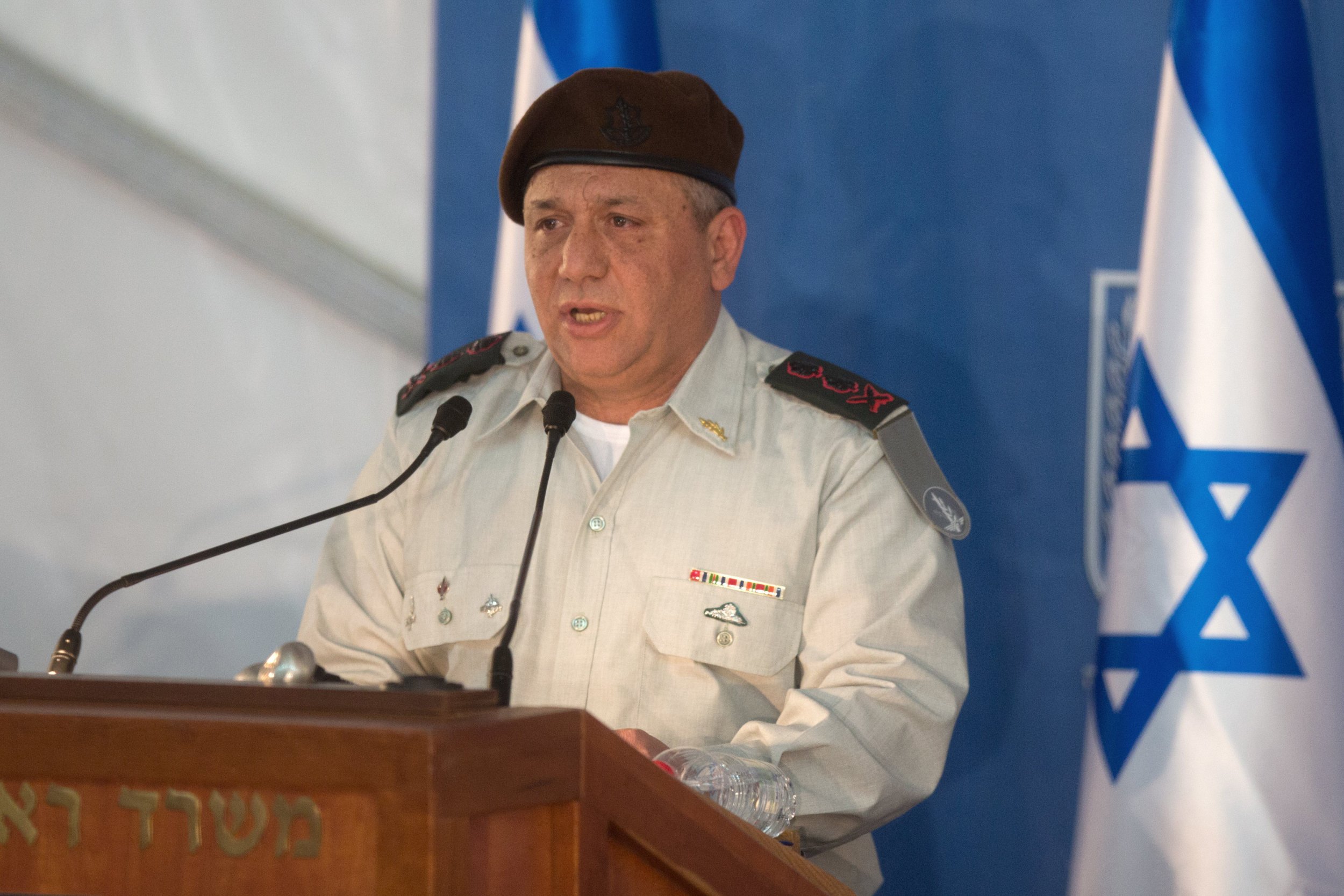 The head of Israel's armed forces revealed Thursday he's willing to work with fellow Middle Eastern U.S. ally Saudi Arabia to thwart the interests of their common foe, Iran, which has been vying for influence in the region.
In his first-ever interview with an Arabic-language newspaper, Lieutenant General Gadi Eisenkot, chief of staff of the Israeli military, said he viewed the majority-Jewish state and ultraconservative Sunni Muslim kingdom as natural allies due to their mutual enmity for revolutionary Shiite Muslim Iran. Israel has labeled Iran an existential threat, and Tehran's growing influence across the Middle East and beyond has also outpaced Saudi Arabia's own efforts to dominate the region, establishing an informal axis between the U.S., Israel and Saudi Arabia that's gone largely unspoken until now.
Related: Who is Saad Hariri? Lebanon's "kidnapped" U.S. ally tweets he's okay, but still in Saudi Arabia
"In this matter, there is complete agreement between us and the Kingdom of Saudi Arabia, which was never one of our enemies nor have they fought us nor have we fought them, and I think there is a complete consensus between us and them in regards to the Iranian axis," Eisenkot told London-based pan-Arab newspaper Elaph.
"I was at the meeting of the chiefs of staff in Washington, and when I heard what the Saudi representative said, I found it was exactly identical to what I think about Iran and the need to confront it in the region and the need to stop its expansionist programs," Eisenkot added.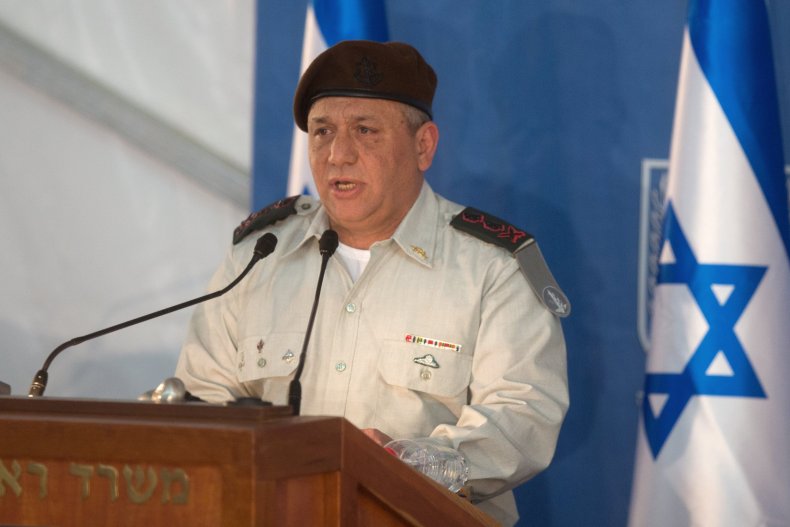 Saudi Arabia has refused to recognize Israel since its establishment in 1948 and the mass expulsion of Palestinians that came with it. After the Islamic Revolution toppled the pro-West Shah in 1979 and established Iran as an anti-imperialist force in the region, however, Saudi Arabia and Israel's interests began to align.
Both countries were vicious critics of former President Barack Obama's 2015 nuclear deal with Iran (and have been proponents of President Donald Trump's efforts to scrap it), and both opposed Iranian support for foreign political and militant movements across the region. Iran was crucial in creating and supporting the powerful Lebanese Shiite Muslim movement Hezbollah, which twice forced Israel into a stalemate in Lebanon, and has played a vital role in helping Syrian President Bashar al-Assad and his allies overcome a 2011 uprising by jihadis and rebels, some of whom were backed by Saudi Arabia.
Iran's support for mostly Shiite Muslim militias in Syria and Iraq helped put an end to the territorial expansion of the Islamic State militant group (ISIS), but also gave Iran a larger foothold across the region, stretching from Tehran through Baghdad, Damascus and Beirut. Saudi Arabia and its allies also accuse Iran of funding groups in Yemen, where the Saudi kingdom is involved in a prolonged war against the Zaidi Shiite Muslim group known as the Houthi movement, and in majority-Shiite Muslim Bahrain, where the pro-Saudi Sunni Muslim royal family blamed a recent oil explosion and fire on Iran-backed militants.
To help Saudi Arabia thwart its increasingly powerful rival, Eisenkot made the unprecedented move of offering to cooperate directly with Saudi Arabia's intelligence.
"We are ready to share information if necessary. There are many common interests between us and them," Eisenkot said.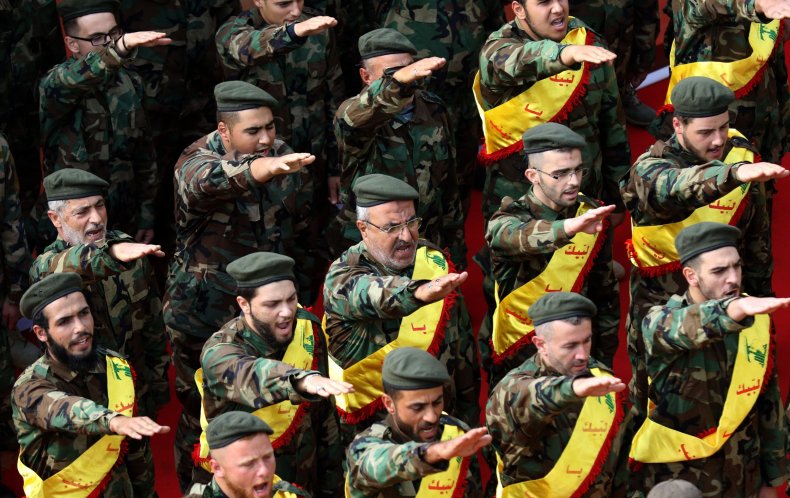 The interview, which was published in Saudi media as well, was particularly explosive due to recent events between Lebanon and Saudi Arabia. Earlier this month, Lebanese Prime Minister Saad Hariri, a citizen and supporter of Saudi Arabia, stunned the region when he announced his resignation after a secret trip to Riyadh. Hariri, whose father was killed in a 2005 bombing his supporters blamed on Hezbollah and its Iranian and Syrian allies, claimed he fled a similar plot, leading Saudi Arabia to state it considered the supposed conspiracy an act of war.
Hezbollah Secretary General Hassan Nasrallah, Lebanese President Michel Aoun and others, however, have argued Hariri's decision to step down was compelled by Saudi Arabia and that the Sunni Muslim politician was subsequently detained. Hariri claimed Tuesday and Wednesday he was "perfectly fine" and hoped to return to Lebanon soon, but his rivals feared the move could be a pretext for Israel to launch a new war against Lebanon in hopes of routing Hezbollah.
A representative of Hezbollah's media office told Newsweek last week that the group didn't expect an imminent war with Saudi Arabia, but condemned its interference in Lebanese affairs. Nasrallah, who accused Saudi Arabia of declaring war, urged Israel on Friday not to exploit the Lebanese crisis to stage an attack, but said he thought such a move would be unlikely. Eisenkot said Tuesday that Israel had "no intention of initiating an attack on Hezbollah in Lebanon and starting a war, but we will not accept there being any strategic threat to Israel."
"Our demand is that Hezbollah leave Syria and that Iran and its militias withdraw from Syria. We have calmly said both publicly and secretly that we will not accept any Iranian position in Syria, and especially their concentration west of the Damascus-Suwayda road. We will not allow any Iranian presence, we warned them against building factories or military bases, and we will not allow that," Eisenkot said.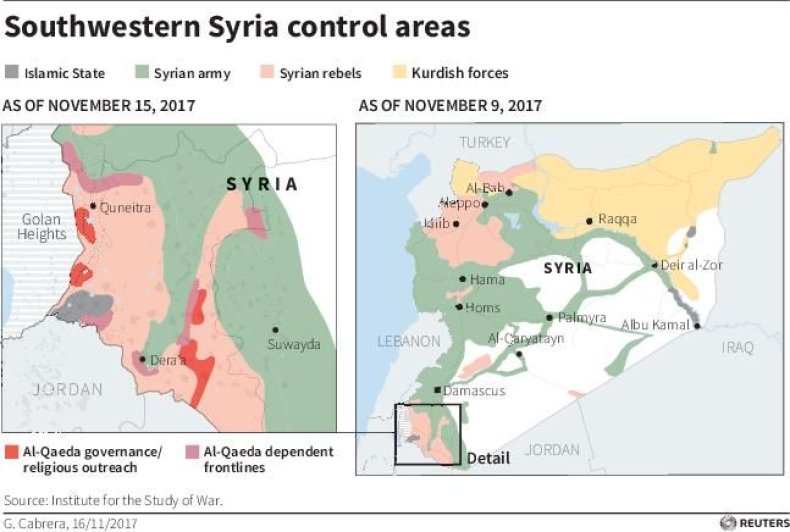 Eisenkot dispelled rumors of Israeli collusion with Al-Qaeda's Nusra Front, now called Hayat Tahrir al-Sham, which maintained a presence near the Israel-occupied Golan Heights, in southwestern Syria. Israel has offered medical assistance to various Syrian rebel groups opposed to Assad, according to The Times of Israel, and it has reportedly paid the salaries of some as well, but it maintains no official position on the outcome of the war in Syria. It has, however, clashed with ISIS and conducted airstrikes against the Syrian army, Hezbollah and other Iranian assets in the neighboring country.
With the Israeli and Saudi positions converging, reports of quiet agreements between the two have increasingly surfaced. Last month, Saudi Arabia's Foreign Ministry denied that Saudi Crown Prince Mohammed bin Salman Abdul Aziz Al Saud made a secret diplomatic visit to Israel, according to Agence France-Presse. The 32-year-old royal has become an increasingly influential force in the monarchy and, hours after Hariri announced his resignation, led a sweeping anti-corruption purge that saw dozens of Saudi princes, officials and ministers arrested.