Trump Attacks Iran Deal at U.N. But Offers Little in Return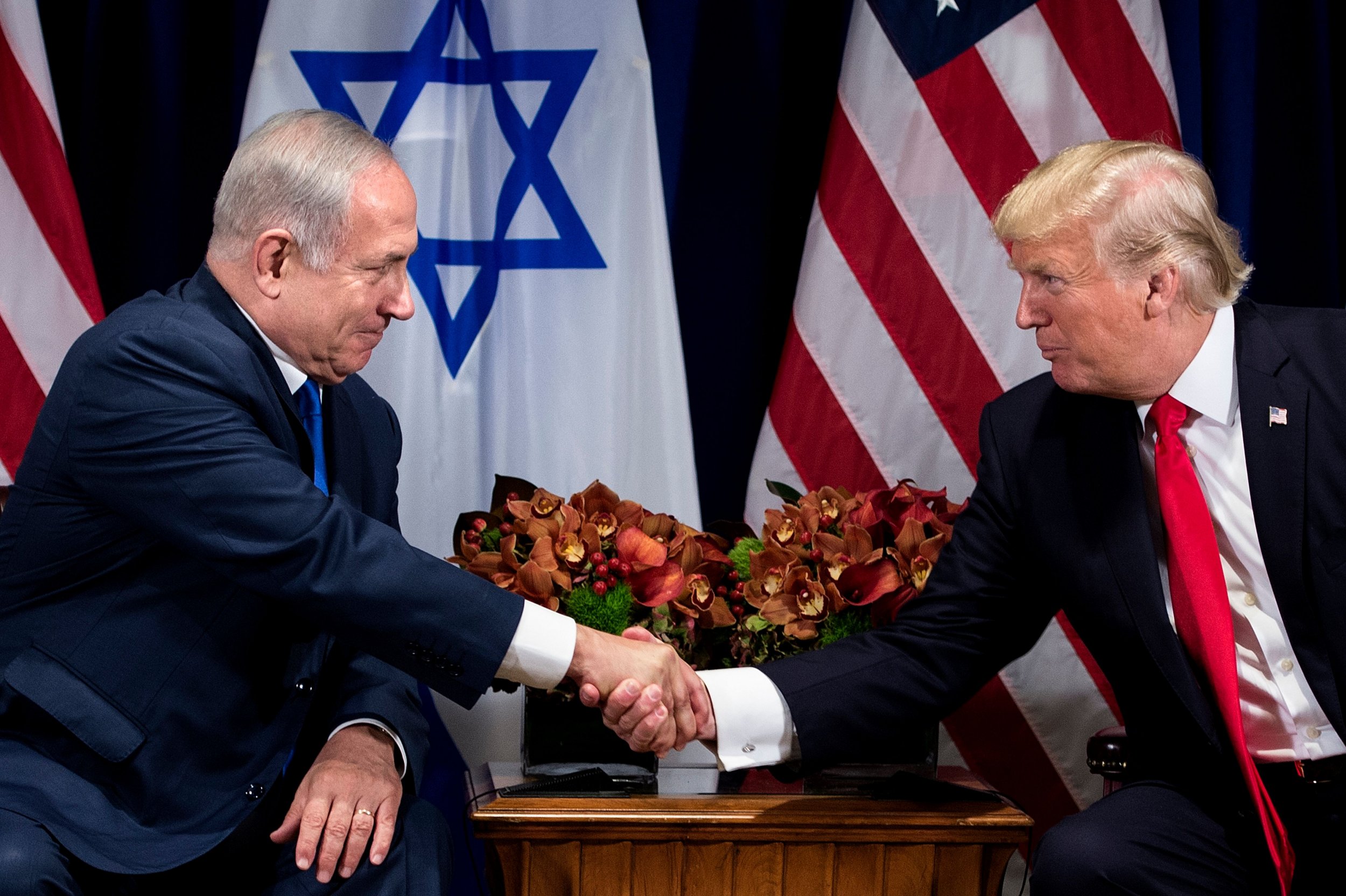 President Donald Trump's mission to renegotiate or scrap a historic nuclear treaty put into effect by his predecessor and Iran and other leading powers could risk sparking a conflict in the Middle East, observers say.
While addressing the U.N. General Assembly in New York on Tuesday, Trump took the opportunity to attempt to pressure Iran into further concessions on the Joint Comprehensive Plan of Action (JCPOA), the 2015 deal that lifted billions of dollars' worth of sanctions against Iran in exchange for Tehran agreeing to curb its nuclear production. Both he and Israeli Prime Minister Benjamin Netanyahu, who also attacked the deal Tuesday, have argued that the agreement was too soft on Iran and have demanded new terms.
Related: Iran threatens to destroy Israel's Tel Aviv, but Gulf Arab states appear closer to former foe
"We can no longer be taken advantage of or enter into a deal where the United States gets nothing in return," Trump said during his General Assembly speech. "The Iran deal was one of the worst and one-sided transactions the United States has ever entered into," he added, calling it an "embarrassment" to the U.S.
The only problem, observers say, is that the U.S. and Israel are not offering anything in return.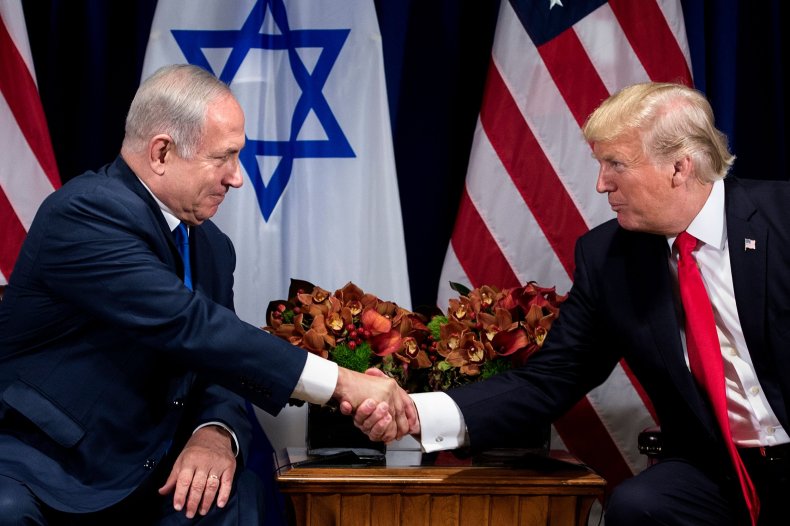 "Going there, picking fights with every American ally, talking crap about the deal, walking out of the Paris Agreement, questioning NATO and other American commitments and trade deals, etc. does not increase the U.S.'s credibility in any way, shape or form," Trita Parsi, president of the National Iranian American Council, tells Newsweek.
Parsi further stated that the U.S. was not even completely living up to the deal at present. Article 29 of the document states that the EU and U.S. "will refrain from any policy specifically intended to directly and adversely affect the normalization of trade and economic relations with Iran." Meanwhile, Trump has demanded that the international community "work together to isolate Iran."
Tearing up the deal was one of the Trump campaign promises that resounded most powerfully with his supporters. When Trump was elected, not only did it empower conservatives in the U.S. to reconsider what they felt to be a relic of President Barack Obama's administration, but Iranian hard-liners took the opportunity to slam what they regarded as an unnecessary concession to the West.
Deep mistrust between the two countries dates back to the U.S.'s support for a CIA coup that saw the country's democratically elected leader, Prime Minister Mohammad Mosaddegh, overthrown and arrested, with absolute power restored to Shah Mohammad Reza Pahlavi in 1953. Pahlavi, who was friendly to U.K. oil interests, went on to lead for nearly 26 years until he himself was deposed in the 1979 Islamic Revolution and took refuge in the U.S.
The incoming revolutionary Shiite government held hostage 52 U.S. diplomats and citizens for 444 days. While all were eventually returned alive, the incident sparked outrage in the U.S.
After decades of diplomatic silence and opposing interests in the Middle East, Obama quietly reached out to Iran. The election of Iranian President Hassan Rouhani, a moderate with aspirations of opening the country's economy, helped advance the talks, which ultimately were made public and finalized in 2015. Since then, the two countries have taken divergent political paths.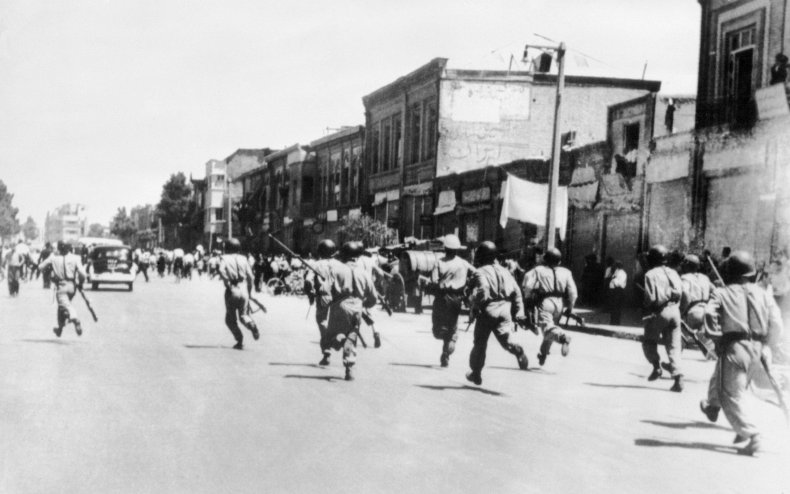 In contrast to Washington's conservative shift in 2017, Iran's presidential race in May saw Rouhani beat his hard-line, populist opponent, Ebrahim Raisi, who received the blessing of Iran's supreme leader, Ayatollah Ali Khamenei. Parsi says that although Iran's conservative religious movement enjoys support from only about 15 to 20 percent of the country's population, it maintains economic control through the elite Iranian Revolutionary Guard Corps.
While Iran's clerics remain suspicious of how foreign investment could shift Iran's internal balance of power, the country's government as a whole has remained publicly committed to the deal. Earlier this year, the U.S. accused Iran of breaking the "spirit" of the deal with a series of ballistic missile tests, but the U.N.'s International Atomic Energy Agency and even Trump's own State Department have repeatedly found Iran to be in compliance with the treaty's terms. As a result, Iran has let Trump do most of the talking.
"The JCPOA failing would be against U.S. national security interests, especially if Washington was seen as undermining the agreement. I fear that the U.S. is positioning itself to be isolated by constantly questioning an agreement it negotiated. Criticizing Iran's commitment without any evidence of wrong-doing could prove to be damaging to U.S. credibility," Alireza Nader, a senior international and defense researcher at the Rand Corp., tells Newsweek.
"It makes a lot of sense to stick to an agreement which has constrained Iran's nuclear capabilities," he adds.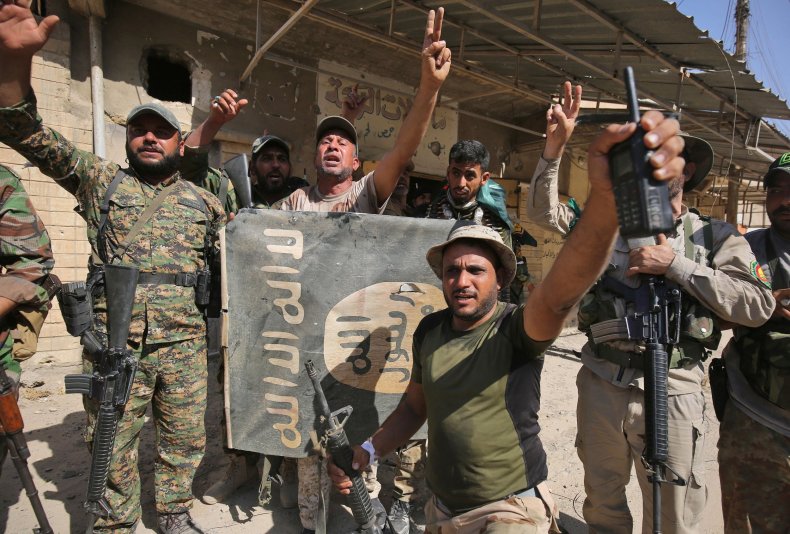 Conservative backlash, however, continues to fuel U.S. calls for the deal's renegotiation or abandonment. James Phillips, a senior research fellow for Middle Eastern affairs at the Heritage Foundation, agreed with Trump's assessment that the deal was an "embarrassment" to the U.S., mostly because it gave Iran exactly what it wanted without demanding more from a government that Washington accuses of perpetrating human rights abuses and funding terrorism abroad.
"The U.S. walked away from five decades of nonproliferation and gave Iran a better deal than it did most of its allies," Phillips tells Newsweek.
"What's really incredible is the Obama administration misplayed its hands. It played a very strong hand weakly because Iran needed the deal more, but it was the Obama administration that was bending over to make concessions," he adds.
Phillips criticizes the deal's so-called sunset clauses that gradually decrease nuclear restrictions. He also disagreed with the Obama administration's decision not to include harsher measures against ballistic missile tests and the movement of funds to foreign militias, some of which are considered terrorist organizations by the U.S. and allies.
Iran has extensive influence across Lebanon, Iraq, Syria and Yemen and has powerful partners willing to fight in each. So far, the U.S. and Iran's common goal of battling the Islamic State militant group (ISIS) has kept the two from significantly engaging each other, but tensions remain high over past incidents between proxy forces and direct confrontations at sea. As the U.S. seeks greater cooperation with Russia in Syria, however, it's also ceded territory to groups backed by Iran.
This move has irked Israel, which sees Iran and its Lebanese partner, the Shiite group Hezbollah, as an existential threat. Netanyahu has long sought to either renegotiate or end the Iran deal and has now found a partner in Trump, as well as in Saudi Arabia, which sees Iran as the greatest threat to the kingdom's influence in the region.
"Those who threaten us with annihilation put themselves in peril," Netanyahu said Tuesday.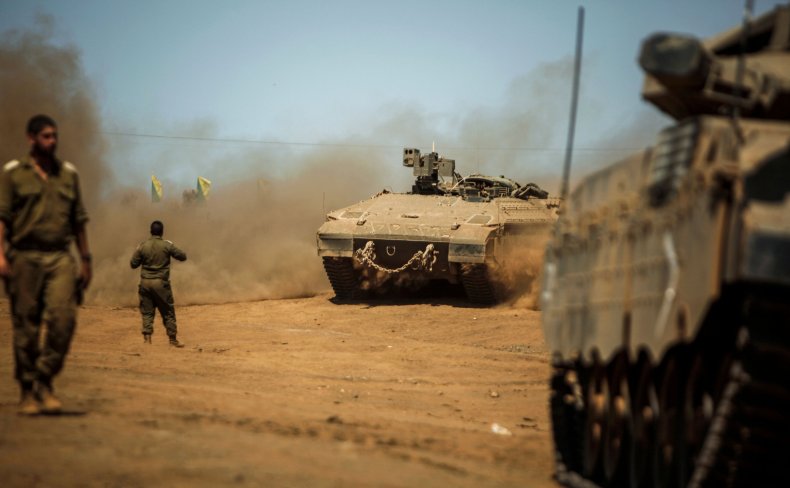 With the U.N. General Assembly underscoring a united anti-Iran front among the U.S. and Israel, what the deal has already achieved is at risk. Jarret Blanc, senior fellow at the Carnegie Endowment for International Peace's Geoeconomics and Strategy Program and deputy lead coordinator and State Department coordinator for Iran nuclear implementation at the State Department under Obama, says a U.S. abandonment of the JCPOA could ultimately lead to more clashes and, a nuclear-armed Iran. And it could mean further alienation between the U.S. and European allies that remain committed to the deal.
"The consequences of the U.S. pulling out of the JCPOA would be catastrophic," Blanc tells Newsweek. "The only thing that emerges from the U.S. walking away from the JCPOA is a weaker U.S. and a stronger Iran."