Iran Drone Buzzes U.S. Navy F/A-18 Jet In Persian Gulf, Forcing Evasive Action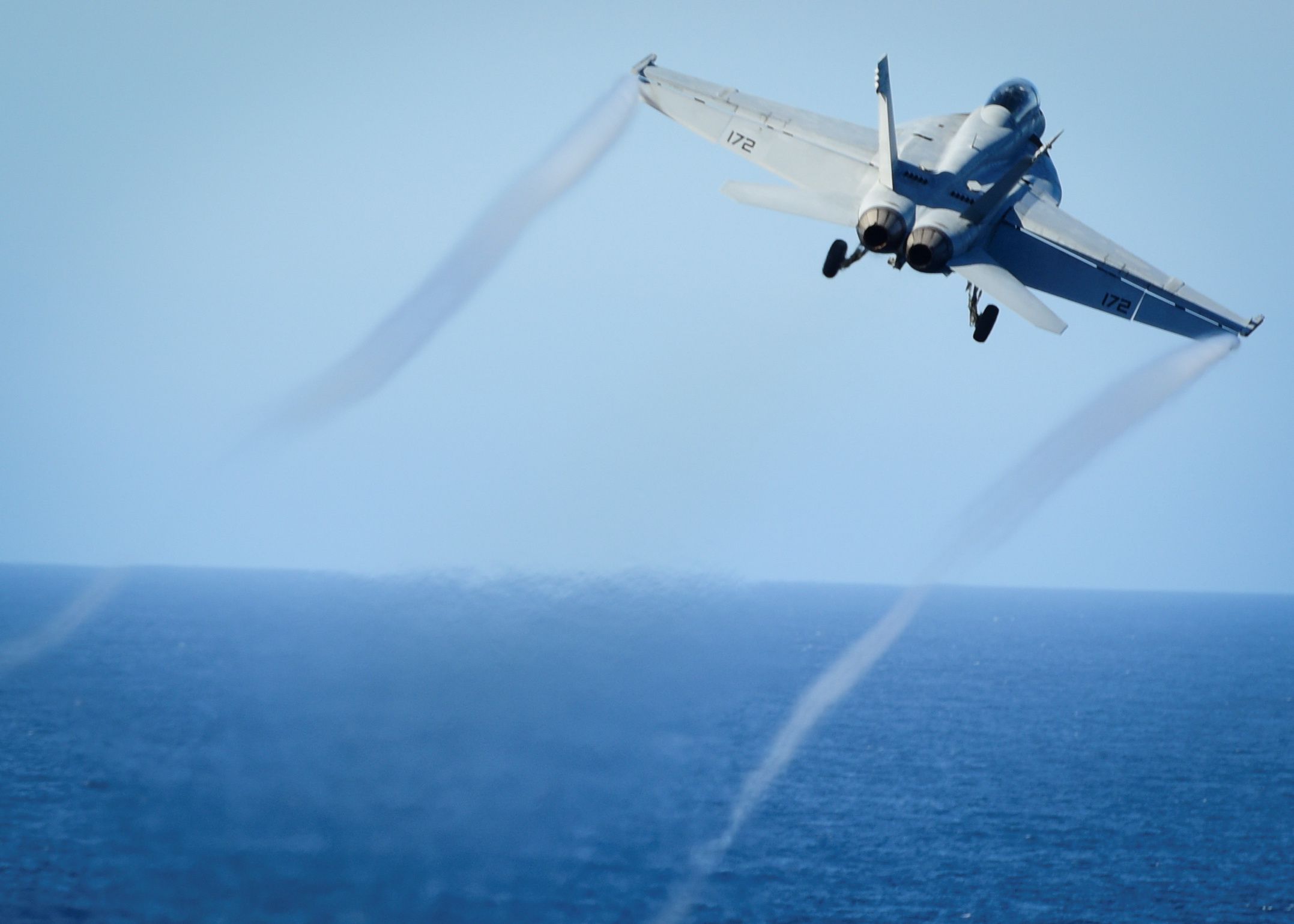 An Iranian drone flew within 100 feet of a U.S. Navy F/A-18 Tuesday, forcing the jet to take evasive action as it attempted to land on the USS Nimitz in the Persian Gulf.
In a statement, U.S. Naval Forces Central Command said the drone came within a 100-foot perimeter below the aircraft and within 200 feet to either side. At the time, the U.S. Navy jet was in a holding pattern waiting to land several thousand feet off the Nimitz.
"The dangerous maneuver by the QOM-1...created a collision hazard and is not in keeping with international maritime customs and laws," the statement read, identifying the drone as an Iranian QOM-1 model, an unarmed UAV.
Related: U.S. military fires warning shots at Iran ship with heavy machine gun in Persian Gulf
Fox News quoted defense officials as saying it was the first time an Iranian drone had interrupted a flight pattern in the Persian Gulf.
The encounter between the U.S. Navy and Iranian aircraft follows a series of close calls in the Persian Gulf between naval vessels. The frequency of incidents has increased under President Donald Trump, as Tehran reacts to the administration's more hard-line stance on Iran's ballistic missile program.
A third of all oil vessels pass through the Strait of Hormuz, the narrow, strategic link between the Gulf of Oman and the Persian Gulf. Iran, which holds the northern shoreline, views U.S. presence as a provocation.
As a result, Islamic Revolutionary Guard Corps (IRGC) vessels regularly follow U.S. Navy ships in the area, occasionally firing missiles or rockets nearby.
In July, an armed IRGC vessel came within 150 yards of the Cyclone-class patrol ship USS Thunderbolt, resulting in the U.S. vessel firing a series of warning shots. A month earlier, an Iranian vessel trained a laser on a U.S. CH-53E Super Stallion helicopter and turned its spotlight on the amphibious assault ship USS Bataan.
In January 2016, Iranian forces captured 10 U.S. sailors after they crossed two miles from an Iranian-controlled island.
The New York Times reported that a naval investigation into the incident found that two Navy patrol boats had veered off their planned route through the Persian Gulf. Nine officers and enlisted sailors faced disciplinary action over the incident, with some being relieved of command because of the episode.