U.S. Military Will Leave Syria Base in Deal With Russia, Reports Say
The U.S. has reportedly considered abandoning one of its most significant military installations in Syria as it prepared to enter into talks with Russia and Jordan over a deteriorating security situation in the war-torn country's restive south.
The report, which first surfaced Sunday in Saudi Arabian newspaper Asharq Al-Awsat, came as Russian Deputy Foreign Minister Mikhail Bogdanov said Tuesday that Moscow "supported the idea of holding a trilateral meeting at a level convenient for our partners," according to the state-run RIA Novosti. The U.S. and its Middle Eastern ally Jordan are opponents of Syrian President Bashar al-Assad, whose forces—backed by Russia and Iran—are planning a new offensive against rebels and jihadis across southern Syria.
The Saudi publication reported that, in order to prevent an escalation between longtime foes Iran and Israel, Deputy Assistant Secretary of State David Satterfield was attempting to draw up a proposal for the trilateral meeting that would include the withdrawal of all Syrian and non-Syrian militias up to 15-and-a-half miles from the Jordanian border. Insurgents would also be transferred to the rebel-held province of Idlib and the Syria-Jordan border crossing would be opened.
In exchange, the U.S. would reportedly dismantle its military base in Al-Tanf, located in a pocket of Syrian rebel control near the Jordanian and Iraqi borders.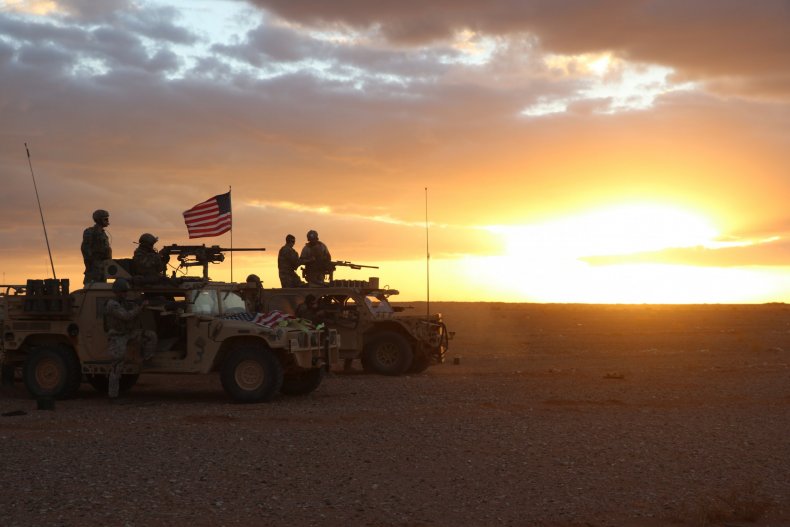 Russia has long accused the U.S. of using the Al-Tanf base to shield the remnants of jihadi groups such as the Islamic State militant group (ISIS), against which both the U.S. and Russia are supporting their respective local Syrian partners to fight. The U.S. has routinely denied the charges and has criticized Russia for backing Assad, who the West and its allies have accused of war crimes and have attempted to help overthrow by backing a 2011 uprising against his rule.
With Russian and Iranian backing, however, Assad's armed forces have retaken most of the country and most recently reclaimed the rebel-held outskirts of Damascus. The Syrian military has since set its sights on retaking insurgent-controlled areas near the southwestern province of Daraa, located between the Jordanian border and Israel-occupied Golan Heights. The introduction of Iran-backed militias into this region, however, threatened to escalate an already explosive relationship with Israel.
Related: Russia May Move Iran's Militants from Israel's Border in Unprecedented Deal on Syria, Reports Claim
Israel has officially remained neutral in Syria's seven-year civil war, but has also launched numerous airstrikes against Iranian and pro-Iran positions. In what became the largest Israeli air force attack on Syria since the two went to war in 1973, Israeli jets bombed numerous targets across Syria after rocket fire from Syria targeted Israeli forces in the occupied Golan Heights in response to a previous Israeli airstrike southwest of Damascus.
The U.S. sided with Israel in the spat, but Russia has found itself torn between its strategic ally Iran and Israel, with which it also maintains relations. Reports have emerged in Israeli media suggesting that Russia was able to convince Syria to withdraw the Lebanese Shiite Muslim Hezbollah and other Iran-backed groups in exchange for Israel's support for Syrian troops to reclaim the once revolutionary hub of southern Syria.
Bogdanov dismissed these reports Tuesday, saying at the annual Primakov Readings conference—hosted by the Moscow-based Institute of World Economy and International Relations—that "I do not know about such an arrangement," according to RIA Novosti. Russian Foreign Minister Sergey Lavrov also commented on the alleged deal, reiterating his argument that "some strange things are happening in Al-Tanf" including the appearance of fighters he said were connected to ISIS.
"As for media reports about the U.S. making plans to withdraw troops from the Al-Tanf area, I have already said that this zone was artificially created for reasons that are difficult to understand from the standpoint of military feasibility," Lavrov told journalists, according to the state-run Tass Russian News Agency. "This is why our Defense Ministry has been drawing our U.S. counterparts' attention to that fact and they seem to be coming to the same conclusion."
Russian President Vladimir Putin told Assad last week in Sochi that all foreign fighters should eventually leave Syria, but he has so far struggled to rein in his Iranian and Syrian allies. Both Tehran and Damascus said they had no plans to pull out Iranian and Hezbollah forces until the battle against ISIS and insurgents was completed. Syria has invited Russia and Iranian forces to help in the country's conflict, but considers U.S. and Turkish presence illegal.