Iraq and Syria have declared victory over the Islamic State militant group (ISIS), an international jihadi network whose presence in the Middle East drew in multiple local and international forces against it. However, months after Baghdad and Damascus both pronounced the militants' self-styled caliphate dead, the U.S. and Turkey have fought on in spite of calls to withdraw their forces.
While the U.S. has argued its indefinite military presence was necessary in both countries to prevent the resurgence of Islamist groups, Turkey has used the opportunity to launch a new campaign against Kurdish militias supported by the Pentagon but considered terrorist organizations by Ankara. As Turkish forces launched new attacks on Iraqi and Syrian Kurdish fighters combatting the remnants of ISIS, both countries have attempted to reduce or completely expel Turkey.
Related: Turkey is launching the next Middle East war with attacks on Kurds in Iraq and Syria
In a press conference Tuesday, Iraqi Prime Minister Haider al-Abadi assured reporters that the Iraqi military was "in complete control of all of Iraq's borders" and that the government had "a timetable for the reduction of the number of foreign troops in Iraq."
In neighboring Syria, where only Russia and Iran were considered legitimate foreign allies, an official Foreign and Expatriates Ministry statement issued Monday renewed "the demand for the immediate and unconditional withdrawal of the Turkish occupation forces from Syrian territory."
On Tuesday, Syrian ambassador to the United Nations Bashar al-Jaafari condemned "attacks directed against the sovereignty, safety and territorial integrity of Syria" by the U.S.-led coalition, Turkey and Israel, according to the ruling Baath Party's official newspaper.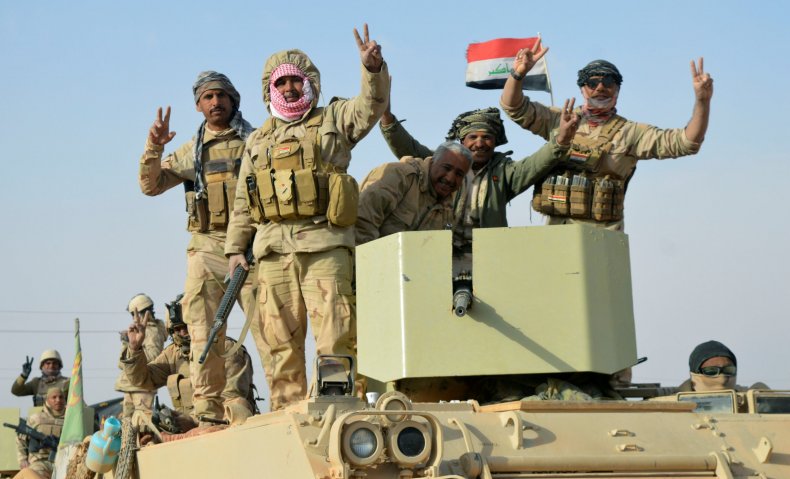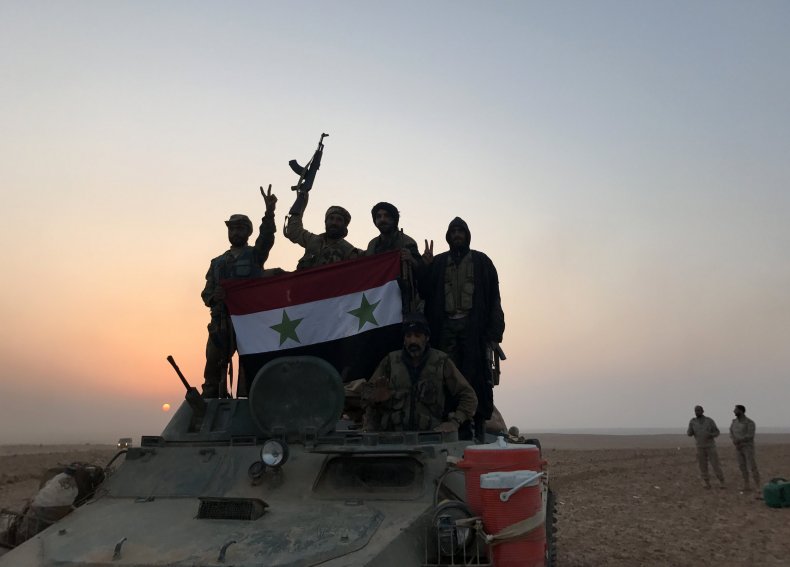 The Kurds are a Middle Eastern ethnic minority that claim parts of Iran, Iraq, Syria and Turkey as their ancestral homeland and have alleged political oppression by the majority communities in all four countries. Iraqi and Syrian Kurds have since taken advantage of unrest in their home nations to challenge the dominance of their mostly Arab central governments.
ISIS formed out of a merger of jihadi groups, including Al-Qaeda in Iraq, in the wake of the 2003 U.S. invasion and overthrow of Iraqi President Saddam Hussein, a member of Iraq's Sunni Muslim minority and opponent both of the fellow Baathist government in neighboring Syria and of the Kurdish ambitions at home. As ISIS took half of Iraq and Syria in 2014, a U.S.-led coalition began bombing it, while also supporting Kurdish forces on the ground in these countries.
The U.S.'s 2015 decision to establish the mostly Kurdish Syrian Democratic Forces angered Turkey, which linked Syrian Kurdish militias such as the People's Protection Units (YPG) to the militant Kurdistan Workers' Party (PKK) at home. With ISIS mostly defeated in Syria, thanks to campaigns by the U.S.-led coalition and its Syrian Democratic Forces allies, as well as the Syrian military supported by Russia and Iran, Turkey launched a new offensive against U.S.-backed Kurds in the northwestern region of Afrin in January and successfully took the city earlier this month,
The campaign has caused major friction between Turkey and the U.S., which has refused to withdraw Special Forces operating alongside Kurds in the northern city of Manbij, one of at least six Syrian and Iraqi cities located along Turkish President Recep Tayyip Erdogan's warpath. The U.S. has also declined support for Kurds leaving the battle against ISIS in the east to enter into a deal with Syrian President Bashar al-Assad, whom the U.S. has attempted to overthrow since the beginning of Syria's seven-year civil war.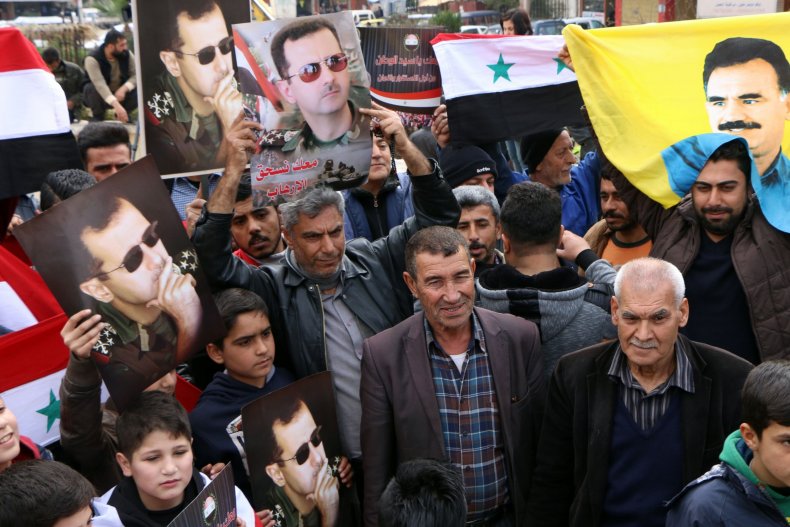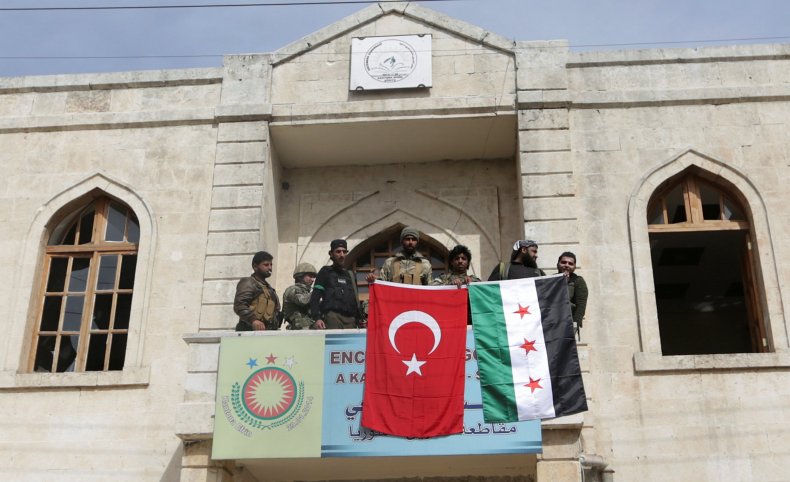 As Assad's government reclaimed most of the territory lost to rebels and jihadis, he and his Russian and Iranian allies have called on the U.S. to withdraw. But the Trump administration has declined to offer any timetables as to when or if it planned to withdraw U.S. forces.
Jennifer Cafarella, a senior intelligence planner at the Institute for the Study of War, told Newsweek that "the U.S. needs to be prepared to defend its positions in Syria and Iraq with force." She noted that "Russia, Iran and Assad seek to expel the U.S. from Syria and have attacked U.S. and partnered forces on numerous occasions" since President Donald Trump ordered a cruise missile strike against a Syrian air base in the aftermath of what the U.S. said was a chemical weapons attack perpetrated by the Syrian military in the rebel-held province of Idlib last April.
In Afrin, the rebel Free Syrian Army, once backed by the CIA, has planted Turkish flags, signaling a potentially long-term presence for Ankara as it eyes the nearby town of Tel Rifaat, which reportedly was recently transferred from Syrian Democratic Forces to Syrian government control. The U.S.-led coalition said officials acknowledged "the departure of some SDF forces from the Middle Euphrates River Valley and continue to point out the potential costs of any distraction from the Defeat-ISIS fight" in a statement sent to Newsweek earlier this month.
Turkish airstrikes have also hit Kurdish militia targets in northern Iraq, where Ankara also felt vulnerable to PKK infiltration. Unlike Assad, Abadi has attempted to maintain a working relationship with Turkey, mostly due to its alliance with the U.S., which entered its 15th consecutive year operating in Iraq earlier this month. A number of local politicians have become increasingly vocal in their opposition to Turkish and U.S. military presence, however, and Abadi assured journalists on Tuesday that he told Turkish Foreign Minister Binali Yildirim that Iraqi forces could handle Kurdish militant activity in northern Iraq.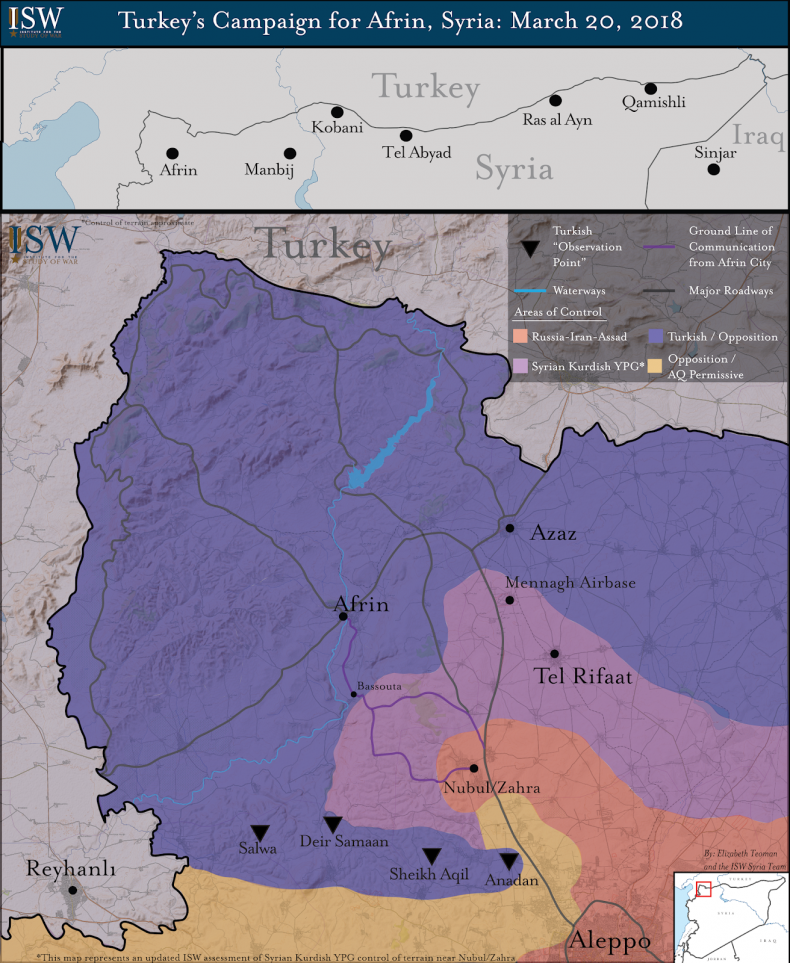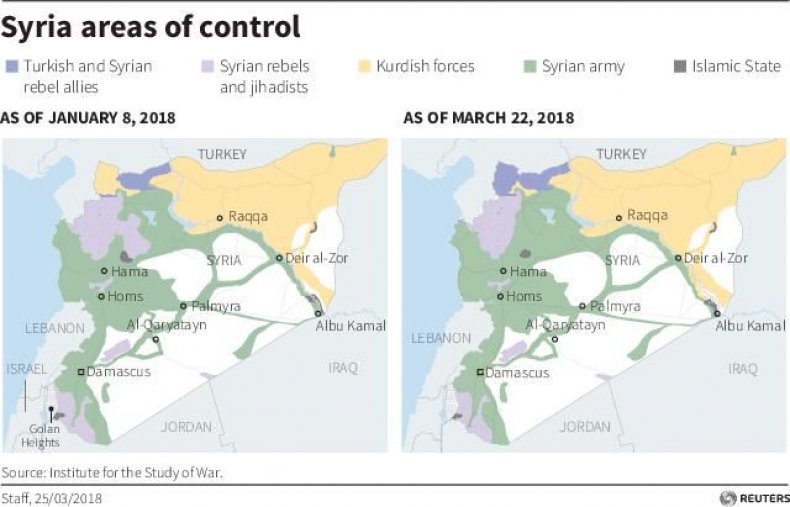 Iraqi Foreign Minister Ibrahim al-Jaafari also told his Turkish counterpart earlier this week that Turkey should withdraw from the city of Bashiqa. In addition to growing anger over the Turkish military presence in Iraq, Abadi has faced increased pressure to push for the U.S. to exit the country from the powerful, influential collective of Iran-backed Shiite Muslim militias known as the Popular Mobilization Forces.
This large paramilitary force was assembled in 2014 and fought alongside both Iraqi and Syrian troops to defeat ISIS. Earlier this month, they were made an official part of Iraq's armed forces. As Abadi prepared for elections later this year, the mostly Shiite Muslim force—which also included many Sunni Muslims, Yazidi Christians and other communities—has urged him to expedite the withdrawal of U.S. forces, threatening to wage a new conflict if they did not leave.
"The Iranians may be preparing to escalate against U.S. forces in Iraq in an attempt to expel them, as well," Cafarella told Newsweek.
"Iranian proxies are campaigning for Iraq's upcoming elections on a platform of resisting U.S. 'occupation.' Iran's proxies likely submitted a recent resolution that passed the vote in Iraqi parliament that demands a timeline on the full withdrawal of coalition forces. Iran likely seeks to gain an Iran-friendly prime minister after the election, enabling it to eject the U.S. politically," she added.
Earlier this month, the U.S.-led coalition told Newsweek in a separate statement that "as invited guests in Iraq, we work closely with the government of Iraq and its security forces" and that the coalition was "committed to the lasting defeat of Daesh [the Arabic-language acronym for ISIS] in Iraq and Syria."