Turkey Is Launching the Next Middle East War With Attacks on Kurds in Iraq and Syria
The U.S. and Turkey have offered conflicting statements as to whether Washington had agreed to allow Ankara to expand its war against Kurdish fighters operating alongside U.S. Special Forces in Syria. Meanwhile, new Turkish airstrikes targeted other Kurdish fighters in Iraq on Wednesday, signaling a new phase of conflict in two nations still reeling from being partially overtaken by the Islamic State militant group (ISIS).
Ibrahim Kalin, a spokesman for Turkish President Recep Tayyip Erdogan, initially told Al Jazeera on Monday that his government had reached a general agreement with the U.S., one that would allow Turkish forces and their Syrian rebel allies to expand an offensive against Syrian Kurdish fighters across northern Syria. The U.S. has trained and equipped a number of these Kurdish groups, including the People's Protection Units (YPG), in order to fight ISIS as part of the larger Pentagon-backed Syrian Democratic Forces.
Related: U.S. actually agrees with Iran and Syria, says Turkey is helping ISIS by attacking Afrin
Turkey, however, has argued these Kurdish groups are linked to the militant Kurdistan Workers' Party (PKK), which has launched a decades-long separatist insurgency against Ankara. Turkey led an invasion of Syria in January to oust the YPG from the city of Afrin, in northwestern Syria. On Sunday, nearly two months later, they succeeded, and Erdogan has plans of continuing the operation to other Kurdish cities such as Manbij, where U.S. forces are supporting their Kurdish allies.
In response to Kalin's suggestion that the U.S. had agreed to move these troops or order them to stand down in the event of a Turkey-backed attack, State Department spokeswoman Heather Nauert told reporters Tuesday, "That's funny, because no agreement has been reached."
After speaking with outgoing Secretary of State Rex Tillerson on Wednesday, Kalin clarified, saying they had reached "an understanding," not an agreement, as Turkish troops and insurgent Free Syrian Army fighters advanced closer to U.S. military positions in northern Syria, according to Turkey's Daily Sabah.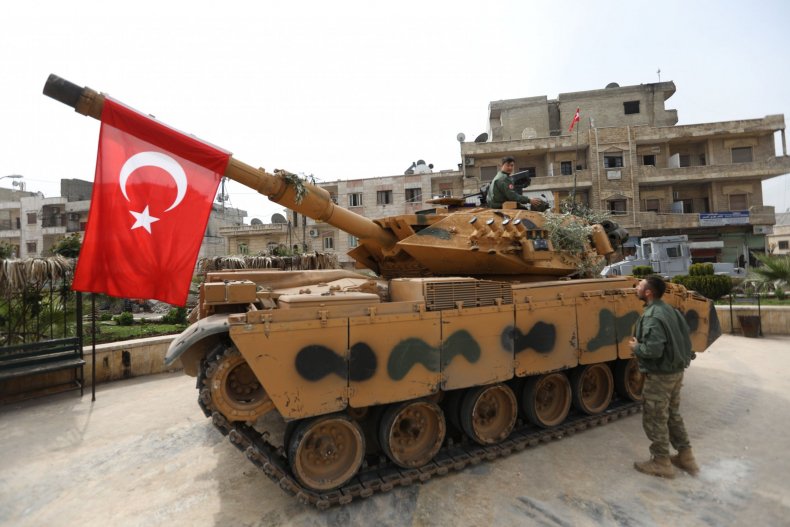 Not wanting to risk its partnership with fellow NATO member Turkey, the U.S. has so far declined to get involved in the Afrin operation, but its cost Washington the trust of its leading ally on the ground in Syria. Kurdish fighters of the Syrian Democratic Forces active in the fight against ISIS in eastern Syria have redeployed en masse in an attempt to defend Afrin, and now other Kurdish cities in the north.
Turkey's incursion has also established an unlikely alliance of local actors whose tensions far predate the ongoing civil war. Kurds have accused Syrian President Bashar al-Assad of oppressing their cultural and political aspirations in the country, and the Baathist leader's father actually expelled PKK leader Abdullah Öcalan to Turkey in 1998, a year before Öcalan was arrested by Turkey and two years before the senior Assad's fatal heart attack placed his youngest son in power.
Turkey went on to join the West and Gulf Arab states in backing the 2011 uprising against Assad, however, and Syrian Kurds have since been alienated by an increasingly jihadi opposition. Last month, Syrian Kurds appealed to Assad for help and a number of pro-government National Defense Forces units were sent to the region to fight.
While Syria has yet to fully open a new front against the Turkish incursion, it has appealed to the United Nations Security Council, which has been more focused recently on criticizing Assad's violent offensive against other pockets of rebel groups that continue to launch deadly rocket attacks on Damascus. Russian and Iranian support has allowed the Syrian military retake control of vast swathes of the country, leaving only bastions of insurgent control and large sections of the north under Syrian Democratic Forces administration.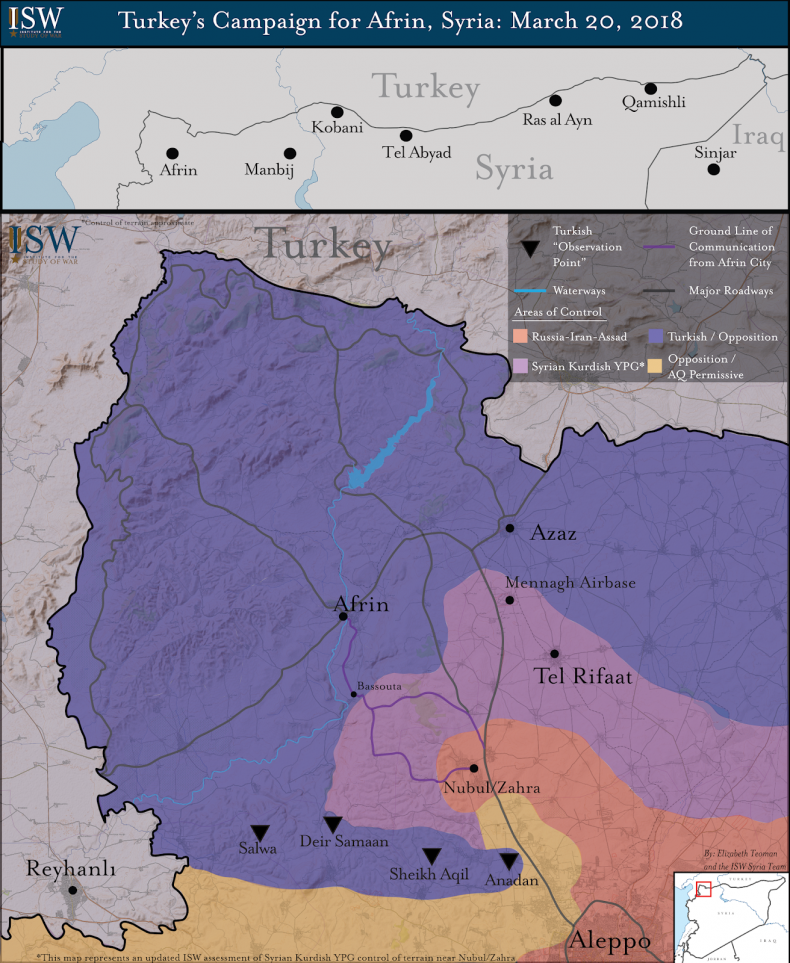 If Turkey and its rebel allies swept through the Kurdish heartland of northern Syria, they would come across U.S. military bases established to defend Kurds against ISIS, and the Pentagon has offered no indication that its forces would step aside.
The rise of jihadi Sunni Muslim groups in the aftermath of the U.S. invasion of Iraq 15 years ago left the country's border with Syria permeable. As unrest gripped Syria as well, the former Al-Qaeda-affiliate Islamic State of Iraq used this as a platform to spread across the border in 2013 under the banner of ISIS. The following year, it took over about half of both Iraq and Syria.
In Syria, ISIS faced a pro-Syrian government campaign by the military, Russia and a number of mostly Iran-backed militias as well as the U.S.-led coalition campaign spearheaded by the Syrian Democratic Forces. In Iraq, the U.S.-led coalition supported Kurdish forces and the Iraqi military, which fought alongside other Iran-backed militias. Last year, both the Iraqi and Syrian governments declared ISIS effectively defeated.
Early this year, Iraq and Syria have expressed concern about Turkey, which has also begun conducting airstrikes against Kurdish fighters in northern Iraq. While the Syrian government outright considered the U.S. and Turkish military to be invaders in the country due to their support for insurgents throughout the war, the Iraqi government has maintained better ties.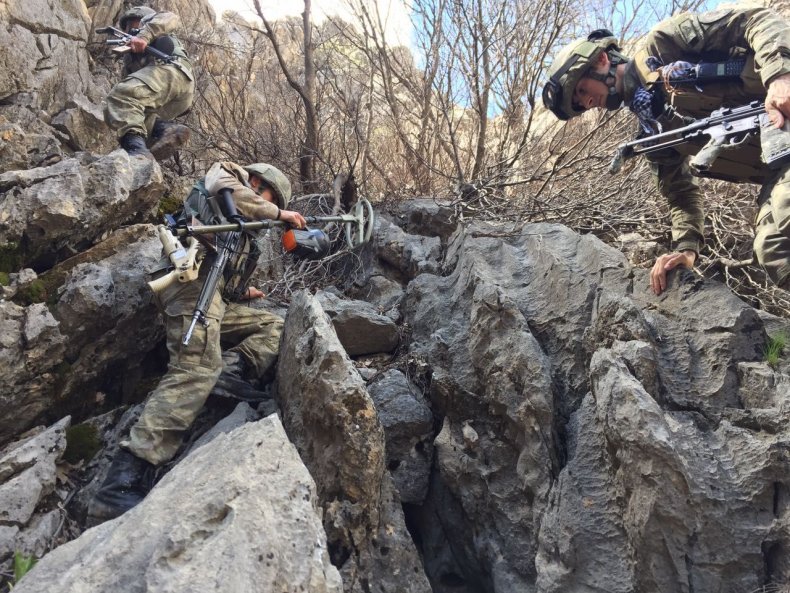 Iraq has agreed to work with Turkey against suspected PKK-aligned groups, but it has warned that Ankara must do so with Baghdad's approval. Iraqi Foreign Minister Ibrahim al-Jaafari told his Turkish counterpart on Wednesday that he hoped to develop better relations between the two nations, but called for an end to unsanctioned Turkish attacks on Iraqi Kurds and a withdrawal of Turkish troops from northern Iraq.
"While we give importance to the depth of Iraqi-Turkish relations, we categorically reject violations of Iraq's borders by Turkish forces, and re-emphasize the need to withdraw of Turkish troops from the city of Bashiqa," Jaafari said, according to an Iraqi Foreign Ministry statement.