Trump Will Keep U.S. Troops in Syria Because He Doesn't Want to 'Make the Same Mistakes' as Obama in Iraq, Tillerson Says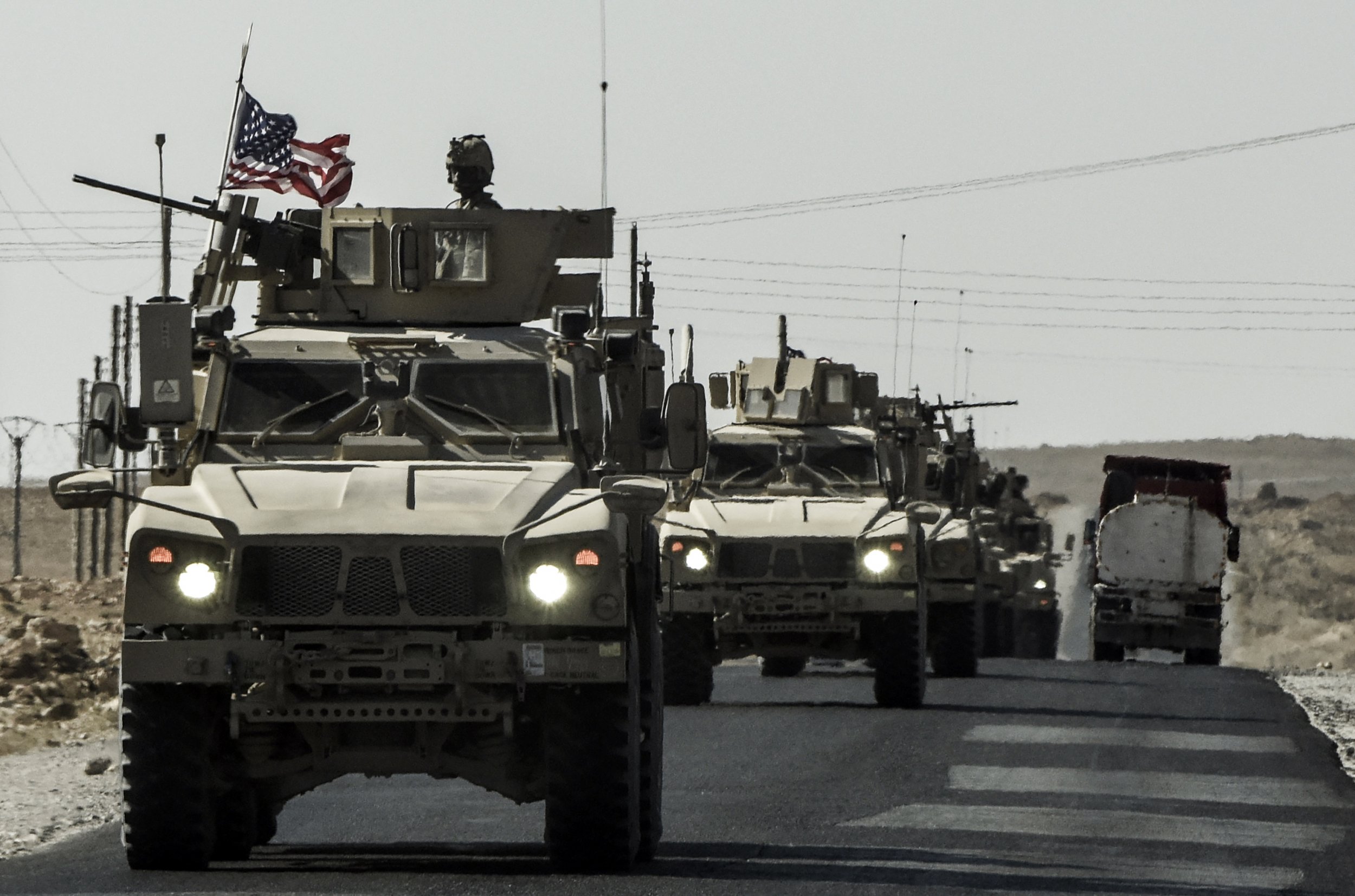 President Donald Trump planned a long-term stay for the U.S. military in Syria in order to achieve Washington's interests beyond the declared defeat of the Islamic State militant group, as well as to avoid the kind of jihadi resurgence that occurred when his predecessor largely withdrew troops from neighboring Iraq in 2011, according to the U.S.'s top diplomat.
Speaking at the Stanford University's Hoover Institute on Wednesday, Secretary of State Rex Tillerson laid out what he said was Trump's plan to eradicate what was left of ISIS, challenge the mandate of Syrian President Bashar al-Assad and curb the expanding influence of his Iranian allies. Facing calls from Iran, Russia and Syria to withdraw U.S. troops and "American skepticism" at home over the prospects of becoming involved in another foreign conflict, Tillerson argued it was necessary to maintain a military presence in the war-torn country indefinitely.
Related: U.S. Military Will Stay in Syria After ISIS Is Defeated, Threatening New Conflict with Russia and Iran
"Let us be clear: The United States will maintain a military presence in Syria focused on ensuring ISIS cannot re-emerge. Our military mission in Syria will remain conditions-based. We cannot make the same mistakes that were made in 2011 when a premature departure from Iraq allowed Al-Qaeda in Iraq to survive and eventually morph into ISIS," Tillerson said.
"It was that vacuum that allowed ISIS and other terrorist organizations to wreak havoc on the country. And it gave ISIS a safe haven to plan attacks against Americans and our allies. We cannot allow history to repeat itself in Syria," he added. "ISIS presently has one foot in the grave, and by maintaining an American military presence in Syria until the full and complete defeat of ISIS is achieved, it will soon have two."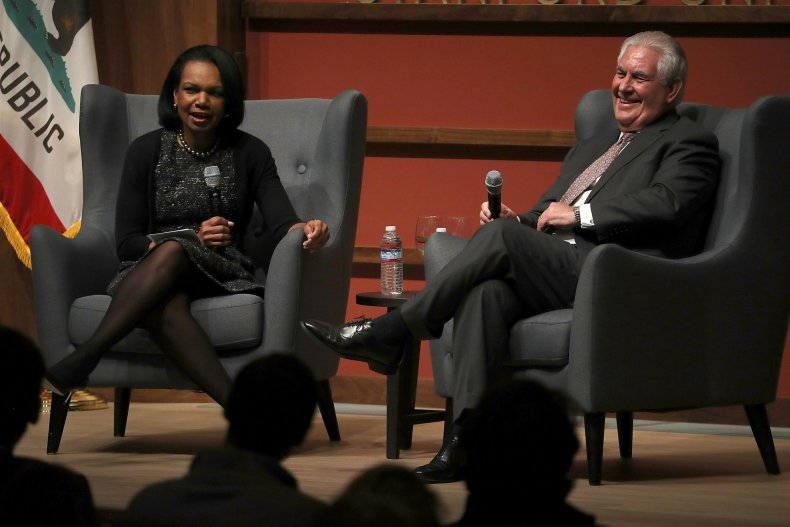 Tillerson also argued that a total U.S. departure would allow Assad to fully regain power. The Syrian leader was threatened by a rebels' uprising backed by the West in 2011, Gulf Arab states and Turkey, as well as jihadis, including Al-Qaeda and ISIS, which initially manifested under the U.S. occupation of Iraq before spreading to Syria in 2013. Support from Iran-backed, Shiite Muslim militias and a 2015 Russian intervention has allowed Assad to return as the primary political and military force in Syria.
Tillerson said that Assad's government, which he accused of perpetrating widespread human rights abuses, "controls about half of Syria's territory and its population." In his latest estimate published Thursday, Nawar Oliver of Turkey-based think tank Omran Dirasat calculated that the Syrian government controlled 57.3 percent of the country's territory, however, this included up to73.3 percent of the country's population, according to the Syrian Civil War Map project's findings last month.
As rebel coalitions collapsed and ISIS rose and fell, the second-most powerful faction to emerge from the violence has been the U.S.-backed Syrian Democratic Forces, a mostly Kurdish coalition that includes Arabs and ethnic minorities. These forces have held an uneasy relationship with the Syrian military, but they have been embraced by Russia. Turkey, however, has outright condemned the U.S.'s decision to embrace Kurdish nationalist groups such as the People's Protection Units (YPG) that Ankara considered terrorist organizations.
As the pro-government axis turned its attention toward the final rebel-held province of Idlib, the U.S. found itself threatened by its own NATO ally, Turkey. Turkish troops and tanks have amassed along the country's border with Syria and were poised to make good on Turkish President Recep Tayyip Erdogan's threat to "suffocate" a 30,000-strong Syrian Democratic Forces border contingent announced Sunday by the U.S.-led coalition. Erdogan called the proposed force a "terror army" on Monday.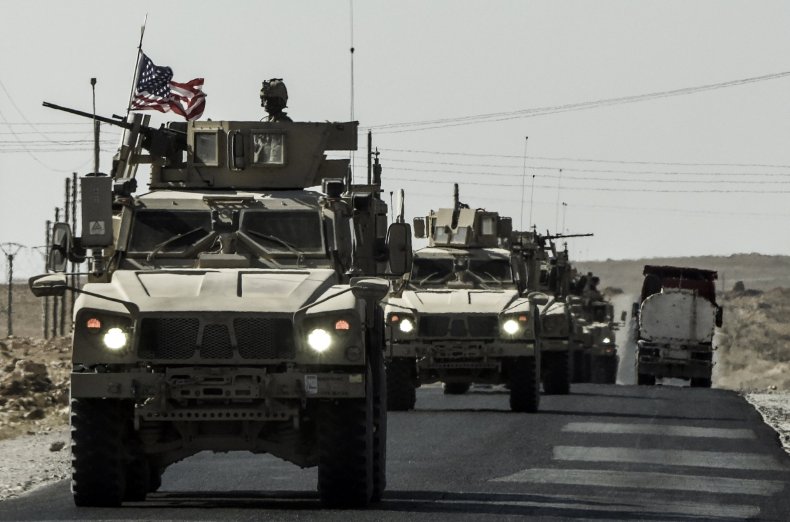 Iranian Foreign Ministry spokesman Bahram Qasemi also criticized the reported border force, calling it a move that "creates more instability and fans the flames" of war as Russia, Iran and Turkey attempted to bring both sides of the conflict to reconcile in ongoing peace talks based in the Kazakh capital of Astana. Tillerson told reporters Wednesday, however, that the plan had been "misportrayed, misdescribed" and that the U.S. "not creating a border security force at all," according to Reuters.
Turkish Foreign Minister told CNN Turk Thursday he was "not satisfied" with the U.S. response to his country's concerns and said Turkey was talking to both Russia and Iran about conducting a potential aerial operation in the northwestern Syrian district of Afrin, located near territory held by U.S-backed Kurds, the Syrian military and Turkey-backed rebels.