Russian Military Celebrates 'Victory' Over U.S. and West in Syria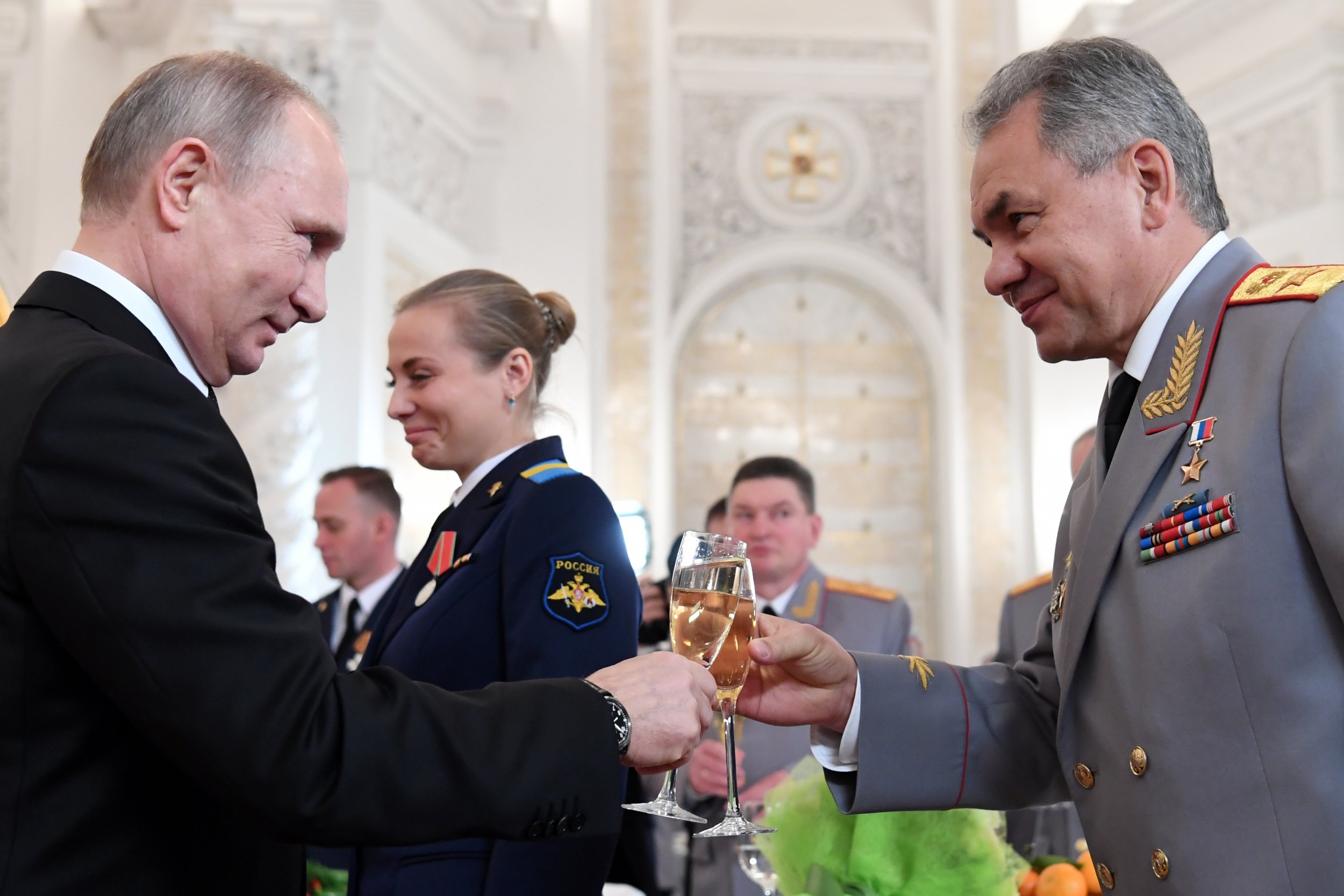 Russian President Vladimir Putin and his top generals held an awards ceremony Thursday to honor military personnel returning from Syria, where Moscow claimed to have scored a decisive victory not only against militant groups, but against U.S. and Western interests.
Putin reportedly welcomed more than 600 soldiers and officers in the St. George Hall of the Grand Kremlin Palace, thanking them for their service in Syria, where Russia recently declared victory over the Islamic State militant group (ISIS). Russia's 2015 entrance into the war came a year after the U.S. had already begun to scale down efforts to overthrow Syrian President Bashar al-Assad, an ally of Moscow facing a rebel and jihadi uprising, and had formed its own coalition to bomb ISIS. Russian officials and military leaders, however, have credited their aerial campaign with outpacing U.S.-led efforts to defeat the militants and thwarting Western plots to oust Assad.
Related: Christmas in Syria: Rebels attack Assad victory party in Aleppo, but win little as peace process begins
"On seeing our Western coalition partners in the air, we always tailed them, as pilots say, which means a victory in real combat," Major Maxim Makolkin said at the event, indicating that the Russian air force had outperformed and outmaneuvered the aircraft of the U.S.-led coalition.
While Russia and the U.S.-led coalition both launched airstrikes against ISIS and affiliates of Al-Qaeda, they backed separate factions on the ground. Shortly after the rebellion against Assad first began in 2011, insurgents received support from the U.S., Turkey and Gulf Arab states. As ISIS spread from Iraq into Syria and jihadi influence fractured rebel ranks, the U.S. increasingly focused on the Syrian Democratic Forces, a mostly Kurdish coalition of Arabs and ethnic minorities formed in 2015 by the Pentagon and tasked with beating ISIS. That same year, Russia intervened at the request of an embattled Assad, allowing his forces to retake most of the country in the years since.
Under former President Barack Obama, the U.S. was staunchly opposed to Assad, but the current administration has offered conflicting stances toward the Syrian leader, who the U.S. and its allies have long accused of human rights abuses. Before taking office, President Donald Trump was mostly opposed to Obama's assistance to rebel groups, some of which ended up in ISIS hands, and even considered entering into a military partnership with Russia. He later switched his views and went as far as to attack the Syrian military after accusing Assad of a chemical weapons attack in April.
The State Department said earlier this month that, although the U.S. wanted Assad out, this was "up to the Syrian people and the Syrian voters to decide," similar to the Russian stance. Russia joined pro-Assad Iran and pro-opposition Turkey for new peace talks in the Kazakh capital of Astana and committed to Western talks in Geneva; however, Secretary of State Rex Tillerson wrote in an opinion piece published Wednesday by The New York Times that "we are confident that the fulfillment of these talks will produce a Syria that is free of Bashar al-Assad and his family."
In addition to calling the U.S.-led coalition inefficient, Russia also has frequently joined its Syrian and Iranian allies in accusing the West and its allies of actively helping ISIS and other groups Moscow considered to be terrorist organizations. The U.S. has routinely denied and criticized such allegations, but has admitted its local Syrian partners entered into deals with the jihadis and said Thursday it would not target ISIS fighters fleeing the last of their crumbling self-styled caliphate toward Syrian military frontlines. Even after ISIS's defeat, the Pentagon said it would stay in Syria as long as it needs to.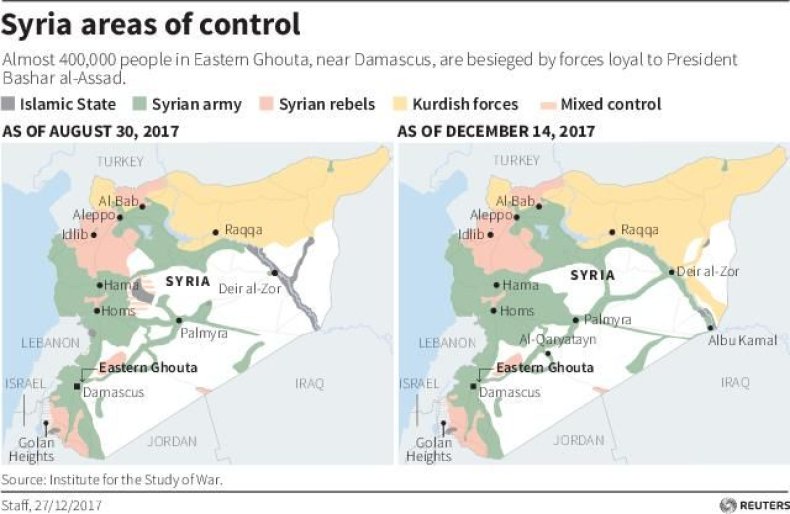 Putin announced earlier this month that he would begin withdrawing his country's forces from Syria, but said Russia would maintain a long-term presence in two military bases near the Syrian coastal cities of Latakia and Tartus. Putin said Thursday that more than 58,000 Russians had participated in the campaign and thanked them, especially female personnel, for being "true defenders of Russia" who had stopped a "terrorist army" from establishing a pseudo-state in which the jihadis could launch attacks against other countries, including Russia.
Despite the group's territorial losses, recent ISIS-inspired attacks in New York City and yet unclaimed explosion that injured several people in Russia's second city of St. Petersburg have highlighted the residual threat of militant groups and the lone wolves they aspire around the globe.