Escalating violence in two nations may threaten to plunge the already restive Middle East into a deeper conflict involving regional and international powers, according to the latest report by a leading monitor.
The Belgium-based International Crisis Group describes its "U.S.-Iran Trigger List" as "an early-warning platform to monitor, analyze and provide regular updates on key and increasingly flashpoints between Iran and the U.S. or their respective allies that could lead to a direct or indirect confrontation, or generally to a dangerous regional escalation." It currently includes nine flashpoints with varying degrees of severity, the highest being "Critical," across the Middle East and its periphery.
In a statement sent Tuesday to Newsweek, the International Crisis Group announced that, for the first time since the project was launched in late 2017, it includes "flashpoints in two different countries set to Critical."
"In Yemen, where the battle for [the city of] Hodeida is reaching the point of no return and Huthi ballistic missile launches against Saudi Arabia are on the rise; and in the Golan Heights, where the dangerous tit-for-tat between Israel and Iran continues," the group said.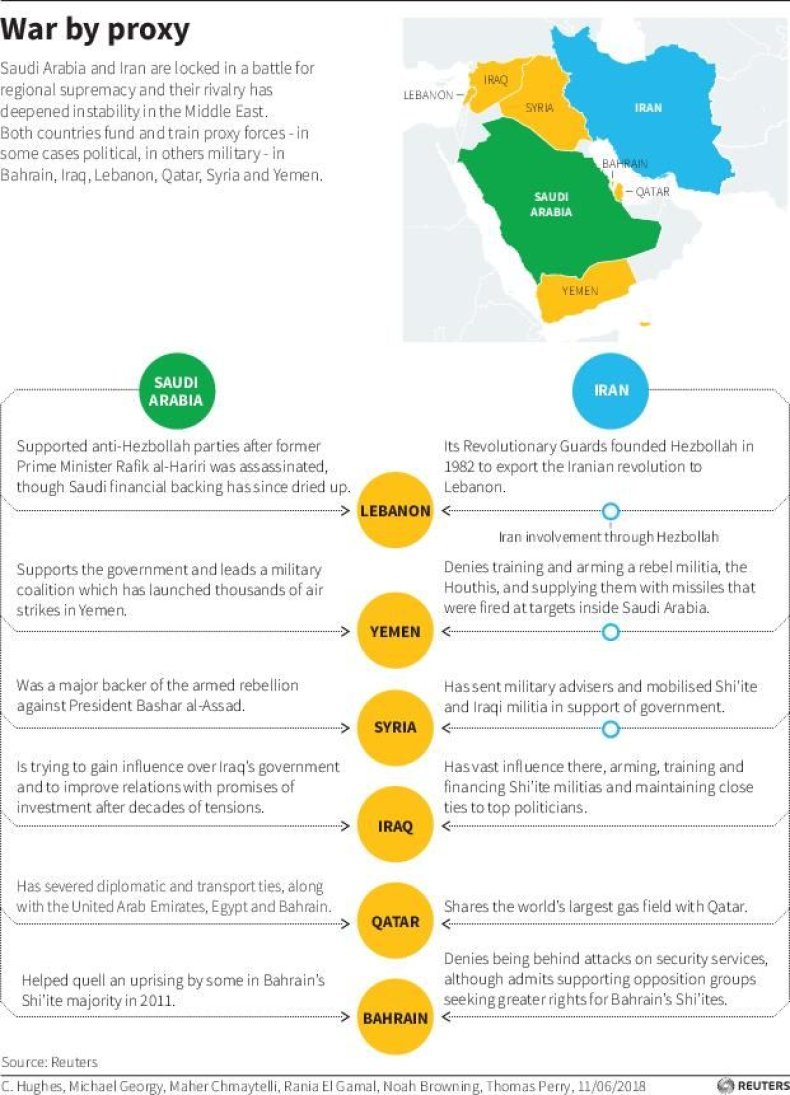 The war in Yemen has already caused what the United Nations has called "the world's worst humanitarian crisis." The conflict began shortly after a Zaidi Shiite Muslim rebel group known as the Houthis, or Ansar Allah, managed to force Yemeni President Abed Rabbo Mansour Hadi out of the capital city of Sanaa in 2015.
Hadi had replaced longtime Yemeni President Ali Abdullah Saleh after mass protests surrounding the Arab Spring movement in 2012, but the new administration was plagued by accusations of corruption, economic woes and violent insurgencies waged by both the Houthis and the ultraconservative Sunni Muslim Al-Qaeda. Neighboring Saudi Arabia views the Houthis as a proxy force of Iran, which sponsors Shiite Muslim militias across the Middle East, and gathered allies to stage a massive intervention against the Houthi government.
Latest: Iran Says Saudi Arabia Will 'Suffer More' Over Yemen War as U.S. Sends Kushner to Kingdom
Tehran and the Houthis, though largely aligned politically, deny any military connection, but the U.S. and Israel have joined Saudi Arabia in accusing Iran of supplying the Yemeni rebels with the ballistic missiles they frequently fire on Saudi-backed forces and on the kingdom itself.
Saudi Arabia's devastating air campaign has largely failed to break a bloody stalemate between the pro-Yemeni government forces and the Houthi bloc. This could change, however, as the Saudi-led coalition claimed to have seized the only Houthi-held port city of Al-Hodeidah. Iran and the Houthis have denied these reports and casualties continue to mount.
The International Crisis Group warned such a critical battle could lead to drastic measures on either side. It listed "Critical" flashpoints in the Yemeni cities of Saada, where the Saudi-led coalition claimed to have captured and killed members of the powerful Iran-backed Lebanese Shiite Muslim Hezbollah movement, and in the strait of Bab el-Mandeb, where Houthi commanders have threatened to bomb Saudi vessels and military sites.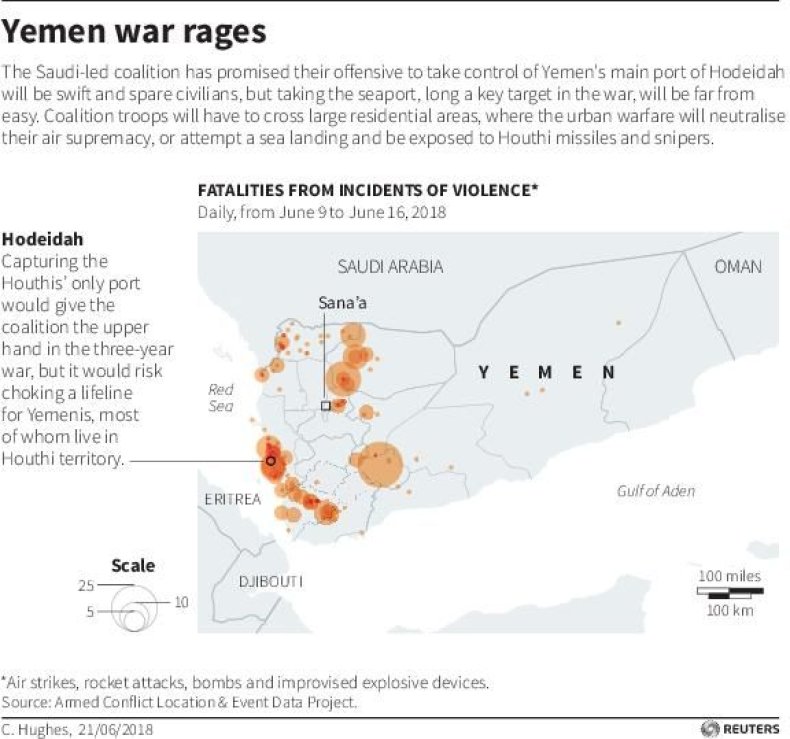 The non-governmental organization also listed Syra's southern region of Al-Tanf, located near the country's borders with Jordan and Iraq, and the eastern Euphrates River Valley as a "Moderate" threat. The U.S.-led coalition set up a base in Al-Tanf despite Syrian, Russian and Iranian calls to dismantle it and has used force to defend a roughly 34-mile right around it against what it says are incursions from pro-Syrian government fighters.
Syria's long-running civil war also began with the 2011 Arab Spring protests. The U.S., Saudi Arabia, Turkey and others backed regime change efforts against Syrian President Bashar al-Assad, an ally of Russia and Iran, both of which ultimately intervened to support the Syrian leader against rebels and jihadis attempting to overthrow him.
Even as the U.S. cut support for an increasingly Islamist opposition, close calls between international forces in Syria have been dangerously commonplace. The U.S.-led coalition and Russia maintain a deconfliction line to prevent incidents between their dueling air campaigns against the Islamic State militant group (ISIS). The Pentagon, however, has intentionally targeted the Syrian government on at least two occasions in response to alleged chemical weapons attacks in rebel-held regions, and it has launched several airstrikes on pro-Syrian government fighters—including Russian fighters—after reportedly coming under attack.
Related: What Happened to ISIS? U.S. and Syria Near Total Victory Over Jihadis, But May Turn On Each Other Next
The U.S. focused on assisting the local, Kurd-dominated Syrian Democratic Forces take out ISIS in eastern Syria, fellow NATO Western military alliance member Turkey staged a unilateral invasion of northwestern Syria to oust U.S.-backed Kurdish groups branded terrorist organizations by Ankara. Scores of Kurdish fighters fled U.S.-led coalition frontlines to battle the Turkish troops and Syrian rebels, even joining pro-Syrian government efforts. The U.S. and Russia remained mostly sidelined, but Washington refused Ankara's demands to withdraw from the city of Manbij and the two nations ultimately settled on establishing separate, yet coordinated controls around the Kurd-held city.
The U.S.-led coalition, the Russia-Syria alliance and their mutual Iraqi ally were not the only ones conducting airstrikes in Syria, however. While rarely announced, Israel has increasingly targeted suspected Iranian and pro-Iran military assets in neighboring Syria, from which a hostile force—potentially Iranian—fired rockets toward the Israel-occupied Golan Heights, prompting a massive Israeli air assault.
The U.S. has already warned it would not provide military support to Syrian rebels and a potential arrangement may exclude Iran-aligned elements from taking part in Assad's latest offensive, but a suspected Israeli attack on what was reportedly an Iranian weapons shipment in Damascus has prompted further concerns that the situation could quickly get out of hand. The International Crisis Group listed "Golan Heights and South/West Syria" as a "Critical" flashpoint.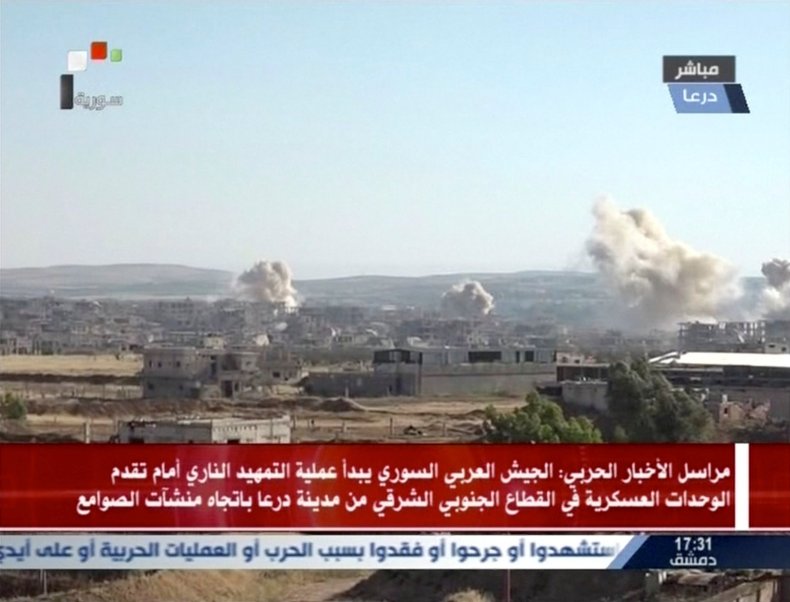 On Friday, the U.S.-led coalition told Newsweek that its advisers and allied Syrian rebels came under from "an unidentified hostile" force near Al-Tanf. The incident occurred only days after the U.S. and Israel were blamed for deadly airstrikes against pro-Syrian government fighters—including Iraqi militias—in the eastern province of Deir Ezzor. The province is located in the Euphrates River Valley, where both the U.S.-led coalition, pro-Syrian government forces and the Iraqi military are clearing out the last of ISIS.
In addition to Yemen and Syria, the International Crisis Group listed other flashpoints in Afghanistan, Iraq, Lebanon and the Strait of Hormuz—a crucial waterway where U.S. and Iranian naval ships have shared tense encounters.