Iraqi Fighters Threaten Attacks Against U.S. and Israel After Deadly Syria Strikes
Iraqi paramilitary groups have threatened to launch attacks against the U.S. and Israel after yet unclaimed airstrikes reportedly killed a number of Iraqi militiamen battling the Islamic State militant group (ISIS) on the Syrian side of the Iraqi border.
Kataib Hezbollah and Asaib Ahl al-Haq, two powerful Shiite Muslim factions within the larger Iran-backed Popular Mobilization Forces of Iraq, issued warnings Tuesday saying they were ready to retaliate against Monday's deadly attacks that have been blamed on both the U.S. and Israel. The U.S.-led coalition battling ISIS in both countries has denied responsibility for the strikes, which reportedly killed dozens near the border town of Al-Bukamal, while Israel has declined to comment.
"This terrible crime will reopen the confrontation with the Zionist entity and the American project, and we in the Kataib Hezbollah, we will not hesitate to go towards this confrontation," the group's statement read, calling President Donald Trump an "idiot" and Israeli Prime Minister Benjamin Netanyahu a "moron" for their military incursions in the region.
"The mujahideen are the elite of men, and their blood is dearest of all. We will not let the crime of targeting them pass unnoticed, and we will know in the coming days the criminals who extended their sinful hands to commit aggression on our Iraqi border and then take a position commensurate with the size of this crime," the group, considered a terrorist organization by the U.S., added.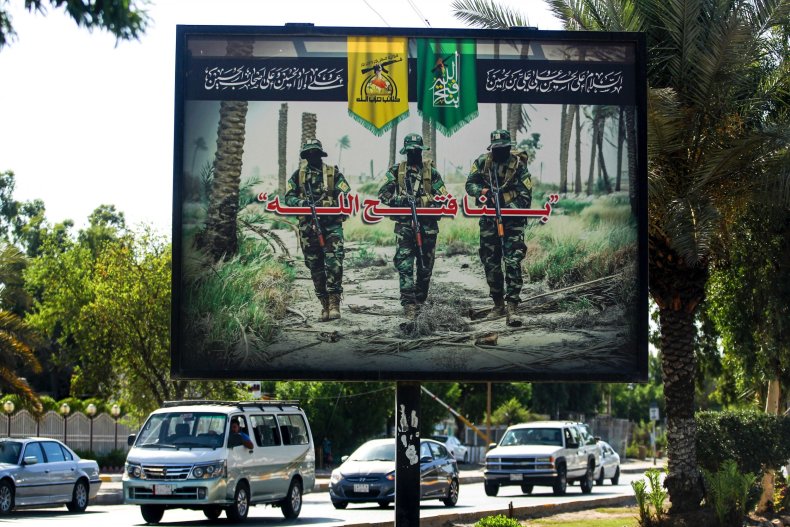 Asaib Ahl al-Haq, which also deeply opposes the continued U.S. military presence in Iraq after the country declared victory over ISIS last year, released its own statement Tuesday condemning "the treacherous act of cowardice" committed by aircraft "whose identity is limited to America and Israel."
The group called on Iraq to take a tougher stance against the U.S., who has been active in the country since invading and overthrowing the previous government led by Iraqi President Saddam Hussein in 2003. The ensuing chaos gave rise to a Sunni Muslim insurgency that helped spawn ISIS, which ultimately took advantage of a West-backed 2011 uprising in Syria to spread there in 2013.
Related: U.S. Coalition: If Iraq Asks Us to Leave, Our Leaders Must Make 'Right Decision'
The U.S. and its foe, Iran, both supported Iraq as it fought off the jihadis that took half the country by 2014. With ISIS defeated, however, voices calling for a U.S. withdrawal have risen within Iraq and May's election gave a surprise victory to a political bloc led by Shiite Muslim cleric Muqtada al-Sadr. Sadr helped organize Shiite Muslim militias to resist the post-2003 U.S. occupation, but he has yet to officially ask the U.S.-led coalition against ISIS to leave.
Syria, however, has proven a different theater entirely. When the U.S. began bombing ISIS there in 2014, it did so without the authorization of the Syrian government, who the CIA had been funding rebels to fight since at least 2012. Russia and Iran have helped Syrian President Bashar al-Assad overcome both jihadis and insurgents in campaign separate from that of the U.S.-led coalition offensive against ISIS.
Monday's strikes were the latest example of violence targeting forces fighting on behalf of Assad, who the U.S. and Israel charge with war crimes and with allowing Iranian influence to spread through the country.
The official Syrian Arab News Agency quickly condemned Monday's attack in which it cited an official military source as saying there "were several martyrs and others were wounded." The U.S.-led coalition denied responsibility, but CNN and the Agence France-Presse cited unnamed U.S. officials claiming Israel was the true culprit. Israel routinely neither confirms nor denies responsibility for attacks in Syria, but has admitted to targeting Iran and pro-Iran forces, albeit often near Syria's western and southwest regions.
Iraq, who considers itself an ally of both the U.S.-led coalition and the Russia-Iran-Syria axis, expressed "its rejection and condemnation" of the attacks in a foreign ministry statement Tuesday that warned such actions were tantamount to "support for ISIS." The Syrian Observatory for Human Rights, a pro-opposition monitor based in the U.K., reported Tuesday that up to 55 pro-Syrian government fighters were killed and the warplanes involved flew in "the same airspace used by the International Coalition warplanes, and the death toll is expected to rise because there are some people in critical situation."
When pressed for answers, U.S.-led coalition spokesman Army Colonel Sean Ryan again said that the multinational force was not behind the strikes and claimed to not have any knowledge of any parties involved. He confirmed only that Iraq was not behind the attack and, when asked about Israel's potential involvement, he said: "As far as I know, we don't discuss any military operations with the Israelis at all.
"We have ISR [intelligence, surveillance and reconnaisance] in that area, but we can't determine, you know, who fired it, nor is that our military goal," he added. "That's an intelligence question, and I can't divulge that information, even if I had it, which I don't."