Elections in Iraq: Man Who Threw Shoes at Bush is Running and Wants Trump to 'Withdraw American Soldiers'
You may not have heard the name Muntazer al-Zaidi, but you probably know who he is.
Nearly a decade ago, the Iraqi journalist gained worldwide fame and notoriety when he chucked two shoes at then-President George W. Bush in protest of U.S. military presence in Iraq. Bush managed to dodge the incoming footwear, but Zaidi instantly became an international celebrity and a felon all at once. After spending months in prison and years away from his home country, 39-year-old Zaidi is back in Iraq to run for office.
The charismatic reporter-turned-politician is currently running for parliament in the Iraqi elections taking place Saturday. This legislature, known officially as the Council of Representatives, will select Iraq's next prime minister and president. Zaidi's name is not high on the list for the Sa'iroun Lil Salaah, or "March toward Reform" coalition, a historic alliance including influential Shiite Muslim cleric Muqtada al-Sadr and the Iraqi Communist Party, but this has done little to deter his quest to rout corruption, expose dirty politicians and finish what he started.
"I will launch a campaign to figure out the all the sources of Iraqi funds, every bank, Arab or foreign," Zaid told Newsweek, pledging to seize offshore accounts and properties to invest them into Iraq. As for tackling sectarian tensions that run deep among Iraq's religious and ethnic communities, his answer is simple: "I will pass a law that criminalizes anyone who speaks of sectarianism."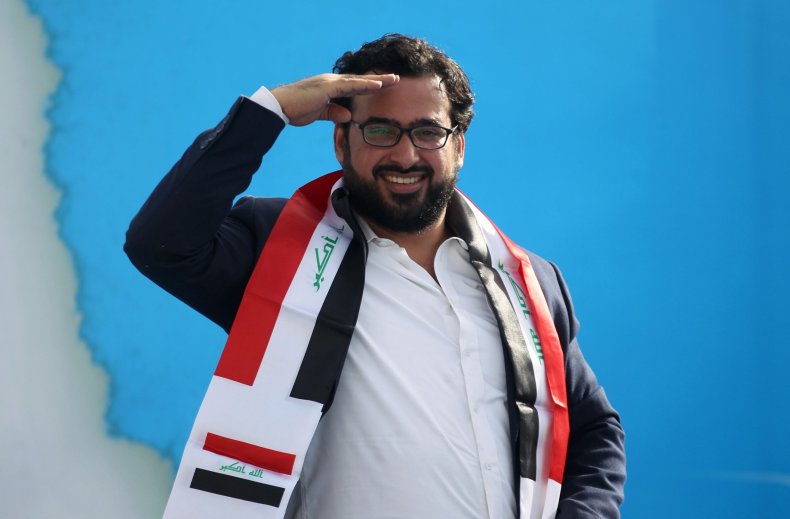 Zaidi's story is in some ways the story of many Iraqis who have lived through 15 years of consecutive conflict since the U.S. invasion. Zaidi, a member of the Shiite Muslim faith, was raised in Sadr City, once known as Revolution City and Saddam City after that. In the wake of the U.S. overthrow of Iraqi President Saddam Hussein in 2003, the city was renamed after the father of the popular Shiite Muslim leader with whom Zaidi has allied.
The U.S. military and Western allies remained in Iraq for the next eight years. The U.S. dismantled Hussein's Baathist, largely Sunni Muslim government and military, creating scores of jobless and frustrated members of Iraq's largest religious minority. A number of them were held in controversial detainment facilities such as Camp Bucca and Abu Ghraib. Zaidi is one of many who consider the missteps of U.S. policy in Iraq to have contributed to the rise of jihadi groups such as Al-Qaeda in Iraq, which eventually grew into the Islamic State of Iraq and ultimately metastasized into the Islamic State militant group (ISIS).
Related: U.S. Still Not Sure If Iraq War Was Right Decision 15 Years Later, Poll Shows
Back in 2005, Zaidi was working for Al-Baghdadia TV, an independent satellite station based in Cairo and owned by Iraqi businessman Awn Hussain al-Khashlok. Iraq's civil unrest was accompanied by a spate of kidnappings, often deadly, and especially targeting journalists. In November 2007, Zaidi himself was abducted. His disappearance without ransom prompted anxious responses from various organizations local and international, including Reporters Without Borders and the United Nations.
He was thrown out on the street three days later, still blindfolded. After less than two months as a free man, he was briefly detained again in January. This time by the U.S. military as troops searched his home. At that point, Zaidi's frustration with the U.S. and the war it brought to his country had reached a boiling point.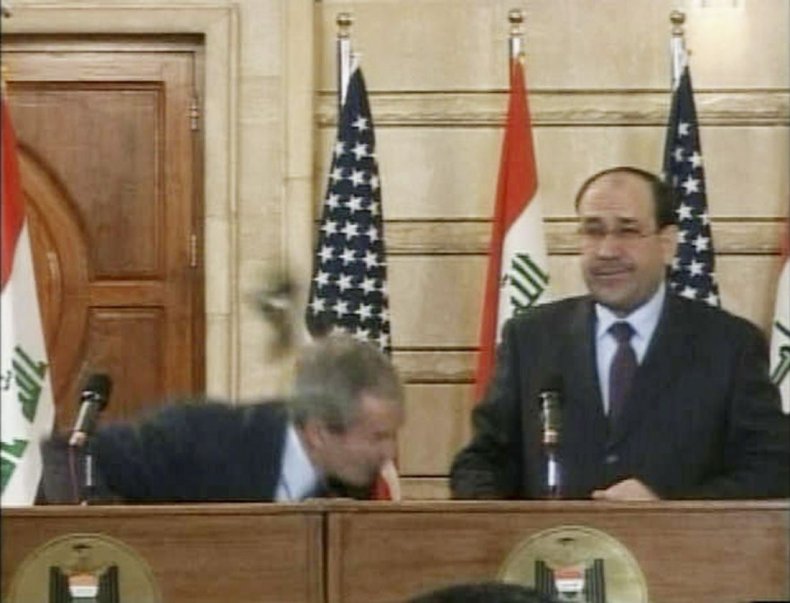 Zaidi has likely relived this experience about as many times as the clip has been shown around the world. He's offered many motives for his famed act of resistance. At the time, he shouted to outgoing President Bush that "This is a farewell kiss from the Iraqi people, you dog!" In his 2009 op-ed in the The Guardian, entitled "Why I Threw the Shoe," he wrote, "I am no hero. I just acted as an Iraqi who witnessed the pain and bloodshed of too many innocents."
"Throwing those shoes at Bush was a response to his lie to the world," Zaidi told Newsweek. "He said that the Iraqis would receive him with roses. We decided we would not accept the occupier with roses, but only with shoes."
After the incident, he was immediately wrestled to the ground by the guards of Iraqi Prime Minister Nouri al-Maliki, who is running in Saturday's election as head of the Dawlat al-Qanoon or "State of Law" coalition. Zaidi was given a two-year sentence, but hundreds of Iraqis demanded his immediate release, celebrating his rebellion. Nine months into the sentence, during which Zaidi said he was beaten and tortured, he was released in 2009. He then traveled to Geneva to found a humanitarian agency dedicated to supporting children whose families were broken by the U.S. occupation of Iraq.
Related: Some Iraqis Support Tough Shoe-Thrower Sentence
Since his release, Zaidi has spent much of his time in Lebanon, where he landed another journalism stint, but now he's returned to a country still plagued by deep systematic issues both new and old. His number one talking point is instituting sweeping reforms that minimize the privileges enjoyed by politicians and hunt those who he feels have betrayed the country in their own self-interests. As he said during a television show last week, "We do not bargain, we do not buy, we do not fear, nothing will save you from us but death."
Some issues go beyond the national scope, however. With help from the U.S. and Iran, Iraq managed to beat back an ISIS insurgency that swallowed half of the country, but jihadi violence persists. The country is also caught in a greater tug-of-war for influence between Washington and Tehran, who have grown increasingly hostile as the U.S. withdraws from a landmark nuclear accord and violence plays out among them and their allies in neighboring Syria.
"We are against this game, so we must take this ball far away from the Iraqi playing field," Zaidi said. "We are not a party to the American-Iranian conflict, neither near nor far, we don't belong to either axis and we are not followers. We are a people who make decisions."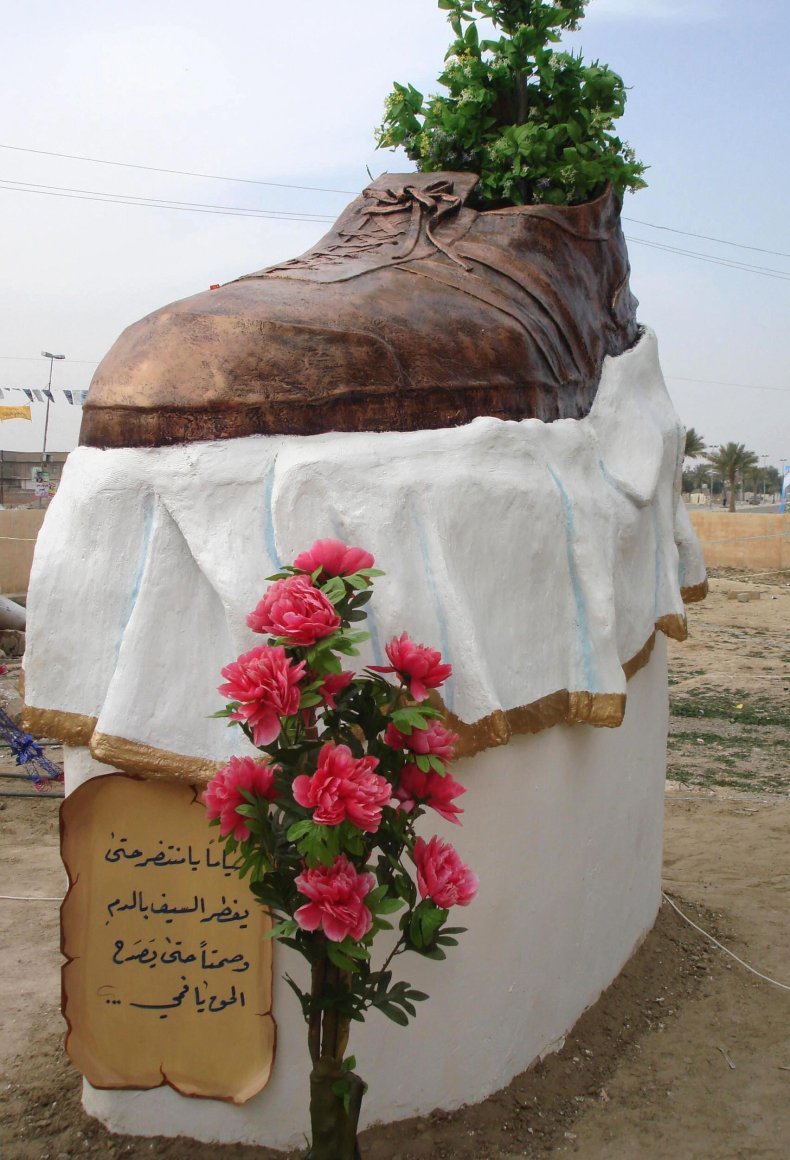 Iraqi Prime Minister Haider al-Abadi has attempted to carefully balance U.S. and Iranian interests in Baghdad. The task was much easier to handle when both parties were focused on destroying their mutual foe ISIS. Abadi has even tried to prolong the U.S. and Iran's shared interests by taking advantage of his alliance with both countries to begin airstrikes against remaining ISIS sites in Syria. He's also capitalized on the win against the jihadis for political gain, naming his own bloc the Nasr or "Victory" coalition.
In addition to the lists led by Abadi, Maliki and Sadr are rival Shiite Muslim coalitions Fatah, which means "Conquest" and is led by militia leader Hadi al-Amiri and Hikma, which means "Wisdom" and is led by cleric Amar al-Hakim. Sadr, who heads the Sadrist Party that forged Zaidi's Sa'iroun alliance, has only recently modeled himself as a middleman between the U.S. and Iran. The holy man was crucial to mobilizing Iran-sponsored Shiite Muslim militias to resist U.S. occupation, and later battle ISIS, but he recently voiced criticisms of Iran's role in Iraq and alienated Tehran with his new communist partners.
Related: Can Iraq Get U.S. to Join Russia and Iran's War on ISIS?
Echoing this effort, Zaidi said that, if elected, his vision for Iraq would be to mediate between the competing interests of international and regional powers without taking any side. Leading U.S. ally Saudi Arabia has struggled to curb Iran's growing foothold in the Middle East and especially so in majority-Shiite Muslim Iraq.
"We hope that Iraq's role in the Middle East region may be that of an intermediary and an intermediary between Iran and Saudi Arabia," Zaidi said, "but I will not allow, as the Sa'iroun bloc or as Muntazer al-Zaidi, I will not allow us to become a party to the conflict."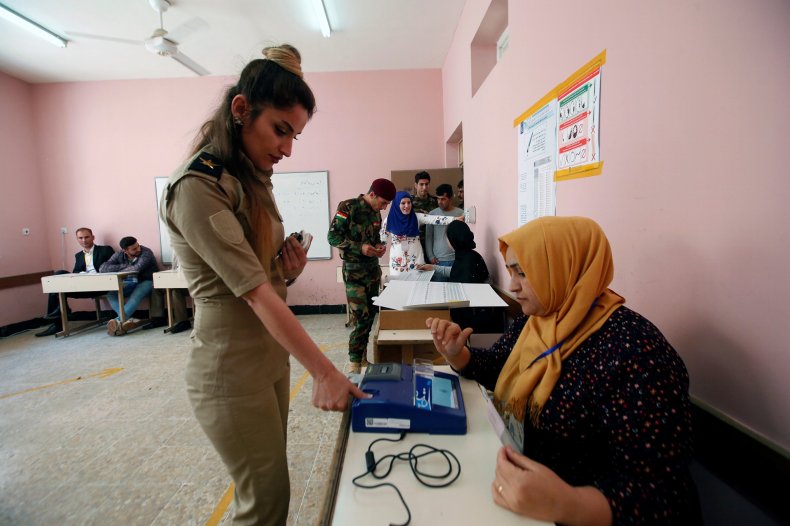 This doesn't mean he's warmed up to Washington. Zaidi blames the U.S. for the sectarian government in Baghdad and for planting the seeds of ISIS. Proudly propelled by his five minutes of fame almost 10 years ago, he's looking to use Saturday's elections as an opportunity to finally expel U.S. forces for good. He said their presence in Iraq isn't just illegitimate—it's bad business for President Donald Trump.
"I call on Mr. Trump to withdraw American soldiers, and send them to a country that will pay more for them," Zaidi said. Asked if he would consider throwing a shoe at the current U.S. president, who has yet to travel Iraq, Zaidi said Iraqis "would respond to Trump in another way."
"I say to him, if he does not withdraw soldiers from Iraq," he said, we will pass a law that considers any foreign soldier, American, Iranian, Turkish, to be an enemy."