Will Trump Lie Us Into Another Middle East War?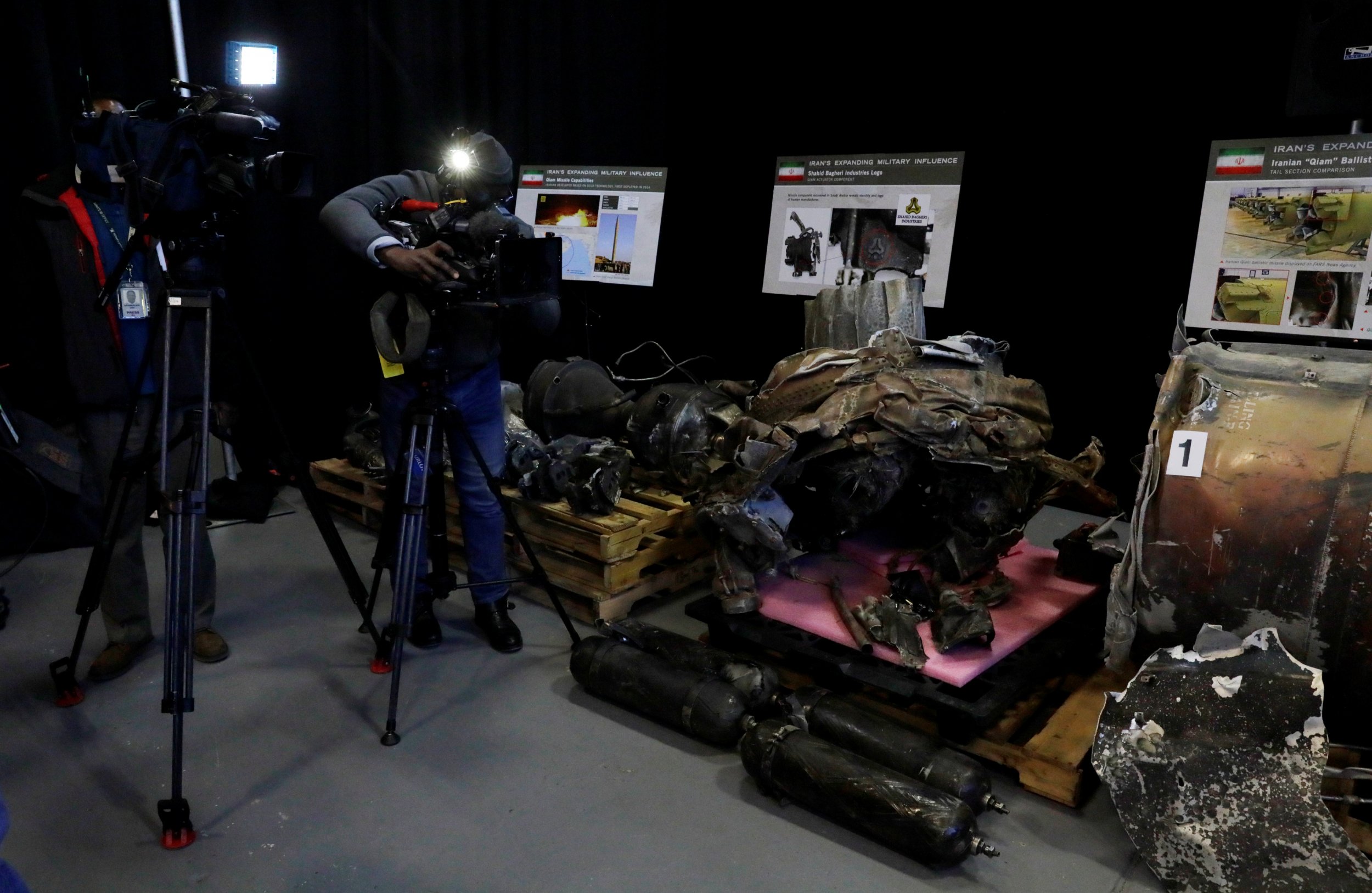 U.S. ambassador to the U.N. Nikki Haley presented journalists Thursday with what she called "indisputable" evidence that a missile fired last month at Saudi Arabia by Yemeni rebels was supplied by Iran, thus proving Iran was in violation of international law and a threat to the region. Her findings, however, have been disputed by former leading U.S. intelligence officials whose own conclusions were at odds with President Donald Trump's administration.
Since taking office in January, Trump has sought to scrap or renegotiate a 2015 historic nuclear deal between the U.S., Iran and other major world powers, which still support it. Neither the U.N. nor the State Department has found evidence of Iran violating the agreement, but Trump has pointed to Tehran's behavior elsewhere, charging the "evil regime" with supporting groups considered terrorist organizations by Washington. When Yemeni Zaidi Shiite Muslim rebels known as the Houthis fired a powerful missile at Riyadh last month, both Saudi Arabia and the U.S. quickly blamed their mutual foe Iran. Wednesday's press conference hosted by Haley at Washinton's Joint Base Anacostia-Bolling intended to prove this link.
Related: Will the U.S. go to war? Iran says it feels like Iraq right before the invasion
"As you know, we do not often declassify this type of military equipment recovered from these attacks, but today we are taking an extraordinary step of presenting it here in an open setting," Haley said. "We did this for a single urgent purpose: because the Iranian regime cannot be allowed to engage in its lawless behavior any longer."
While not necessarily disputing that the missile, labeled a Burkan (Volcano) H-2 by the Houthis, may indeed have been an Iran-manufactured Qiam 1 short-range ballistic missile, as other Middle East intelligence sources have told Newsweek, experts contested whether the diplomat had proven Iran deliberately provided the weapon to the rebels.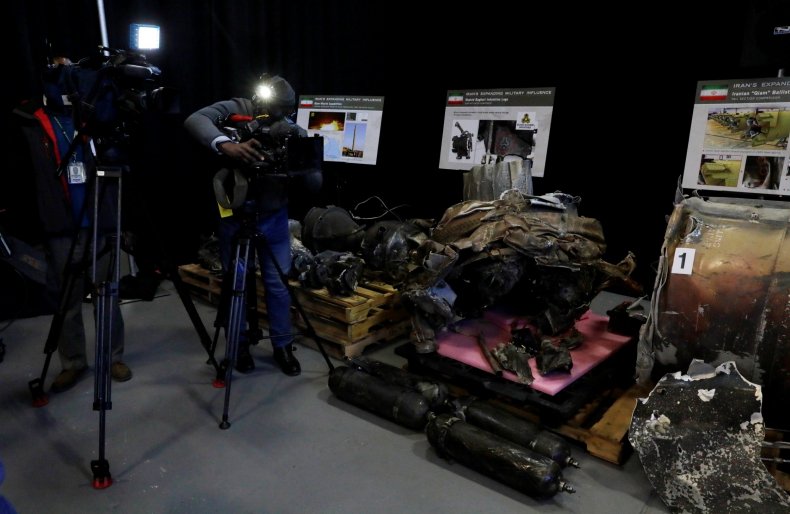 Haley's evidence that the missile fired at Saudi Arabia originated in Iran included markings consistent with the logo of Iran's missile-making Shahid Bagheri Industries and other uniquely Iranian qualities such as the absence of stabilizer fins and the presence of nine valves, which Haley said was "essentially Iranian fingerprints," according to The Hill. The U.S. and its allies, especially Saudi Arabia and Israel, have routinely accused Iran of providing weapons to militant groups such as the Houthis and Lebanese Shiite Muslim movement Hezbollah, but in this case, experts were not so sure.
"The evidence is not conclusive," former CIA Associate Deputy Director of Operations Rob Richer said in a statement sent to Newsweek by digital intelligence platform The Cypher Brief.
"The Iranians have an extensive defense industry and their weapons are shipped to many parts of the world," he added. "Further, those weapons have also been shipped to Hezbollah in Lebanon, the Syrian Army and to militia elements in Iraq, and have even surfaced as far east as the Philippines."
Emile Nakhleh, a former CIA senior intelligence official, also suggested the weapons may have come from a number of other sources just as arms and ammunition from other major powers end up in the hands of militants around the world. On Wednesday, the U.K.'s Conflict Armament Research found that the U.S. and Saudi Arabia had inadvertently provided "large numbers" of weapons and "substantial quantities" of ammunition to the Islamic State militant group (ISIS) through their support for Syrian rebel groups that were later defeated by or joined the jihadis.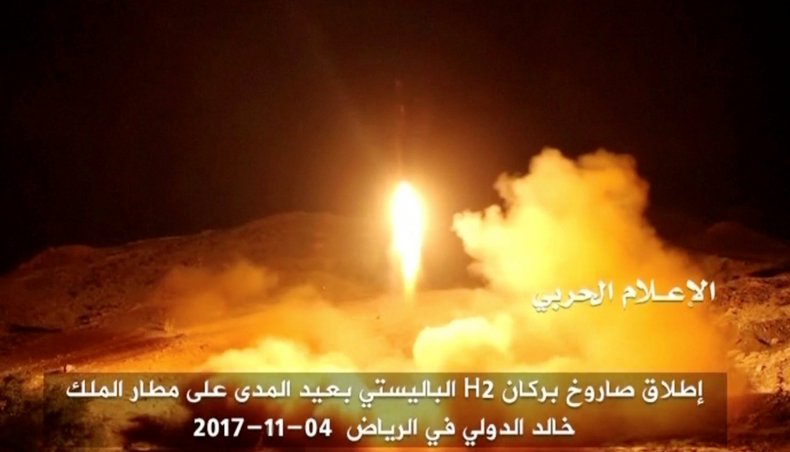 "It is possible that the Houthis could have gotten those weapons from some elements within or outside Iran without the knowledge and complicity of the Iranian government," Nakhleh said in another statement provided by The Cipher Brief.
"On numerous occasions in recent years, U.S. intelligence discovered that U.S.-manufactured weapons, which Washington and its allies had sold to friendly groups and governments, had fallen into the hands of terrorist organizations and other anti-American groups," he added.
An independent U.N. panel reviewing the missile debris noted that, in addition to having Iran-made components, the weapon appeared to have U.S. parts as well. The experts noted that "no evidence as to the identity of the broker or supplier" could be found, according to Foreign Policy magazine.
Iran has outright rejected any involvement in the attack, pointing instead to alleged war crimes committed by Saudi Arabia amid its bombing campaign against the Houthi rebels in Yemen, already the Arab world's poorest country. Tehran's ambassador to the U.N. Gholamali Khoshroo called Haley's claims "baseless," according to Iran's semi-official Tasnim News Agency. Shortly after the conference in Washington, Iranian Foreign Minister Mohammad Javad Zarif tweeted two images comparing Haley's talk to former Secretary of State Colin Powell's February 2003 U.N. presentation on Iraq's alleged support for terrorism and missile threat to surrounding countries. Zarif was Iran's ambassador to the U.N. at the time.
A month later, the U.S. invaded and overthrew Iraqi President Saddam Hussein, but failed to produce any evidence of weapons of mass destruction as former President George W. Bush and his administration had alleged. In 2005, Powell called his previous speech "painful" in an interview with ABC News and reported by Australia's ABC outlet. One of Powell's aides, Army Colonel Lawrence Wilkerson told CNN"it was the lowest point in my life."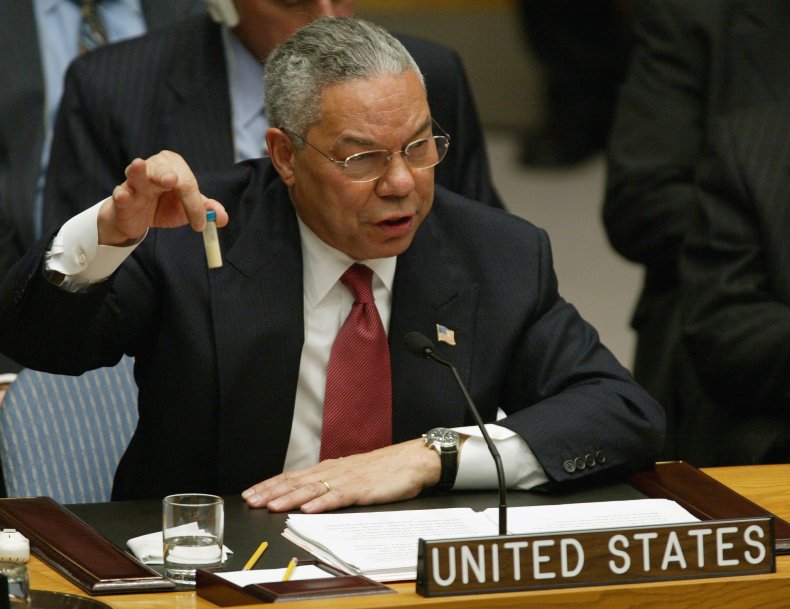 Trump's hardline stance against Iran has raised concern among the international community, including key U.S. allies. Former President Barack Obama's nuclear agreement with Iran gathered signatures from China, France, Germany, Russia and the U.K. All of these countries urged Trump to stick to the deal even as he decertified it in October, a move that left it up to Congress to either withdraw from the deal or renegotiate its terms. Iran has vowed it will never return to the table in regards to the agreement.
As Trump doubled down on his rhetoric against Iran, Tehran has responded by mobilizing its forces and allies including those in countries where U.S. troops were present in and around. Both the U.S. and Iran have deployed forces in Iraq and Syria in support of local partners battling ISIS, but the rivals accuse one another of destabilizing the region. In Iran's war against ISIS, the nation has also secured a partnership with Russia and established a bridge of influence stretching through Beirut, Damascus, Baghdad and Tehran, giving it substantial political clout and influence across the Middle East.