Russia Says U.S. Military Must Listen to Trump and Work with Putin or Leave Syria Immediately
Russia has called on the U.S. military to respect President Donald Trump's willingness to work with his Russian counterpart in organizing humanitarian relief to the war-torn country or exit the country altogether as it had no "legal basis" to operate there.
During his first summit with Russian President Vladimir Putin last week, Trump said he would coordinate with Moscow's rival military campaign in Syria in order to facilitate the return of refugees, but U.S. Central Command chief General Joseph Votel said Monday the Pentagon was reluctant to do so because of Russia's "continued support" of Syrian President Bashar al-Assad. In response, Russian Defense Ministry spokesman Major General Igor Konashenkov warned Tuesday that Washington's refusal to work with the Syrian and Russian governments highlighted the illegitimacy of its operations in the Middle Eastern country.
"With his statements, General Votel not only discredited the official position of his commander-in-chief, but also exacerbated the illegality of the military presence of American servicemen in Syria in line with international and U.S. law," Konashenkov said, according to Russian Ministry of Defense outlet TV Zvezda.
"There are no legal grounds for further operations by American servicemen in Syria, in such a situation, the American forces have only one opportunity to stay in Syria—to engage in cooperation with Russia and the country's legal leadership in the process of providing assistance, returning refugees and temporarily displaced persons to their homes," Konashenkov added.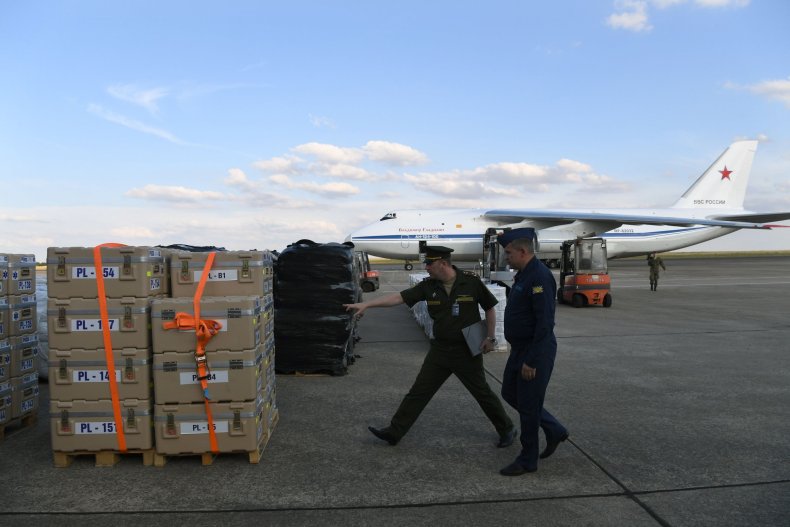 If Votel did reject this offer, Konashenkov argued that "the best way out will be to not interfere with the peace process and to proceed with the accelerated withdrawal of U.S. servicemen from the territory of Syria." Trump too has suggested pulling U.S. troops out of Syria as the battle against the Islamic State militant group (ISIS) reaches its final stages, but his advisers and military officials have reportedly pushed back against the idea, citing the possibility of a jihadi resurgence and the desire to counter Assad's other main ally, Iran.
While Russia and Iran are also involved in the battle against ISIS, they have done so with the invitation of the Syrian government, which has described U.S.-led coalition and Turkish forces in Syria as invaders. The West, Turkey and Gulf Arab states such as Saudi Arabia and Qatar were top supporters of the 2011 uprising that precipitated the ongoing civil war and partial ISIS takeover. These countries have accused Assad and his Russian and Iranian allies of committing war crimes in their battle against rebels and jihadis.
As the Syrian opposition grew increasingly fractured and Islamist, however, the U.S. largely dropped its support in favor of tackling ISIS and began backing a mostly Kurdish faction known as the Syrian Democratic Forces in October 2015, a year after the coalition began bombing ISIS in Iraq and Syria and a month after Russia entered the fight. In the last three years, both campaigns have seen consistent victories against ISIS and have emerged as the most powerful factions in the conflict, with the Syrian government having reclaimed well over half the country and the U.S.-backed Syrian Democratic Forces in control of about a quarter.
The fall of ISIS and rebel factions nationwide brought with it increased calls for a reconciliation between local forces backed by the U.S. and Russia. Trump's call for coordination with Putin on Syria following their Helsinki summit has raised hopes that the two leaders could take further steps jointly to help end the seven-year civil war there.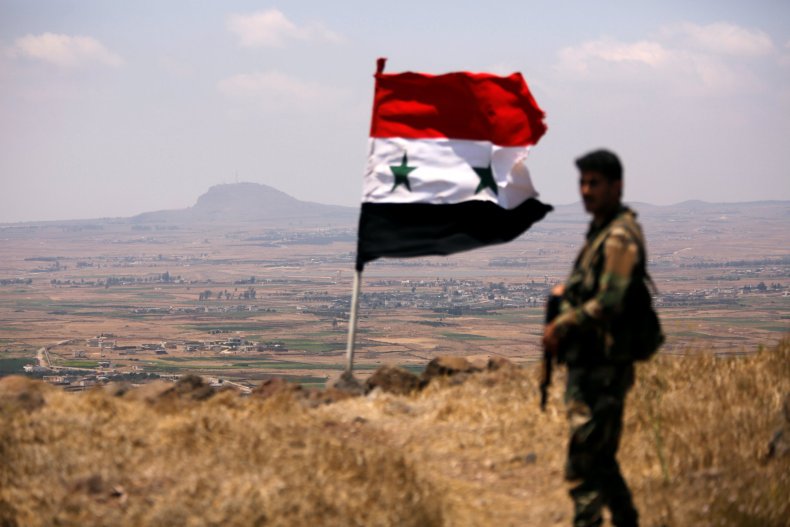 Rising tensions between Israel and Iran, however, have heightened the urgency of international diplomacy in a conflict that has already killed hundreds of thousands and displaced millions more, especially to surrounding countries. Russia had reportedly managed to negotiate the exclusion of Iranian and Iran-backed forces from the ongoing Syrian military offensive against rebels, ISIS and other jihadi fighters in the southwest in order to placate Israel, which occupies the nearby Golan Heights. Israel has warned it would not accept a long-term presence of its archfoe Iran in Syria.
Still, Israel has continued to launch airstrikes against military positions suspected of being associated with Iran in Syria, and allegedly did so at least twice last week in response to Syrian drones crossing into Israel-controlled airspace. The security situation further deteriorated Tuesday after Israeli air defenses shot down a Syrian Sukhoi jet that was said to have flown over the Israel-occupied Golan Heights while bombing ISIS. At least one pilot was reportedly killed, and the Syrian military accused Israel of supporting militant groups near the de facto border between the countries.
As Russia balances its relationship between strategic partners, top U.S. ally Israel and top U.S. foe Iran, and the U.S.-led coalition finishes off an ISIS pocket of control in Syria's far east, the persistent threat posed by the jihadis was demonstrated in their deadliest attack in months. ISIS claimed responsibility for a series of suicide bombings that reportedly killed up to 156 people in the southwestern city of Sweida.
The Russian Foreign Ministry strongly condemned the attack. "[It] has reaffirmed the misanthropic essence of the ideology and practice of terrorism and the importance of coordinating energetic international efforts to stamp out this global evil in Syria," the statement reads.