Russia and Turkey Reach New Deal on Syria: A Lot Has Changed Since Their Meeting One Year Ago
The leaders of Russia and Turkey met Monday to discuss the conflict in Syria, where both men have struggled to reconcile conflicting visions in what appeared to be the last major military offensive of a seven-year civil war.
About one year after his last visit to Russia, Turkish President Recep Tayyip Erdogan traveled to the Black Sea city of Sochi to meet Russian President Vladimir Putin to once again search for peace in Syria. Despite supporting rival factions, Russia and Turkey—along with Iran—have spearheaded international efforts to find a political solution to the conflict. Following their latest talks, they announced a new deal regarding the northwestern Syrian province of Idlib, the last region controlled by an Islamist-led insurgency.
Erdogan and Putin agreed to establish a demilitarized zone of 15 to 20 kilometers (9.3 to 12.4 miles) by October 15 and facilitate the removal of heavy weapons and the withdrawal of jihadi groups considered terrorist organizations by both governments. Putin said that the Syrian government would agree to these terms and vowed to pursue further consultations on the issue.
While the two heads of state offered similar hopes of avoiding bloodshed following their September 2017 conversation, the dynamics of Syria's seemingly intractable strife have shifted greatly since then. Russia and Iran's ally Syrian President Bashar al-Assad has largely overcome a 2011 uprising and the powers that sponsored it are trying to stop an impending military assault on the final province under rebel and jihadi control.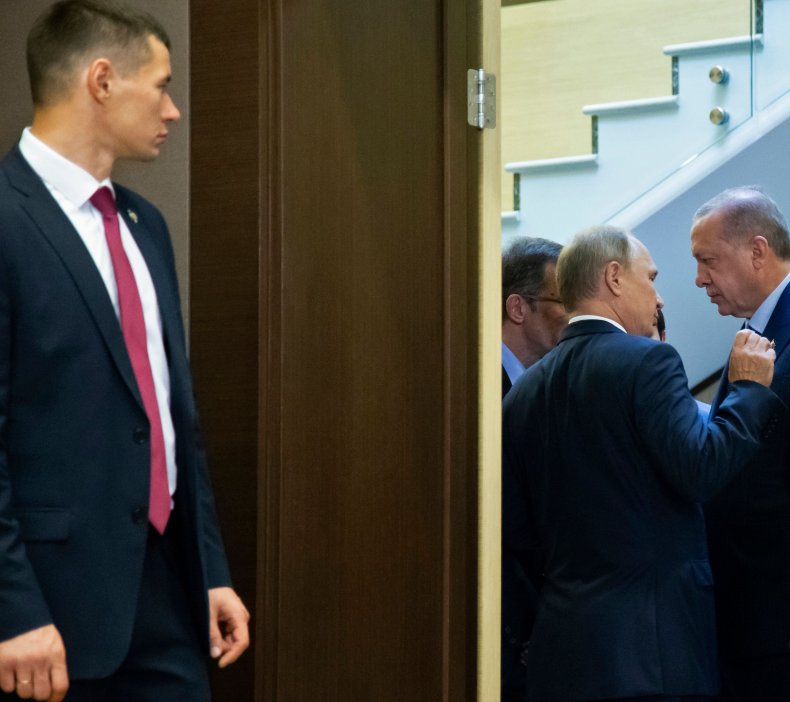 The U.S. and Turkey were leading supporters of the insurgency against Assad, who they accused of human rights abuses. As this opposition grew increasingly Islamist, however, the West grew increasingly wary of backing it and the spread of the Islamic State militant group (ISIS) from Iraq further fractured rebel and jihadi groups. The U.S. began bombing ISIS in 2014, forming a coalition that included Turkey but also later teaming with Syrian Kurdish fighters viewed as terrorists by Ankara.
In 2015, Russia entered the conflict at Assad's request and provided air support for the Iran-backed Syrian military and allied militias. The Syrian government began to regain major population centers such as Aleppo, compelling Turkey to negotiate the transfer of insurgents and enter into talks with Russia and Iran. Last September, Erdogan officially agreed to the creation of de-escalation zones in four rebel-held regions in northern Homs, the Damascus countryside, the southwestern borderlands of Daraa and Quneitra and the northwestern province of Idlib, the largest of them all.
In the year since, the Syrian military and its allies have retaken all these regions, except for Idlib, which has received masses of fighters and civilians unwilling to reconcile with the government. Russia and Iran appeared poised to support Syrian troops in retaking the province, but the U.S. and its European allies have warned of potential military action to stop such an offensive on humanitarian grounds, especially if chemical weapons were used.
As Russia, Iran and Syria warned that the West was planning to stage a chemical attack to prompt an intervention, Turkey has scrambled to stall any further violence that could prompt a refugee crisis among Idlib's projected population of 3 million. Erdogan has pledged to help separate what he viewed as legitimate opposition groups from jihadi organizations such as Hayat Tahrir al-Sham, a coalition that dominates Idlib and includes the former Nusra Front.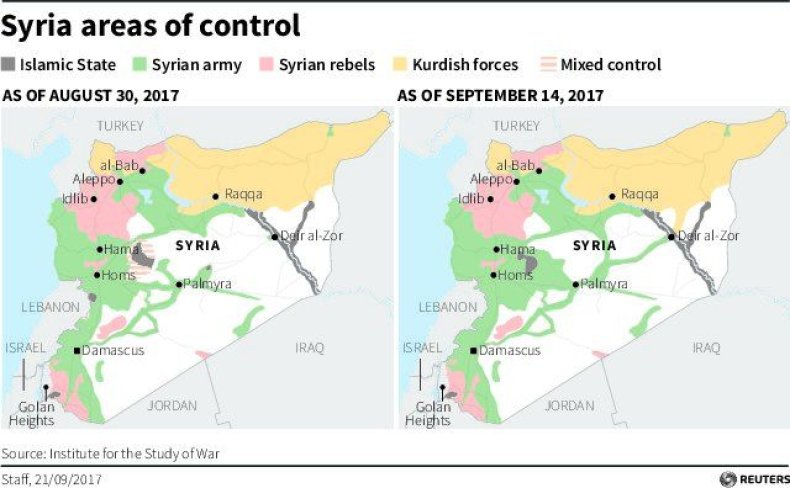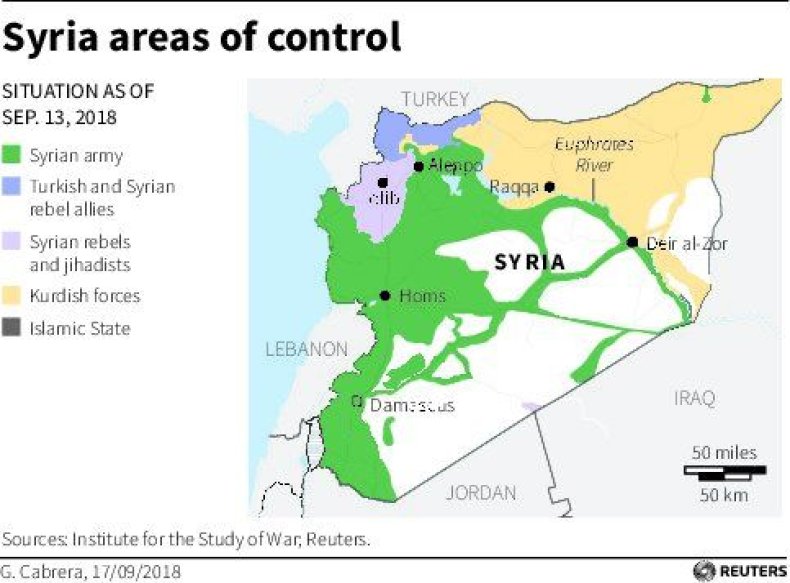 Turkey's support for the Free Syrian Army in nearby Afrin district and other rebel groups has frustrated Russia and Iran. A feud between the Free Syrian Army and the Syrian Democratic Forces has also widened the divide between NATO Western military alliance allies Turkey and the U.S., who find themselves at political odds over Turkey's detention of a U.S. Christian pastor.
The once-CIA-backed Free Syrian Army has rejected Kurdish control in the region, causing scores of Pentagon-supported Kurds to leave the fight against ISIS to battle Turkey and its rebel allies. At times, these Kurdish fighters teamed with pro-Syrian government forces against their mutual foe.
While the Syrian Democratic Forces and the Syrian government have no formal alliance, they are currently engaged in talks aimed at avoiding a wider conflict between the two as both rebels and jihadis are defeated. Assad has warned, however, that if the Syrian Democratic Forces did not return control of their territory to the central government, his troops would retake it by force.