U.S. Dispute With Turkey Helps Russia and Iran in Syria, Where Washington Is Losing Allies
The recent falling out between traditional partners Turkey and the U.S. threatens both of their interests in Syria, where strategic allies Russia and Iran stand to further gain from a total coalition collapse.
Turkey and the U.S. are both opponents of Syrian President Bashar al-Assad, a Baathist leader whom both countries attempted to depose in the wake of a 2011 uprising by rebels and jihadis. The U.S. distanced itself from the Islamist-led opposition as the war dragged on, opting to instead battle the Islamic State militant group (ISIS) via a largely Kurdish faction that Turkey considers illegitimate due to its suspected ties to separatists at home.
While Turkey has joined peace talks with Assad sponsors Russia and Iran, the U.S. military has routinely emphasized the vitality of Turkish cooperation in Syria, and the Pentagon has denied support for Kurdish fighters battling Turkey. Just as the U.S. and Turkey recently appeared to again align their positions on the ground, President Donald Trump suddenly threatened—and ultimately imposed—sanctions on Turkey over its detainment of a Christian pastor accused of fraternizing with banned groups. The move has effectively split U.S. policy in the region.
"It appears there are two contradictory things going on in U.S. foreign policy," Joshua Landis, who heads the University of Oklahoma's Center for Middle East Studies and the online blog Syria Comment, told Newsweek. "One being driven by the White House for domestic reasons and one driven by the Department of Defense for strategic reasons."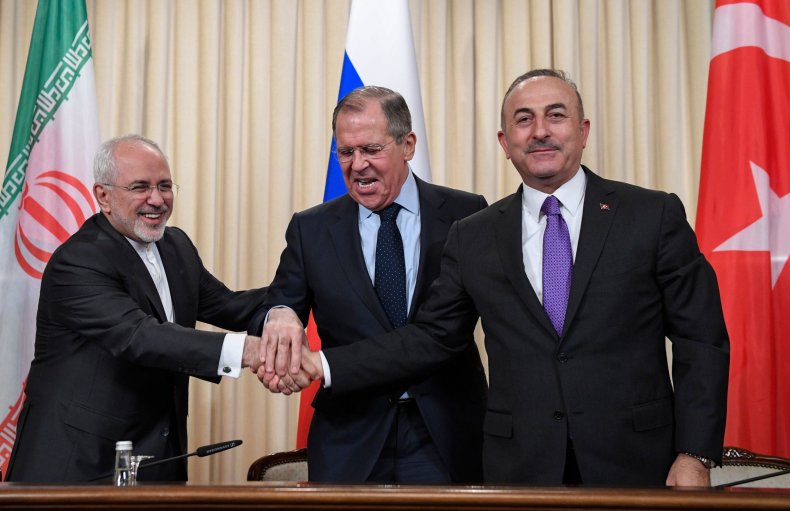 With the U.S. largely abandoning the remnants of a Syrian opposition weakened by ideological infighting and pro-government victories nationwide, Turkey has attempted to pick up the pieces of the once-powerful, formerly CIA-backed Free Syrian Army. Turkey's troops first entered northern Syria in 2016 in an attempt to help its local allies expel the Syrian Democratic Forces–aligned People's Protection Units from holding ground along Syria's northern border. After a second incursion earlier this year, they managed to end Kurdish control over the northwestern district of Afrin in March.
The U.S., which considers itself a close partner of both Turkey and the Syrian Democratic Forces, did not intervene in the dispute. The U.S.-led coalition did reinforce its positions in the Kurd-held city of Manbij but ultimately agreed last month to coordinate joint patrols with Turkish forces in the area. About a week later, Trump took to social media to warn of "large sanctions on Turkey for their longtime detainment of Pastor Andrew Brunson," a U.S. citizen and evangelical preacher arrested in October 2016 in the wake of an attempted coup against Turkish President Recep Tayyip Erdogan. On August 1, the U.S. implemented those sanctions, and Trump has warned he would roll out more.
Turkey has responded defiantly, with the Turkish Foreign Ministry warning on August 10 that the U.S. "cannot get any results through such kind of sanctions and pressures and that these will only harm our alliance which was forged by hardest challenges" and promising a "befitting response." At home, however, the restrictions have threatened to destabilize an economy already wracked by severe inflation and a looming currency crisis. These developments came just as something critical was happening just beyond Turkey's southern border.
The Syrian military has begun to send large numbers of reinforcements to retake the final rebel-held province, Idlib, where Turkish troops are posted to enforce a cease-fire reached last year by Turkey, Russia and Iran. Syria and its Russian and Iranian allies have vowed to regain every inch of the country, however, and pro-government forces have already begun attacks on the insurgent-held province. With only Russian troops standing between the Syrian military and a much smaller contingent of Turkish forces, Erdogan may be forced to seek a new deal with Moscow.
"Normally, Turkey would look to the U.S. for support in dealing with Russia and Syria. The U.S. is a NATO partner," Landis told Newsweek. "Just as the U.S. and Turkey's relationship is spiraling out of control, Erdogan is looking to the U.S., and the U.S. is not going to help him. So he is going to go to Russia, and Russia is really in the driver's seat."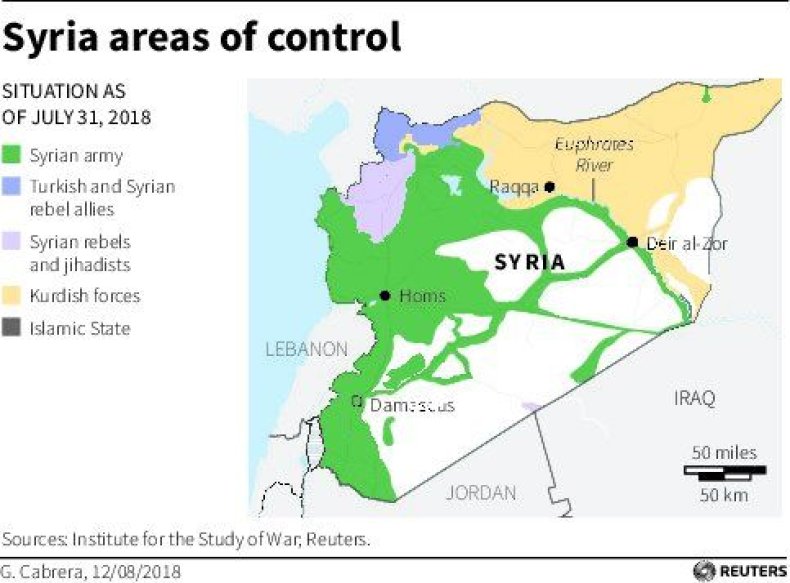 Senior Turkish and Russian diplomats met Monday and Tuesday in Ankara to discuss what the Russian Foreign Ministry described as "a wide range of issues on the bilateral and international agenda, including in the context of the possible upcoming contacts between the leaders of Russia, Turkey and a number of other countries on Syria." Following their talks, Russian Foreign Minister Sergey Lavrov said that Russia, Turkey and Iran were united in opposition to U.S. sanctions against their countries, the latest sign that Ankara was losing faith in its relationship with the U.S. and Western allies.
Turkey has already drawn divisions between itself and NATO by seeking to procure an advanced weapons system from the alliance's top rival, Russia. Ankara has long been in talks to purchase the S-400 anti-aircraft defense system, as have a number of other U.S. allies in the Middle East, despite U.S. protests. Nevertheless, as the current dispute between the U.S. and Turkey compounds its fractures with the West, the U.S.-led coalition against ISIS maintains that that nothing has changed in its relationship with Ankara.
"We've seen no change in our relationship with our Turkish allies," a coalition spokesperson, U.K. Major General Felix Gedney, told reporters Tuesday during a video briefing at the Pentagon. "And I'd just remind you that Turkey is a very important member of the global coalition of 70 nations. They're a troop-contributing nation into this military coalition, and they are a valuable NATO ally, as well as a critical regional ally. There are things going on at the strategic level, but here at the operational level and tactical level, we've seen no change in our professional working relationship."
The U.S.-led coalition has also been forced to defend its relationship with the Syrian Democratic Forces after reports emerged last week of a February incident in which a Kurdish fighter shot a U.S. Marine following an altercation earlier that day. After the coalition initially appeared to deny knowledge of the shooting, U.S. Central Command confirmed on August 10 that a Syrian Democratic Forces gunman wounded a Marine before being shot dead himself by another Marine, though an investigation could not determine whether the alleged "green on blue" attack was intentional or accidental. Felix affirmed on Tuesday the "excellent relationship" between the coalition and local partners.
At the same time, the Syrian Democratic Forces's political wing has entered into negotiations with the central government in Damascus in hopes of securing a greater degree of self-rule. The U.S. has accused the Syrian government of war crimes and has not endorsed Assad's mandate, but as jihadis and rebels are defeated, Trump has expressed an urgency to withdraw from the conflict, leaving the Kurds concerned for their future. The U.S.-backed campaign allowed the Syrian Democratic Forces to seize much of Syria's oil-rich northeast from ISIS control, and these lands may prove to be valuable bargaining chips as Assad and his allies begin to invest in rebuilding the war-torn country.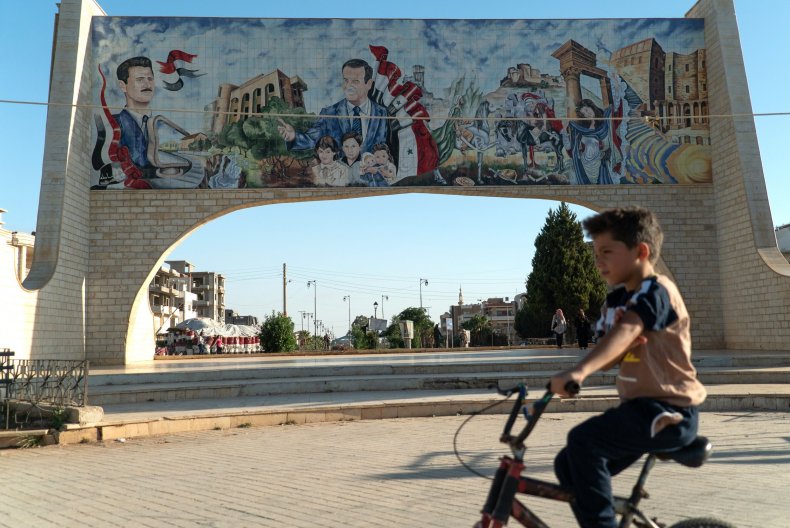 While the U.S.-led coalition has not voiced any significant opposition against its allies talking with the Syrian government, the growing rift could once again fuel a strategically awkward battle between U.S. allies. When the U.S. refused to intervene against the Turkish invasion earlier this year, Kurdish fighters struck an alliance with forces fighting on behalf of the Syrian government, which considers both the U.S. and Turkish military presence illegal. Officials from the U.S.-backed force have suggested they may do so again as the Syrian military fires the opening salvos of what has been slated to be an all-out assault on Idlib.
Trump's hard-line push to have Brunson freed may have garnered the president praise from his evangelical support base, which includes high-profile figures like Family Research Council President Tony Perkins. But it has come at an extremely inopportune time for longtime ally Turkey, which faces both an economic disaster and the potential influx of hundreds of thousands of Syrian refugees ahead of an impending military operation just across the border. Pushed toward the bloc of Russia and Iran, Turkey may have little choice but to change course on Syria, where conflicting policies from Washington and the Pentagon have left the U.S. with few friends remaining.
"We don't know how it's going to come out yet, but America is nowhere to be seen and that's odd," Landis said. "It shows that America is not making the most of its diplomacy and is sort of shooting itself in the foot."