The U.S. has slapped sanctions on Turkish officials over the transcontinental ally's jailing of a U.S. Christian pastor.
The Treasury Department announced Wednesday it was targeting Minister of Justice Abdulhamit Gul and Minister of Interior Suleyman Soylu with sanctions enforced by the Office of Foreign Assets Control. In a press release, the department said that the two men "played leading roles in the organizations responsible for the arrest and detention of Pastor Andrew Brunson" and "implementing Turkey's serious human rights abuses."
"Pastor Brunson's unjust detention and continued prosecution by Turkish officials is simply unacceptable," Treasury Secretary Steven Mnuchin was quoted as saying in the release. "President [Donald] Trump has made it abundantly clear that the United States expects Turkey to release him immediately."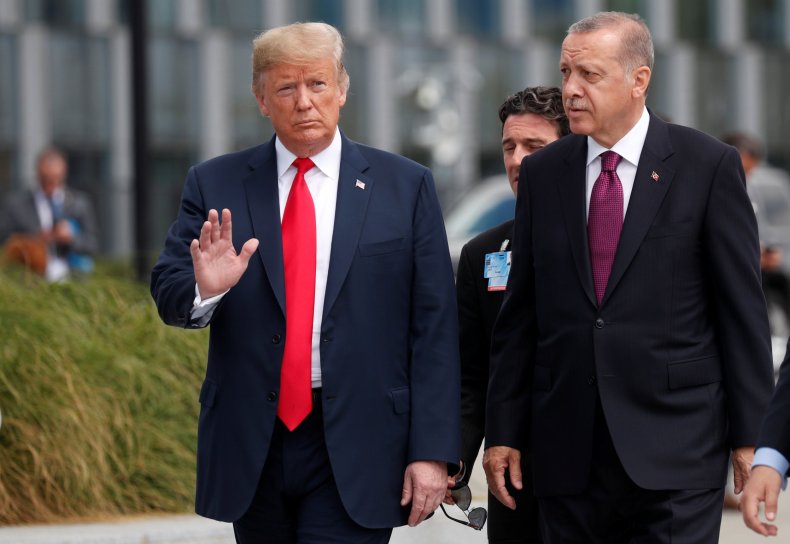 Trump has been a vocal supporter of Brunson, who lived in Turkey for decades before being arrested in Izmir in the wake of a failed coup in 2016. Initially taken in on immigration charges, Brunson was accused of having ties to the exiled Islamic Turkish preacher Fethullah Gulen and working with the banned Kurdistan Workers' Party (PKK). He was set to face a hearing in October and was released last week on house arrest. Trump administration officials called on Ankara to let him off the hook completely as the president himself weighed in on social media.
"The United States will impose large sanctions on Turkey for their long time detainment of Pastor Andrew Brunson, a great Christian, family man and wonderful human being. He is suffering greatly. This innocent man of faith should be released immediately!" Trump tweeted Thursday.
Turkey is a fellow member of the NATO Western military alliance and has played a role in the U.S.-led fighting against the Islamic State militant group (ISIS) in Syria. The two countries' militaries are currently participating in the Noble Partner war games in the country of Georgia and coordinating joint patrols in the northern Syrian city of Manbij. The countries have become increasingly divided, however, over U.S. support for Kurdish groups in Syria and Turkey's desire to purchase the advanced S-400 anti-aircraft system from Russia, a top U.S. rival.
The Turkish Foreign Ministry responded to the U.S. sanctions, saying "we vigorously protest the U.S. Treasury's decision to sanction our country" and calling on the U.S. to "walk back from this wrong decision." It warned that the "aggressive attitude serves no purpose" and threatened to soon impose retaliatory measures.
This article has been updated to include a statement from the Turkish Foreign Ministry.