Can the West Stop Syria? U.S., France and U.K. Plan Attack, but Russia and Iran Defend Ally
The U.S., France and the U.K have begun discussing a plan to attack Syria, should chemical weapons be used in an upcoming military offensive. This is a rhetoric the Syrian government, Russian and Iranian allies claim is an indication that the Western trio would go so far as to fabricate a pretext to intervene in the war-torn nation.
In a heated United Nations Security Council session Tuesday, the struggle between the world's leading powers played out. Russian representative Vasily Nebenzya argued his country "cannot allow terrorists to hold hostage and use hundreds of thousands of people as human shields" in Idlib, the final bastion of an Islamist-led insurgency in Syria. He warned that "coexistence with terrorists is impossible" and that it "is also unacceptable to cover them from being fought against."
U.S. Ambassador Nikki Haley fought back, adding that Washington did not draw the line as far as the use of internationally banned poison gas and that her government would "consider any assault on Idlib to be a reckless escalation of the conflict." She said "the consequences will be dire" for Syrian President Bashar al-Assad, Russia and Iran if they pursue the anticipated operation against the northwestern province.
On the ground, intermittent Syrian airstrikes continued through Wednesday as local activists reported that Turkey—caught between an alliance with the West and its dialogue with Russia and Iran—began shoring up its defenses near Idlib in anticipation of Syria's armed forces launching an attack that threatened to displace millions and incite bickering global rivals into a real military conflict.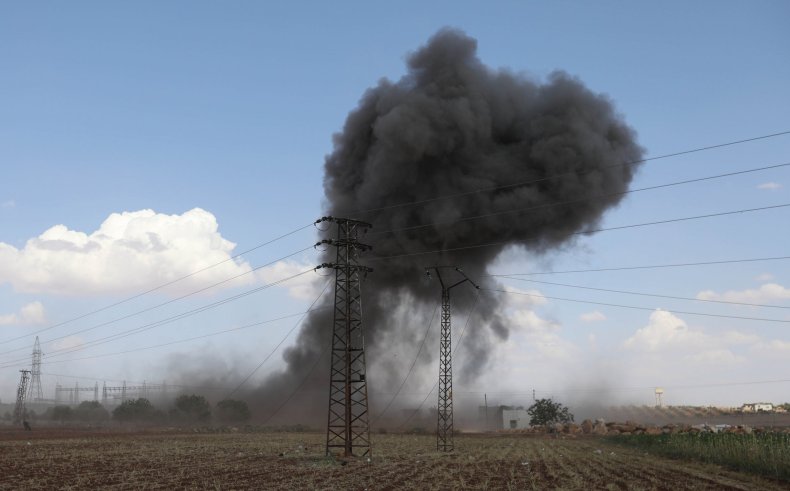 Washington and Moscow have long been at odds over their visions for Syria. After a rebel and jihadi uprising erupted in 2011, the CIA secretly supported insurgents seeking to topple Assad. The U.S. cut back this assistance as the Islamist nature of the rebellion became increasingly apparent and the Islamic State militant group (ISIS) infiltrated the country from neighboring Iraq, which had struggled with Sunni Muslim militants since the U.S.-led invasion of 2003.
In 2014, the U.S. gathered a coalition of nations—including France and the U.K.—to begin bombing ISIS in Iraq and Syria. The following year, Russia intervened on behalf of Assad's beleaguered troops and allied Iran-backed militias, reversing opposition and militant gains across the country. The Syrian military, backed by Russia and Iran, and the Syrian Democratic Forces, a mostly Kurdish formation that became the Pentagon's primary Syrian partner in 2015, began clearing out ISIS and setting their stake for a post-conflict settlement.
President Donald Trump came to office in the middle of the parallel anti-ISIS offensives in early 2017 and appeared to support an alliance with Russia. That April, however, reports that the Syrian military used chemical weapons in Idlib prompted him to quickly launch a cruise missile attack on a base allegedly involved in the incident. In April of this year, the U.S. again responded to toxic gas reports with military action, this time in coordination with France and the U.K.
Last month, national security adviser John Bolton suggested that the Syrian military may use chemical weapons as it moves to retake the last opposition-held region of Idlib. Russia and Iran have denied that their Syrian ally was behind past suspected instances of chemical weapons use and warned that the U.S. and Western allies were purposely spreading disinformation, while secretly conspiring with militants to stage an incident that would draw foreign action. Neither side has provided any comprehensive evidence for their competing claims.
Shortly after The Wall Street Journal reported that U.S. officials and their European partners were discussing Syrian targets—and potentially Russian and Iranian forces as well—Bolton confirmed that Washington was indeed in talks with France and the U.K. that have agreed on "a much stronger response" than previous U.S.-led strikes. Russia's Deputy Foreign Minister Sergei Ryabkov called such language on Tuesday "absolutely the policy of threats and blackmail."
Peter Ford, former U.K. ambassador to Syria, likened the current situation to the Suez Crisis of 1956, when Paris and London backed Israel in invading Egypt on the pretext of safeguarding the Suez Canal, which Egyptian President Gamal Abdel Nasser had nationalized. In a statement sent to Newsweek by Washington-based think tank the Institute for Public Accuracy, Ford said that "September 2018 is likely to witness another tripartite aggression based on pretexts and plotting, this time involving the U.S. alongside the U.K. and France. The victim now is Syria."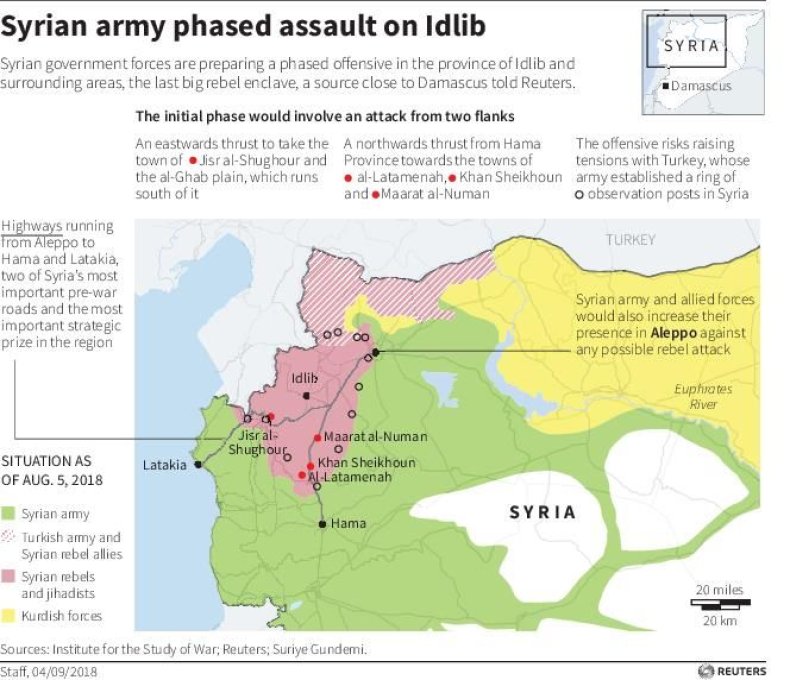 Russia has continued to assert Syria's right to regain control over any part of its territory, but its peace talks partners are split over using military force in Idlib. Iranian ambassador to the U.N. Gholamali Khoshroo cautioned Tuesday "against any attempt to use force against Syria," including under the pretext of a chemical "fabrication." Turkey's own envoy, Feridun Sinirlioglu, appealed to the "international community to vocally and actively support" a cease-fire in Idlib, where reports suggested Ankara was secretly arming rebels to undermine Moscow and Tehran's plans.
Like the U.S., the U.K., France and Germany—which said Wednesday it would decide on its own whether or not to join potential strikes against Syria—Turkey expressed reservations about a Syrian military operation based on humanitarian grounds. Turkish President Recep Tayyip Erdogan even penned an op-ed in The Wall Street Journal, entitled "The World Must Stop Assad."
U.N. Secretary-General António Guterres has echoed these concerns, warning Tuesday that full-on military operation in Idlib "would unleash humanitarian nightmare unlike any seen in the blood-soaked Syrian conflict." He argued, however, that "the present situation in Idlib is not sustainable and the presence of terrorist groups cannot be tolerated," maintaining that Russia, Iran and Turkey must "spare no effort to find solutions that protect civilians" in a province that now hosts nearly 3 million people.