Russia Says Syria Has Every Right to Launch Final Battle, but Germany Warns of 'Catastrophe'
Russia's top diplomat has affirmed Syria's right to take on its last rebel-held province, in an upcoming offensive that Germany has warned could lead to disaster for the civilians who have fled there.
Russian Foreign Minister Sergey Lavrov told reporters Friday that he supported the Syrian armed forces' efforts to quell an Islamist-led insurgency in the northwestern province of Idlib, where more than 2 million civilians and opposition fighters await a military assault intended to reclaim one of the final areas of the country Syrian President Bashar al-Assad has yet to control. The area is currently dominated by Hayat Tahrir al-Sham, a jihadi coalition linked to the former Nusra Front, which served as the Syrian branch of Al-Qaeda, and is considered a terrorist organization by Russia, Syria and Iran—and more recently, Turkey and the U.S.
Lavrov said the Syrian operation against Idlib "concerns the legitimate authorities of Syria who have the full right to secure their sovereignty, expel and eliminate the terrorist threat in their territory," during a press conference alongside Eritrean Foreign Minister Osman Saleh Mohammed, who was on a working visit to Russia, reported the Russian Foreign Ministry. Lavrov also accused Hayat Tahrir al-Sham of using civilians as human shields and called on other opposition groups to negotiate with the government as part of a peace process also co-hosted by fellow Assad ally Iran and Turkey, which supports the insurgent Free Syrian Army.
"We have no plans to hide what we are doing in support of the Syrian government, which liberates its land from terrorists, creates conditions for Syrian citizens to quickly return to their homes and simply live normal everyday human lives," Lavrov added.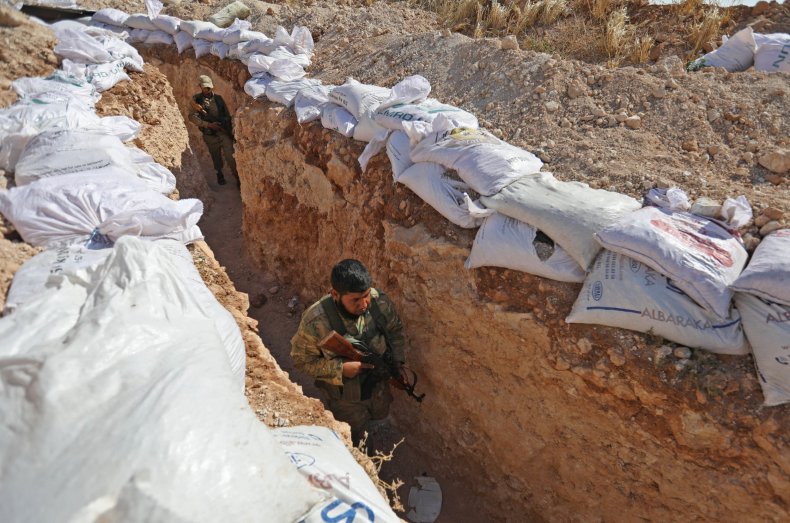 Russia and Iran have championed Syria's planned efforts to retake the renegade province, but Western governments have expressed concern. Idlib is the last remaining area of influence for rebels and jihadis that took up arms against Assad after a 2011 uprising backed by the U.S., Turkey and Sunni Muslim monarchies, all of which had accused the Syrian leader of war crimes. As the U.S. cut back support to an increasingly Islamist opposition and Russia entered the fight in 2015, the Syrian government regained most of the country, leaving only pockets of influence for insurgents and militants, as well as about a quarter in the hands of the U.S.-backed Syrian Democratic Forces, a mostly Kurdish coalition that includes Arab and other communities.
In a press conference Friday, German government spokeswoman Ulrike Demmer warned that "a large-scale military operation of the Syrian regime in and around Idlib would spark another humanitarian catastrophe with potentially hundreds of thousands of people seeking shelter near Turkey's border," according to Turkey's official Anadolu Agency. She referenced recent talks between Chancellor Angela Merkel and Russian President Vladimir Putin, in which the German leader asked her counterpart to enforce a ceasefire that was agreed to in Idlib last year. However, Russia has said the truce does not include designated terrorist organizations such as Hayat Tahrir al-Sham.
"We expect from Russia to use its influence on the Syrian regime to prevent an escalation and a humanitarian catastrophe," Demmer added.
Merkel spoke Monday with President Donald Trump in a phone call in which it was established that both leaders "share concerns about developments in Syria, in particular, the humanitarian situation in the Idlib region. Russia is called upon to moderately influence the Syrian regime and prevent further escalation," according to the chancellor's office. That same day, French President Emmanuel Macron also warned about the ongoing situation in Idlib, where the U.S. has indicated a chemical weapons attack may soon take place.
The U.S. has largely abandoned its former regime-change policy, but has conducted two series of missile strikes—the second with support from France and the U.K.—in response to allegations that the Syrian military conducted internationally banned chemical weapons. Germany called the U.S.-led strikes "necessary and appropriate," but did not take part.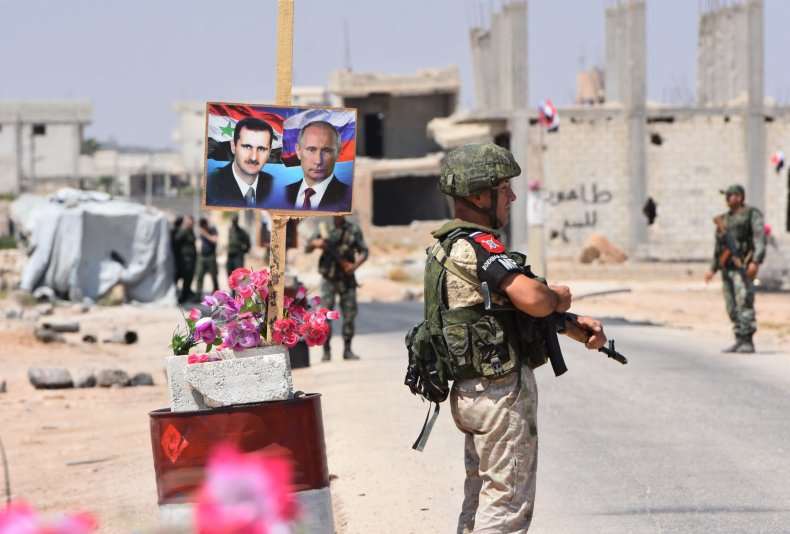 Syria, Russia and Iran have denied the claims and blamed local factions and their alleged Western backers for staging the incidents. Last week, U.S. national security adviser John Bolton warned that Syria may be planning another assault using poison gas as it prepared to storm Idlib, while Defense Secretary James Mattis told reporters Tuesday, "You have seen our administration act twice on the use of chemical weapons" in response to questions on the matter.
Russia has said that these statements, along with an alleged U.S. military buildup in the region, were a sign that Western powers were looking to conspire with militants in another apparent plot to frame Assad in a chemical attack. In what Moscow has called an unrelated event, Russia has sent its largest-ever naval contingent to Syria to take part in massive war games in the Mediterranean Sea. On Tuesday, the Pentagon told Newsweek, "Russian reports of a U.S. military buildup in the Eastern Med are false. However, we are prepared to respond should the president direct such an action. We remain concerned over reports of a potential military offensive by the Syrian regime against civilians and civilian infrastructure in Idlib, which would result in devastating humanitarian consequences."
In a tweet posted Friday, Secretary of State Mike Pompeo said, "Sergey Lavrov is defending Syrian and Russian assault on #Idlib. The Russians and Assad agreed not to permit this. The U.S sees this as an escalation of an already dangerous conflict."
Pompeo added, "The 3 million Syrians, who have already been forced out of their homes and are now in #Idlib, will suffer from this aggression. Not good. The world is watching."