Russia has reportedly deployed to Syria its largest naval contingent since its entrance to the conflict, as the U.S. escalated its rhetoric about an upcoming potential chemical weapons attack that Washington has warned would result in military action.
As tensions between the U.S. and Moscow in Syria continued to spiral, Russian newspaper Izvestiyareported Tuesday that Russia had sent an unprecedented grouping of 10 ships, mostly armed with Kalibr cruise missiles, and two submarines to the eastern Mediterranean—with more naval assets on the way—in response to an apparent U.S. military buildup in the region.
Russia's Kommersant further reported that Moscow had mobilized two Tor-M2 surface-to-air missile defense systems in Syria and that the country's air defenses had been placed on high alert in anticipation of a potential U.S. assault, which the Russian Defense Ministry has said would come after a "false flag" chemical weapons attack staged by West-backed militants.
National security adviser John Bolton claimed last week that the U.S. military had received indications that Syrian President Bashar al-Assad—an ally of Russia and Iran—was planning to use chemical weapons in an upcoming campaign to retake the final Islamist-held province of Idlib. He also said that the U.S. would have a "strong response" if this proved true. While Kremlin spokesperson Dmitry Peskov declined to comment on reports that Bolton directly repeated this warning in talks with Russian officials Thursday, the Pentagon expressed its "concern at the potential for further—and illegal—use of chemical weapons" in Idlib.
"Russian reports of a U.S. military buildup in the Eastern Med are nothing more than propaganda," Pentagon spokesperson Eric Pahon said, according to the news site Task & Purpose. "It's not true. That does not mean, however, that we are unprepared to respond should the president direct such an action."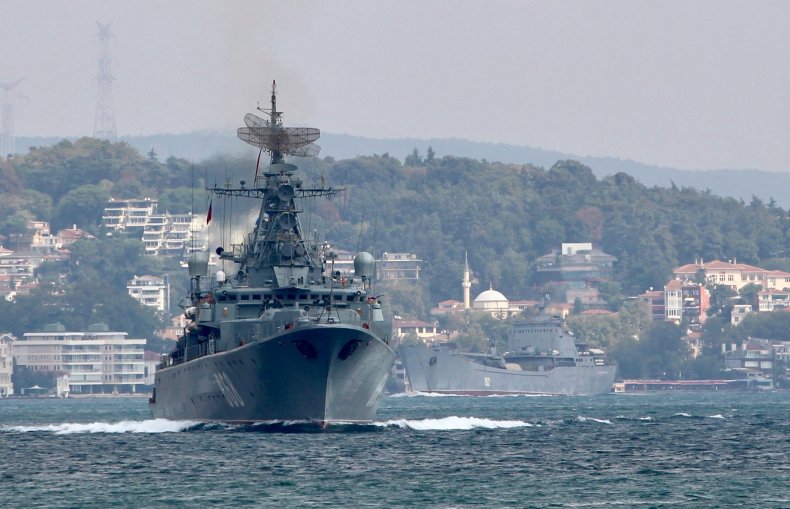 The Russian Defense Ministry's Russian Center for Reconciliation of Opposing Sides in Syria had warned Saturday that "Western countries are increasing the grouping of carriers of cruise missiles in the Middle East." It also added that "the destroyer USS The Sullivans of the U.S. Navy arrived in the Persian Gulf with 56 cruise missiles on board. And at the Al-Udeid Air Bases in Qatar, the strategic bomber B-1B of the U.S. Air Force was redeployed with 24 cruise JASSM air-to-surface missiles."
The ministry underscored, "The West is ready once again to support terrorists and, in violation of all norms of international law, to commit an act of aggression against a sovereign state, which will inevitably cause another sharp deterioration of the situation in the Middle East region and a breakdown in the process of a peaceful settlement of the Syrian conflict."
Pahon also dismissed a recent report published Sunday by Russia's state-run RT network that alleged foreign specialists had been brought into Idlib to falsify a chemical weapons attack as a pretext for U.S. strikes. The U.S. has accused Syria of using toxic gas against opposition fighters and civilians throughout the course of a civil war that began with a 2011 rebellion backed by the West, Turkey and Gulf Arab states. Syria, joined by its Russian and Iranian allies, has denied any culpability in the use of such internationally banned tactics and has blamed local and international enemies for framing Assad.
U.S. and Russian armed forces are both active in Syria in support of rival missions. After initially sponsoring efforts to oust Assad in the wake of the rebel and jihadi uprising, the U.S. cut back support to an increasingly Islamist opposition and began bombing the Islamic State militant group (ISIS) after it took over half of Iraq and Syria in 2014. Russia entered the conflict a year later at Assad's request to help the Syrian leader overcome both ISIS and other forces trying to overthrow the government. Since then, Assad has retaken most of the country, leaving about a quarter in the hands of the U.S-backed, majority-Kurd Syrian Democratic Forces and pockets of ISIS and rebel influence—including Idlib, which is dominated by Hayat Tahrir al-Sham, a jihadi coalition with links to Al-Qaeda.
President Donald Trump was a supporter of cutting aid to rebel groups in Syria and has pushed for greater cooperation with Russia in the conflict. Under his administration, however, the U.S. has twice attacked Syria in response to alleged chemical weapons attacks. In the lead-up to the latest attack, in April, when French and U.K. forces for the first time joined a U.S.-led missile strike on Syrian government sites, the Russian military's top general and Moscow's Ambassador to Lebanon Alexander Zasypkin warned that Russia could respond with force if its servicemen were threatened by Western strikes.
"You have seen our administration act twice on the use of chemical weapons," Defense Secretary James Mattis told reporters Tuesday at the Pentagon, according to The Washington Times. "I will assure you that the Department of State has been in active communication, recent active communication, with Russia to enlist them in preventing this. I'll just leave it at that for right now. But communication is going on."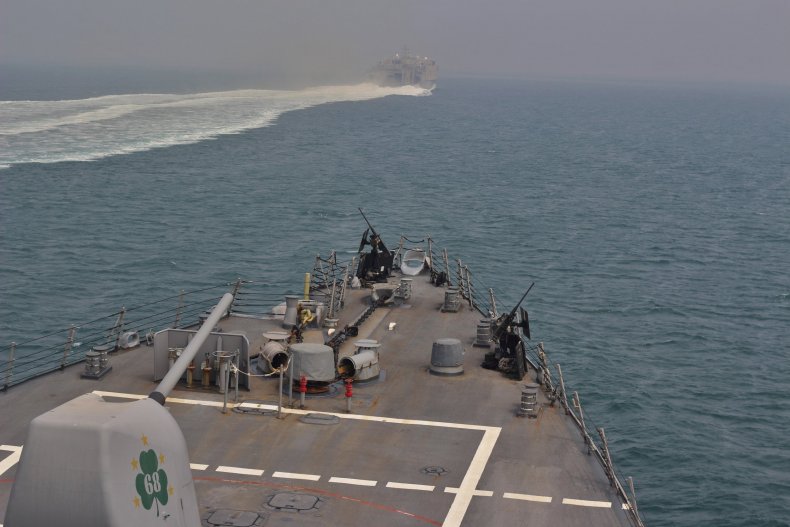 Weighing in on the ongoing tensions, Daniel Davis, a retired Army lieutenant colonel and senior fellow at think tank Defense Priorities, told Newsweek on Monday, "There is absolutely nothing of value in Syria that warrants even the potential for a military clash between Washington and Moscow. We gain nothing by keeping troops in Syria—at all—and it would be in our national interests to withdraw them immediately."
That same day, Joshua Landis, head of the University of Oklahoma's Center for Middle East Studies and the blog Syria Comment, told Newsweek that the ongoing war of words reminded him of the Syrian military campaign against the once-rebel-held Damascus suburb of Ghouta, where "both sides accused the other of planning the use of chemical weapons" and "the rebels had reason to carry out a false flag operation, as the regime and Russians suggested, but the regime refused to let U.N. inspectors in to test for chemical weapons until after a lengthy delay, which was suspicious."
"There is a history of chemical use and particularly chlorine gas use by Syria as well," he added. "A similar situation leading up to the battle of Idlib is unfolding now. The Americans are warning Syria not to use chemical weapons or they will intervene, and the Russians are countering that the U.S. and Syrian opposition are planning a false flag operation in order to provide a pretext for the Americans to fire off cruise missiles and punish the Assad regime for launching its effort to retake Idlib province, the last independent enclave of Syrian rebels."