Defense Secretary James Mattis has renewed U.S. calls for Syrian President Bashar al-Assad to be removed from power, while at the same time suggesting it was up to the Syrian people to decide their country's fate.
In a press conference held Tuesday at the Pentagon, Mattis called Assad "someone who has committed mayhem and murder on his own people" throughout a seven-year civil war sparked by a 2011 uprising by rebels and jihadis. While the U.S. has stepped back its assistance to an Islamist-led insurgency against the Syrian government, it has branded Assad a war criminal over numerous reports that his armed forces had targeted civilians and used chemical weapons.
Russia has joined Iran in helping the Syrian leader retake most of the country from rebels as well as the Islamic State militant group (ISIS), which has since become the U.S. priority in Syria and the basis of its military intervention there. With the jihadis on the verge of defeat, however, Mattis asserted that the U.S. was looking beyond this mission and toward ultimately ousting Assad.
"Our goal is to move the Syria civil war into the Geneva process so the Syrian people can establish a new government that is not led by Assad and give them a chance for a future that Assad has denied them, with overt Russian and Iranian support," Mattis told reporters.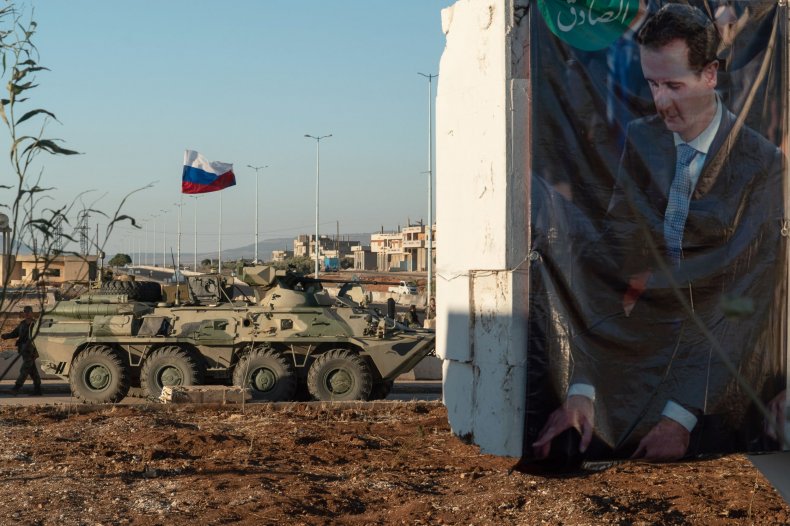 Mattis's comments came at a time of escalating tensions between Washington and Moscow, which has routinely denied the Syrian government's alleged use of chemical weapons and has gone so far as to suggest that the deadly incidents were staged by local factions and their Western sponsors in hopes of drawing U.S. military intervention. As the Trump administration initially downplayed his predecessor's regime change policy in Syria and largely cut support for rebels there, the Republican leader has twice ordered airstrikes in response to reports of poison gas attacks.
National Security Adviser John Bolton, who played a key role in former President George W. Bush's decision to invade Iraq as a response to weapons of mass destruction claims that later proved untrue, also argued last month that "the strategic issue" for the U.S. in Syria was Iran, in an interview with CBS News. Last week, however, Bolton warned that he had received indications that the Syrian military was gearing up for another toxic attack in the final Islamist-held province of Idlib and warned that the U.S. would "respond strongly" to any such move.
Russia has called these remarks, coupled with U.S. military movements in the region, indications that Washington and Western allies were looking to conspire with anti-government forces, in an apparent plot to frame Assad as a pretext for strikes to thwart the Idlib operation. The Pentagon told Newsweek on Wednesday that "Russian reports of a U.S. military buildup in the Eastern Med are false. However, we are prepared to respond should the President direct such an action. We remain concerned over reports of a potential military offensive by the Syrian regime against civilians and civilian infrastructure in Idlib, which would result in devastating humanitarian consequences."
Nonetheless, Russia has bolstered its military presence in the region, sending its largest-ever naval armada to the Mediterranean Sea, where a week of war games is set to begin Saturday. Meanwhile, Russian Deputy Foreign Minister Mikhail Bogdanov told reporters that he did not think that the drills were related to the Idlib situation, according to the state-run Tass Russian News Agency. Russian Foreign Minister Sergey Lavrov, for his part, reiterated Moscow's stance that "the presence of the United States and other Western countries in Syria is illegitimate" because it has not been coordinated with the Syrian government.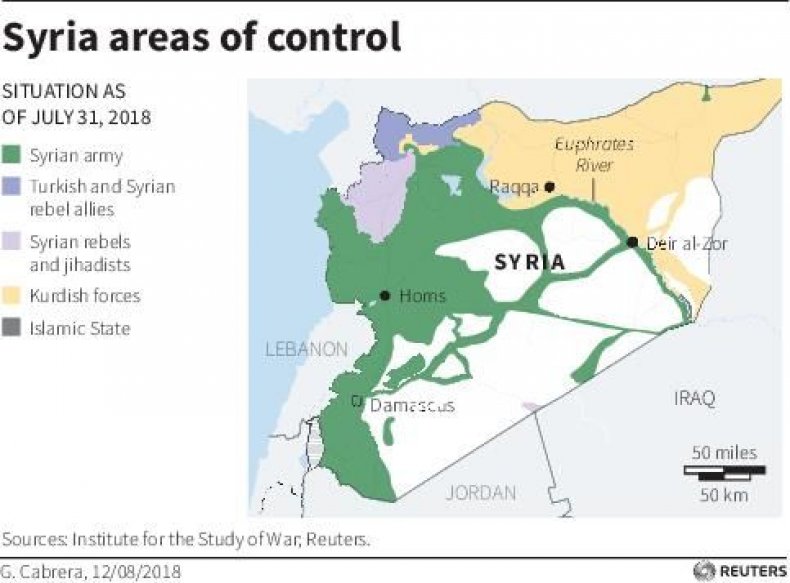 "The Americans have repeatedly promised and declared publicly, including by the mouth of their President D. Trump, that they will leave Syria. But each time they found additional pretexts to stay there. At first, they said that we would leave as soon as we defeated ISIS. Then a new criterion emerged—the need to stabilize the overall situation in the country. Now what's already being discussed is the need for the Americans to remain there until the so-called political transition process begins or even ends," Lavrov told reporters, according to his ministry.
The diplomat said that Russia was currently in talks with local opposition groups in order to isolate them from the jihadi Hayat Tahrir al-Sham that dominates Idlib and carry out some sort of peace deal, and he maintained that Moscow's offer for talks with Washington remained open. The U.S. has so far mostly avoided working directly with Russia in Syria, preferring a Geneva-based U.N. dialogue over talks hosted by Russia, Iran and Turkey in the Kazakh capital of Astana and Russia's Sochi.
As the U.S.-backed Syrian Democratic Forces have denied reaching an agreement to take part in the upcoming Syrian military offensive, they have entered into talks with the Syrian government. Unlike the Syrian opposition, the mostly Kurdish faction has not called for Assad's ouster in hopes of securing greater autonomy. The U.S. has attempted to set up self-rule in areas administered by the Syrian Democratic Forces, but Moscow and Damascus have argued that the country must not be split up along sectarian lines.