Vladimir Putin, Angela Merkel to Meet for First Time Since Trump Said Germany Was 'Controlled' by Russia Over Energy Deal
German Chancellor Angela Merkel and Russian President Vladimir Putin have a complex relationship built on mutual distrust and pragmatism, and the upcoming meeting between the two heads of state is set to be all about business.
The two leaders will convene in Germany on August 18 to discuss a laundry list of topics, a German government spokesman said Monday, including the ongoing conflict in Syria and the Nord Stream 2 pipeline, which will bring natural gas from Russia to Germany.
The controversial pipeline has become an even more contentious issue in recent months. In July, President Donald Trump criticized the deal during a NATO summit, saying Merkel was a "captive" of Russia because of her country's reliance on Russian natural gas. Several European Union members have also been vocal opponents of the project, arguing that it would cut the transit fees Russia currently pays to Kiev to ship gas through Ukraine to EU members.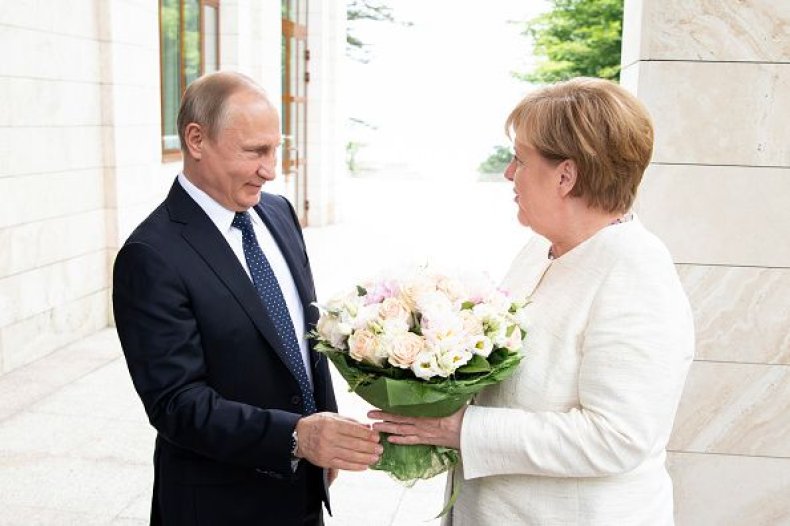 Merkel, however, has continued to argue that the project makes economic sense, and some energy sector experts said the threat the pipeline posed to Ukraine's economy had been exaggerated.
"Merkel will want a Russian commitment to maintaining significant gas transit through Ukraine after Nord Stream 2 becomes operational. This is easy for Putin to agree to, because indeed it is necessary, due to the need to accommodate larger volumes of regular European gas demand, and also especially during peak-demand periods," Brenda Shaffer, an energy analyst at Georgetown University, told Newsweek. "Already in 2015, Putin instructed Gazprom to prepare for continued transit through Ukraine after completion of Nord Stream 2."
When discussing Putin's upcoming meeting with Merkel on Monday, German spokesman Steffen Siebert reiterated that Ukraine would not lose its role as a gas transit country because of the new pipeline. Ensuring that Ukraine continued to receive transit fees could mitigate some of the criticism Merkel has received for going ahead with the deal, experts said.
"Merkel realizes that the Nord Stream 2 opens Germany up to criticism from the United States and EU members in the East for what these partners see as a lack of solidarity from Berlin. And this at a time when Germany itself is asking for greater solidarity on other issues, such as migration, and trying to reassure especially East European partners that it takes Russian meddling seriously," Jorn Fleck, an expert on German politics at the Atlantic Council, said to Newsweek.
The situation in eastern Ukraine, where pro-Russian separatists are still facing off against government forces four years after the crisis erupted, will also be a priority topic for the leaders, Seibert told reporters. Germany is expected to pressure Putin to stick to a ceasefire with the U.S. in Syria.
Both Merkel and Putin grew up during the Cold War and speak each other's language. Putin was stationed as a KGB agent in East Germany during the height of the Cold War, and Merkel regularly sends her Russian counterpart cases of East German beer as a reminder of that part of his history. But their strategic alliance is generally underpinned by mistrust and power plays.
Both leaders will give a statement on Saturday before their meeting takes place, but they will not answer questions from the media. During the last meeting between the two leaders, in Russia in May, Syria, Ukraine and the Nord Stream 2 pipeline were also at the top of the agenda.