Iran Goes Against Russia, Says It's Staying in Syria as U.S. Military Threatens 'New Actions'
Iran has rejected its ally Russia's call for all foreign troops to leave Syria, saying it is the U.S. and Turkey who are deployed there illegally and should withdraw their forces.
In the wake of a 2011 uprising backed by the West, Turkey and Gulf Arab states, Syrian President Bashar al-Assad appealed to Russia and Iran to support his embattled armed forces against rebels and jihadi groups, which have mostly been defeated. Russian President Vladimir Putin congratulated Assad on his victories during a meeting Friday in Sochi and said that all foreign forces should eventually leave Syria, a remark that has opened a rare public rift between Moscow and Tehran.
"No one can force Iran to do anything, Iran is an independent country that determines its own policies," Iranian Foreign Ministry spokesman Bahram Qasemi told reporters at a daily press conference Monday.
"The presence of Iran is at the invitation of the Syrian government to fight against terrorism and defend the territorial integrity of Syria, and will last as long as the Syrian government wants Iran to help it," he added. "Those who have entered the country without the consent of the Syrian government must leave Syria."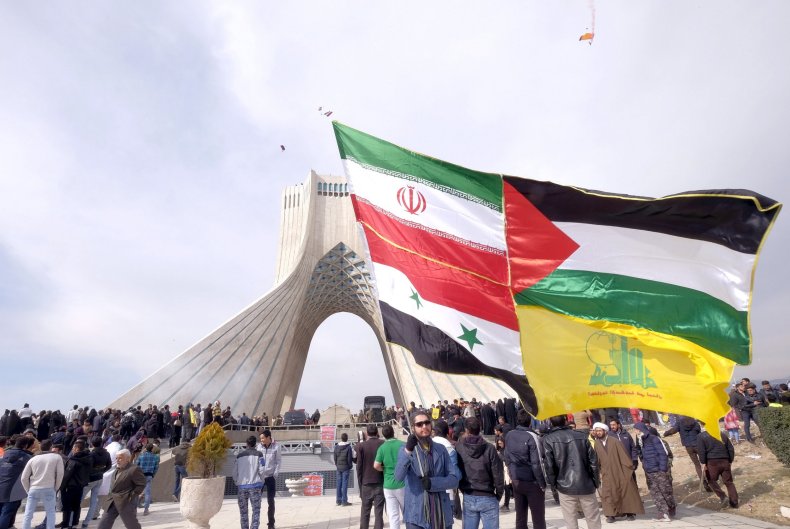 Damascus and Tehran have enjoyed close relations since the 1979 Islamic Revolution that overthrew the pro-West monarchy in Iran, and the Islamic Republic's Shiite Muslim leadership offered support to Assad against an uprising that increasingly featured prominent jihadist groups. The U.S., which had been covertly backing Syrian rebels since at least 2012, gathered a multinational coalition to enter the country two years later to battle the Islamic State militant group (ISIS). Russia entered in 2015, supporting Syrian troops and Iran-backed militias with heavy airpower as they fought insurgents and ISIS.
With help from Russia and Iran, the Syrian government has reclaimed nearly every major city in the country and forced anti-government fighters to either reconcile or be displaced to shrinking pockets of control elsewhere in the country. These gains have increased the foothold of groups such as Iran's elite Revolutionary Guard Corps and Iran-backed Lebanese Shiite Muslim Hezbollah movement in Syria. Both groups have antagonistic relationships with Israel.
Related: U.S. Tells Iran 'You Deserve Better' And Promises Strongest Sanctions in History
Suspected Israeli airstrikes have long struck positions held by Iran and its supporters in Syria, but a recent rocket salvo targeting Israeli forces in the occupied Golan Heights was met with the largest Israeli attack on Syria since the two countries went to war in 1973. The U.S. quickly sided with Israel after the aerial assault, while Russia urged both sides to show restraint in an attempt to maintain relations with the two longtime foes and avoid a wider regional war.
As Syrian, Iranian and various allied militias are increasingly targeted by Israeli and Western airstrikes, the Syrian and Iranian governments have called for the U.S. and Turkey to immediately withdraw their troops. President Donald Trump has also expressed support for leaving Syria, but he and his administration have also indicated a tougher, potentially explosive approach to taking on Iran.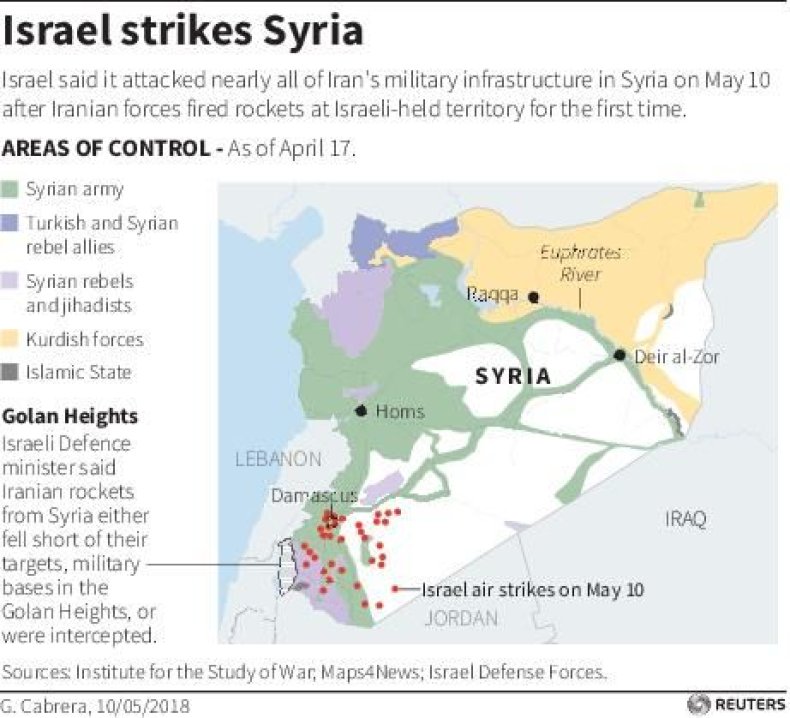 The flare-up between Israel and its Iranian and Syrian foes earlier this month took place shortly after Trump withdrew the U.S. from a 2015 nuclear deal that was still supported by Iran as well as fellow signatories China, France, Germany, Russia and the U.K. In his first major policy speech, Secretary of State Mike Pompeo justified Trump's decision by saying the agreement did not go far enough to curb Iran's support for militias across the Middle East, and vowed Monday to impose "the strongest sanctions in history" against Tehran.
The Pentagon has warned it may even go further. Pentagon spokesman Colonel Robert Manning told reporters Monday that it is "going to take all necessary steps to confront and address Iran's malign influence in the region," according to Reuters.
"We are assessing if we are going to double down on current actions or implement new actions," he added.