Syrian President Bashar al-Assad met Thursday with Russian President Vladimir Putin in the Black Sea city of Sochi, expressing gratitude for Moscow's help in a prolonged civil war that has increasingly gone in his government's favor.
The trip marks Assad's second known exit from Syria since the nation was rocked by a 2011 uprising sponsored by the West, Turkey and Gulf Arab states. Support allies Russia and Iran played a crucial role in the Syrian military, reversing gains by rebels and jihadis, and Putin congratulated his Syrian counterpart on "the significant success of the Syrian government army in the fight against terrorist groups," which he said should be followed by "a full-fledged political process."
Assad, in turn, congratulated Putin on his re-election in March and reported "many positive changes" in Syria, including the reduction of territory controlled by insurgents and the return of "hundreds of thousands of Syrians" displaced by the conflict.
"Stability is improving, and all this opens the door to the political process that we started some time ago. I have always said, and now I repeat once again, that we always enthusiastically support the political process, which should go hand in hand with the fight against terrorism," Assad said.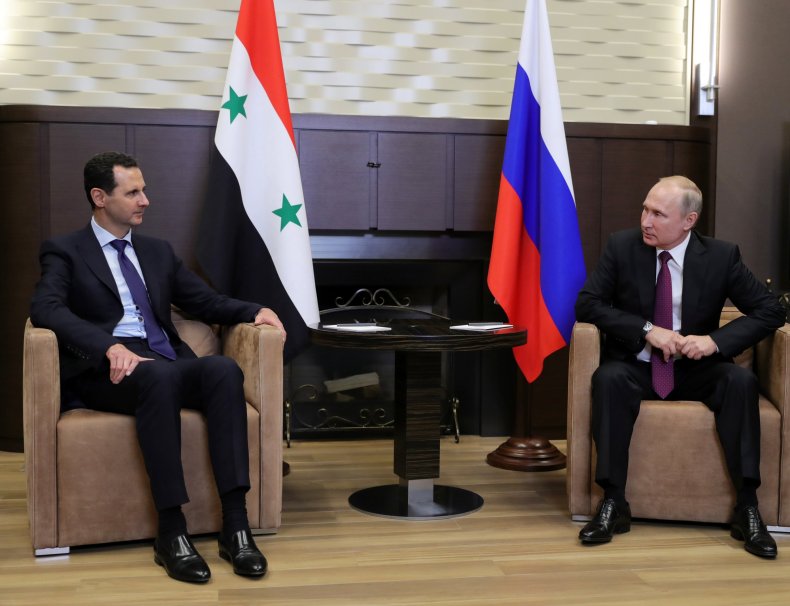 Assad was believed to have remained in Syria throughout the entire length of the first four years of the uprising. His first trip was reportedly to Moscow in October 2015, a month after Russia staged a military intervention in Syria at his request. Russia's entrance came at a time when nearly half the country had been absorbed by the Islamic State militant group (ISIS), which targeted both the Syrian government and rival rebel forces.
Russia's entrance reversed Assad's losses, giving his armed forces and their allies, which include a number of Iran-backed militias, the opportunity to besiege and reclaim nearly every major population center in the country. A separate anti-ISIS campaign has been conducted by the Syrian Democratic Forces, a mostly Kurdish militia established by the Pentagon as Washington grew concerned about the increasingly Islamist tendencies of CIA-backed rebels.
Related: Russia says missile ships will stay near Syria, challenging U.S. in Middle East and Europe
As the Syrian military regained control of major cities and large stretches of territory, however, it has been increasingly targeted by hostile forces. The U.S. ordered airstrikes against a Syrian air base in April 2017 and again this April against a number of suspected chemical weapons sites, both in response to allegations that the Syrian military used toxic gas. The U.S.-led coalition has also bombed pro-Syrian government forces, including Russian fighters, in response to reported attacks on the Syrian Democratic Forces in the eastern province of Deir Ezzor.
Neighboring Israel has attacked pro-Syrian government forces as well. The long-time Syrian foe has long conducted airstrikes against suspected Iranian and pro-Iran targets in the country, routinely neither confirming nor denying its involvement. Earlier this month, however, Israel escalated its campaign after Iranian or Syrian forces shot rockets at Israeli forces in the occupied Golan Heights in response to an Israeli airstrike south of Damascus.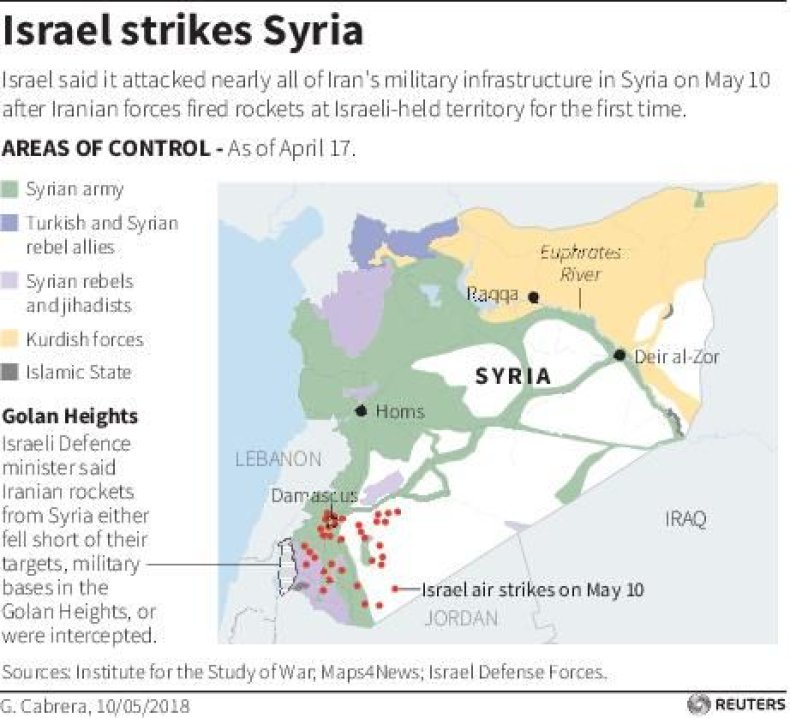 Russia has not retaliated against any international attacks against its allies in Syria. Though the Russian military has established a long-term military presence along and off Syria's coast, it has only condemned U.S. attacks on pro-Syrian government forces and sites and appealed for calm after the recent flare-up between Israel and suspected Iranian or Iran-backed forces.
Moscow has pushed for the Syrian government, beleaguered opposition and Kurdish groups to meet together at the so-called Syrian National Congress in Sochi. The U.S. has not officially endorsed these talks or the Astana-based process championed by Russia, Iran and Turkey, instead calling for nations to respect a parallel attempt at national reconciliation in Geneva.