Russian President Vladimir Putin announced Wednesday that warships armed with advanced cruise missiles would be permanently deployed near Syria in the Mediterranean, where rival U.S. military vessels also operate.
Putin made the remarks during a gathering of top military brass, defense industry leaders and economic officials in the city of Sochi. The Russian leader touted his navy's role in maintaining national security and enforcing Moscow's interests abroad, especially in Syria, where Russian warships have helped Syrian President Bashar al-Assad and his Iranian allies battle rebels and jihadis attempting to overthrow the Syrian government.
"I will especially note the efficient and coordinated actions of the crews of our ships and submarines during the military operation in Syria. The cruise missile attacks and the effective work of the carrier aviation dealt a serious blow to the terrorists, destroying important infrastructure facilities," Putin said. "The accomplishment of these and other complicated and important tasks was largely possible due to the high combat and technical readiness of the navy.
"The build-up of the navy's combat potential and the practice of long-distance naval campaigns, exercises and maneuvers should certainly continue," he added. "This year's plan includes 102 expeditions of ships and submarines. At the same time, with the continuing threat of attacks by international terrorists in Syria in the Mediterranean Sea, our ships armed with Kalibr cruise missiles will be on a constant military watch."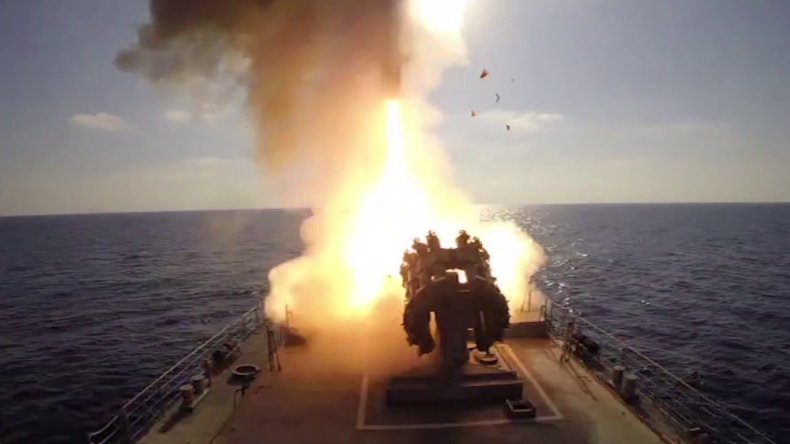 In 2015, Russia intervened in Syria to help Assad's beleaguered armed forces fend off a 2011 uprising sponsored by the West, Turkey and Gulf Arab states and, since then, Moscow's military presence in the Mediterranean has expanded. Last July, the Russian Black Sea Fleet established a Mediterranean Task Force consisting of 15 ships based out of a leased naval facility near the coastal Syrian city of Tartous.
Russia has added more vessels to the contingent and has used it as a platform to launch Kalibr cruise missiles against the Islamic State militant group (ISIS), a jihadi force that has been targeted to near extinction by both Russia and U.S.-led campaigns in Syria. The Russian navy has also conducted Kalibr cruise missile attacks against Islamist insurgents in Syria's northwestern, rebel-held province of Idlib.
Related: Russia won in Syria, will it challenge U.S. in Lebanon next?
In addition to safeguarding the Syrian military's comeback, Russia's naval presence in the Mediterranean serves another purpose. Russian warships provide a crucial buffer on the southern flank of the U.S.-led NATO Western military alliance in Europe. Since Moscow's 2014 annexation of the Crimean Peninsula amid unrest in Ukraine, Russia and NATO have been fiercely at odds and built up their defenses along mutual borders, especially in Eastern Europe.
U.S. Navy Admiral James Foggo, head of NATO's naval and southern commands, told the Associated Press last week that the addition of Russian warships and submarines and had left the eastern Mediterranean "very crowded," accusing Moscow of using the Syrian conflict as an excuse to enter the region. He also charged Russian forces with occasional "unsafe or unprofessional" behavior.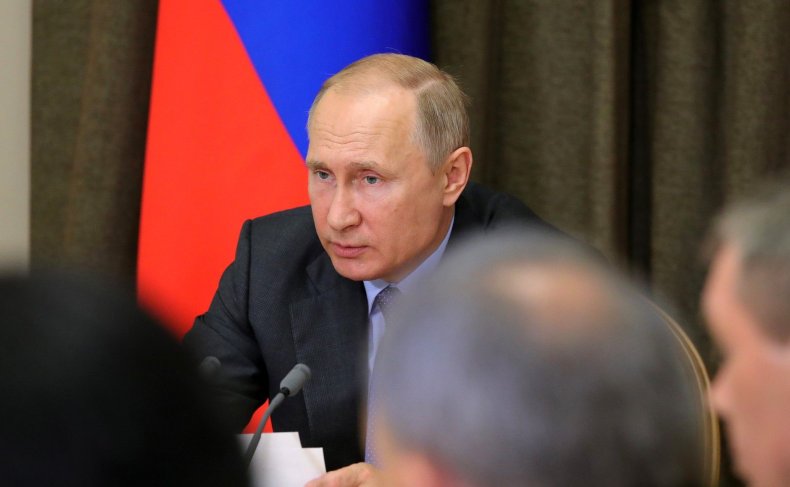 The West—and the U.S. especially—views Putin's campaign to improve his country's military capabilities as a threat to world order. Washington and a number of its allies have accused Moscow of engineering election interference, assassinations and undermining Western influence across the globe. Russia has denied these claims and accused the U.S. and NATO partners of constructing a multinational missile shield to disarm the threat of Russian weapons.
The conflict became especially tense last month when the U.S., France and the U.K. conducted cruise missile attacks against Syrian government facilities suspected to be involved in a chemical weapons program. Russia has joined fellow Syrian ally Iran in denying Assad's culpability in any toxic gas attacks and threatened to retaliate if Russian lives were put at risk.