Russian Military, Not U.S., to Lead Battle for ISIS's Final Major City in Syria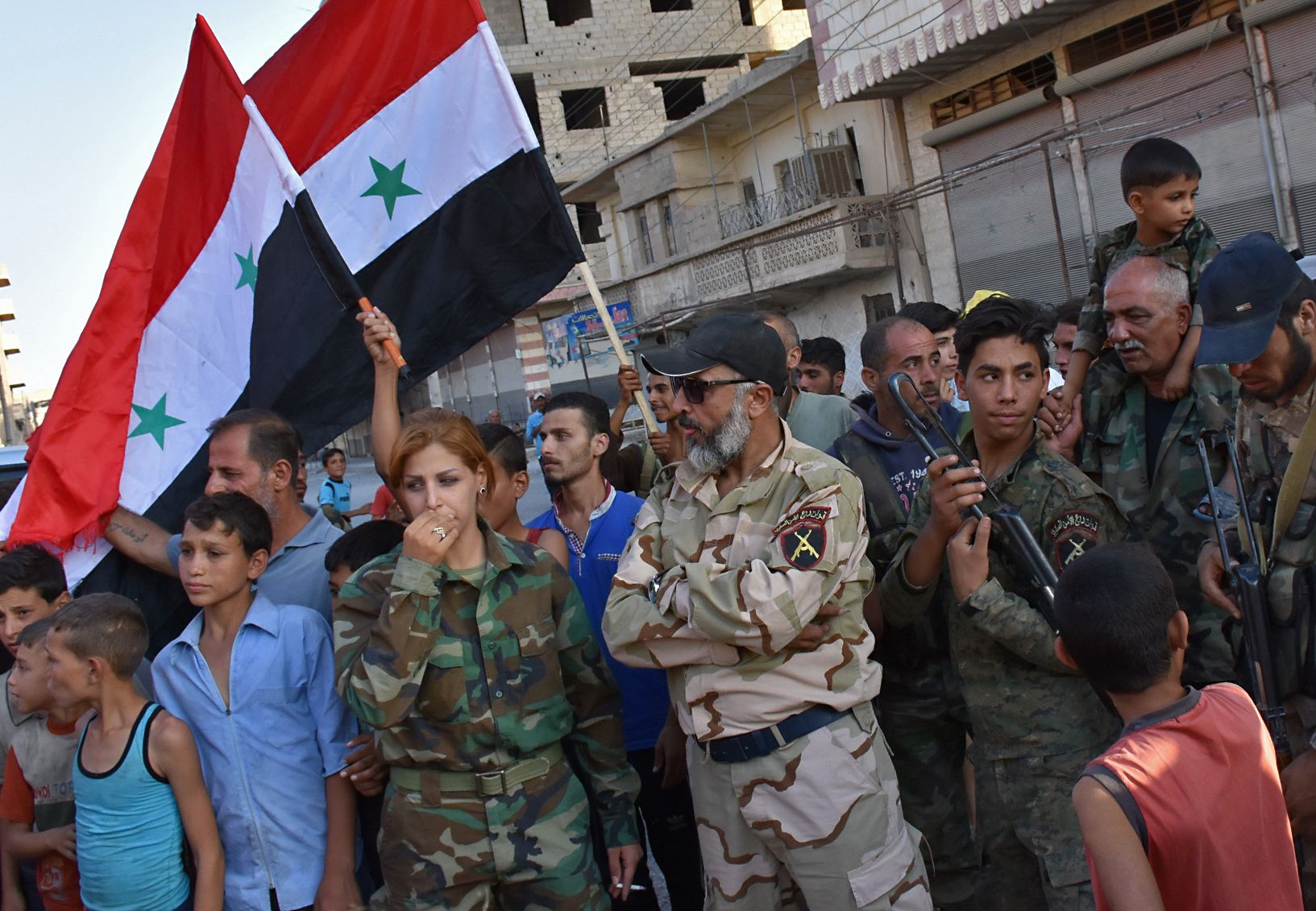 The U.S. has opted not to intervene in a months-long advance by the Syrian military and its Russian and Iranian allies designed to defeat the Islamic State militant group (ISIS) in its final, eastern stronghold in Syria.
Army Colonel Ryan Dillon, a spokesman for the anti-ISIS Combined Joint Task Force - Operation Inherent Resolve, told reporters in Washington via video chat Thursday that the U.S.-led coalition had decided not to enter the eastern city of Deir Ezzor, where Syrian troops recently broke an ISIS siege against comrades trapped behind enemy lines for three years. A separate campaign by the U.S.-backed Syrian Democratic Forces has also pierced through ISIS territory toward Deir Ezzor, but will reportedly stop at the city's limits so as not to complicate the already crowded conflict.
Related: U.S. coalition allows ISIS convoy free passage to eastern Syria
"I'll just tell you that the plan is not to go into Deir Ezzor city but there (are) plenty of ISIS fighters and resources and leaders that continue to have holdouts throughout the middle Euphrates River valley," Dillon said, according to Reuters.
Instead, Dillon said the Syrian Democratic Forces, a mostly Kurdish alliance of Arabs and ethnic minorities, would advance down along the nearby Euphrates River valley. The Euphrates River divides Deir Ezzor into what is now the mostly government-controlled west and ISIS-held east. The U.S.'s decision to press on southbound around the city could end up isolating ISIS militants trapped between the western Syrian military front and the country's eastern border with Iraq, where forces supported by both the U.S. and Iran are also battling ISIS.
While both Russia and the U.S. agree on the goal of defeating ISIS, they and their partnered forces on the ground differ on the political future of Syria. Russia and Iran are staunch supporters of Syrian President Bashar al-Assad and want to see him regain total control of the country after losing swaths of territory in the wake of a 2011 uprising. Kurdish forces, however, have already set up self-ruling institutions across northern Syria and wish to retain autonomy after ISIS and other insurgents are defeated.
This rivalry has devolved into violence at times, but has remained mostly peaceful in recent weeks as the U.S. and Russia attempt to cooperate and align their interests in the war-torn country. Both campaigns have been accused of human rights abuses, including mounting civilian death tolls and the use of banned weapons, charges they deny. As of Monday, forces led by Russia and forces led by the U.S. were less than 10 miles from one another, Foreign Policy reported.
As the Syrian Democratic Forces stormed ISIS's de facto capital of Raqqa and continued to dislodge the jihadists in eastern Syria, the Syrian military's extensive campaign saw notable success. After cutting across former ISIS territory in Syria's central desert, troops reached Deir Ezzor and managed last week to relieve a pocket of thousands of fellow soldiers and airmen surrounded by ISIS since summer 2014. Syrian soldiers saw further advances Thursday, as Russia struck nearby ISIS positions with advanced Kalibr cruise missiles launched by submarines in the Mediterranean, according to the state-run Tass Russian News Agency.
General Ali Abdullah Ayoub, the chief of staff of Syria's armed forces, visited troops in Deir Ezzor on Thursday to praise their efforts to retake the city from ISIS, according to the Syrian Defense Ministry. Meanwhile, Dillon commended the Syrian Democratic Forces and noted via Twitter that "2.3 million people are no longer under ISIS control and over 43,000 kilometers have been cleared."